Orange-Infused Teryaki Chicken Drumsticks
This post may contain affiliate links. Read our disclosure policy.
T-minus seventeen days until the fall semester of classes starts for me. This semester is going to be different, but in a great way. I hope. Instead of taking the usual course suspects like I've done in the past (psych, sociology, English lit, natural sciences, etc) I'll be embarking on a whole new academic world. The world of culinary arts. I've never taken any type of cooking class before, and I've never taken night classes (which is what the program I'm enrolled in entails). Come to think of it, I never thought I would forgo the typical university path to pursue a passion that has become an increasingly encompassing aspect of my life. But here I am, 17 days away from beginning a new, hopefully successful and exciting chapter of my life.
To gear up for this new chapter, and more specifically for night-time classes, I thought it would be a good idea to start focusing on dinners that are weeknight friendly. My idea of weeknight friendly meals are recipes that can either be whipped up quickly or prepared in advance. Most importantly though, they need to utilize fresh ingredients. These teriyaki chicken drumsticks fall under this category because the sauce can be prepared in advance and the chicken can be marinated the night before or morning of. Also, you'll notice that the homemade teriyaki sauce doesn't feature any awful additives like high-fructose corn syrup that most store-bought varieties. Pairing this recipe with brown rice or another whole grain and a heaping serving of fresh, stir-fried or steamed veggies (drizzled with some reserved sauce) finishes this dish off deliciously and healthfully.


What are your favorite weeknight meals?


Recipe Rundown
Taste: The sauce has a wonderful mixture of complex, fresh, sweet & savory flavor. Would be great on all cuts of chicken and beef.
Texture: The chicken is moist and the sesame seeds add a nice bite.
Ease: Very easy. Sauce can easily create a few quick weeknight meals of chicken and beef if made a ahead of time and marinated the night before or in the morning.
Appearance: The sesame seeds add a nice pop of color.
Pros: Awesome simple and easy weeknight meal.
Cons: None that I can think of.
Would I make this again? Yes.
Orange-Infused Teriyaki Sauce
From The Food Addicts

4 garlic cloves, sliced
1 Tablespoons ginger root, sliced
¼ cup mirin
1 ¼ cup reduced-sodium soy sauce
1 cup packed brown sugar
1 orange, sliced
½ cup water
3 Tablespoons cornstarch
1. In a saucepan, combine garlic, ginger, mirin, soy sauce, brown sugar, and orange slices.
2. Bring to a boil and simmer for 20 minutes on low heat.
3. In a bowl, mix the water and cornstarch. Add mixture to saucepan and bring back to a boil and simmer for 5 minutes over low heat until sauce thickens. Remove from heat and let cool. Use immediately or refrigerate in an airtight container.
Teriyaki Chicken Drumsticks
Serves 4-6
3 pounds chicken drumsticks (about 12)
Teriyaki Sauce (see above)
1. Marinade the chicken in the teriyaki sauce in a large plastic bag or dish for 4-24 hours, making sure each drumstick is evenly coated.
2. Preheat the oven to 375 degrees F and line a baking dish with tinfoil. Place the drumsticks on the baking dish in one even layer and bake for 30-40 minutes, or until sauce is set and the chicken is cooked to an internal temperature of 165 degrees F.
3. Garnish with a sprinkling of sesame seeds and serve with your favorite rice and stir-fried veggies (broccoli, snow peas, bell pepper, etc).
About Tessa...
I share trusted baking recipes your friends will LOVE alongside insights into the science of sweets. I'm a professionally trained chef, cookbook author, and cookie queen. I love to write about all things sweet, carb-y, and homemade. I live in Phoenix, Arizona (hence the blog name!)
© Handle the Heat - handletheheat.com
Join the Handle the Heat Community


---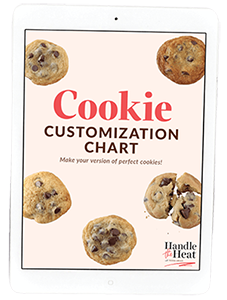 Do you want a more delicious life?
Instead of digging through cookbooks and magazines and searching the internet for amazing recipes, subscribe to Handle the Heat to receive new recipe posts delivered straight to your email inbox. You'll get all the latest recipes, videos, kitchen tips and tricks AND my *free* Cookie Customization Guide (because I am the Cookie Queen)!