I completely suck at feeding myself lunch. Breakfast and dinner – I'm good to go. Lunch, on the other hand, remains a mystery to me. Maybe it's because I'm utterly sick of sandwiches as I had them packed for my school lunch everyday as a child. Or maybe it's because by the time I realize I should get lunch started I'm starved and can't think straight. Either way I like to get in some fresh vegetables, fruit, protein, and whole-grain goodness but that doesn't always happen. With these pitas though, it's much easier.
What are your favorite lunch-time foods?
Recipe Rundown
Taste: Nutty, fresh, slightly sour, sweet.
Texture: The pita is thick, the carrots and pepper are crunchy, the chicken is moist, and the sauce makes it all smooth and creamy.
Ease: Super easy, takes 15 minutes.
Appearance: Like little pockets of heaven.
Pros: Perfect for a nutritious sack lunch or light dinner.
Cons: None.
Would I make this again? Yes! Will pack for lunch.

Peanut-Sauced Chicken Pitas
Serves 2 (serving size: 1 stuffed pita half)
From Cooking Light August 2011
1 cup shredded skinless, boneless rotisserie chicken thigh or drumstick meat
1/3 cup thinly sliced green onions
2 tablespoons thin red bell pepper strips
2 tablespoons peanut satay sauce 
1/8 teaspoon kosher salt
1 teaspoon chile paste with garlic (optional)
1/2 cup fresh mung bean sprouts, rinsed, drained, and patted dry
2 tablespoons diagonally-cut carrots
2 tablespoons fresh cilantro
1 (6-inch) whole-wheat pita, cut in half
Combine all ingredients except pita halves in a small bowl, tossing well to combine. Fill each pita half with about 1/2 cup of chicken mixture.
About Tessa...
I share trusted baking recipes your friends will LOVE alongside insights into the science of sweets. I'm a professionally trained chef, cookbook author, and cookie queen. I love to write about all things sweet, carb-y, and homemade. I live in Phoenix, Arizona (hence the blog name!)
© Handle the Heat - handletheheat.com
Join the Handle the Heat Community


---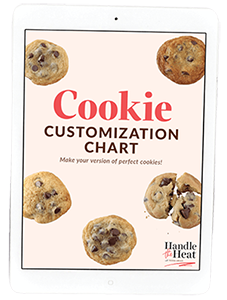 Do you want a more delicious life?
Instead of digging through cookbooks and magazines and searching the internet for amazing recipes, subscribe to Handle the Heat to receive new recipe posts delivered straight to your email inbox. You'll get all the latest recipes, videos, kitchen tips and tricks AND my *free* Cookie Customization Guide (because I am the Cookie Queen)!