Sometimes in life you just need some carbs that are heavily sprinkled with salt and dunked in generous amount of cheese. Sometimes. It's easy to over-do it with salty snacks when they are piled high on so many shelves in the grocery store. I have a method for self-control though, and it comes from outspoken food journalist Michael Pollan. He says to "eat all the junk food you want as long as you cook it yourself," a phrase I could not agree with more. How many pretzels will you eat daily if you have to make the dough, let it rise, shape the dough, boil, bake, and then melt some cheese? Probably not a lot. All that work makes you savor each and every morsel that enters your mouth, instead of mindlessly snacking away on a bag of packaged pretzels that took you exactly two seconds to throw in your grocery cart. Before the advent of the modern food industry people had to make everything they ate from scratch, and they were altogether a lot thinner.
So yes, this recipe involves white flour, salt, and cheese. But they're made from scratch. That pretty much automatically makes them an occasional treat, as they should be.
P.S. – Handle the Heat is now back on Facebook! "Like" us!
Recipe Rundown
Taste: Salty and cheesy. Does it get better than that?
Texture: Slightly crunchy on the exterior, soft inside.   
Ease: There are a few steps involved so this recipe is best saved for a day off.
Appearance: I love the flecks of salt atop each bite and the contrast of the bright cheese sauce.
Pros: This is actually much quicker than making normal pretzels because these are so easy to shape.
Cons: Not whole wheat (read above, and also I'm working on a whole wheat version).
Would I make this again? Yes, I froze half the dough.

Soft Pretzel Bites
Recipe adapted from Bobby Flay via Two Peas and their Pod
1 1/2 cups warm water
2 tablespoons light brown sugar
1 package active dry yeast
3 ounces unsalted butter, melted
2 1/2 teaspoons kosher salt
4 1/2 to 5 cups all-purpose flour
Vegetable oil
3 quarts water
3/4 cup baking soda
1 whole egg, beaten with 1 tablespoon cold water
Coarse sea salt
Combine the water, sugar, yeast, and butter in the bowl of a stand mixer and mix with the dough hook until combined. Let sit for 5 minutes.
Add the salt and flour and mix on low speed until combined. Increase the speed to medium and continue kneading until the dough is smooth and begins to pull away from the side of the bowl, about 3 to 4 minutes. If the dough appears too wet, add additional flour, 1 tablespoon at a time. Remove the dough from the bowl, place on a flat surface and knead into a ball with your hands. Oil a large bowl with vegetable oil, add the dough and turn to coat with the oil. Cover with a clean towel or plastic wrap and place in a warm spot until the dough doubles in size, about 1 hour.
Preheat the oven to 425 degrees F. Bring the water to a boil in a small roasting pan over high heat and add the baking soda.
Remove the dough from the bowl and place on a flat surface. Divide the dough into 8 equal pieces, about 4 1/4 to 4 1/2 ounces each. Roll each piece into a long rope measuring 22 inches and shape. Cut the dough into one inch pieces to make the pretzel bites. Boil the pretzel bites in the water solution in batches, boiling no more than 15 bites at a time, for about 30 seconds. Remove with a large slotted spoon. Place boiled pretzel bites on a baking sheet that has been sprayed with cooking spray. Make sure they are not touching.
Brush the tops with the egg wash and season liberally with the salt. Place into the oven and bake for 15 to 18 minutes until golden brown. Remove to a baking rack and let rest 5 minutes before eating. Serve with cheese sauce, recipe below.
Cheddar Cheese Sauce
From Two Peas and Their Pod

½ Tablespoon unsalted butter
½ Tablespoon all-purpose flour
½ cup milk
8 ounces Cheddar cheese, grated
salt and freshly ground black pepper
Melt the butter in a medium saucepan over medium heat. Mix in the flour and cook 1 minute. Whisk in the milk and cook until slightly thickened. Remove from heat and stir in the Cheddar cheese until smooth and all of the cheese is melted.  Season with salt and pepper, to taste.
About Tessa...
I share trusted baking recipes your friends will LOVE alongside insights into the science of sweets. I'm a professionally trained chef, cookbook author, and cookie queen. I love to write about all things sweet, carb-y, and homemade. I live in Phoenix, Arizona (hence the blog name!)
© Handle the Heat - handletheheat.com
Join the Handle the Heat Community


---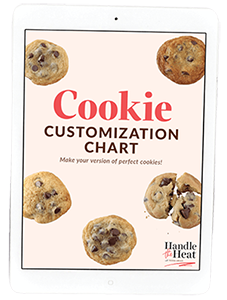 Do you want a more delicious life?
Instead of digging through cookbooks and magazines and searching the internet for amazing recipes, subscribe to Handle the Heat to receive new recipe posts delivered straight to your email inbox. You'll get all the latest recipes, videos, kitchen tips and tricks AND my *free* Cookie Customization Guide (because I am the Cookie Queen)!