Take-out at Home: Sweet & Sour Pork
Happy Veteran's Day! Thank you to all our veterans who bravely risked their lives to serve and protect their country. Since the formation of this country our veterans have fought to make our lives better and now I'd like to do the same for you (on a
much
smaller scale, of course). Back in September I started a series here on Handle the Heat called
Take-out at Home
which features recipes similar to your favorite fast food but are just as easy to cook at home as they are to order or pick up. Not only are the recipes just as quick as take-out, they're fresher and healthier too. If you don't believe me add this recipe to your weekly menu and try it for yourself.
Notes: Jamie Oliver is a genius. Every single one of his recipes that I've tried have always been full of flavor and freshness. When I made this recipe I used a whole-grain microwaveable rice pouch because I was really pressed for time and I didn't want to wait for water to boil or to dirty another pot. Also, the lettuce served with this dish might seem bizarre but don't skip it, it adds a nice fresh crunch and makes this more of a one-plate meal. 

Recipe Rundown
Taste: Not like your traditional take-out sweet & sour pork which is usually breaded, fried, and bathed in an overly sweet syrup. This recipe is fresh and light with the sweetness and sourness coming from more natural and unsuspecting ingredients like pineapple and balsamic vinegar. I served mine over whole-grain rice which added a little nuttiness too.
Texture: Tender, crunchy, juicy.
Ease: This is a recipe where I mise en place is crucial because from the moment you turn the heat on your stove to the time your serving, hardly any time passes. So definitely don't skip the first part of the recipe "to prepare your stir fry".
Appearance: I love when everything in a dish is similarly sized. It makes it uniform and easier to eat. It also makes every piece of food look like a jewel with their vibrant colors. Don't forget to throw a little cilantro and sesame seeds on top of your plate to make it look better than any take-out restaurant.
Pros: Super easy, fast, healthy, and full of flavor. I wanted to keep eating this even after I was full.
Cons: None, really.
Would I make this again? Yes.
Jamie Oliver's Sweet & Sour Pork
Serves 2
From Food Revolution
Sea salt and freshly ground black pepper
1 c. long-grain or basmati rice
½ pound pork tenderloin, preferably free-range or organic
1 small red onion
1 red or yellow bell pepper (or ½ of each)
A thumb-sized piece of fresh root ginger
2 cloves of garlic
½ – 1 fresh red chile, to your taste
a small bunch of fresh cilantro
peanut or vegetable oil
1 heaped teaspoon five-spice powder
1 teaspoon cornstarch
2-3 tablespoons soy sauce
1 8-ounce can of pineapple chunks
2 tablespoons balsamic vinegar
1 small heart of romaine or ½ butterhead lettuce, torn into large pieces
2 teaspoons sesame seeds
Directions
To prepare your stir-fry
1. Bring a pan of salted water to a boil and add the rice. Cook according to package directions. Drain the rice in a strainer, put back in the pan, and cover to keep warm until needed.
2. Halve the pork tenderloin and cut into ¾ inch cubes. Peel and halve the red onion, then dice into ¾ inch cubes. Halve the bell pepper, seed, and cut into ¾ inch cubes. Peel and finely slice the ginger and garlic. Finely slice the chile. Pick the cilantro leaves and put them to one side. Finely chop the cilantro stalks.
To cook your stir-fry
3. Preheat a wok or large frying pan on high heat and once it's very, very hot, add a good lug of oil and swirl it around.
4. Add the pork and five-spice powder and toss or stir them around. Cook for a few minutes until browned, then transfer to a bowl using a slotted spoon.
5. Carefully give the wok or pan a quick wipe with a ball of paper towels and return to the heat. When it's really hot, add 2 good lugs of oil and all the chopped ingredients. Toss or stir everything together and cook for 2 minutes.
6. Stir in the cornstarch and 2 tablespoons of soy sauce. Let everything cook for 30 to 40 seconds, then add the pineapple chunks with their juice, the browned pork and balsamic vinegar. Season with black pepper and a little more soy sauce, if needed.
7. Break open a piece of the pork, check to see if it's cooked through, and remove from the heat. Reduce the sauce to a gravy-like consistency by cooking for a few minutes more.
To serve your stir-fry
8. Divide the rice and lettuce between two bowls or plates. Spoon the pork, veggies, and sauce over the top and sprinkle with the sesame seeds and reserved cilantro leaves.
About Tessa...
I share trusted baking recipes your friends will LOVE alongside insights into the science of sweets. I'm a professionally trained chef, cookbook author, and cookie queen. I love to write about all things sweet, carb-y, and homemade. I live in Phoenix, Arizona (hence the blog name!)
© Handle the Heat - handletheheat.com
Join the Handle the Heat Community


---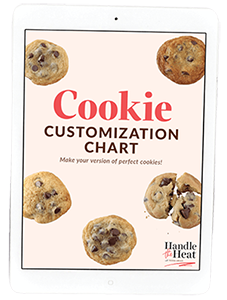 Do you want a more delicious life?
Instead of digging through cookbooks and magazines and searching the internet for amazing recipes, subscribe to Handle the Heat to receive new recipe posts delivered straight to your email inbox. You'll get all the latest recipes, videos, kitchen tips and tricks AND my *free* Cookie Customization Guide (because I am the Cookie Queen)!