Take-out at Home: Turkey Lettuce Cups
Mmm. Lettuce cups. Crisp, flavorful, and messy. But also outrageously overpriced when ordered at a restaurant. Many recipes I've seen for homemade lettuce cups have an abundant list of complicated ingredients. And really, how many people out there look at an endless list of ingredients and think "Yay"? That's why I adore this particular lettuce cup recipe. It's simple but packed with sweet, spicy, tangy, savory flavor and it's light yet satisfying. Plus your food processor does most of your prep work.
Fish sauce is a staple condiment in many Asian cuisines and can be found in the Asian section of your supermarket, probably where you would find the soy sauce. No, it doesn't smell that great but trust me, it adds a wonderful savory flavor to your food.

Recipe Rundown
Taste: Much more flavorful then I had expected. You know a dish is good when you want seconds.
Texture: Refreshingly crisp, saucy, and meaty.
Ease: This dish took me less than 20 minutes to make and clean.
Appearance: Lovely combination of shapes and colors.
Pros: Both adults and children will adore this quick and healthy meal.
Cons: None, except maybe that they're a little messy to eat.
Would I make this again? Yes.
Turkey Lettuce Cups
Serves 4
From Everyday Food 
2 tablespoons soy sauce
2 teaspoons sugar
2 teaspoons fish sauce
1 large shallot
1 (1-inch) piece fresh ginger, peeled and thinly sliced
1 small jalapeno, stemmed and seeded
2 garlic cloves, peeled
1 tablespoon vegetable oil
1 pound lean ground turkey
Bibb, Boston, or iceberg lettuce leaves
2 green onions, thinly sliced
1 carrot, shredded
In a small bowl, combine soy sauce, sugar, and fish sauce. Stir until sugar is dissolved.
In a food processor, pulse shallot, ginger, jalapeno, and garlic until finely chopped.
Heat oil in a large skillet over high heat. Once hot, add shallot mixture and stir until fragrant, about 30 seconds. Add turkey and cook, breaking up meat with a wooden spoon, until almost cooked through, 5 minutes. Add soy sauce mixture and stir until meat is cooked, about 2 minutes more. Serve in lettuce leaves, sprinkling with green onions and carrot.
About Tessa...
I share trusted baking recipes your friends will LOVE alongside insights into the science of sweets. I'm a professionally trained chef, cookbook author, and cookie queen. I love to write about all things sweet, carb-y, and homemade. I live in Phoenix, Arizona (hence the blog name!)
© Handle the Heat - handletheheat.com
Join the Handle the Heat Community


---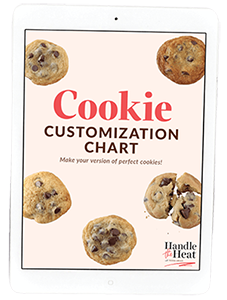 Do you want a more delicious life?
Instead of digging through cookbooks and magazines and searching the internet for amazing recipes, subscribe to Handle the Heat to receive new recipe posts delivered straight to your email inbox. You'll get all the latest recipes, videos, kitchen tips and tricks AND my *free* Cookie Customization Guide (because I am the Cookie Queen)!