This post may contain affiliate links. Read our disclosure policy.

There are some recipes that just call out to you when you hear or see them. When I saw the photo of the Tomato & Goat cheese tarts in Ina Garten's fantastic cookbook Barefoot Contessa Back to Basics, I'm pretty sure my mouth watered a bit. When I realized what these tarts consisted of: puff pastry, caramelized onions with wine and thyme, herbed goat cheese, tomato, Parmesan, and basil, I'm pretty sure there was drool on the cookbook. I knew it was only a matter of time before I would make this recipe, and then again and again and again. Words cannot describe how delicious these tarts are, especially for brunch or lunch. You're just going to have to make them yourself.

Recipe rundown:
Taste: Luscious, exquisite, scrumptious, heavenly, mouthwatering… Thanks thesaurus.
Texture: Puff pastry is a textual delicacy on its on but when combined with the soft and limp caramelized onions, crumbly goat cheese, gooey Parmesan cheese, and melted juicy tomato, there aren't a lot of things in life that get much better.
Ease: Although it isn't the quickest lunch recipe in the world and dealing with pastry can be daunting, I found that every step was wonderfully easy.
Appearance: Absolutely will cause mouth to water.
Expense: This is where this recipe falls from perfection. The all-butter puff pastry that I bought was about $6 (however I have leftover), the goat cheese was about $4, and my basil and thyme plants are on the verge of death so I had to buy those herbs too at $3 a piece. Plus parmigiano reggiano and white wine are expensive pantry hitters too. So while this recipe isn't cheap, it is perfect for special occasions.
Pros: Besides the fact that I could eat this for lunch everyday for the rest of my life, it keeps well in the fridge and reheats in a 425 oven for 5 minutes beautifully.
Cons: The expense of the recipe is a definite con, but so worth it.
Would I make this again? Yes, a thousand times yes!! 😉

Note: Use all-butter puff pastry if you use the frozen purchased kind, it tastes a million times better and is a million times better for your body than the hydrogenated oil laden kind. I've found all-butter puff pastry at Whole Foods and Trader Joe's.
Tomato & Goat Cheese Tarts
Serves: 4
From Ina Garten's Barefoot Contessa Back to Basics
1 package (17.3 ounces/2 sheets) puff pastry, defrosted
Good olive oil
4 cups thinly sliced yellow onions (2 large onions)
3 large garlic cloves, cut into thin slivers
Kosher salt and freshly ground black pepper
3 tablespoons dry white wine
2 teaspoons minced fresh thyme leaves
4 tablespoons freshly grated Parmesan, plus 2 ounces shaved with a vegetable peeler
4 ounces garlic-and-herb goat cheese (recommended: Montrachet)
1 large tomato, cut into 4 (1/4-inch-thick) slices
3 tablespoons julienned basil leaves
Unfold a sheet of puff pastry on a lightly floured surface and roll it lightly to an 11 by 11-inch square. Using a 6-inch wide saucer or other round object as a guide, cut 2 circles from the sheet of puff pastry, discarding the scraps. Repeat with the second pastry sheet to make 4 circles in all. Place the pastry circles on 2 sheet pans lined with parchment paper and refrigerate until ready to use.
Preheat the oven to 425 degrees F.
Heat 3 tablespoons of olive oil in a large skillet over medium to low heat and add the onions and garlic. Saute for 15 to 20 minutes, stirring frequently, until the onions are limp and there is almost no moisture remaining in the skillet. Add 1/2 teaspoon salt, 1/4 teaspoon pepper, the wine, and thyme and continue to cook for another 10 minutes, until the onions are lightly browned. Remove from the heat.
Using a sharp paring knife, score a 1/4-inch-wide border around each pastry circle. Prick the pastry inside the score lines with the tines of a fork and sprinkle a tablespoon of grated Parmesan on each round, staying inside the scored border.
Place 1/4 of the onion mixture on each circle, again staying within the scored edge. Crumble 1 ounce of goat cheese on top of the onions. Place a slice of tomato in the center of each tart. Brush the tomato lightly with olive oil and sprinkle with basil, salt, and pepper. Finally, scatter 4 or 5 shards of Parmesan on each tart.
Bake for 20 to 25 minutes, until the pastry is golden brown. The bottom sheet pan may need an extra few minutes in the oven. Serve hot or warm.
About Tessa...
I share trusted baking recipes your friends will LOVE alongside insights into the science of sweets. I'm a professionally trained chef, cookbook author, and cookie queen. I love to write about all things sweet, carb-y, and homemade. I live in Phoenix, Arizona (hence the blog name!)
© Handle the Heat - handletheheat.com
Join the Handle the Heat Community


---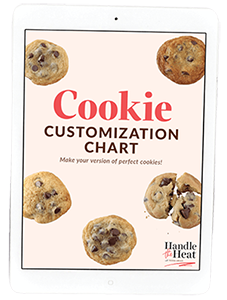 Do you want a more delicious life?
Instead of digging through cookbooks and magazines and searching the internet for amazing recipes, subscribe to Handle the Heat to receive new recipe posts delivered straight to your email inbox. You'll get all the latest recipes, videos, kitchen tips and tricks AND my *free* Cookie Customization Guide (because I am the Cookie Queen)!