Ultra soft and chewy Brown Sugar Toffee Cookies have a hint of cinnamon, a touch of cream cheese, and tons of crunchy toffee for big flavor in every bite.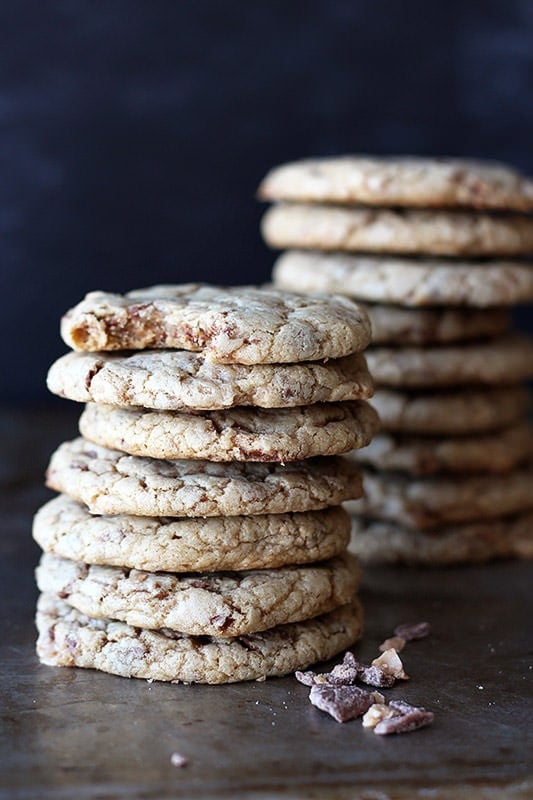 If you follow my Ultimate Guide to Chocolate Chip Cookie posts, you may remember how I experimented with using granulated sugar vs. brown sugar in cookie recipes. I always prefer a heavy dose of brown sugar because not only does it lend a soft chewiness to cookies, it also adds that caramel butterscotch-y flavor that I LOVE. These cookies are made entirely with brown sugar, so just imagine how soft, chewy, and flavorful they are. I also added in a bit of cornstarch to really boost that soft texture. Lastly, using a touch of softened cream cheese in addition to the butter totally rounds out the flavor profile, adding a slight tang to contrast the sweetness of the brown sugar and toffee. This ALSO adds a nice soft chew to the cookies.
Am I a cookie queen or what?! I'm not sure if I should be excited about that prospect or if it's mostly pathetic. The amount of cookies I've baked is astonishing. If we ever face some sort of doomsday scenario I'm not sure my cookie expertise would help me survive for long. Not unless zombies/aliens/robots love cookies. That's a movie I'd like to watch.
Recipe Rundown
Taste: The sweetness in these cookies tastes so much like caramel without actually having to make any caramel. Plus there's a touch of warm cinnamon. I love a sweet treat that has a little bit of depth.
Texture: The cookies themselves are ridiculously soft and chewy, thanks to the brown sugar, cream cheese, and cornstarch. All that is perfectly balanced by the crunchy little bits of toffee.
Ease: Super simple!
Appearance: Who wouldn't want one (or five) of these babies?
Pros: Not your average cookie, but perfect for satisfying any cookie craving.
Cons: None.
Would I make this again? Yes! I'm already thinking this would make a great ice cream sandwich.

The FULL RECIPE can be found on Imperial Sugar's website.
This post was written by me on behalf of Imperial Sugar. All text, photos, and opinions provided are my own.
About Tessa...
I share trusted baking recipes your friends will LOVE alongside insights into the science of sweets. I'm a professionally trained chef, cookbook author, and cookie queen. I love to write about all things sweet, carb-y, and homemade. I live in Phoenix, Arizona (hence the blog name!)
© Handle the Heat - handletheheat.com
Join the Handle the Heat Community


---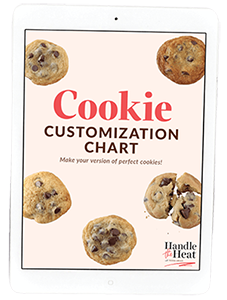 Do you want a more delicious life?
Instead of digging through cookbooks and magazines and searching the internet for amazing recipes, subscribe to Handle the Heat to receive new recipe posts delivered straight to your email inbox. You'll get all the latest recipes, videos, kitchen tips and tricks AND my *free* Cookie Customization Guide (because I am the Cookie Queen)!