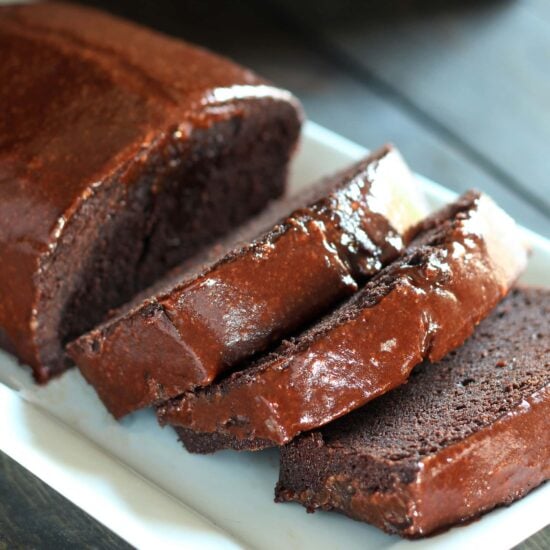 Tessa's Recipe Rundown...
Taste: Super ultra chocolaty which I personally think is about 1,000 times more flavorful than plain pound cake!
Texture: Ridiculously rich, fudgy, and dense without being too much.
Ease: Super easy and totally doable.
Appearance: The glaze makes each slice look so elegant.
Pros: Simple, rich, and versatile recipe. You can serve this cake all on its own, or a multitude of other ways.
Cons: None!
Would I make this again? Mmmhmm.
Sometimes it's the simplest things in life that are the best. Take this Chocolate Pound Cake recipe as an example. It's a basic yet rich cake batter that's baked in a loaf pan and covered with a simple glaze. There's no special equipment, no laborious decorating, and you're not dirtying every mixing bowl in your kitchen. It's simple yet scrumptious. Pound cake is rich and dense on its own, but when you add chocolate to the mix not only does it elevate the cake to a whole new flavor level, but it ends up falling somewhere in between fudgy brownie and moist cake. It doesn't get much better than that!
You can serve this cake with some fresh whipped cream or even ice cream to take it to a whole new realm of deliciousness. I personally love it with fresh berries. If you cut the slices into cubes, it makes a perfect addition to any trifle!

This post was written by me on behalf of Imperial Sugar. All text, photos, and opinions provided are my own.
About Tessa...
I share trusted baking recipes your friends will LOVE alongside insights into the science of sweets. I'm a professionally trained chef, cookbook author, and cookie queen. I love to write about all things sweet, carb-y, and homemade. I live in Phoenix, Arizona (hence the blog name!)
© Handle the Heat - handletheheat.com
Join the Handle the Heat Community


---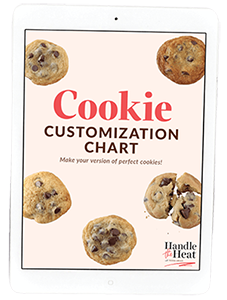 Do you want a more delicious life?
Instead of digging through cookbooks and magazines and searching the internet for amazing recipes, subscribe to Handle the Heat to receive new recipe posts delivered straight to your email inbox. You'll get all the latest recipes, videos, kitchen tips and tricks AND my *free* Cookie Customization Guide (because I am the Cookie Queen)!