Tessa's Recipe Rundown...
Taste: Incredibly fresh and bursting with that distinct raspberry flavor.
Texture: Frosty, creamy, rich with a buttery crunchy crust. If the pie is too solid let it sit for 5 to 10 minutes at room temperature to soften up.
Ease: Easy but a little messy. Completely worth the few extra dishes!
Appearance: I am obsessed with that brilliant all-natural pink color.
Pros: Perfect summer treat.
Cons: None!
Would I make this again? Absolutely. You could also use any type of berry you want!
This post may contain affiliate links. Read our disclosure policy.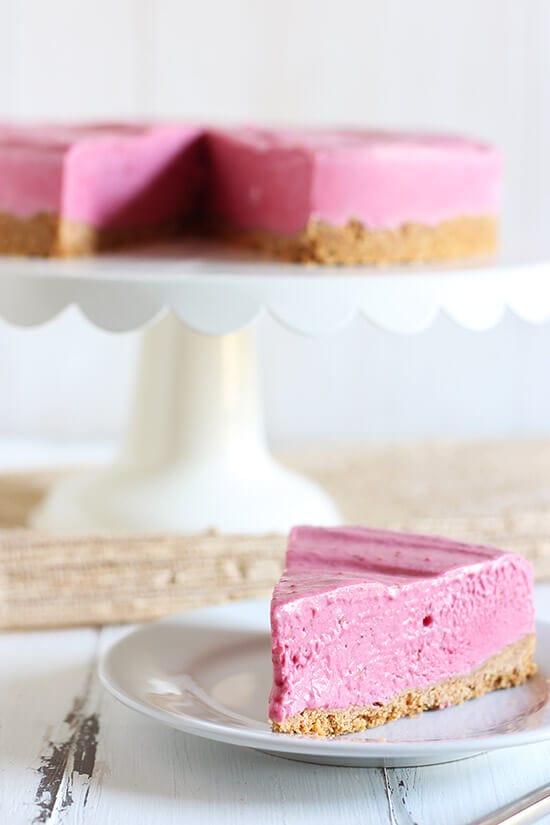 Since moving to our new house I've had a love-hate relationship with the electric range. The cooktop burners get SO MUCH hotter than our last stove but luckily it only takes burning something once or twice to learn that lesson. The oven, however, is still a bit of a mystery to me. It has 2 more racks than our previous oven but is actually smaller inside which is just strange to me. Plus, it is always about 20°F cooler than it should be (especially at higher temperatures). Luckily I always have my trusty oven thermometer inside so I can compensate for the difference. EVERYONE should have an oven thermometer. This oven also has convection capabilities with is sweet, but I haven't fully perfected the time and temperature adjustments to avoid overcooking. I have discovered that the convection setting is perfect for preheating the oven quickly though!
Generally, this entire oven just bakes differently. And in the middle of a desert summer? I don't even want to deal with that. Hence this no-bake frozen raspberry pie recipe. Right now I am all for staying away from the oven to keep myself cool AND sane with a fresh frosty treat. Win win!

This post was written by me on behalf of Imperial Sugar. All text, photos, and opinions provided are my own.
About Tessa...
I share trusted baking recipes your friends will LOVE alongside insights into the science of sweets. I'm a professionally trained chef, cookbook author, and cookie queen. I love to write about all things sweet, carb-y, and homemade. I live in Phoenix, Arizona (hence the blog name!)
© Handle the Heat - handletheheat.com
Join the Handle the Heat Community


---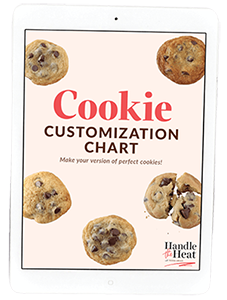 Do you want a more delicious life?
Instead of digging through cookbooks and magazines and searching the internet for amazing recipes, subscribe to Handle the Heat to receive new recipe posts delivered straight to your email inbox. You'll get all the latest recipes, videos, kitchen tips and tricks AND my *free* Cookie Customization Guide (because I am the Cookie Queen)!