Cupcake Decorating Tips with Video
This post may contain affiliate links. Read our disclosure policy.
Today's post isn't a recipe, instead it's a quick video and tutorial about how to decorate cupcakes using piping tips!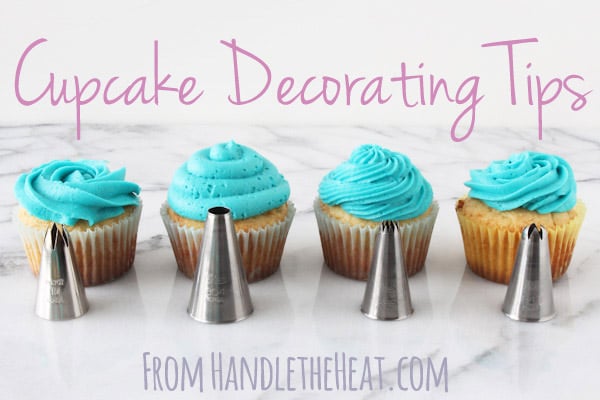 Every time I bring cupcakes to a gathering people always seem impressed by how the frosting is decorated but really, it couldn't be easier. I wanted to share with you some of my favorite piping tips so you can see what kind of decorative effect they produce on cupcakes. I've included Amazon links to various products that I've used at the very end of this post but you can also buy frosting and pastry supplies at stores like Michael's and Hobby Lobby. Some grocery stores even have a fair amount of baking supplies.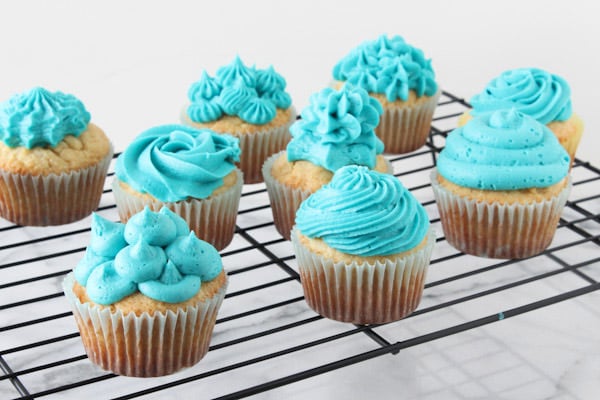 I used Wilton's gel Icing Color in Sky Blue to dye the frosting to make it easier to see. I also used a disposable pastry bag and large coupler to change out the tips throughout the video (links to these products at the end of the post). Whenever I'm experimenting with a new tip or decorating technique, I'll take one cupcake to practice on, scraping the frosting off for a blank slate to re-frost. Watch the video to see exactly how to pipe frosting onto cupcakes using decorative tips!
Check out all the pictures below to see how each pastry tip looks, what kind of frosting designs they make, and some comparison shots!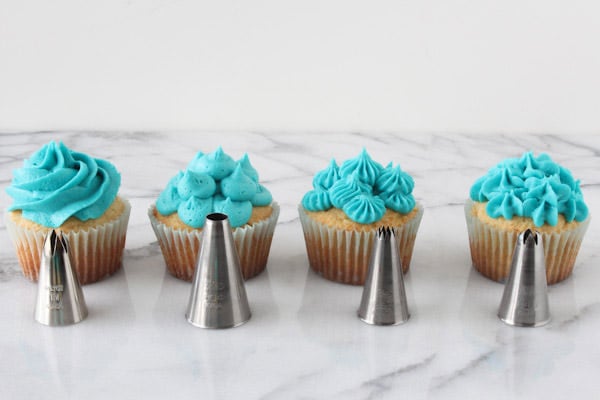 From left to right: Wilton 1M, Ateco 804, Ateco 863, Ateco 843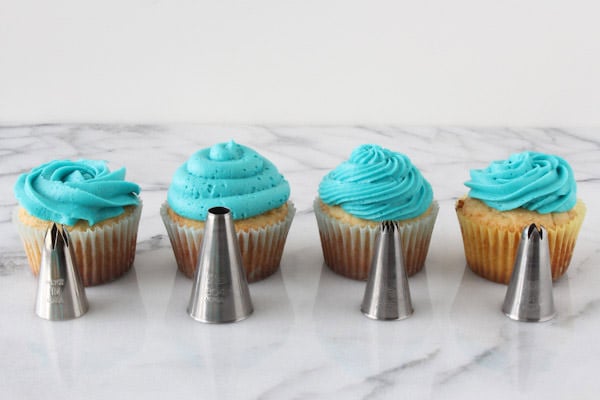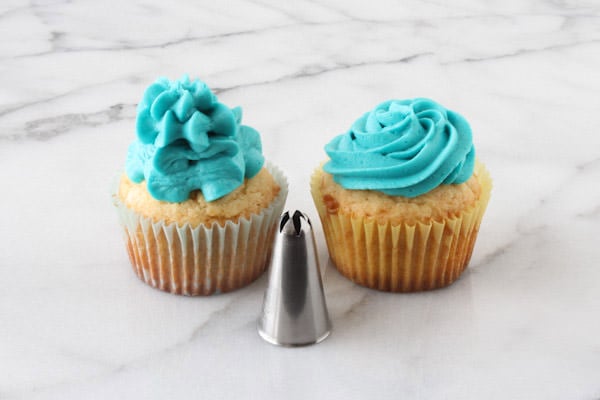 Ateco 843: This is a closed star decorating tip  that's perfect for making pretty swirls or tall bursts of frosting.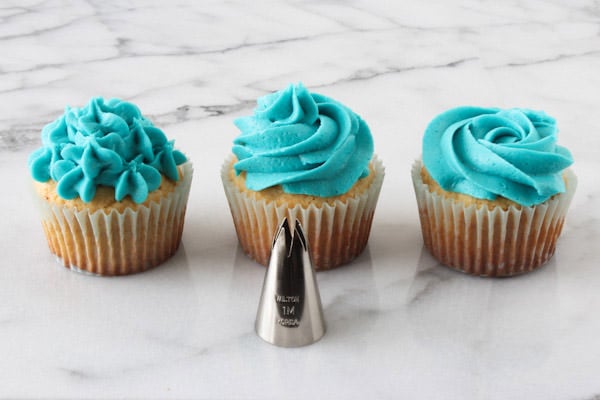 Wilton 1M: This is an open star decorating tip. If you only buy one decorating tip, make sure this is the one! As you can see, it is extremely versatile in creating flower-like dollops, beautiful swirls, and even easy rose patterns. This tip is perfect for cupcakes but the rose patterns also look fantastic on cakes.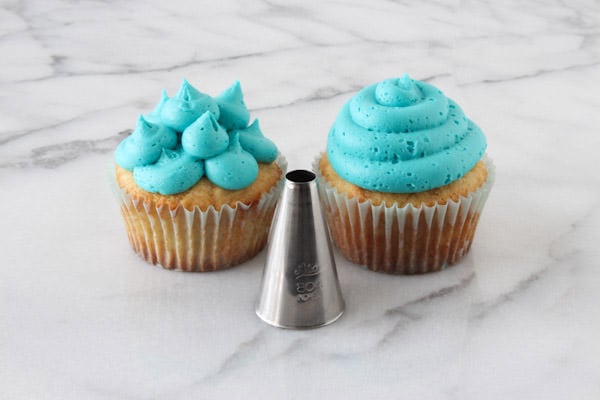 Ateco 804: This is a really fun big plain tip that gives you perfect little kisses of frosting or big, luscious swirls. This one is super easy to use.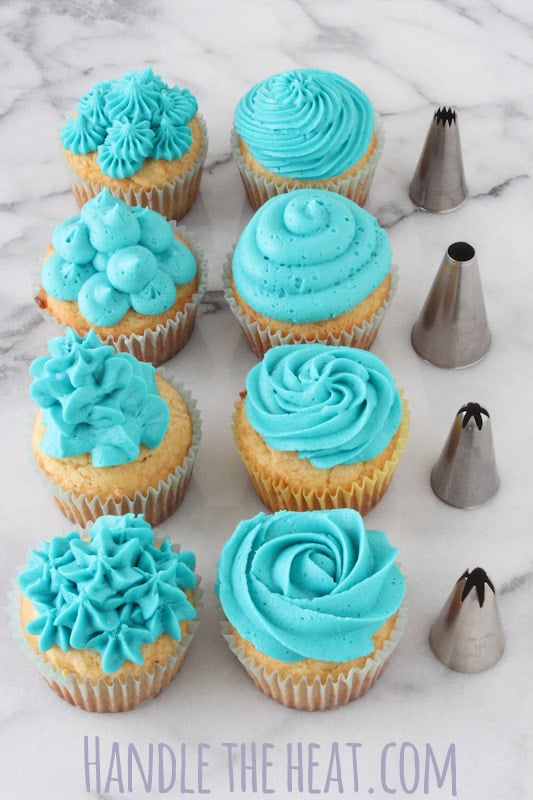 Top to bottom: Ateco 863, Ateco 804, Ateco 843, Wilton 1M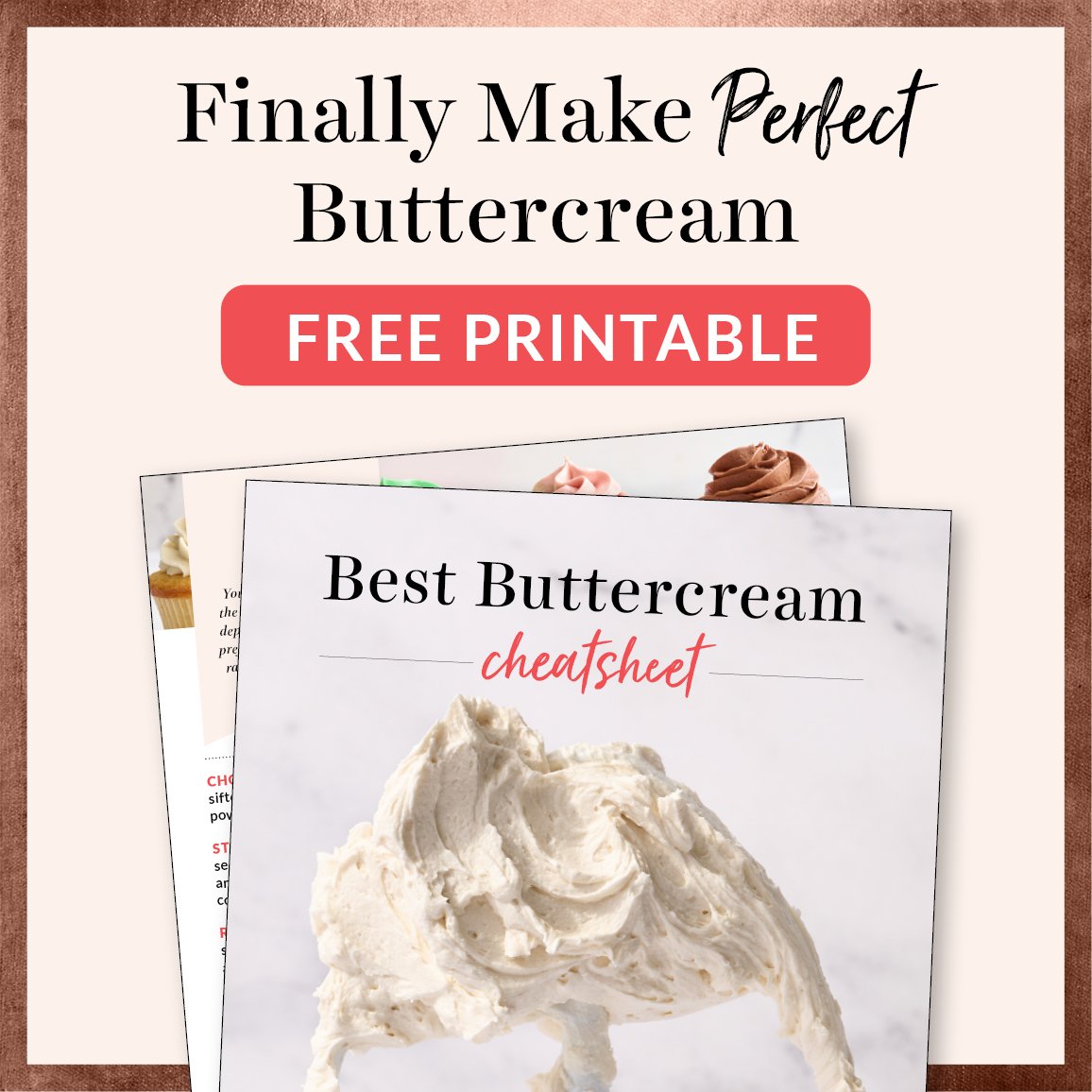 About Tessa...
I share trusted baking recipes your friends will LOVE alongside insights into the science of sweets. I'm a professionally trained chef, cookbook author, and cookie queen. I love to write about all things sweet, carb-y, and homemade. I live in Phoenix, Arizona (hence the blog name!)
© Handle the Heat - handletheheat.com
Join the Handle the Heat Community


---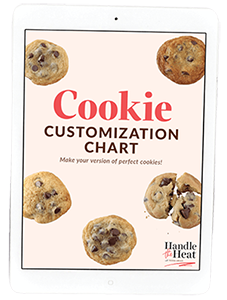 Do you want a more delicious life?
Instead of digging through cookbooks and magazines and searching the internet for amazing recipes, subscribe to Handle the Heat to receive new recipe posts delivered straight to your email inbox. You'll get all the latest recipes, videos, kitchen tips and tricks AND my *free* Cookie Customization Guide (because I am the Cookie Queen)!