Why Dessert Should Be an Indulgence
Last week I wrote about Why I Hate Baking Substitutions.
I mentioned that most of them simply won't create the same results. And when you mess around with a baking recipe, you're messing around with the recipe writer's intentions and arguably all the hard work that went into the creation of the recipe. Baking truly is a science!
I couldn't believe how many of you feel the same exact way. Particularly regarding those recipe comments you see everywhere these days that say "I made this recipe but I swapped out A for B and it didn't turn out. 1 star." 🙄
I got SO many messages in response that it actually broke my inbox for half a day!! Crazy.
I'm so grateful for your support. It's inspired me to share something else I've been scared to talk about.
Something I've been seeing more and more recently is the uptick in fad diets.
I've been blogging for over 10 years. Fad diets have certainly been around longer than that.
However, I think with the rise of social media diets have come and gone much more rapidly. The spread of information and often, misinformation, is alarming. There's SO MUCH going on in the world of food, eating, and nutrition online right now.
Paleo
Whole 30
Keto
Low Carb
Gluten free
Intermittent fasting
Vegan
…I could go on
I do not publish diet recipes.
I feel like that's pretty clear to anyone looking at my content, but I still get asked about this often.
I don't publish these types of recipes because I don't believe in them. It's my personal philosophy that dessert should be an indulgence as a wonderful part of life to be enjoyed and savored.
Because honestly: what's the point of a Paleo brownie? Unless you have an allergy. Or something that doesn't taste nearly as good as the 'real' thing that will just leave you feeling dissatisfied and often more likely to binge on something later?
I get asked often how I maintain a certain weight while baking for a living.
I honestly believe the answer to that question is that I don't restrict myself or vilify any kind of food. I don't believe any food is "bad," "sinful," or "cheating" in the way these words are often used in our culture.
There's nothing less satisfying than a dessert that's on a diet.
I enjoy dessert tremendously. I eat it daily. But I don't eat it just for its own sake. I eat to enjoy it, and when I stop enjoying it I stop eating it. Even if that means after just a few bites. And then I don't feel guilty afterwards because it brought me joy!
It's my personal belief that the guilt and stress people place on themselves when it comes to their food choices is just as harmful as "indulgent" food itself. I'd rather enjoy my food and my life!
That's exactly why I personally don't believe in diets like Whole 30 or Paleo. I find them to be far too restrictive and stressful.
Of course I understand some people are facing allergies, health diagnoses, or are choosing a diet based on a personal ethical code or religious observation. Everyone should eat the way that makes them feel best physically, mentally, and emotionally.
But as I've mentioned before, I'm not here to satisfy every kind of recipe request. It would simply be impossible and I would burn out!
So if I'm feeling inspired to make a vegan or dairy-free recipe, maybe because I have a family member or friend who would benefit, then I will.
But 99% of the recipes you'll find here use real butter, real cream, wheat flour, and regular sugar just like your grandma or great grandma used.
Raise your hand if you love unadulterated desserts!
You're in the right place.
If you're searching for something different, there are plenty of websites and bloggers offering you exactly that. There's room for everyone!
xo
Tessa
About Tessa...
I share trusted baking recipes your friends will LOVE alongside insights into the science of sweets. I'm a professionally trained chef, cookbook author, and cookie queen. I love to write about all things sweet, carb-y, and homemade. I live in Phoenix, Arizona (hence the blog name!)
© Handle the Heat - handletheheat.com
Join the Handle the Heat Community


---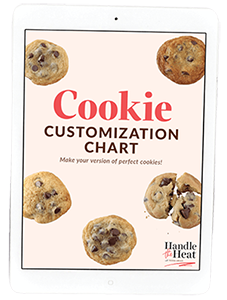 Do you want a more delicious life?
Instead of digging through cookbooks and magazines and searching the internet for amazing recipes, subscribe to Handle the Heat to receive new recipe posts delivered straight to your email inbox. You'll get all the latest recipes, videos, kitchen tips and tricks AND my *free* Cookie Customization Guide (because I am the Cookie Queen)!