The BEST Cookie Scoops (Plus How and Why to Use One!)
After writing an entire cookbook dedicated to cookies and baking thousands of cookies in my career, there's a LOT I've learned about everything that goes into baking the perfect cookie.
One of my biggest insights? Use a cookie scoop when baking cookies!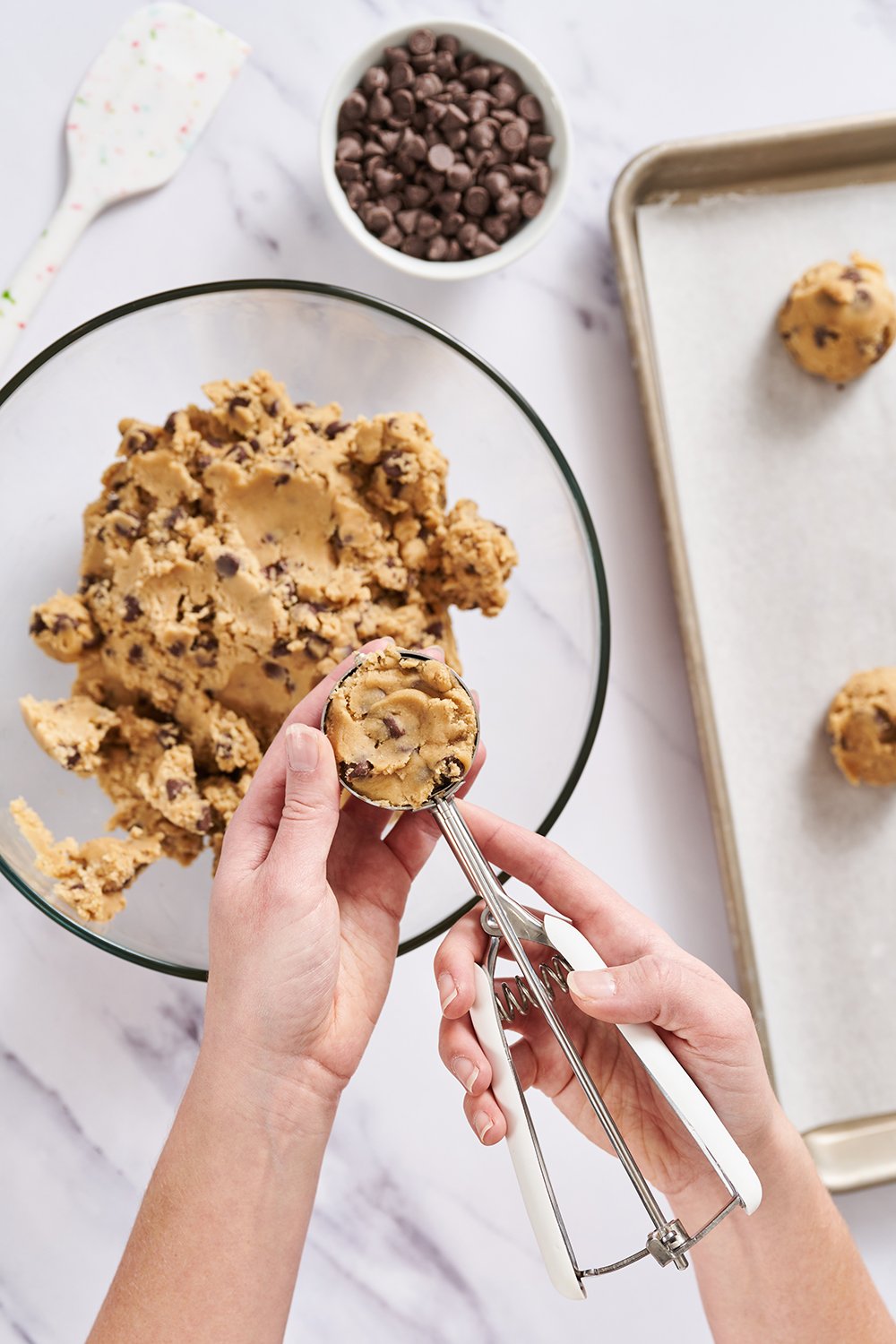 Using a stainless steel cookie scoop when portioning out cookie dough is one of the KEYS to beautiful, uniform, evenly shaped cookies. My cookie scoop is one of my most frequently used kitchen gadgets.
I'm sharing everything you need to know about how and why to use a cookie scoop in this article!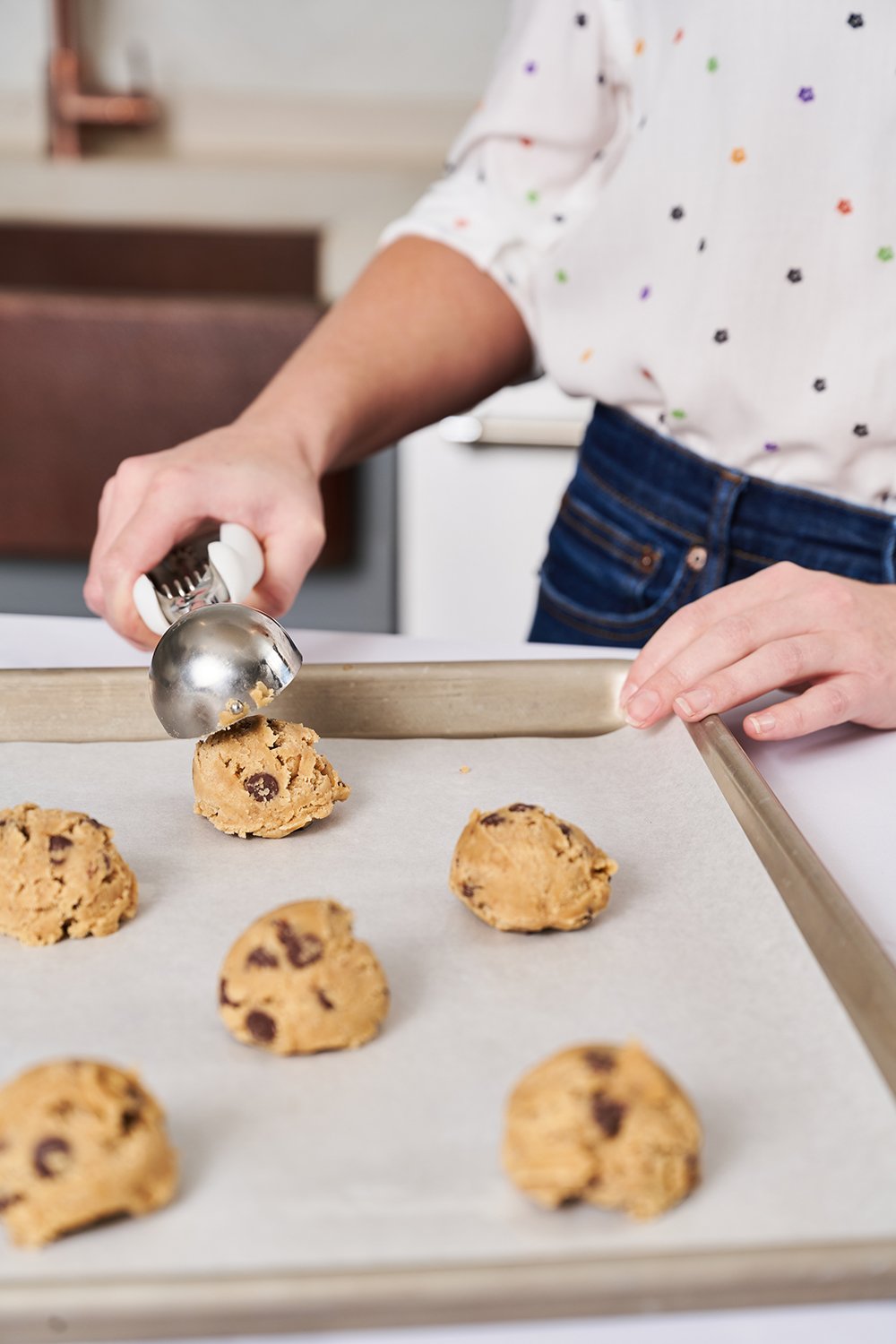 Why to Use A Cookie Scoop?
A spring-loaded scoop saves you *so much time* in forming the balls of dough. When using a scoop, you ensure each ball is evenly shaped so the cookies bake evenly. Meaning you don't have any small overbaked cookies and large underbaked cookies.
Plus, the resulting cookies will all be similar in size, so no fighting over the bigger cookie. AND there's less chance for weird misshapen cookies. If you want to learn more, check out my article for How to Make Picture Perfect Cookies here.
Lastly, using scoopers makes freezing and baking cookies directly from frozen so simple!
How to Use A Cookie Scoop
To use a scoop, press it into your bowl of dough and fill up.
Use your fingers to press the dough completely into the scoop so it forms into a compact ball.
Use one finger or the edge of the bowl to smooth off the top for an even scoop. This will help ensure each ball of dough is the same size not just to avoid fighting, but so that you end up with the same yield the recipe specifies, and every cookie bakes evenly.
Scoop out cookie dough balls onto a prepared baking sheet.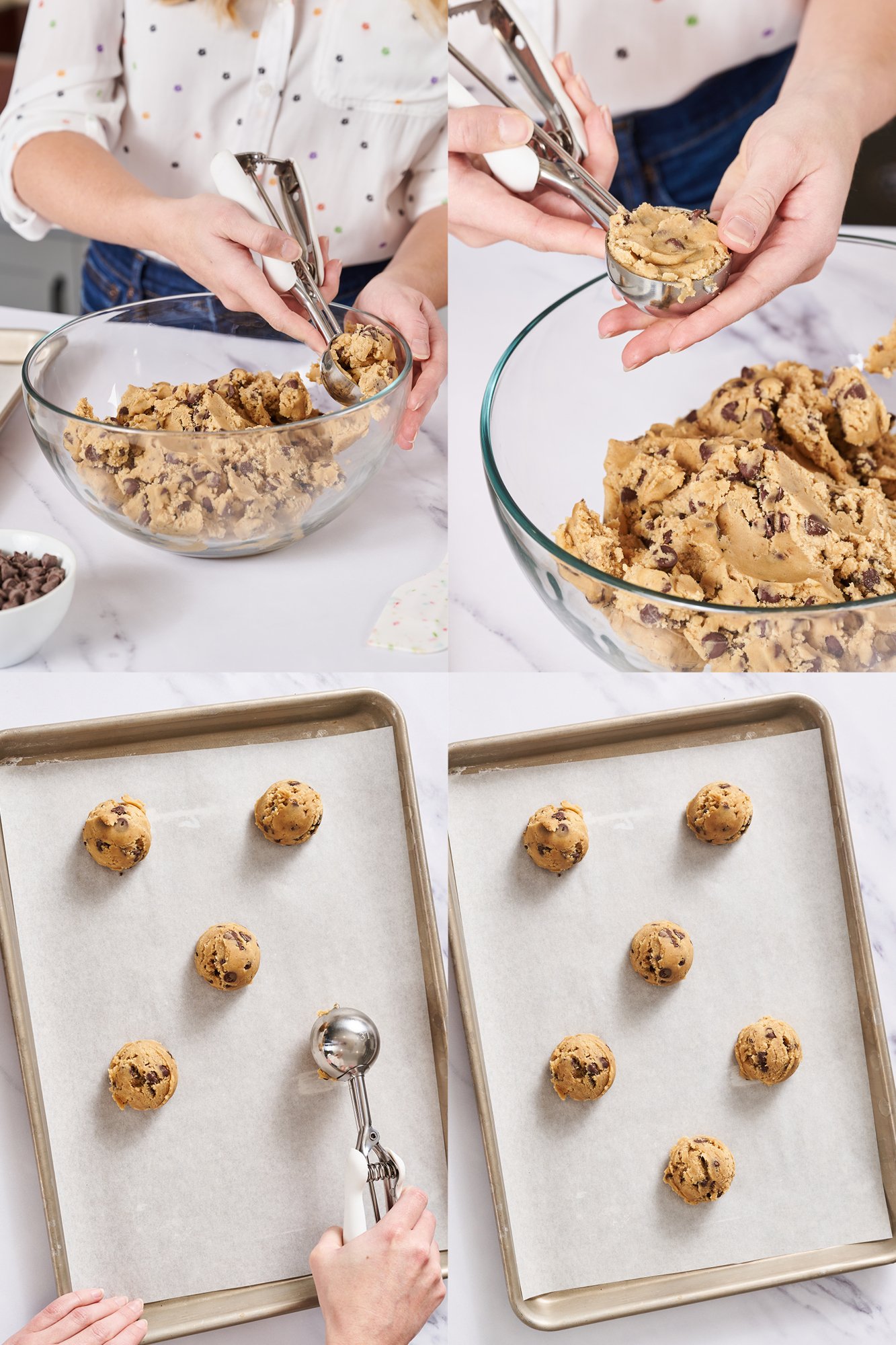 When using a cookie scoop, avoid cold dough!
Your dough should be warm enough to be pliable, but not so warm you run the risk of baking up flat cookies. If you plan to chill your dough, as I highly recommend for chocolate chip cookies, then you'll either want to scoop your dough before chilling (make sure to cover well with plastic) or allow the dough to sit at room temperature after chilling until it's malleable enough to safely scoop, which can take over an hour depending on your kitchen environment.
If your dough is too cold, you run the risk of breaking your scoop or even straining your hand or wrist!
What's the best scoop for cookie dough?
The best cookie scoop is one that is functional, durable, high-quality, and in the correct size as specified by the recipe. I personally like the Oxo brand of cookie scoops. They're comfortable to use, durable, and dishwasher safe. Check them out here:
What size scoop for cookies?
There are many different scoop sizes available on the market to bakers. I find the numeric sizing to be a little bit confusing since it doesn't translate over to imperial measurements directly (oh the joys of living in the U.S.). Instead, I rely on the tablespoon sizes.
It's impossible to say how big a cookie will be from each size scoop, since every cookie recipe will spread to varying levels. Generally, the smaller the cookie, the more crisp or crunchy it'll be. The larger the cookie, the more likely you'll get crisp edges but a soft, gooey, or more chewy interior.
I use the medium and large scoops most often for cookies. My most popular cookie recipe, my Bakery Style Chocolate Chip Cookies, uses the large scoop size.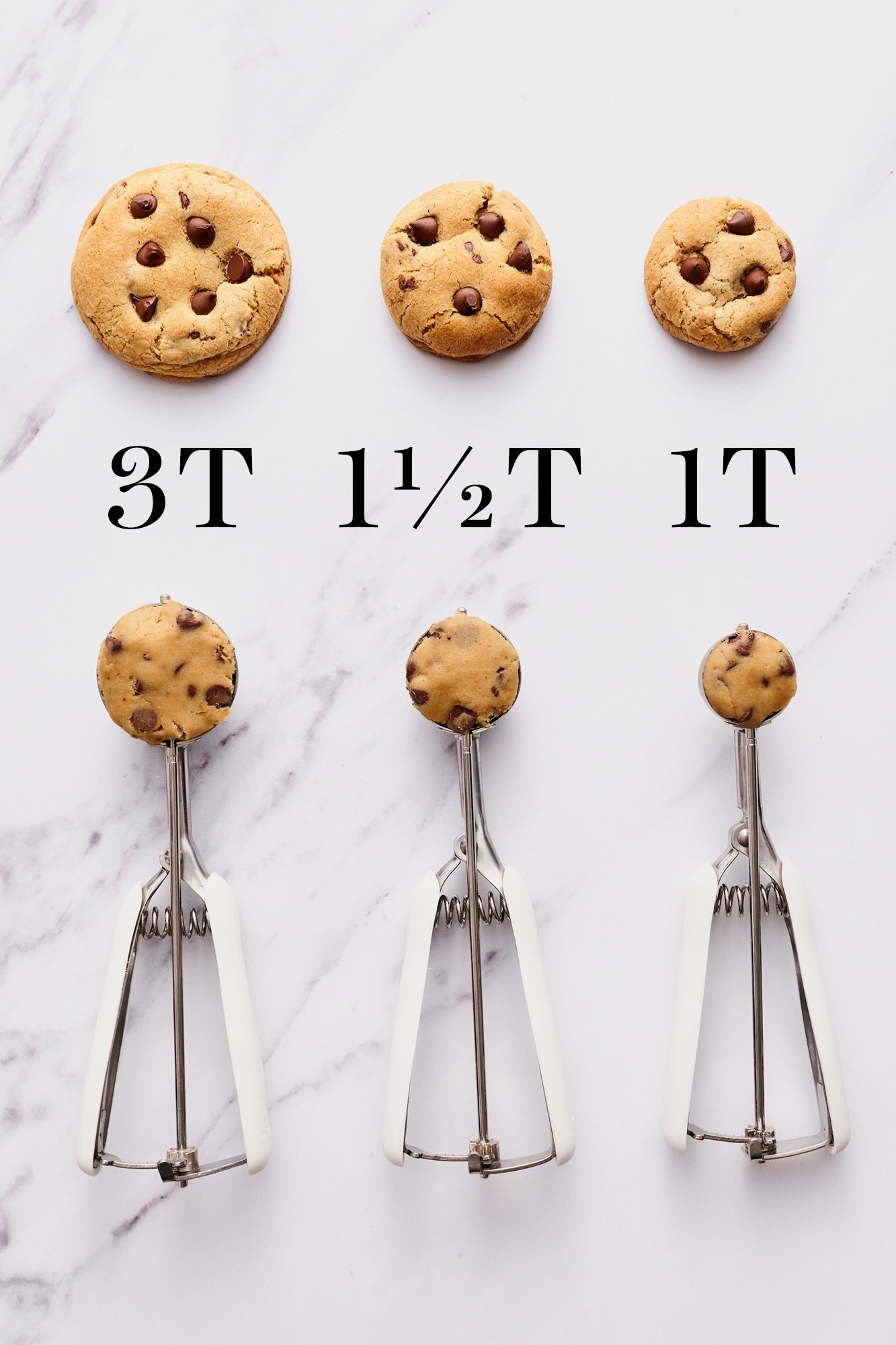 How to keep cookie dough from sticking to scoop:
A small amount of dough sticking to the scoop is totally normal and not preventable. As long as the gear-driven 'arm' inside the scoop sits relatively flush with the interior, it should effectively scoop out most of the dough each time.
If you're working with an extremely sticky dough that doesn't want to fully release, try running your scoop under very hot water, then drying before scooping. Or, lightly spray with nonstick cooking spray before using.
Baking Time for Cookie Scoop Sizes
Always follow the recommended baking time given in the recipe you're using. Generally, these are the baking times for each scoop size:
Small scoop: 1 tablespoon – 8 to 10 minutes
Medium scoop: 1 ½ tablespoons – 10 to 12 minutes
Large scoop: 3 tablespoons – 11 to 13 minutes
How to Clean Cookie Scoops
I typically hand wash my cookie scoops with soap and warm water, dry, and return to their drawer to extend the life of them. Avoid allowing it to soak in water for an extended period of time to prevent rusting or other damage.
Washing in the dishwasher can degrade the metal and spring mechanism over time, especially if you use a hard water rinse aid, such as Lemishine, so I like to avoid the dishwasher most of the time – but it's totally fine to run them through the dishwasher occasionally.
What else can I use a cookie dough scoop for?
Shaping candies or truffles (generally the small size)
Shaping energy balls
Portioning out cupcake batter or muffin batter
Portioning out biscuit dough
Spooning an equal amount of frosting on cupcakes before smoothing
As a melon baller substitute
Scooping ice cream
Spooning out the mixture for fritters or latkes
Shaping falafel before frying
Scooping out meatballs
My favorite cookie recipes:
Photos by Joanie Simon.
About Tessa...
I share trusted baking recipes your friends will LOVE alongside insights into the science of sweets. I'm a professionally trained chef, cookbook author, and cookie queen. I love to write about all things sweet, carb-y, and homemade. I live in Phoenix, Arizona (hence the blog name!)
© Handle the Heat - handletheheat.com
Join the Handle the Heat Community


---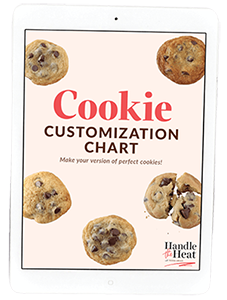 Do you want a more delicious life?
Instead of digging through cookbooks and magazines and searching the internet for amazing recipes, subscribe to Handle the Heat to receive new recipe posts delivered straight to your email inbox. You'll get all the latest recipes, videos, kitchen tips and tricks AND my *free* Cookie Customization Guide (because I am the Cookie Queen)!