Butter vs Shortening: Which is Better?
This post may contain affiliate links. Read our disclosure policy.
This can be a surprisingly controversial debate and is a question I get asked about all the time. Which is better: butter or shortening? I'm going to be diving deep into the exact differences between the two, and even comparing the same recipes made with each so you can SEE the differences.
It seems so simple to just substitute out one ingredient with another but baking is truly a science and every change you make can result in a totally different product! I've done specific testing on butter vs. shortening with pie crust, biscuit, and cookies. In the video below I've explained everything in case you don't feel like reading. Let me know in the comments below if you're Team Butter or Team Shortening!
Butter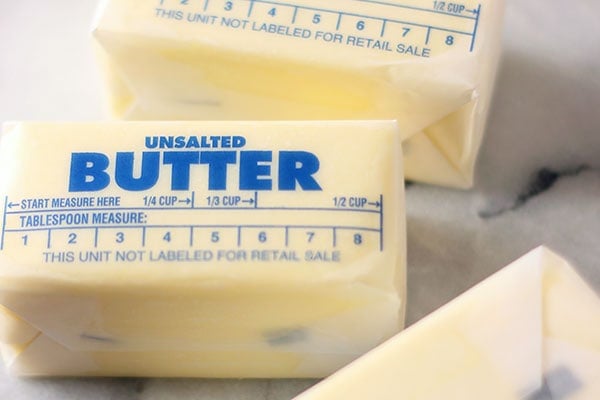 What is it?
Butter is composed of at least 80% fat (per U.S. standards) and no more than 16% water, plus a smaller amount of milk proteins. That water content turns into steam while baking and can increase gluten production, which can result in a crisper cookie, flakier pie crust or biscuit.
Butter has a melting point that's around body temperature. This means it starts to melt the moment it encounters heat, giving it that melt-in-your-mouth feeling we all love. For cookies, this also results in more spread and a flatter cookie.
PROS
• All natural.
• Provides an excellent incomparable taste.
• Butter offers a melt-in-your mouth texture.
• Gives biscuits and pie crust an incredibly light yet flaky texture
CONS
• Butter can be expensive.
• It can melt too quickly and cause baked goods like cookies to spread too thin
• The temperature of your butter in baking is really important, so it's a little more difficult to get right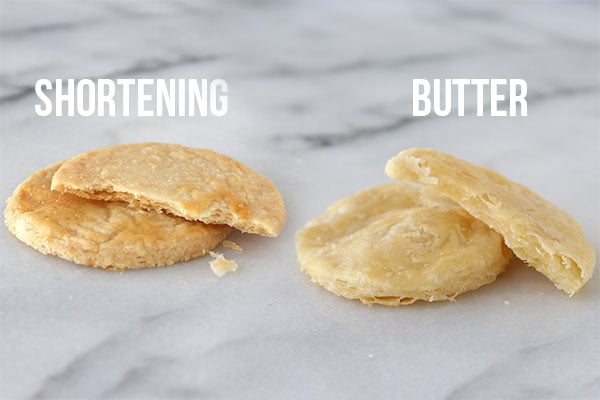 Shortening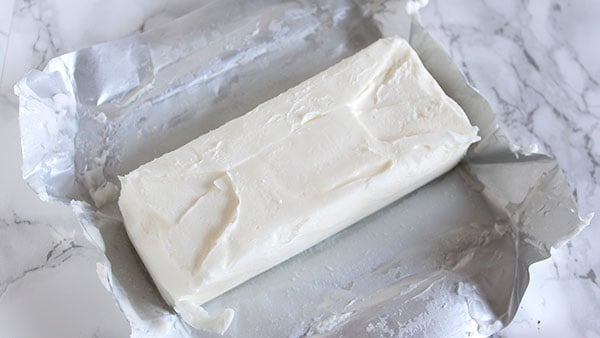 What is it?
A fat that is solid at room temperature and typically made from vegetable oils. It used to be commonly made through a process resulting in trans fat, but now that we know how trans fat negatively impacts our health it can now be manufactured in a way that results in saturated fat instead. Basically, it is a cheaper and more shelf stable butter substitution.
Shortening is 100% fat, containing no water. That means no steam is created during baking which effectively reduces gluten production, so shortening cookies tend to be softer and more tender. Also, shortening has a higher melting point than butter, resulting in taller cookies. Because there is no water, most brands of shortening will recommend you add in 2 tablespoons of water for every cup of butter that you're substituting with shortening.
PROS
• Shortening is cheap and has a long shelf life.
• Cookies made with shortening are tall and tender.
• It can be easier to work with than butter which can quickly get too warm.
CONS
• Not natural.
• Can't compare to the flavor of butter, even if the shortening is "butter-flavored" (nothing is as good as the real thing).
• Lack of water leads to a more crumbly texture.
Shortening's higher melting point results in a taller cookie. However, it also means that it doesn't fully melt in the mouth like butter does, leaving behind an unpleasant waxy coating on the palate.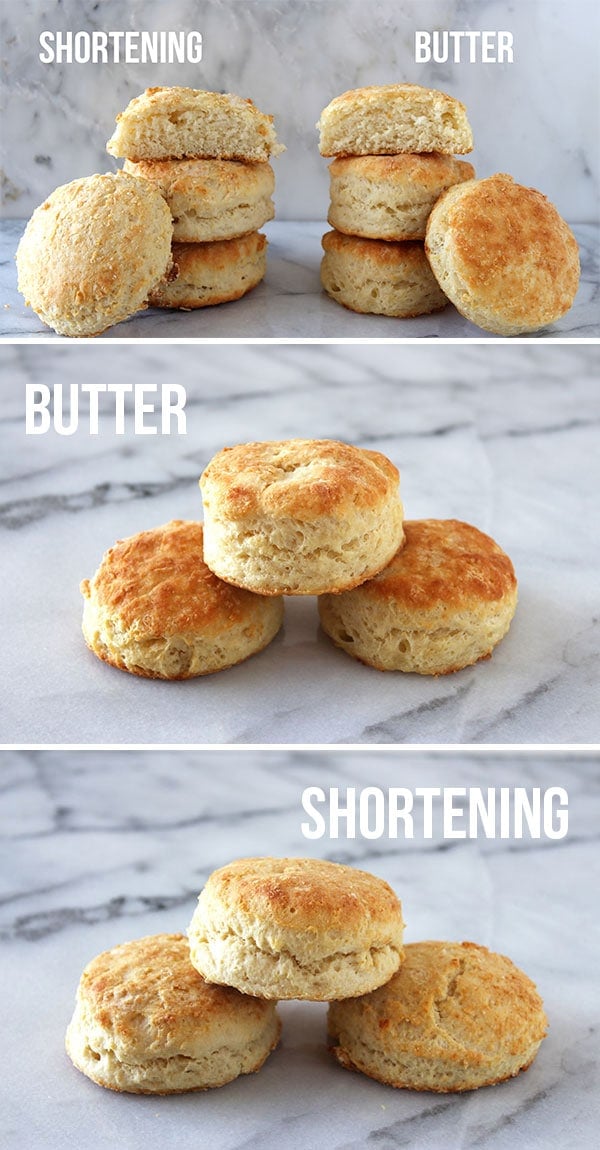 THE VERDICT?
I personally prefer butter over shortening and rarely bake with shortening. I just like to use natural ingredients when possible.
That waxy coating I just described is exactly why I don't like to use shortening in recipes like buttercreams or icings where that waxy feeling is super obvious. Sure, buttercream made with shortening won't melt if you're serving cake or cupcakes in a warm area, and it'll remain stable for longer, but that's not enough to sacrifice the better texture and flavor butter offers.
However, I do like the height and tenderness shortening lends in cookies. That's why I would suggest using 50% butter and 50% shortening – or some similar combination – to get the best of both worlds if you're baking cookies. However, when it comes to pie crust and biscuits, I prefer 100% butter.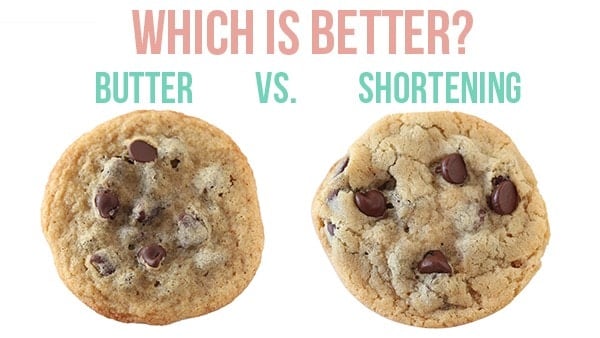 Shortening can be a great option for people who can't eat dairy or who subscribe to a vegan diet.
I hope you found this insightful! Which do you think is better? Leave me a comment and let me know what you think.
About Tessa...
I share trusted baking recipes your friends will LOVE alongside insights into the science of sweets. I'm a professionally trained chef, cookbook author, and cookie queen. I love to write about all things sweet, carb-y, and homemade. I live in Phoenix, Arizona (hence the blog name!)
© Handle the Heat - handletheheat.com
Join the Handle the Heat Community


---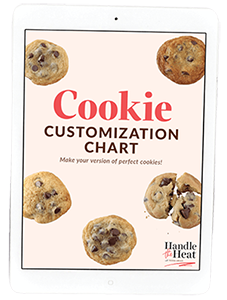 Do you want a more delicious life?
Instead of digging through cookbooks and magazines and searching the internet for amazing recipes, subscribe to Handle the Heat to receive new recipe posts delivered straight to your email inbox. You'll get all the latest recipes, videos, kitchen tips and tricks AND my *free* Cookie Customization Guide (because I am the Cookie Queen)!