Red Velvet Cheesecake Bites
Yield: 36 bites
Prep Time: 30 minutes
Cook: 50 minutes
Tessa's Recipe Rundown...
Taste: The combination of an Oreo crust, tangy red velvet cheesecake, and sweet white chocolate is just about perfect!
Texture: Each bite is loaded with so many incredible crunchy, smooth, rich, and creamy textures.
Ease: Making the cheesecake is easy, but coating the bites in chocolate is messy and hands on.
Pros: Fun and festive homemade treat perfect for the holidays. You could also swap out the sprinkles to make these perfect for Valentine's Day or the 4th of July!
Cons: Coating in chocolate is time consuming, messy, and takes a few tries before they start to look pretty. If you want to avoid that, you could drizzle with chocolate instead.
Would I make this again? Absolutely!
This post may contain affiliate links. Read our disclosure policy.
There are a handful of recipes that I've shared over the years that have become permanent favorites among you guys. It doesn't seem to matter where or when I share those recipes, they always get tons of likes, comments, and rave reviews.
My recipe for Chocolate Covered Cheesecake Bites is one of those. I can see why.
It basically takes an already indulgent dessert, cheesecake, and turns it into bite sized pieces of chocolate candy. What's not to love? I knew this year I had to make a fun and festive version that could be adapted to different holidays. That's how these Red Velvet Cheesecake Bites were born!
I used green and red sprinkles to garnish these for a festive Christmas effect. However, depending on the time of the year, pink or heart shaped sprinkles would be perfect for Valentine's day. Or even a drizzle of pink candy melts. For the 4th of July, blue sprinkles would be perfect!
Red Velvet Cheesecake Bites Recipe Tips
-Make sure your cream cheese has come completely to room temperature and you beat it until completely smooth. Otherwise you'll end up with lumps in your batter that will look like white specks among the red cheesecake.
-I like to use Americolor Gel food coloring for red velvet. It packs a colorful punch with just a few drops, so you're not using a ton of food coloring and altering the taste of the recipe. Any gel food coloring will be better than liquid.
-For easiest and cleanest chocolate coating, the cheesecake bites need to be completely frozen. If they start to warm up, pop them back in the freezer to solidify again.
-The white chocolate coating calls for coconut oil. This helps to smooth out the chocolate so it's easier to dip, and helps the chocolate to solidify once it's cold. It doesn't really add any coconut taste. You can also use shortening.
-If garnishing with sprinkles, do so immediately after dipping in chocolate before it's had a chance to set.
The cheesecake component in this recipe is super straightforward, but if you want to up your cheesecake game altogether be sure to check out my free guide:
How to make
Red Velvet Cheesecake Bites
Yield: 36 bites
Prep Time: 30 minutes
Cook: 50 minutes
Ingredients
For the crust:
12 (185 grams) whole chocolate graham crackers
1 stick (113 grams) unsalted butter, melted
For the filling:
16 ounces (454 grams) cream cheese, at room temperature
1/2 cup (100 grams) granulated sugar
1/4 cup (57 grams) sour cream
2 large eggs
2 tablespoons unsweetened cocoa powder
1 teaspoon vanilla extract
1/2 teaspoon red gel food coloring
1 tablespoon all-purpose flour
1/2 teaspoon fine sea salt
For the chocolate coating:
16 ounces (453 grams) white chocolate
3 tablespoons coconut oil or shortening
Directions
To make crust:
Preheat oven to 350°F. Line an 8 by 8-inch square baking dish with foil and spray with non-stick cooking spray.
In the bowl of a food processor, pulse the graham crackers until finely ground. Add the butter and pulse until moistened. Press mixture evenly into prepared pan. Bake for 10 minutes, or until light golden and fragrant. Reduce heat to 325°F.
To make filling:
Using an electric mixer, beat the cream cheese and sugar until smooth and fluffy, about 3 minutes. On low speed, add in the sour cream, eggs, cocoa powder, food coloring, vanilla, flour, and salt and beat until just combined. Be careful not to overmix. Pour the batter over the crust and bake for 35 to 40 minutes, or until cheesecake is slightly puffed and center is set. If the center is slightly jiggly, that's fine.
Let cool completely on a wire rack. Freeze for 3 hours, or until very cold and firm, or overnight.
To coat in chocolate:
Once frozen, lift cheesecake out of pan and gently peel away foil. Using a sharp knife, cut cheesecake into 36 bite-size squares. If squares become too soft, freeze until chilled again.
Place the chocolate and coconut oil in a microwave-safe bowl and heat for 1 to 2 minutes, stirring every 30 seconds, until melted and smooth.
Place parchment paper or a silicone baking mat on a baking sheet. Dip cheesecake squares, one at a time, in the melted chocolate. Let the excess drip off and place on prepared sheet. Immediately garnish with sprinkles, if using.
Repeat for all the squares then refrigerate until the chocolate is set. Serve or store the squares in an airtight container in the fridge or freezer.
About Tessa...
I share trusted baking recipes your friends will LOVE alongside insights into the science of sweets. I'm a professionally trained chef, cookbook author, and cookie queen. I love to write about all things sweet, carb-y, and homemade. I live in Phoenix, Arizona (hence the blog name!)
© Handle the Heat - handletheheat.com
Join the Handle the Heat Community


---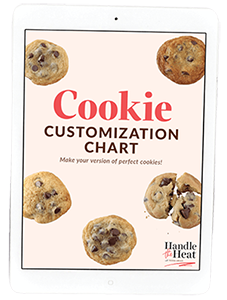 Do you want a more delicious life?
Instead of digging through cookbooks and magazines and searching the internet for amazing recipes, subscribe to Handle the Heat to receive new recipe posts delivered straight to your email inbox. You'll get all the latest recipes, videos, kitchen tips and tricks AND my *free* Cookie Customization Guide (because I am the Cookie Queen)!