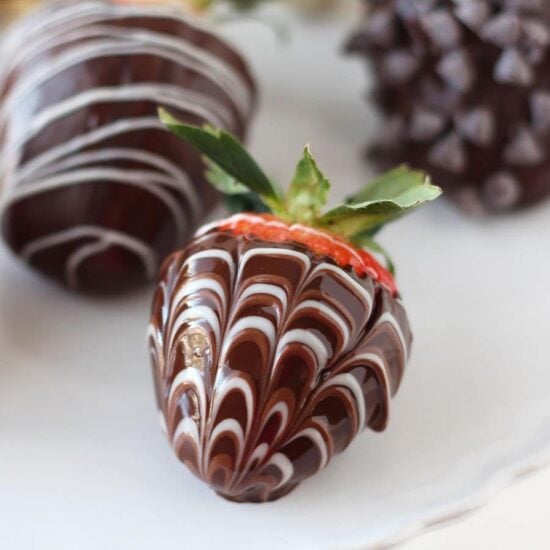 Chocolate Covered Strawberries
Yield: 1 pound chocolate covered strawberries
Prep Time: 15 minutes
Cook: 25 minutes
Tessa's Recipe Rundown...
Taste: Strawberry and chocolate are a match made in heaven, no doubt about that!
Texture: The chocolate is thick and shatters when you bite into it, giving way to a tender and juicy gem of a berry underneath.
Ease: Super easy, but if you're anything like me you may get chocolate on yourself!
Appearance: Just stunning. Like something on display at a fancy chocolate shop.
Pros: Romantic, simple, and totally customizable. Can be served alone or for a special garnish on cakes or cupcakes.
Cons: None!
Would I make this again? Absolutely.
With Valentine's Day around the corner I thought I'd share a ridiculously fun, simple, yet gourmet treat for you, complete with a step-by-step video!
I have a confession: I LOVE chocolate covered strawberries way too much. I could eat a million and still want more. They're so beautiful and are bursting with some of my favorite flavors and textures, each bite is pure magic!
There's no reason to spend an arm and a leg on chocolate covered strawberries from a bakery or delivery service when they're surprisingly easy to make from scratch right at home.
Be sure to watch the above video to see how these adorable romantic treats are made step-by-step. I also share some of my favorite tips and tricks and how to decorate them like a pro! Your family will think you bought these at the chocolate shop!
They're not just perfect for Valentine's Day, but for any anniversary, bridal shower, or anytime you're craving this perfect flavor combination!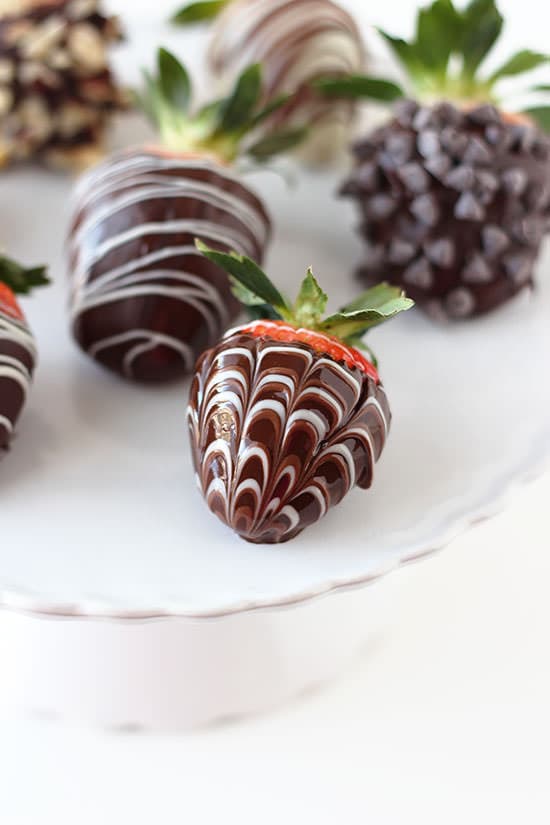 How to Make Homemade Chocolate Covered Strawberries
Strawberries must be DRY before coating
In order to make the best chocolate covered strawberries from scratch, the fruit itself must be thoroughly dried. Wash the strawberries well then dry completely, even the leaves. I like to pat them down with paper towels then let them air dry for at least an hour. Any moisture is going to ruin the chocolate coating. Chocolate + water don't mix well.
Why use shortening or coconut oil in chocolate coating?
This is a bit of a shortcut which allows us to avoid tempering the chocolate. If you'd like to learn how to temper chocolate for dipped strawberries that will stay solid at room temperature, click here for my tutorial.
This also allows us to avoid using chocolate candy melts, which aren't really chocolate and don't taste great. The shortening or coconut oil is solid at room temperature and helps to solidify the chocolate coating. However, the strawberries are still best served relatively cold so if it's a warm day they'll need to spend most of their time in the fridge.
Can I use chocolate chips for dipping in strawberries?
No, your best choice is baking chocolate. The kind you need to chop up! That's because most chocolate chips are filled with emulsifiers and other ingredients to help them maintain their chip shape. I like to use Ghirardelli semisweet baking chocolate. OR, if you can find it, you can use Guittard® Organic Semisweet Chocolate Baking Wafers which are meant to be melted down.
I like to use semisweet chocolate because I find it has the perfect balance of sweetness for the strawberries. Milk chocolate and white chocolate are a little too sweet for me and it also has a lower melting temperature, meaning the coating will melt faster. You can use bittersweet if you prefer!
How to store chocolate covered strawberries ahead of time?
Store the strawberries in the fridge, uncovered, for up to 3 days. Storing uncovered presents condensation from forming on the chocolate. These will stay as fresh as the strawberries will, even a little longer since they won't be sitting in moisture in the pint carton!
Can chocolate covered strawberries be frozen?
No, they'll get watery and mushy in the freezer.
More Delightful Chocolate Recipes
How to make
Chocolate Covered Strawberries
Yield: 1 pound chocolate covered strawberries
Prep Time: 15 minutes
Cook: 25 minutes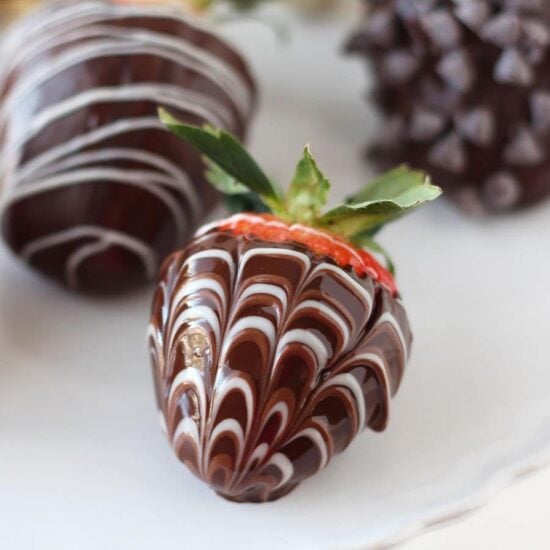 Ingredients
1 pound strawberries, washed and dried thoroughly
6 ounces semisweet chocolate, chopped
1 teaspoon coconut oil or vegetable shortening, divided
3 ounces white (and/or milk chocolate), chopped
Chocolate chips, nuts or sprinkles for coating, optional
Directions
Place the semisweet chocolate and 3/4 teaspoon coconut oil in a microwave-safe bowl. Microwave in 30-second bursts, stirring between each burst, until just melted. Be careful not to overheat.
Line a rimmed sheet pan with parchment paper or silicone baking mat.
Insert a toothpick into the strawberry's stem, pushing the leaves upward, and dip into the semisweet chocolate, coating completely. Tapping the toohpick, let the excess chocolate fall back into the bowl. If desired, dip into a shallow bowl of chocolate chips, nuts, or sprinkles. Set the strawberry on the parchment, sliding forward slightly and continue with the remaining strawberries. If the chocolate becomes too cool and firm at any point simply reheat in the microwave.
Place the white chocolate and 1/4 teaspoon coconut oil in a microwave-safe bowl. Microwave in 30-second bursts, stirring between each burst, until just melted. Be careful not to overheat. Remove the white chocolate to a ziptop bag and snip a very small hole in one corner. Drizzle the white chocolate over the strawberries.
Let the strawberries set before serving, about 30 minutes at room temperature or 15 minutes in the fridge.
About Tessa...
I share trusted baking recipes your friends will LOVE alongside insights into the science of sweets. I'm a professionally trained chef, cookbook author, and cookie queen. I love to write about all things sweet, carb-y, and homemade. I live in Phoenix, Arizona (hence the blog name!)
© Handle the Heat - handletheheat.com
Join the Handle the Heat Community


---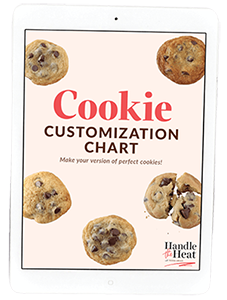 Do you want a more delicious life?
Instead of digging through cookbooks and magazines and searching the internet for amazing recipes, subscribe to Handle the Heat to receive new recipe posts delivered straight to your email inbox. You'll get all the latest recipes, videos, kitchen tips and tricks AND my *free* Cookie Customization Guide (because I am the Cookie Queen)!