The Ultimate Guide to Chocolate Chip Cookies Part 2
This post may contain affiliate links. Read our disclosure policy.
Exciting post today! I'm sharing part 2 of my Ultimate Guide to Chocolate Chip Cookie series with you. CLICK HERE FOR PARTS ONE, THREE, and FOUR!!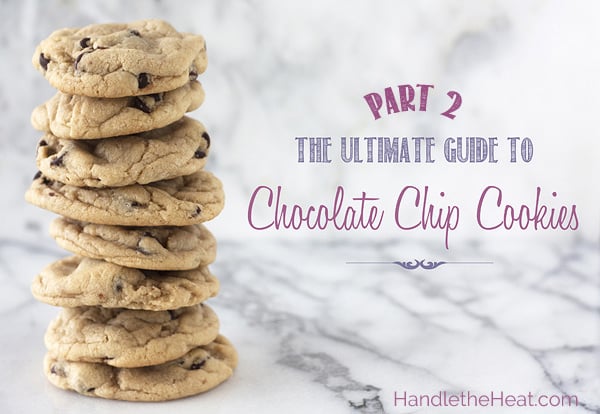 I used the Nestle Tollhouse Chocolate Chip Cookie recipe (at the bottom of this post) as my control and made little changes and variations in techniques and ingredients to show you how they affect the cookie. I halved and adapted the original Tollhouse recipe and that is what you see here. I kept everything the same through each recipe test, changing one key thing to see its effect and photographing the results for you. The first post was such a huge success that I knew I had to write another one with different ingredients and techniques tested. I listened to all of your requests for what you would like to see and tested many of them to share the results with you today. Keep reading to find out how dark nonstick baking pans, cornstarch, egg yolks, cake flour, bread flour, and shortening affect chocolate chip cookies.
Tools and Ingredients Used (when applicable):
-Spring-Loaded Cookie Scoop (Medium or 1 1/2-Tablespoon size)
–Chicago Metallic sheet pans
–Escali Digital Food Scale
–KitchenAid 5-quart Stand Mixer
–Oven thermometer
–Unbleached parchment paper
-Gold Medal All-Purpose Flour
-Fine sea salt
-Light brown sugar
-Large eggs
-Unsalted butter at a cool room temperature
-350°F oven and 10 minute baking time for each test
Control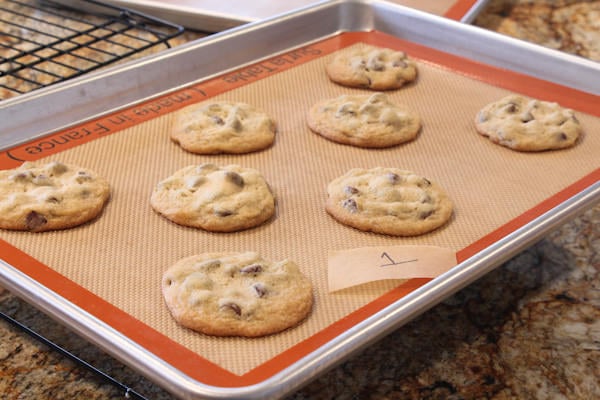 Note: This is my adapted version of the Nestle Tollhouse cookie recipe, which I used for each of these batches.
Ingredients:
1 cup plus 2 tablespoons (142 grams) all-purpose flour
1/2 teaspoon baking soda
1/2 teaspoon salt
1 stick (113 grams) unsalted butter, at room temperature
1/4 cup plus 2 tablespoons (75 grams) granulated sugar
1/4 cup plus 2 tablespoons (75 grams) packed light brown sugar
1/2 teaspoon vanilla
1 large egg
1 cup (170 grams) semi sweet chocolate chips
Directions:
Preheat oven to 350°F. Line baking sheets with nonstick baking mats or parchment paper.
In a medium bowl combine the flour, baking soda, and salt.
In the bowl of an electric mixer beat the butter, granulated sugar, and brown sugar until creamy, about 2 minutes. Add the egg and vanilla, beating well to combine. Gradually beat in the flour mixture. Stir in the chocolate chips. Scoop 1 1/2 tablespoon-sized balls and place onto prepared baking sheets.
Bake for 10 minutes, or until golden brown. Cool for 2 minutes before removing to wire racks to cool completely.
Dark Nonstick Baking Sheet: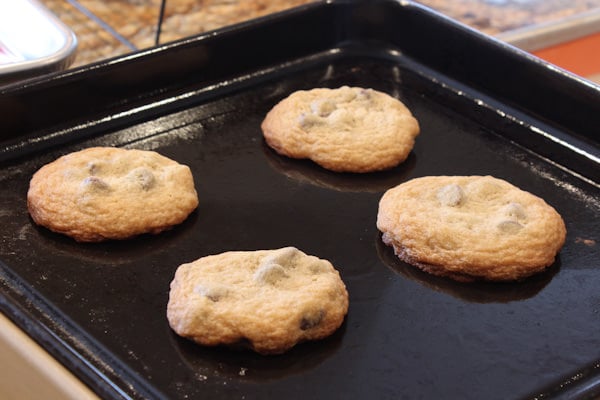 Instead of using a Chicago Metallic sheet pans with a Silpat baking mat, I baked the control recipe directly on a dark nonstick baking sheet to test the differences between baking sheets. As you can see, the dark nonstick sheet significantly increased the browning on the bottom of the cookies. The cookies browned on the bottom more quickly, causing them to spread a little less. They also had more of a crunch due to the browning. If you have a problem with your cookies burning on the bottom, it may be due to your baking sheet. Luckily these ones didn't burn and were quite tasty. However, I prefer to use unlined baking sheets to ensure my cookies won't burn.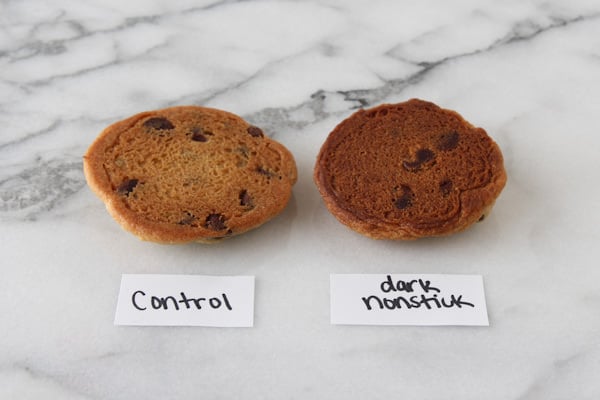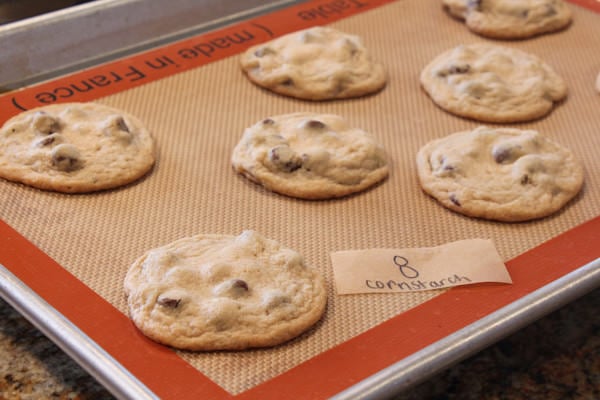 Cornstarch:
Added 2 teaspoons cornstarch to the cookie dough along with the dry ingredients. The cornstarch cookies were more pale in color but had crisp edges and very soft and slightly gooey interiors. I was surprised by the amount of spread these cookies had, I thought they'd be thicker considering cornstarch is a thickener. Sally of Sally's Baking Addiction has a very popular cornstarch chocolate chip cookie recipe that calls for melted butter and chilling the dough so I wonder if one or both of those steps creates the best effect with the cornstarch. Sally's cookie recipe also has a higher ratio of flour to butter compared to the Nestle Tollhouse recipe. I'm thinking these differences must produce a thicker cookie.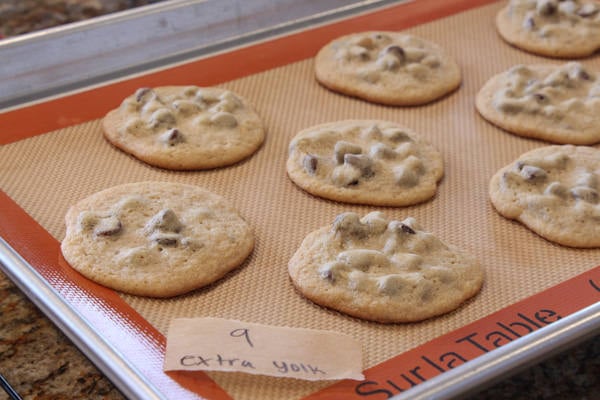 Extra Egg Yolk:
In addition to the whole egg called for in the control recipe, I added an extra egg yolk to this test. This produced ultra soft cookies with a little bit of a chew. Egg yolk is full of fat which acts as a tenderizer. This allows you to add softness to your cookies without having to add more butter. I think the extra liquid added to the dough from the yolk increased the cookie's spread. If you want to add more softness to your cookies with an extra egg yolk, you may want to add a little more flour to create a thicker cookie.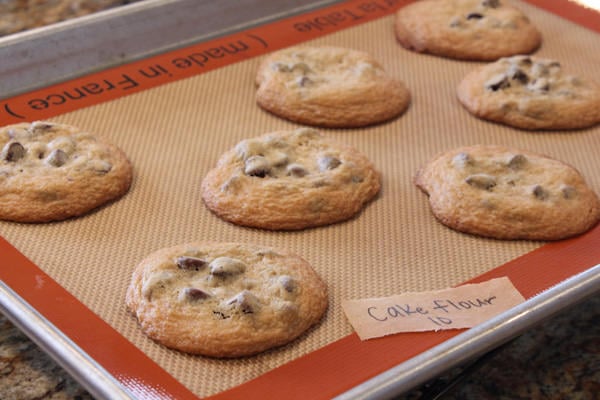 Cake flour:
I swapped out all the all-purpose flour for 1 cup plus 2 tablespoons cake flour (127 grams) and the results were interesting. These cookies turned very brown and looked like they would be crispy but were actually very soft. Someone actually called these cookies "mushy." They spread out fairly flat.
You can learn more about the science of cake flour here.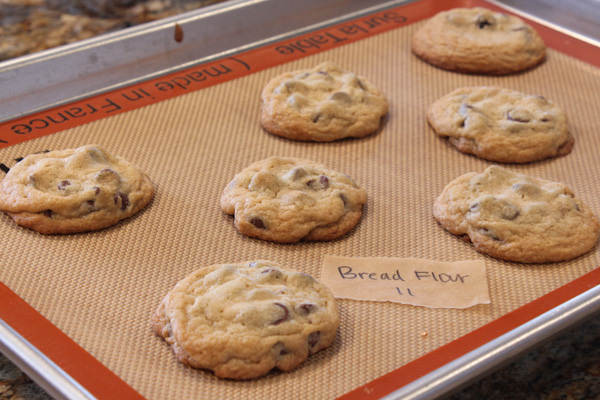 Bread flour:
I swapped out the all-purpose flour for 1 cup plus 2 tablespoons bread flour (142 grams) and the resulting cookies were thick and ultra chewy. My boyfriend and I both favored these cookies over many of the other trials. If you like thick, chewy cookies I would try substituting at least half of the all-purpose flour in your favorite cookie recipe with bread flour. It totally makes sense now why Alton Brown uses bread flour in his "The Chewy" cookie recipe.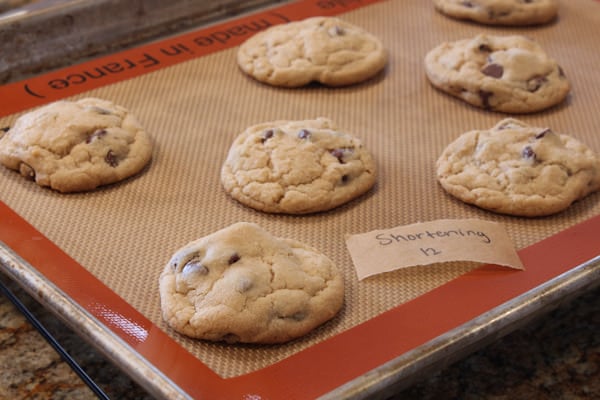 Shortening:
Okay, I had a LOT of requests to test of the differences between butter and shortening. I don't use shortening in my house, I don't like it. BUT I went out and got some Crisco just for you guys since you all asked so nicely! Plus I was quite curious about what kind of cookie shortening would produce since so many of you swear by using all shortening or half shortening half butter. For this trial I swapped out all of the butter with an equal amount of vegetable shortening and the resulting cookies were more pale and had a thicker texture that was crisp at the edges and soft in the middle. I thought these cookies would be super greasy but they weren't. Tasting these shortening cookies made me realize that many bakeries and chain restaurants that serve chocolate chip cookies must use shortening because they had a similar taste and texture to those cookies. I was surprised to find these cookies didn't taste super artificial or plastic-like, however they didn't have that crave-worthy butter flavor either. The texture was fantastic but they definitely lacked flavor.
Comparison: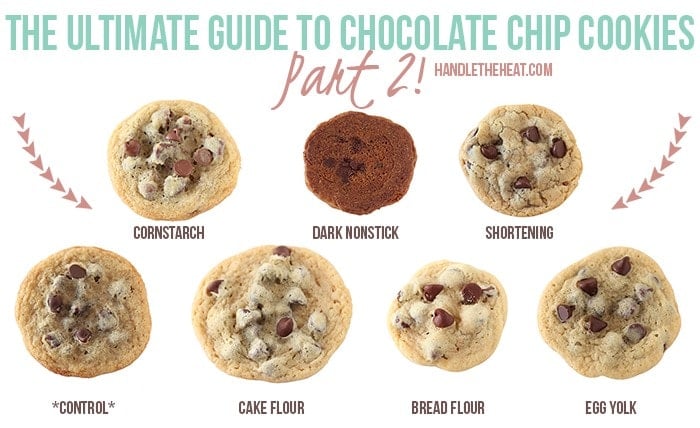 [updated photo 2015]
About Tessa...
I share trusted baking recipes your friends will LOVE alongside insights into the science of sweets. I'm a professionally trained chef, cookbook author, and cookie queen. I love to write about all things sweet, carb-y, and homemade. I live in Phoenix, Arizona (hence the blog name!)
© Handle the Heat - handletheheat.com
Join the Handle the Heat Community


---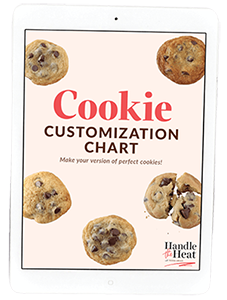 Do you want a more delicious life?
Instead of digging through cookbooks and magazines and searching the internet for amazing recipes, subscribe to Handle the Heat to receive new recipe posts delivered straight to your email inbox. You'll get all the latest recipes, videos, kitchen tips and tricks AND my *free* Cookie Customization Guide (because I am the Cookie Queen)!