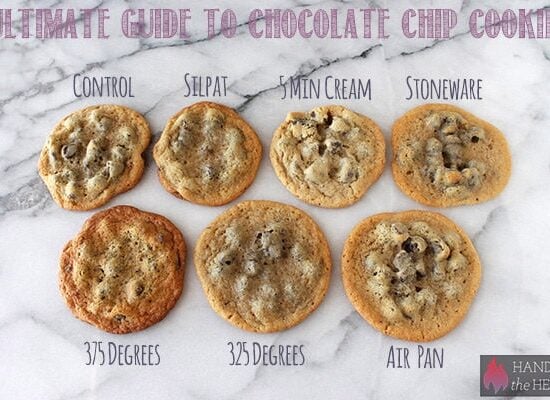 Ultimate Guide to Chocolate Chip Cookies Part 4
This post may contain affiliate links. Read our disclosure policy.
CLICK HERE FOR PARTS ONE, TWO, and THREE!!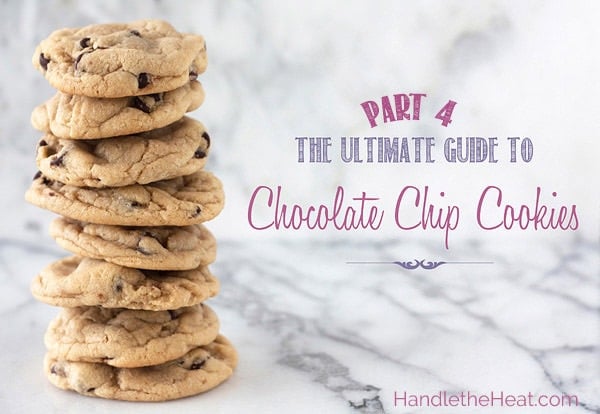 I'm doing a happy dance because today I'm sharing PART FOUR of my Ultimate Guide to Chocolate Chip Cookie series. I've received a lot of questions and comments about specific baking techniques and products and how they affect chocolate chip cookies. You guys wanted to know how oven temperature, creaming duration, baking surface, and baking pans affect cookies. Some people swear by certain techniques, while others unknowingly have problems with various products and methods. The below experimental batches will hopefully help you in troubleshooting why your cookies end up a certain way, whether that be flat, burned, underbaked, crisp, chewy, or whatever else!
I used an *adapted* version of the Nestle Tollhouse Chocolate Chip Cookie recipe as my control and made small variations among the baking methods and techniques to show you how they affect the cookie. I kept everything else the same in each recipe test so we could observe the differences in the finished cookie, photographing all the results for you. Together we're on a journey to discover exactly how baking recipes work. See the comparison photos at the end of this post. Hopefully this will help you to discover why your cookies turn out the way they do and how to make YOUR version of the ultimate chocolate chip cookie!
Tools and Ingredients Used (when applicable):
-Spring-Loaded Cookie Scoop (Medium or 1 1/2-Tablespoon size)
–Chicago Metallic sheet pans
–Escali Digital Food Scale
–KitchenAid 5-quart Stand Mixer
–Oven thermometer
–Unbleached parchment paper
-Gold Medal All-Purpose Flour
-Fine sea salt
-Light brown sugar
-Large eggs
-Unsalted butter at a cool room temperature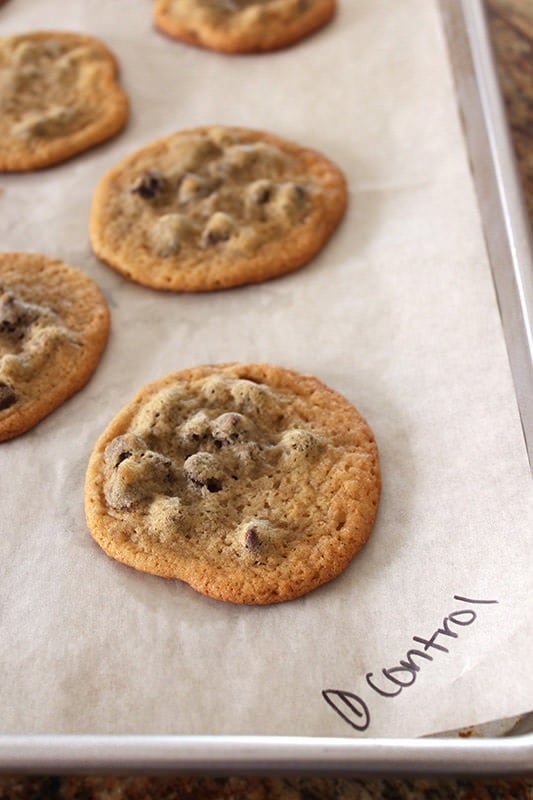 Ingredients:
1 cup plus 2 tablespoons (142 grams) all-purpose flour
1/2 teaspoon baking soda
1/2 teaspoon salt
1 stick (113 grams) unsalted butter, at room temperature
1/4 cup plus 2 tablespoons (75 grams) granulated sugar
1/4 cup plus 2 tablespoons (75 grams) packed light brown sugar
1/2 teaspoon vanilla
1 large egg
1 cup (170 grams) semi sweet chocolate chips
Directions:
Preheat oven to 350°F. Line baking sheets with nonstick baking mats or parchment paper.
In a medium bowl combine the flour, baking soda, and salt.
In the bowl of an electric mixer beat the butter, granulated sugar, and brown sugar until creamy, about 2 minutes. Add the egg and vanilla, beating well to combine. Gradually beat in the flour mixture. Stir in the chocolate chips. Scoop 1 1/2 tablespoon-sized balls and place onto prepared baking sheets.
Bake for 10 minutes, or until golden brown. Cool for 2 minutes before removing to wire racks to cool completely.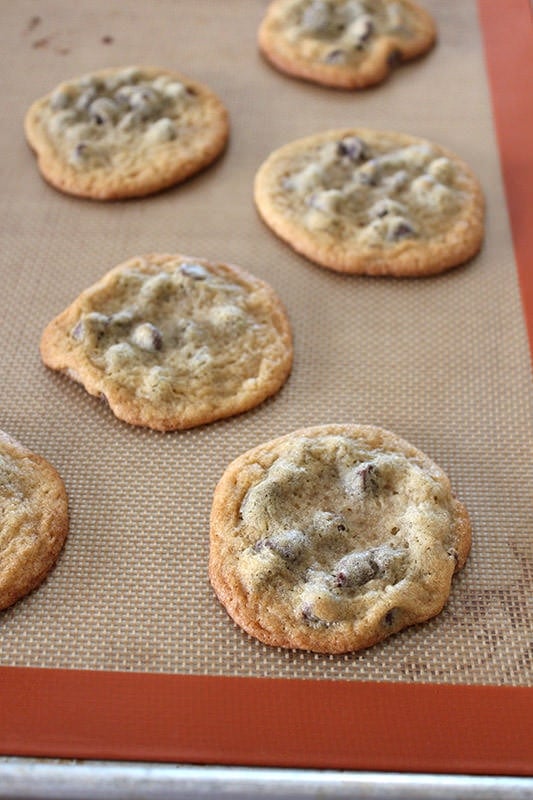 Silpat:
I received a few questions in my first Ultimate Guide to Chocolate Chip Cookies post about the affects of using parchment paper vs. a Silpat nonstick baking mat. Silpats are reusable non-stick baking mats often used in professional kitchens. I love my Silpats and have been baking with them for almost exclusively for so long that I never stopped to think how it might be affecting my baking products. I've heard some people claim their baked goods don't become as browned and caramelized when using a Silpat, so I wanted to see if I experienced the same result in a side-by-side comparison with the control batch baked on standard parchment paper. The differences between the two batches were negligible, if anything the Silpat batch was slightly darker on the bottom and taller with a little less spread. I find these to be pleasant outcomes, so I will absolutely continue using my Silpat!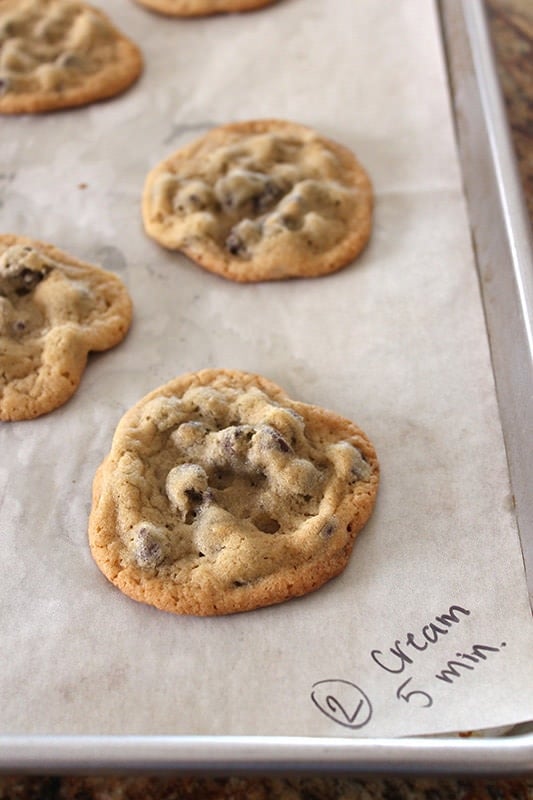 5 Minute Creaming:
This is something I think many people don't pay attention to when baking cookies. In all my Ultimate Guide posts about chocolate chip cookies, my control recipe called for a specific 2 minutes of creaming. I counted those minutes exactly with a timer to ensure consistency and accuracy. I get a lot of questions from readers about cookies spreading too much in the oven. While many things can cause this, such as butter and/or dough that is too warm, overmixing butter can also lead to similar results.
The purpose for creaming the butter and sugar in a cookie recipe is to dissolve the sugar into the butter in a sense so the dough is homogeneous and bakes evenly. It also incorporates millions of tiny air bubbles into the batter, which in partnership with the leavener (baking soda in this case) helps to create a more airy, lifted texture. This is CRUCIAL when baking cake recipes which are intended to turn a dense batter into an ultra soft, tender, light, airy, and tall cake. Over-beating the butter in a cookie recipe, however, can cause the butter to warm too much and weaken its ability to hold air. Cookies just can't become super tall and structured, so if the butter and sugar are over-beaten, it tends to spread and fall flat. I almost always call for 2 to 3 minutes of creaming time in an electric mixer on medium-high speed, this is usually enough time to homogenize the dough without risking over-beating. In this test batch I creamed for exactly 5 minutes, an amount of time I felt might be easy for many home bakers to overreach and overcream without realizing. I wanted to see if this was enough creaming to negatively impact the cookies. The impact wasn't huge, creaming longer would definitely exaggerate things. However these cookies were certainly more pale, flat, soft, and light. They were also more misshapen, as though the butter was warm enough to melt out into whichever direction it wanted.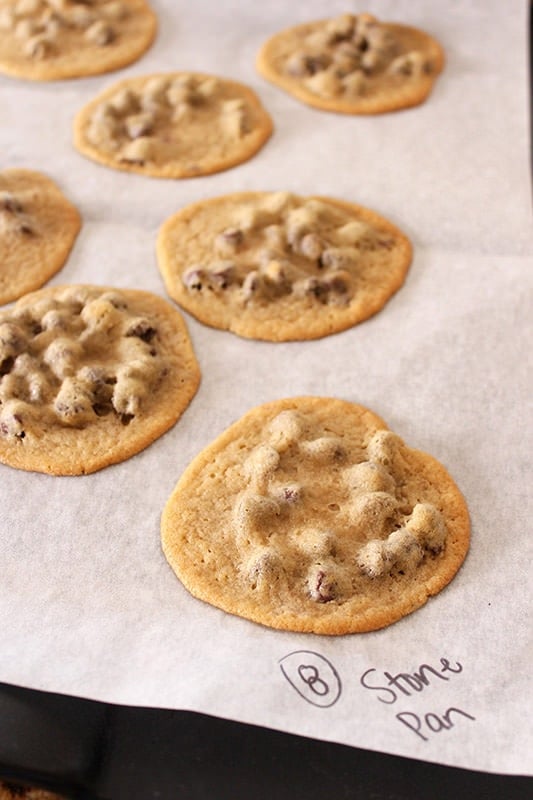 Stoneware:
I have received some comments from folks saying that they prefer to bake their cookies on stoneware. This made sense to me, as stoneware often heats more evenly than many metal baking sheets. I dropped the cookie dough onto parchment on my favorite Emile Henry baking stone which I use religiously for pizza. The stone was at room temperature and I placed it in a 350°F oven. I don't know what happened, but whatever it was it was not good. The cookies turned into flat puddles with absolutely NO browning. They were completely under-baked, soft, and thin. They basically looked and tasted like melted cookie dough, not baked cookies. They were almost impossible to remove from the stone without having them fall apart. I was fairly shocked. I actually don't think the tragedy behind these cookies is fully illustrated in the photos. If anything, I feared these cookies would be too brown. I don't know if it was the dough recipe, the Tollhouse adaption is quite a wet dough, or if it was because I didn't preheat the stone. Whatever it was I think I'll avoid using stoneware for cookies altogether. They're also more of a pain to lug out and to clean. I'd be curious to hear your thoughts on stoneware! Maybe I just used the wrong product or method. Either way, I thought the results might be useful or interesting to some of you.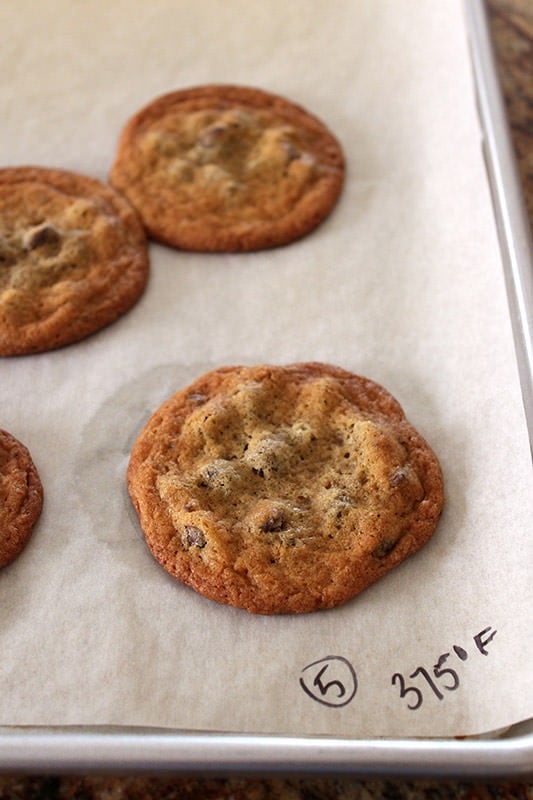 375°F Baking Temperature
The original Nestle Tollhouse recipe is baked at 375°F. For all my Ultimate Guide experiments I switched the oven temperature to a more typical 350°F as my intention was to test out variations on the most average control cookie recipe. A few readers have pointed out this change in temperature, so I set out to test why the Tollhouse recipe would originally call for a higher baking temperature. I closely monitored my oven with an oven thermometer and once it reached 375°F I baked off a batch for exactly 10 minutes, like every other batch. A relatively small variance in temperature resulted in very different cookies. These chocolate chip cookies were much darker with a more crisp, crunchy texture. There was no ooey-gooey center whatsoever, however they did have a lovely depth of caramel-y flavor. I did enjoy these cookies, and I think I'll bake off cookies at 375°F whenever I'm in the mood for that crisp texture.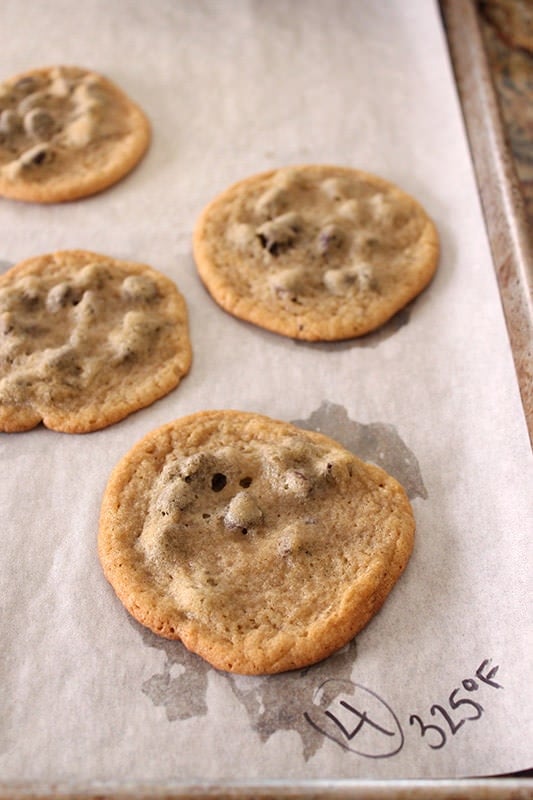 325°F Baking Temperature
On the flip side, I wanted to test out how dropping the oven temperature from 350°F might affect the cookies. Dropping the temperature didn't produce as different of results as raising the temperature. These cookies were slightly softer with a chewy bite. The one thing they were noticeably lacking was that wonderful butterscotch, caramel-y flavor that chocolate chip cookies usually have. I don't see why I'd use a lowered baking temperature again with chocolate chip cookies.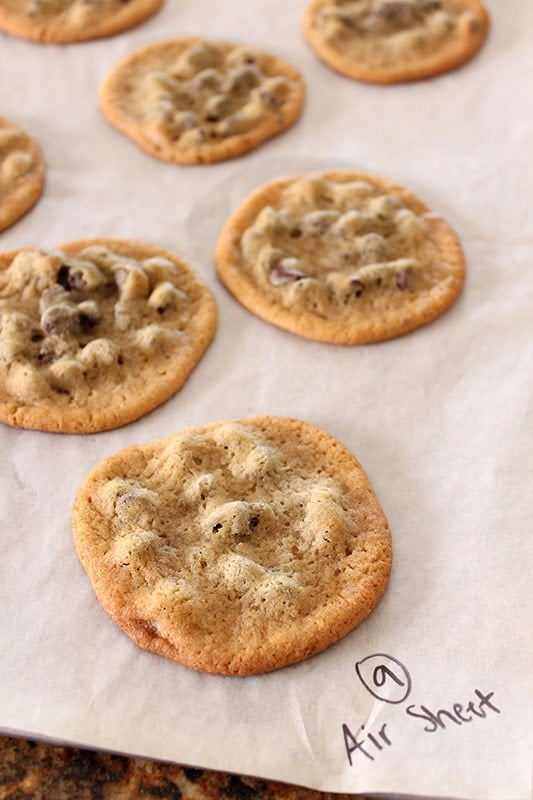 Air Baking Sheet
Another product that people seem to swear by are air baking sheets, baking sheets that are insulated and meant to prevent over-browning or burning. These cookies were flatter, perfectly round, with crisp edges. Unsurprisingly, the bottoms were not as brown as with the control recipe. I baked these for 10 minutes like I baked every other batch, but these cookies could have used another minute or two. I actually prefer more crisp, browned, caramelized cookies so I don't think I'll use insulate/airbake sheets in the future.
Final Comparison:
*If you use these images PLEASE give proper credit to me and link back to this post.*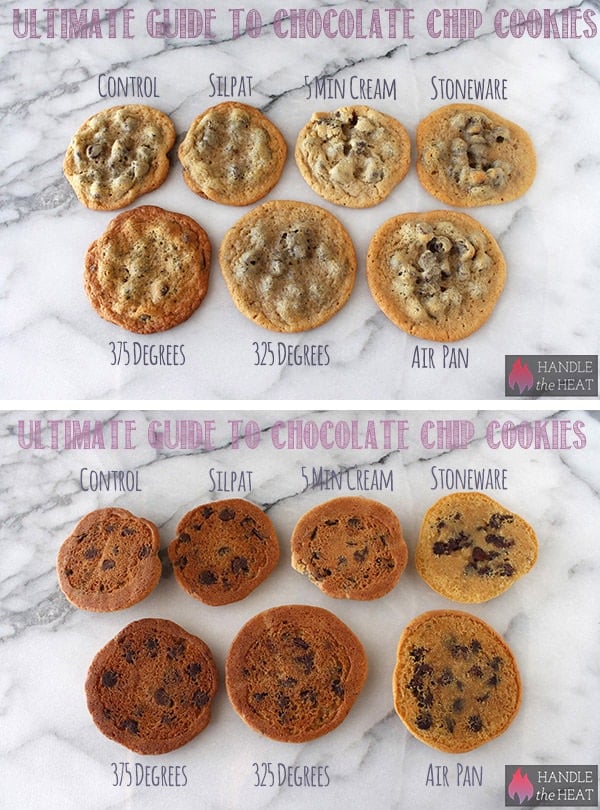 All Four Guides in Comparison:

CLICK HERE FOR PARTS ONE, TWO, and THREE!!
You'll Also Love
*This post contains affiliate links.
About Tessa...
I share trusted baking recipes your friends will LOVE alongside insights into the science of sweets. I'm a professionally trained chef, cookbook author, and cookie queen. I love to write about all things sweet, carb-y, and homemade. I live in Phoenix, Arizona (hence the blog name!)
© Handle the Heat - handletheheat.com
Join the Handle the Heat Community


---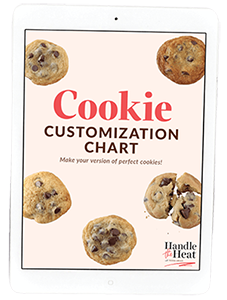 Do you want a more delicious life?
Instead of digging through cookbooks and magazines and searching the internet for amazing recipes, subscribe to Handle the Heat to receive new recipe posts delivered straight to your email inbox. You'll get all the latest recipes, videos, kitchen tips and tricks AND my *free* Cookie Customization Guide (because I am the Cookie Queen)!