How to Blind Bake Pie Crust
This post may contain affiliate links. Read our disclosure policy.
Pie season is upon us, and one of the questions I get asked most often about pie baking is why and how to blind bake a pie crust.
I'm sharing all in today's pie article! Let's get right into it.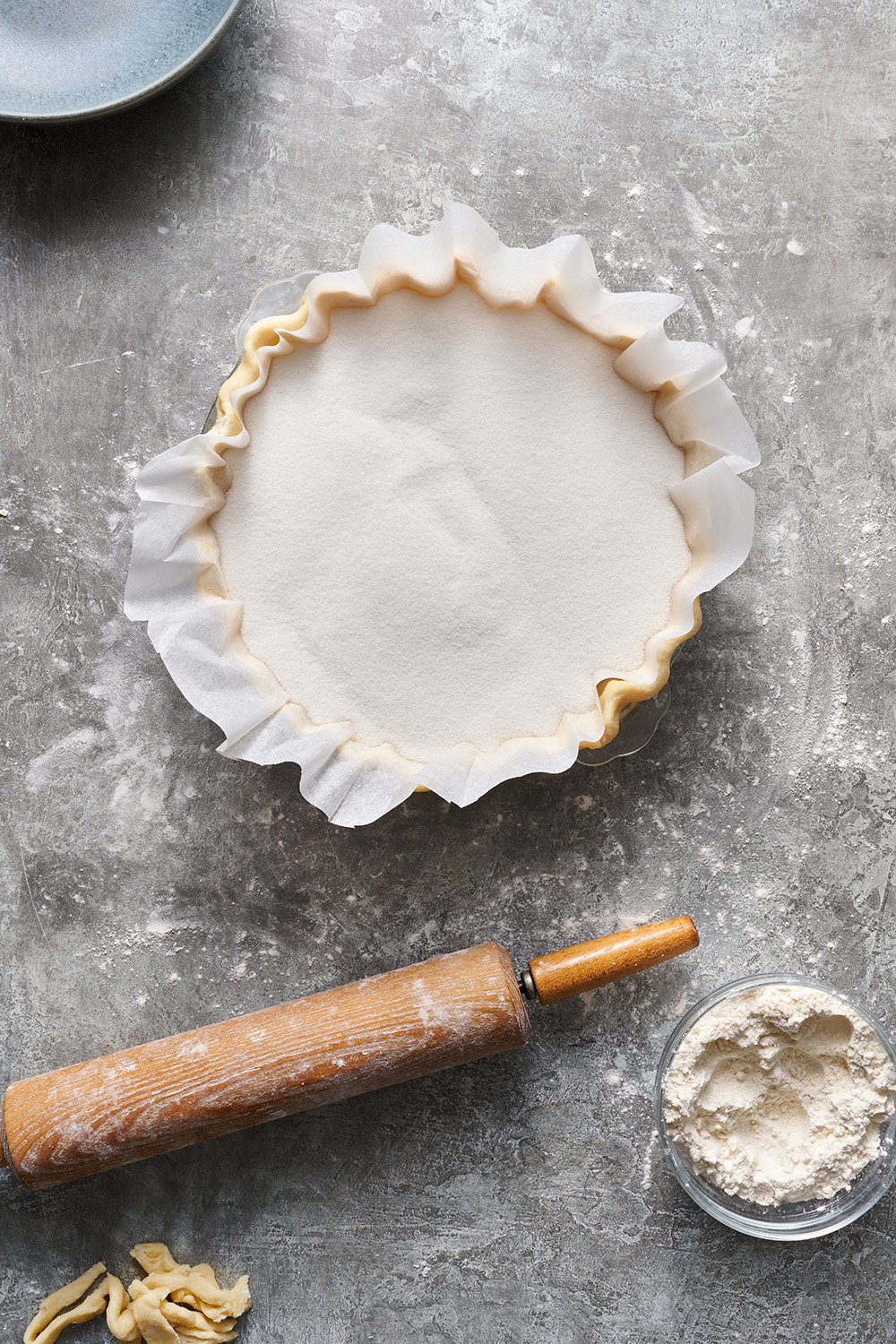 What is a blind baked pie crust? Why would you blind bake a pie crust?
Blind baked pie crust is when you bake the pie dough without a filling until it's totally cooked through and well browned. This is done when you're filling the pie with an already cooked filling, or if your filling is prepared raw.
For example, my French Silk Pie recipe typically uses an Oreo crumb crust, but if you wanted to use a traditional pastry pie crust instead, it would need to be blind baked. That pie's filling is prepared partially on the stovetop and requires no baking.
Another example of when to use a blind baked pie crust is any custard pie, such as pumpkin pie.
What's the difference between par baking and blind baking?
Par baking is only partially baked. This is used when you want the pie crust to start the baking process before you fill it with filling and return to the oven to finish baking. This is handy when baking something particularly rich or wet, like a quiche, and you want the crust to remain crisp.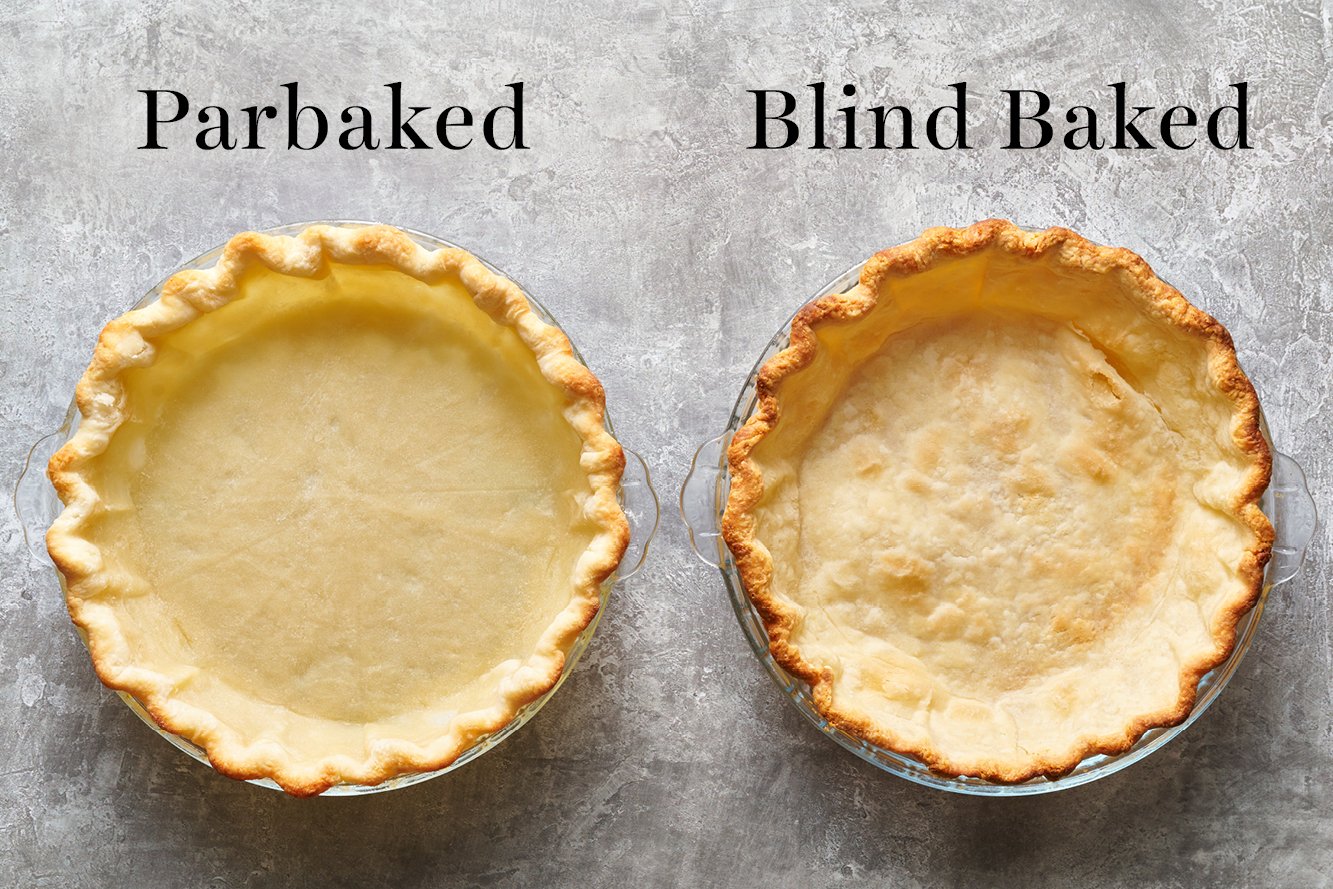 What do you need to blind bake a pie crust?
Prepared and shaped pie dough
Half sheet pan
Parchment or foil
Pie weights
How to prevent a pie crust from shrinking:
Step #1 is to chill the rolled out and shaped unbaked pie dough for at least 2 hours before baking. You can even chill it overnight. This will allow the gluten to relax so it doesn't snap back like a rubber band once the pie hits the heat of the oven.
Step #2 is to use pie weights…
Can you blind bake a crust without pie weights?
You should never blind bake a pie crust without pie weights! The pie weights help prevent the bottom of the crust from puffing up so you have room for the filling. They also prevent the pie dough from shrinking or sliding down while baking.
What to use for pie weights?
My favorite pie weight is granulated sugar! You likely already have enough to fill your crust and you can reuse the sugar after it cools. Just use your hands to break apart any clumps. The most important tip for using pie weights is to fill your pie cavity completely with the weights so they're flush with the rim of your pie crust. This will all but guarantee your crust won't slip down the sides of the pan.
If you don't want to use sugar, use rice or dried beans. You can also use store-bought pie weights, just make sure you purchase enough to fill your pie cavity completely to the rim.
What's better: aluminum foil or parchment paper for blind baking pie crust?
The unbaked pie needs to be layered with something to hold the pie weights. You can use either foil or parchment. I find that foil can mold better to the shape of the pie, further preventing any puffy parts or slipping sides. However, it can also get stuck to the pie because of this. Parchment is less likely to stick in my experience.
Whatever you use, make sure the foil or parchment extends up and beyond the edge of the pie, both to prevent excess browning and also so you can grab ahold of it to more safely lift the pie weights up and out.
How far in advance can you blind bake?
I would not recommend blind baking farther than a day in advance, if that. Pie crust stales very quickly. If possible, bake the same day you plan to fill and serve.
How to blind bake a frozen pie crust:
Follow the same exact steps as listed below. You may need to add a minute to the baking time. If using a glass or ceramic pan, make especially sure it's shock-resistant and safe to take from the freezer to the oven. If you're not sure, allow the pie to thaw in the fridge first. Learn more about the Best Pie Pans, and which can go from freezer to oven safely, here.
How long do you blind bake a pie crust?
Par baked (partially baked): 18-20 minutes at 425°F
Blind baked (fully baked): 18-20 minutes with pie weights, then an additional 7 to 10 minutes without pie weights to finish browning at 425°F
How to Blind Bake Pie Crust
Roll out, shape, assemble, and chill your pie dough for at least 2 hours before baking. This will help prevent shrinking and should not be skipped. If your shaped pie dough is frozen, bake directly from frozen (note: this can only be done with some pie pans – learn more about that here). Dock the bottom and sides of the pie crust all over with a fork. See my Best Ever Pie Crust recipe here.

Line the chilled crust in the pan with parchment or foil.
Fill the crust with pie weights completely flush to the top edge of the crust to prevent shrinking or slumping.
Place on a rimmed, parchment-lined baking sheet. This will help catch any butter that might bubble over. Bake for 18 to 20 minutes at 425°F, or until pale and just beginning to brown but not raw. This is now considered par-baked.
For a fully blind baked pie crust, carefully remove the foil or parchment and pie weights. Continue to bake until well browned at the edges and lightly browned at the center, about another 7 to 10 minutes.
Pie Recipes You'll Love:
More Science of Baking Tips & Articles:
About Tessa...
I share trusted baking recipes your friends will LOVE alongside insights into the science of sweets. I'm a professionally trained chef, cookbook author, and cookie queen. I love to write about all things sweet, carb-y, and homemade. I live in Phoenix, Arizona (hence the blog name!)
© Handle the Heat - handletheheat.com
Join the Handle the Heat Community


---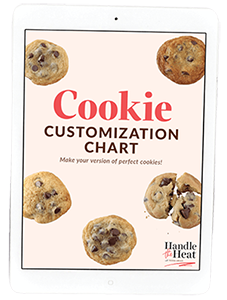 Do you want a more delicious life?
Instead of digging through cookbooks and magazines and searching the internet for amazing recipes, subscribe to Handle the Heat to receive new recipe posts delivered straight to your email inbox. You'll get all the latest recipes, videos, kitchen tips and tricks AND my *free* Cookie Customization Guide (because I am the Cookie Queen)!