This post may contain affiliate links. Read our disclosure policy.
Today we're experimenting with cupcakes and brownies to discover which is best in baking: butter or oil?
I recently revamped my Red Velvet Cake recipe. The original recipe was made with only oil as the primary fat for the cake layers. While evaluating how to improve that recipe, I decided to conduct some experiments on butter vs. oil in baking.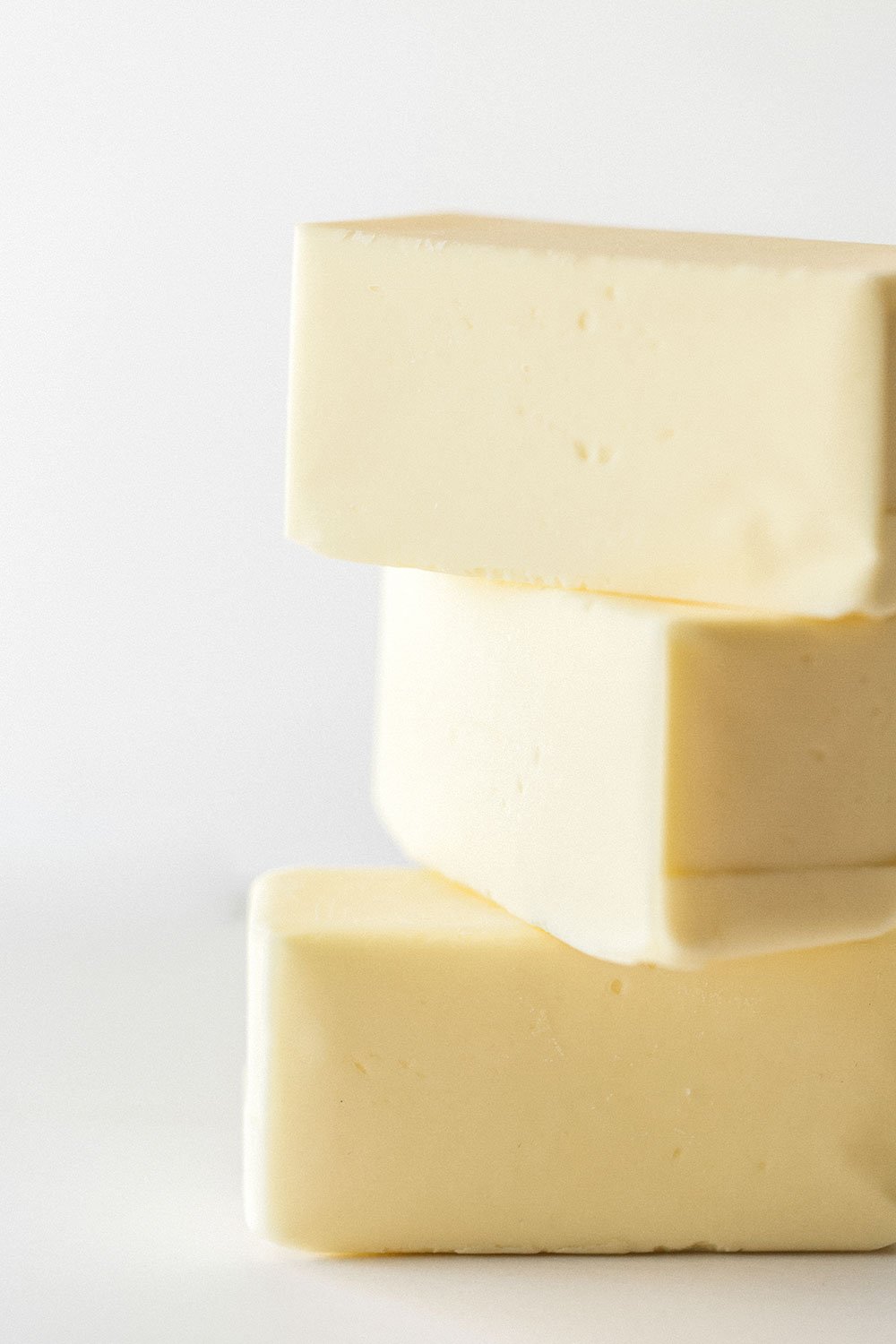 Fats are responsible for so many important functions in baking, such as:
Tenderizing
Adding the sensation of moisture
Adding flavor
Assisting in browning
Conducting heat
Creating creaming textures and more!
So, I got to baking and conducted side-by-side tests to see which turned out better.
The results were fairly shocking. They informed my final decision making for which fat to use in that Red Velvet Cake recipe… a decision which may surprise you! Read through this whole article to up level your baking game. There are answers to questions in here you probably never thought to ask!
Butter vs. Oil in Baking: Which is Better?
Solid vs. Liquid (Saturated vs. Unsaturated Fats):
Butter is a saturated fat which is why it's solid at room temperature. Most baking and cooking oils are unsaturated fats such as canola oil, olive oil, and peanut oils as well as soybean, sunflower, and safflower oils (the latter three are more commonly referred to as vegetable oils).
We won't get into the nutritional distinctions in this article, but understanding the difference between saturated and unsaturated fats can help you to understand how they'll behave differently in baking.
Since butter is solid at room temperature, it makes a great base for many recipes which require creaming of the butter and sugar. Many cakes and cookie recipes require this creaming step to add air into the batter or dough to assist in leavening for a light and fluffy texture. This can't be accomplished in the same way with liquid fats like vegetable oils… but the actual side-by-side results of cupcakes made with butter vs. oil shared below surprised me!
What about coconut oil vs. butter in baking?
Coconut oil is one of the rare oils that's solid at room temperature, but it must be a cool room temperature because it will begin to melt at 78°F. Compare this to butter's melting point which is just below human body temperature, about 90 to 95°F depending on the style and brand. Shortening's melting point is even higher, around 117°F.
Coconut oil is solid at room temperature because it's also a saturated fat, along with palm oil and cocoa butter.
This also means if you plan on refrigerating a baked good or serving it chilled, it may be best to opt for a liquid oil-based recipe. Butter, coconut oil, and shortening will harden and feel more greasy the colder it is when served (think of the texture of buttercream frosting on a cupcake that's been chilled). At room temperature, butter has a melt-in-your mouth feeling and more robust flavor profile.
Liquid oil products are always liquid at room temperature and even when refrigerated, so they give the palate a sensation of moisture when you bite into something made with oil.
Butter is only about 80% fat!
The remaining 20% is mostly water with some milk solids as well as any flavoring ingredients and salt, depending on the brand and style of the butter. European-style butter has less water content, containing about 82-85% fat, depending on the style and brand.
What about shortening vs. butter?
Shortening is also a saturated fat that's solid at room temperature. Unlike butter, it has no water content. Learn more about shortening vs. butter here.
Butter vs. Oil: Baking Experiment
To truly gauge the differences in taste and texture between baked goods made with butter vs. liquid oil, I pulled together Haley from team HTH, my food photographer Joanie, my food stylist Brendan, and culinary assistant Audrey to conduct this experiment.
We baked two batches of the same brownie recipe and two batches of the same cupcake recipe. Each control batch was made as the original recipe was written with butter. The variable batch was made with liquid oil in place of the butter.
In doing some research on replacing oil in butter recipes before embarking on this experiment, I discovered most resources recommended to slightly reduce the amount of oil. This is due to the fact that butter contains only about 80% fat. We reduced the oil in those batches by 15% compared to the original butter amount.
The results were VERY interesting and slightly unexpected. Of course the group taste tests were the best part!
Butter vs. oil in brownies:
I wanted to be sure to include a recipe experiment that called for the butter to be melted in the recipe as well as one that called for the butter to be creamed. In this brownie experiment, we simply melted the chocolate on its own and added the oil in.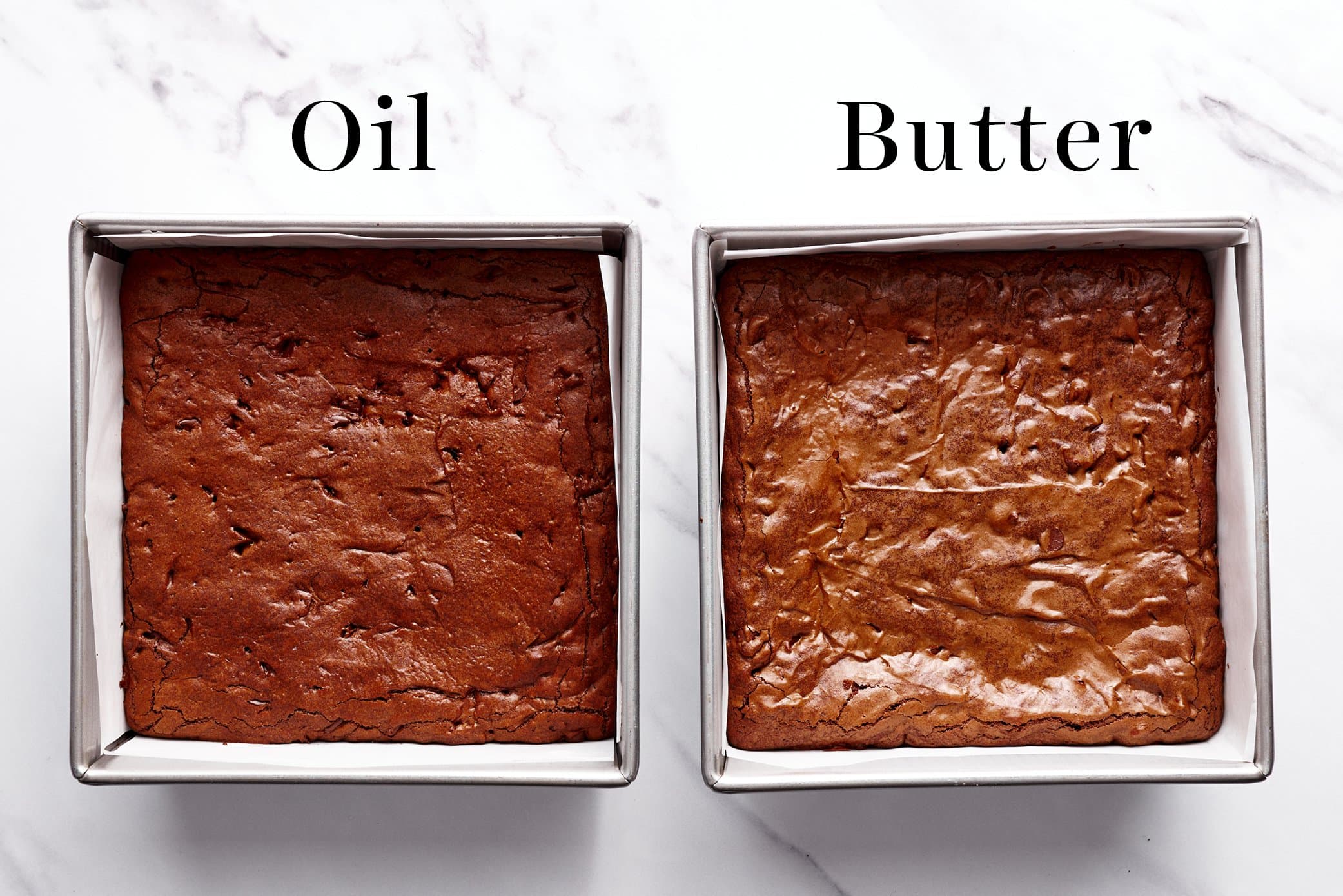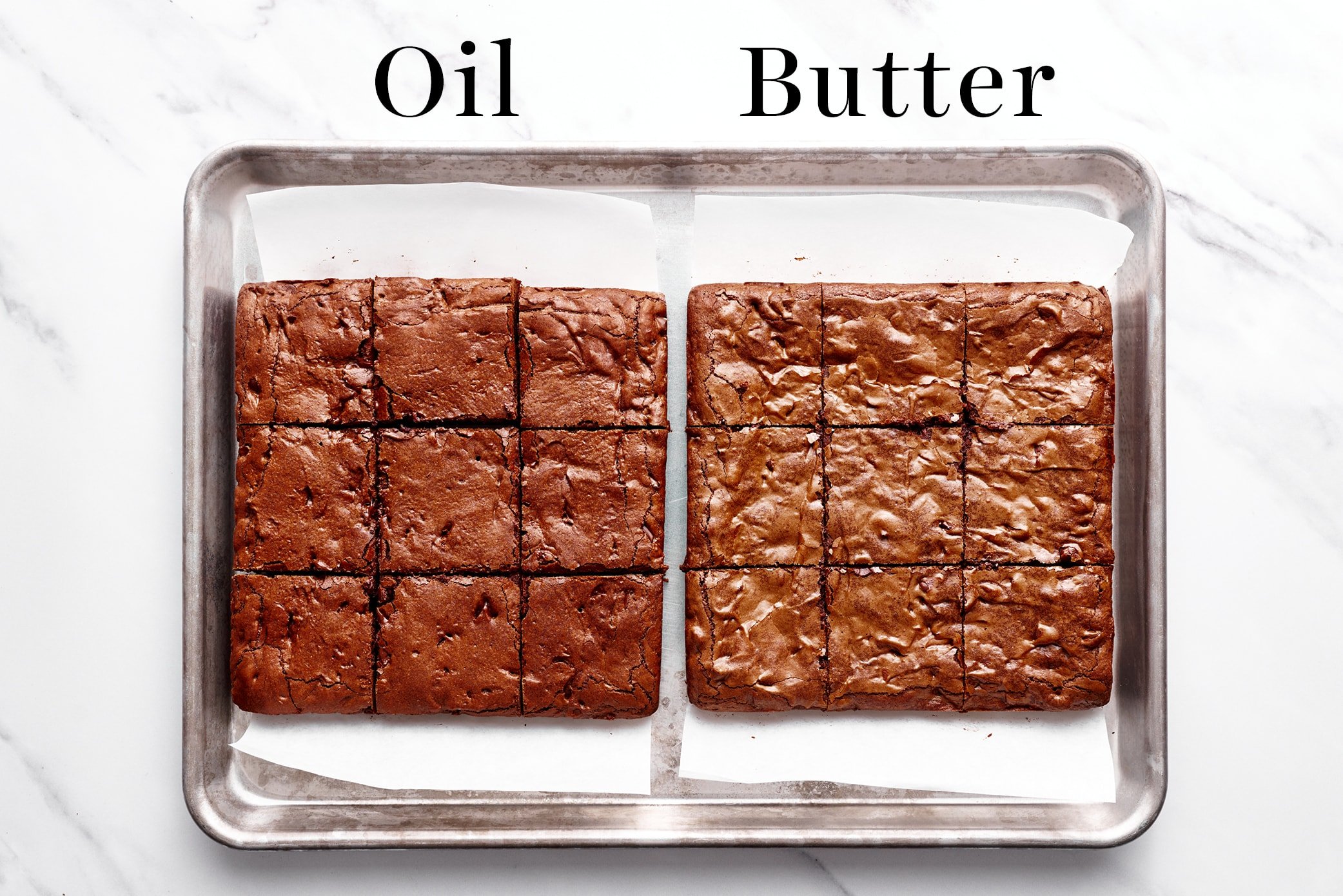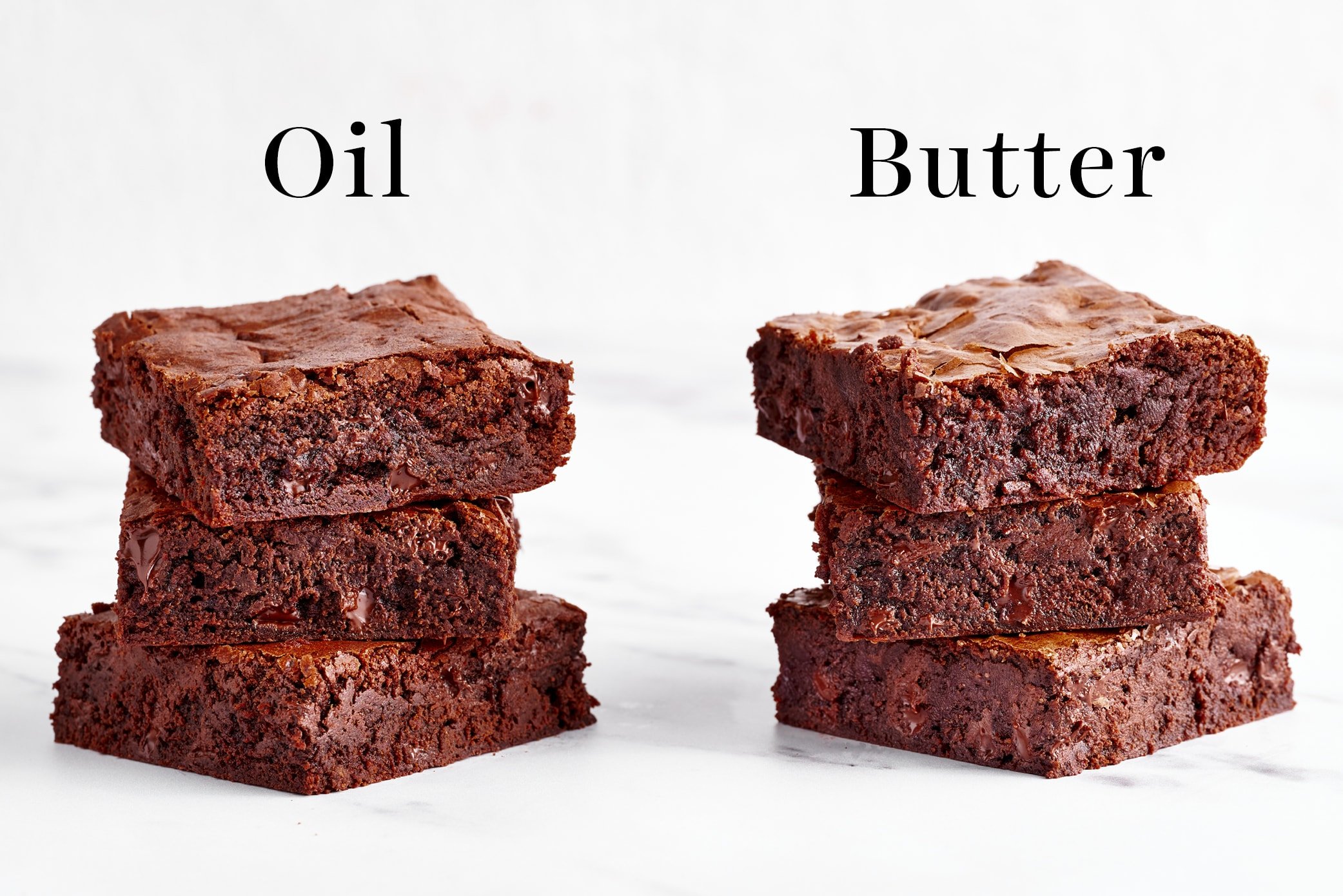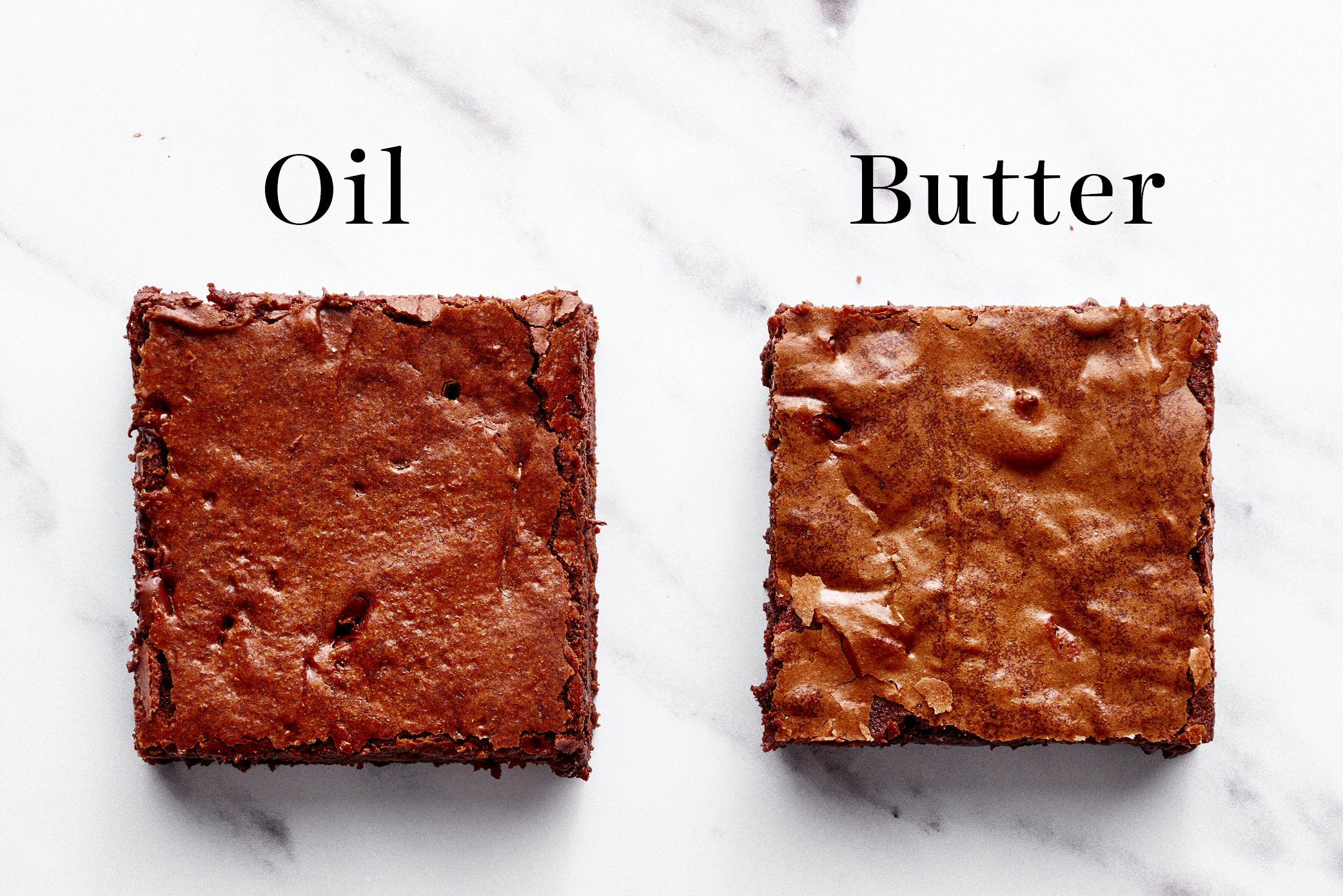 The five of us taste-tested the final brownies side-by-side and came to the following conclusions:
Oil Brownies: These were chewier with crunchier edges and a crunchier topping. They were more matte on top with a far less crinkly shiny brownie 'skin.' They tasted more like box mix brownies.
Butter Brownies: These were much fudgier, softer, and had a melt-in-your-mouth texture. The crust was much shinier and crinklier and the flavor was significantly better than the oil brownies.
However, as I knew from previous brownie experiments, combining the two can achieve the best of both worlds: chewiness from the oil and fudginess and flavor from the butter as seen in my popular Best Ever Chewy Brownie Recipe.
Butter vs. oil in cupcakes:
This cupcake experiment led to much more surprising results. I expected the oil cupcakes to be shorter because they wouldn't have benefited from aeration through creaming the butter and sugar together. Instead, they were much taller! And the difference in tenderness was shocking too.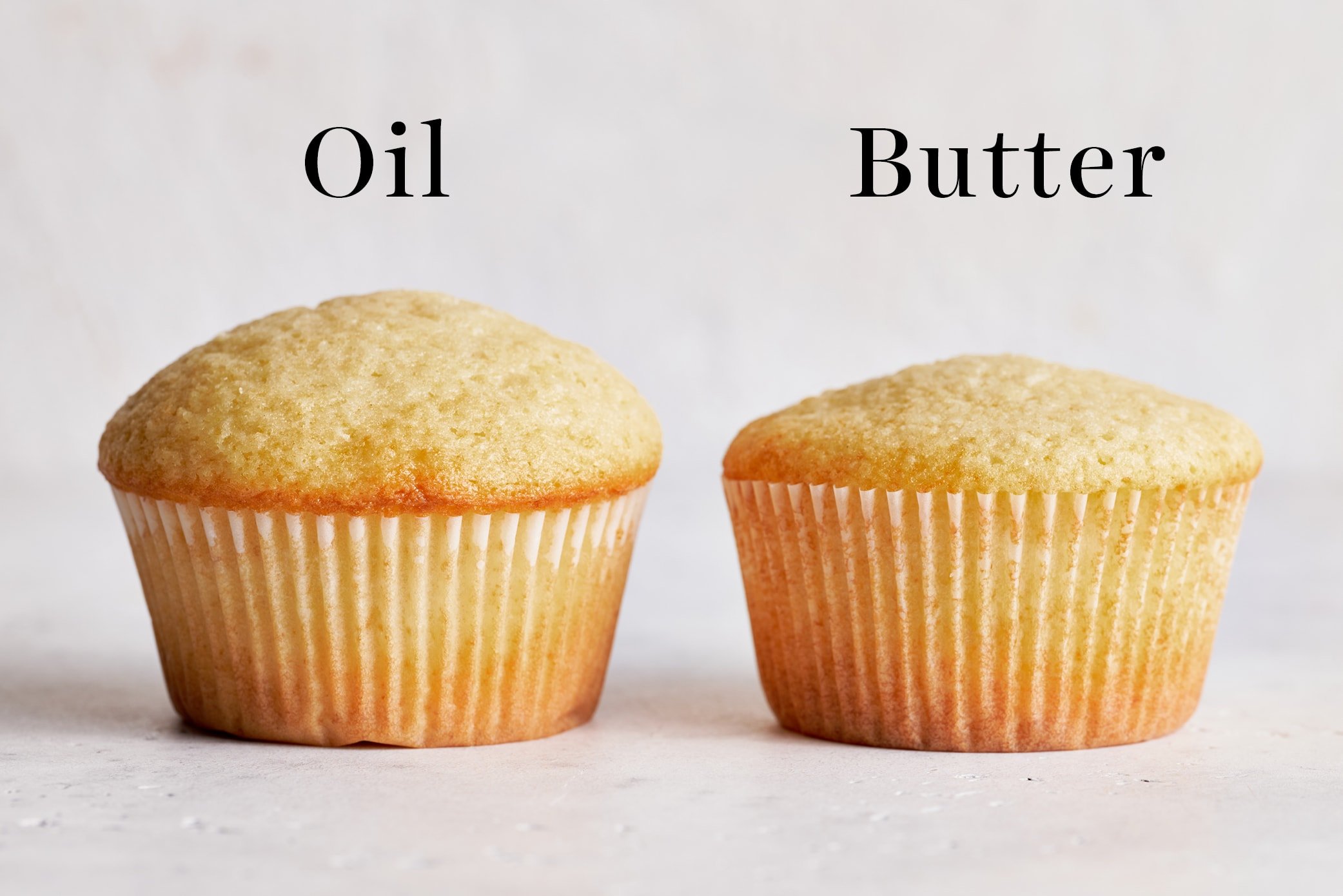 Oil Cupcakes: These were not at all crumbly or delicate and instead had a coarser crumb and more spongy texture.
Butter Cupcakes: These had way better flavor that actually allowed the vanilla extract to shine. They were significantly softer, more delicate and crumbly, and had that melt-in-your-mouth texture. The taste was smoother and generally more flavorful.
Which tastes better in baking: Butter vs. Oil
There are no surprises here: butter tastes better than oil in baking recipes.
However, in recipes with other bold flavors – such as chocolate, coffee, or citrus – butter can sometimes compete with the other flavors and this is normally when a recipe calls for oil instead. That's why you'll see oil used instead of butter in my Best Chocolate Cupcakes recipe, which contains chocolate, cocoa, and espresso powder.
How to substitute oil for butter in baking:
For quick-breads like banana bread or muffins, you can more easily swap in oil for the butter. As discussed above, butter is only about 80% fat whereas oil is 100% fat. To maintain the same fat level, the general rule of thumb is to reduce the amount of oil by about 15% compared to the original amount of butter called for. You can also add back in some water, about 1 ½ tablespoons per 4 ounce stick of butter.
What's the best butter for baking?
The spongy texture and moist flavor that oil creates can be a boon to certain recipes. Not to mention oil is cheaper and easier to work with. Butter will always provide superior flavor and that melt-in-your-mouth texture.
In many recipes, combining the two gives the best of both worlds. That's what I landed on for my Red Velvet Cake recipe!
Salted vs. Unsalted Butter for Baking
I always use unsalted butter for baking because that puts me in control of the total salt content of a recipe. Learn more about salted vs. unsalted butter here.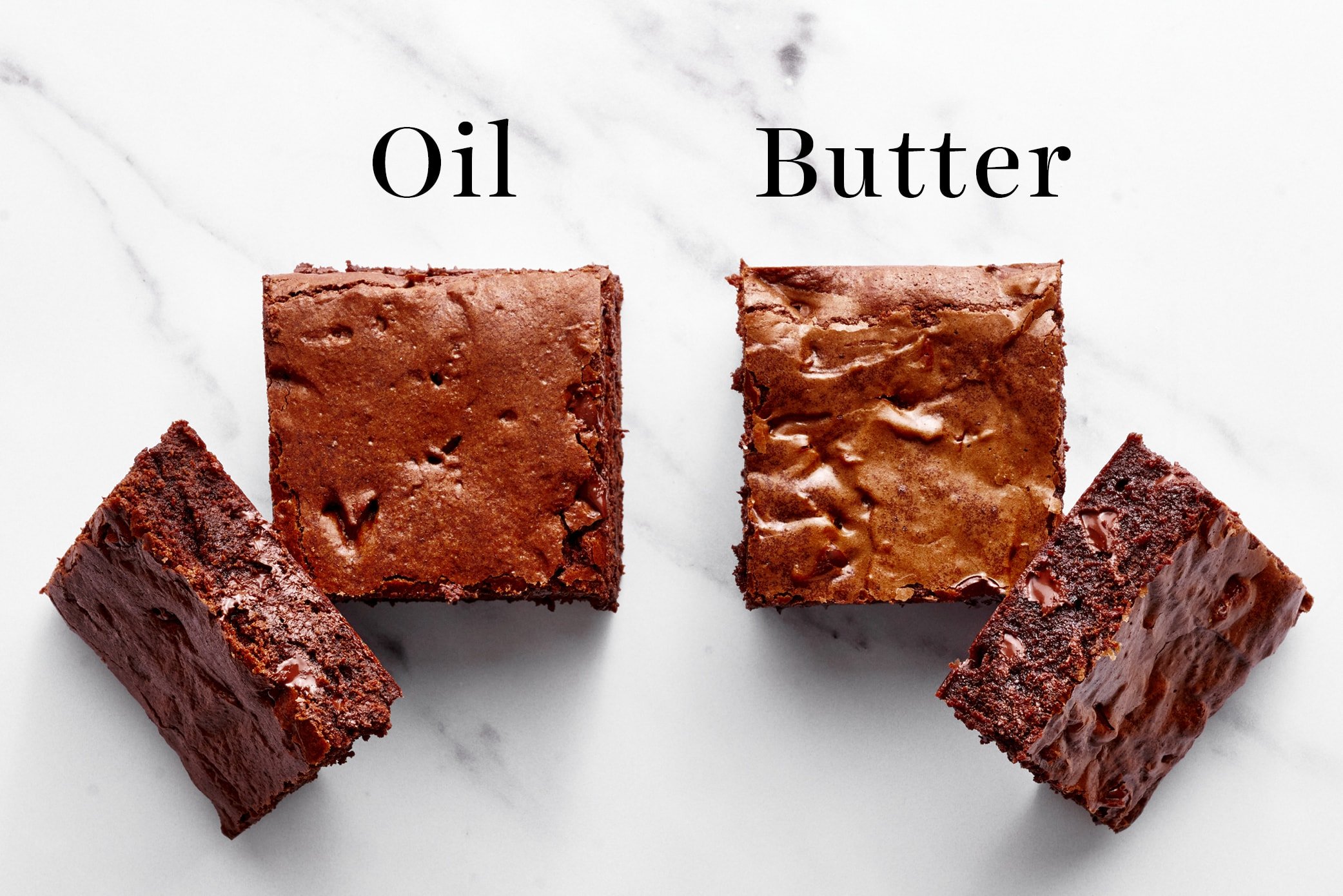 More science of baking articles to check out:
Recipes you'll love:
Photos by Joanie Simon | The Bite Shot
About Tessa...
I share trusted baking recipes your friends will LOVE alongside insights into the science of sweets. I'm a professionally trained chef, cookbook author, and cookie queen. I love to write about all things sweet, carb-y, and homemade. I live in Phoenix, Arizona (hence the blog name!)
© Handle the Heat - handletheheat.com
Join the Handle the Heat Community


---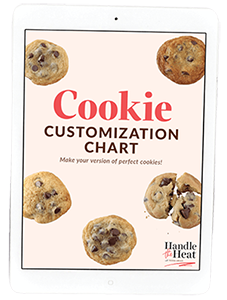 Do you want a more delicious life?
Instead of digging through cookbooks and magazines and searching the internet for amazing recipes, subscribe to Handle the Heat to receive new recipe posts delivered straight to your email inbox. You'll get all the latest recipes, videos, kitchen tips and tricks AND my *free* Cookie Customization Guide (because I am the Cookie Queen)!