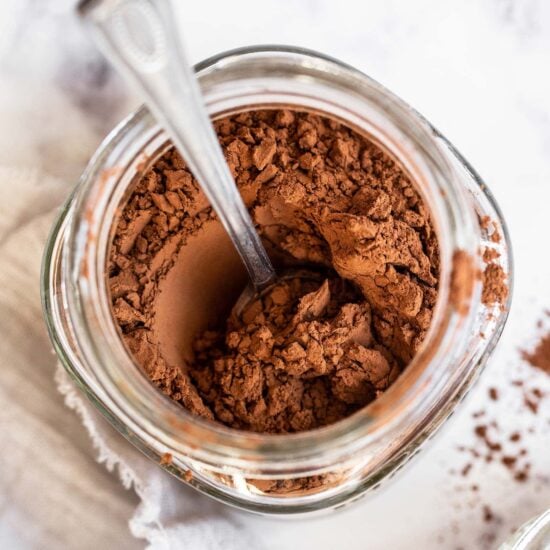 Natural Cocoa vs. Dutch Process Cocoa Powder
If you're a chocoholic like me, you probably find yourself using cocoa powder often. You might have wondered before how natural unsweetened cocoa powder is different than Dutch process cocoa powder. And, if one can be substituted for the other. Since Dutch-process is harder to find, you've probably also wondered if you really need to use it.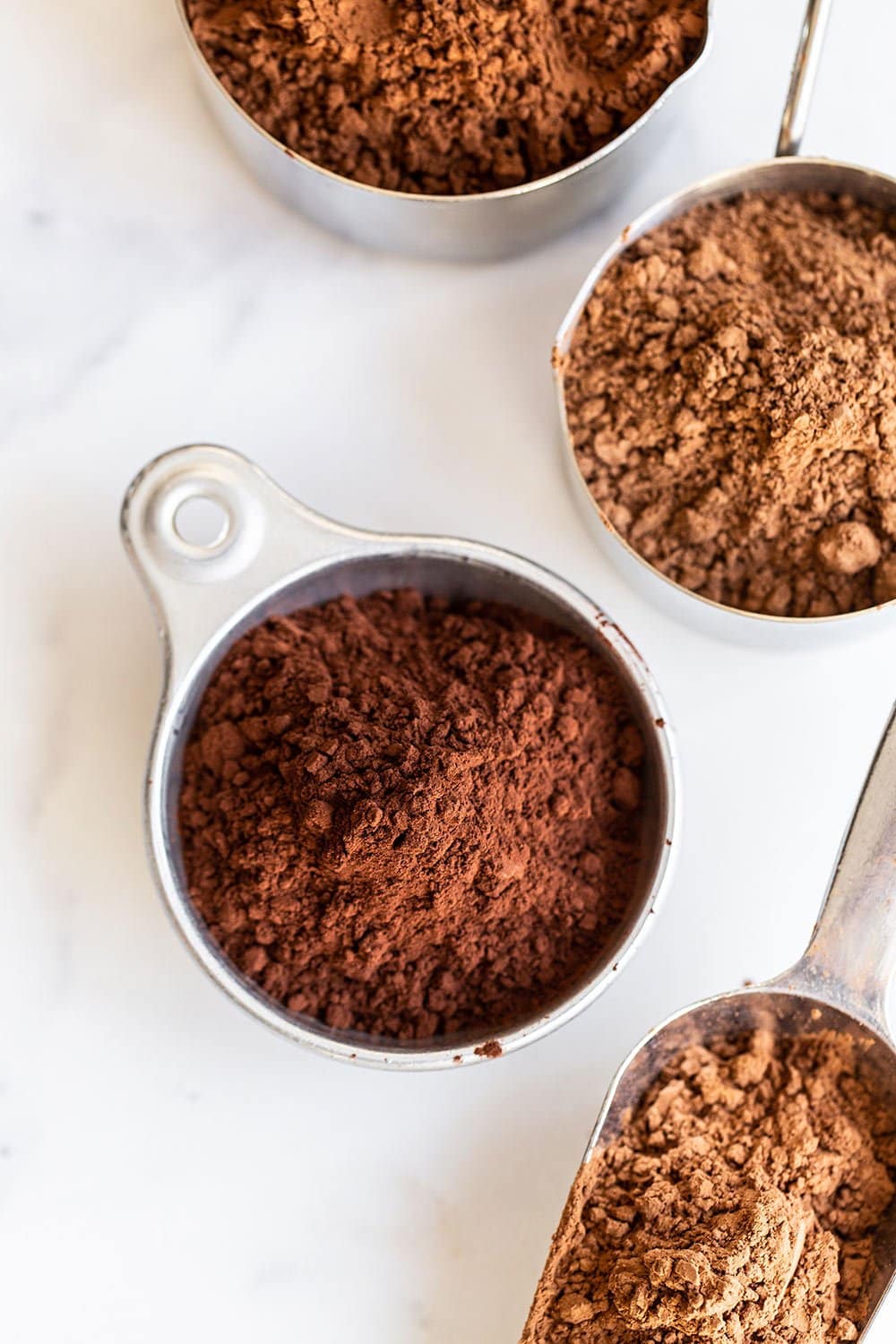 Today I'm going to be showing you exactly what the differences between these cocoa powders are, including how they affect your baking and how you can substitute. If you want to improve your baking, be sure to watch the video explanation below!
While it's important to learn about Natural vs. Dutch Cocoa, read my article here to learn the secret #1 MOST IMPORTANT thing about cocoa powder. The answer may surprise you and it's something most people had no idea about!
Natural Cocoa vs. Dutch Process Cocoa Powder
What is Cocoa Powder?
Cocoa powder is the product resulting from the process of fermenting, drying, roasting, and grinding cocoa beans into a powder.
The fermented and roasted beans are ground into a paste called chocolate liquor, which is a mixture of cocoa solids and cocoa butter.
Some of that chocolate liquor is used to make chocolate candy and bar products.
The rest is pressed further to remove most of the cocoa powder (which is also used to make chocolate).
The cocoa solids that remain are ground into what becomes cocoa powder.

What is Natural Cocoa Powder?
Medium brown in color and bitter in flavor
Is popular in American brownie and cake recipes (think Devil's Food Cake)
Brands such as Nestle, Ghirardelli, and sometimes Hershey's are natural cocoa powders
What Kind of Leavener Works with Natural Cocoa Powder?
Due to the fact that natural cocoa powder is highly acidic (pH between 5 and 6 typically), it's often paired with baking soda as a leavener, since it's a naturally alkaline ingredient. Basically, this just means that baking soda helps neutralize that acidity.
Is Unsweetened Cocoa Powder the Same as Natural Cocoa Powder?
Yes! Different names for the same thing.
What is Dutch-Processed Cocoa Powder?
Dutch-Processed or Dutched cocoa powder has a few properties that set it apart from natural cocoa powder:
It's made from cacao beans that have been washed with a potassium solution to neutralize their acidity from a pH of 5 to a pH of about 7
This means that Dutch process cocoa powder is only slightly acidic, because of that 'Dutching' process
This process also softens the flavor
Dutch process cocoa powder is more commonly found in Europe
How do I Tell if a Cocoa Powder is Dutch-Processed?
To figure out if a cocoa powder is Dutch-processed or natural, look out for the words "Dutched," "cocoa processed with alkali," "alkalized,' or "European style" on the packaging, all of which mean it's Dutch-processed.
What Kind of Leavener Works with Dutch-Processed Cocoa Powder?
Oppositely from natural cocoa, Dutch-process cocoa is typically paired with baking powder as a leavener since the acidity has already been neutralized.
Dutch-process cocoa powder actually won't react to baking soda, meaning if you pair the two together without any other acid in a recipe (like brown sugar, lemon, or yogurt), you won't get much leavening effect.
Learn more about leavening agents in my article about the differences between baking soda and baking powder HERE.
Where to Buy Dutch-Processed Cocoa Powder?
You can often find it a more specialty of gourmet stores such as Whole Foods, Williams Sonoma, Sur la Table, Penzey's, or simply purchase it online from Amazon or King Arthur Flour. I really like E. Guittard, Bensdorp, and Penzey's.
What do the Differences in Color Signify?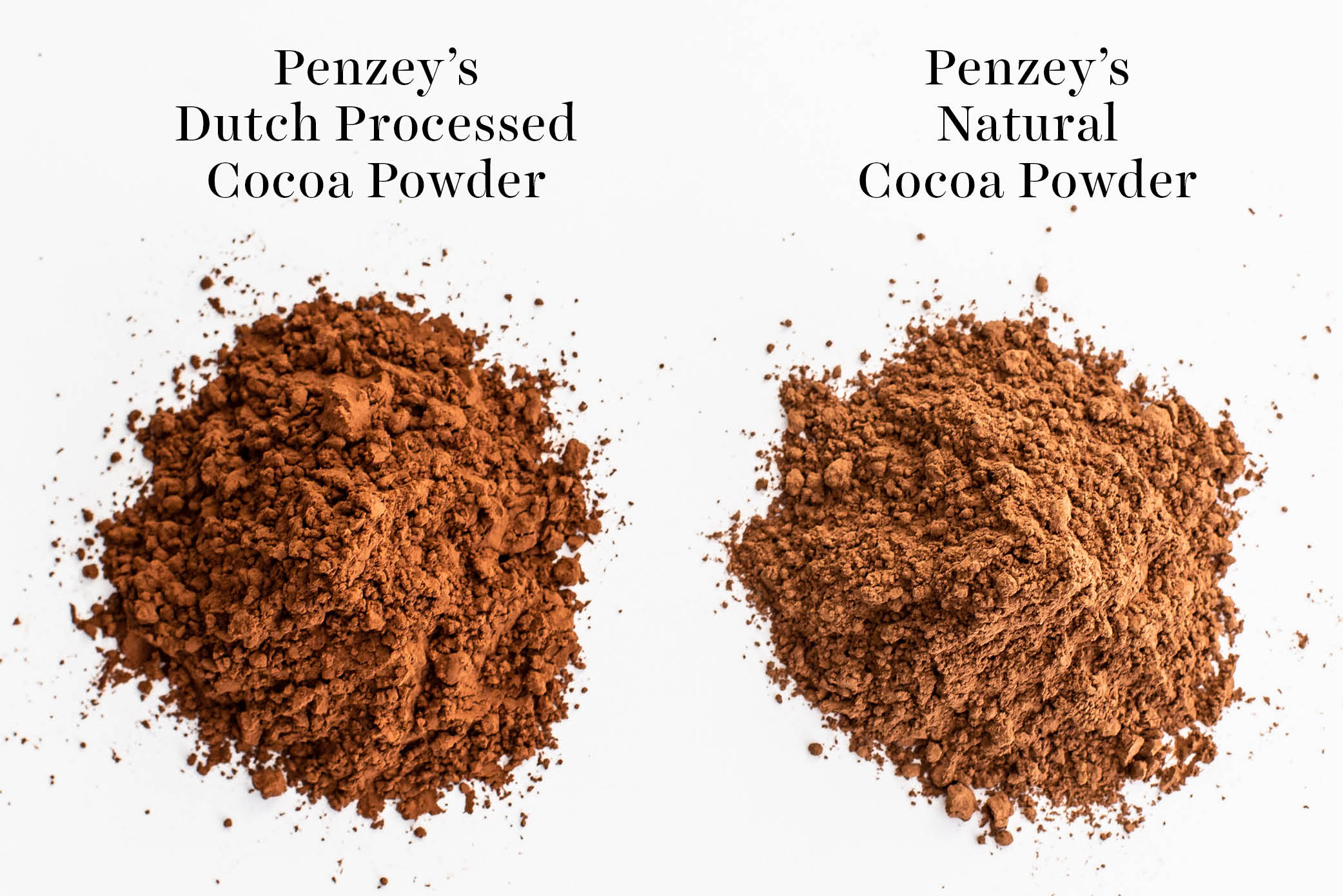 What's perhaps most immediately noticeable about Dutch cocoa is its rich, deep, and sometimes reddish color, which is a byproduct of Dutching. Contrast that with the lighter tan color of natural cocoa. However, color isn't always an indicator of quality or chocolate flavor (see Black Cocoa Powder below).
Is Hershey's Cocoa Powder Dutch Processed?
Hershey's "Special Dark" cocoa powder is indeed Dutched. Their regular "natural unsweetened" is not Dutched.
What is Black Cocoa Powder?
The ever-popular Oreo cookie is made with highly Dutched cocoa powder, sometimes called black cocoa. It imparts that characteristic dark color but very little chocolate flavor or fat, resulting in a more dry or crumbly product (more on fat below).
What is Cacao Powder?
In cacao powder, the beans are processed at temperatures low enough that the final powder is considered 'raw.'
This means it has more nutrients, but is also much more bitter.
Cocoa powder goes through a process of roasting and higher heat exposure which means it is not raw and loses some of its nutritional value. That's what helps to make regular cocoa powder less bitter.
I don't bake with cacao powder. In part because of its bitter taste, but also because most recipes I use cocoa powder in are baked, which would strip the more expensive cacao powder of those raw nutrients.
Are Dutch-Processed and Natural Cocoa Powder Interchangeable?
The answer is: sometimes. They can be used interchangeably if there is no baking soda or baking powder called for in the recipe.
Leavener-specific. If a specific leavening agent is called for, your best bet is to stick with the cocoa powder specified.
Altering the texture. When there is more than 3/4 cup of cocoa powder called for in the recipe and you do not use the cocoa powder specified, you really risk altering the intended texture.
Generally, you will have more success substituting natural cocoa powder for Dutch-processed cocoa, but less success the other way around.
Stick with the recipe whenever possible. Since baking is a science, it's best to be precise and follow the recipe exactly, to eliminate the possibility of mistakes. Especially since good cocoa powder isn't cheap!
Important note: you can't substitute sweetened cocoa for unsweetened cocoa in recipes, and you can't substitute with bars of chocolate.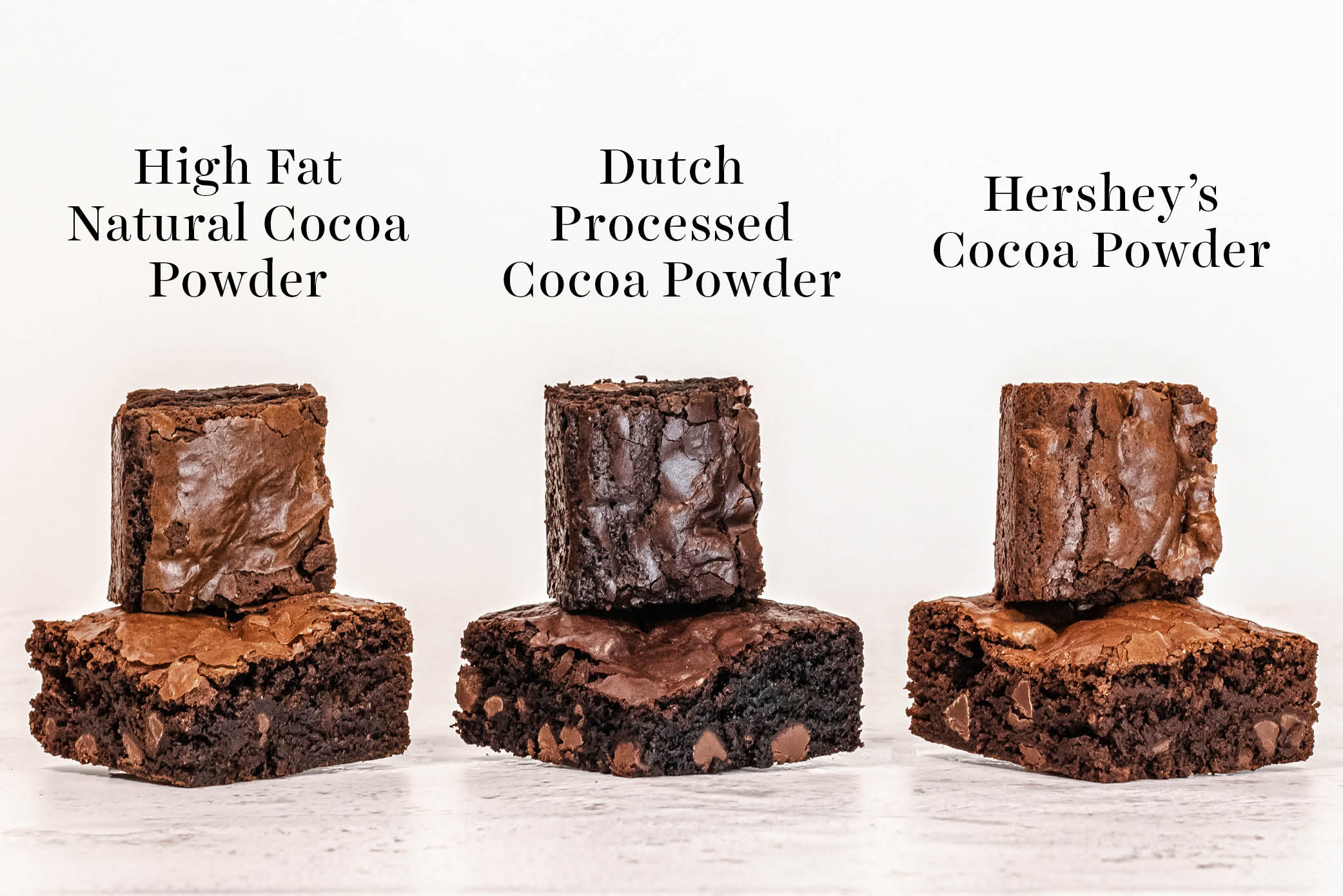 What if the Recipe Doesn't Specify the Type of Cocoa Powder to Use?
If a recipe doesn't specify or offers you the choice between the cocoa powders, note that one isn't necessarily 'better' than the other – but there are differences in flavor and color:
Dutch-processed cocoa will create a darker product with a smoother, mellower, and more earthy flavor.
Using natural cocoa powder will create a lighter-colored product, with a slightly fruiter and more astringent flavor.
I personally find natural cocoa powder to be more reminiscent of childhood chocolate treats in America.
How to Store Cocoa Powder
Store in a cool dry place in an airtight container and use within 1 year of purchase. Don't refrigerate or freeze, which promotes moisture and therefore spoilage.
Can I Add Cocoa Powder to Any Recipe to Make it Chocolate?
No. As mentioned above, cocoa powder contains starch, which makes it a drying ingredient. It will often alter the entire chemistry of a recipe if you try to take a vanilla cake, sugar cookie, or blondie recipe and add cocoa powder. The one exception is for American buttercream, which you can usually add cocoa powder to without issue.

Best Cocoa Powder Recipes:
Pin for later: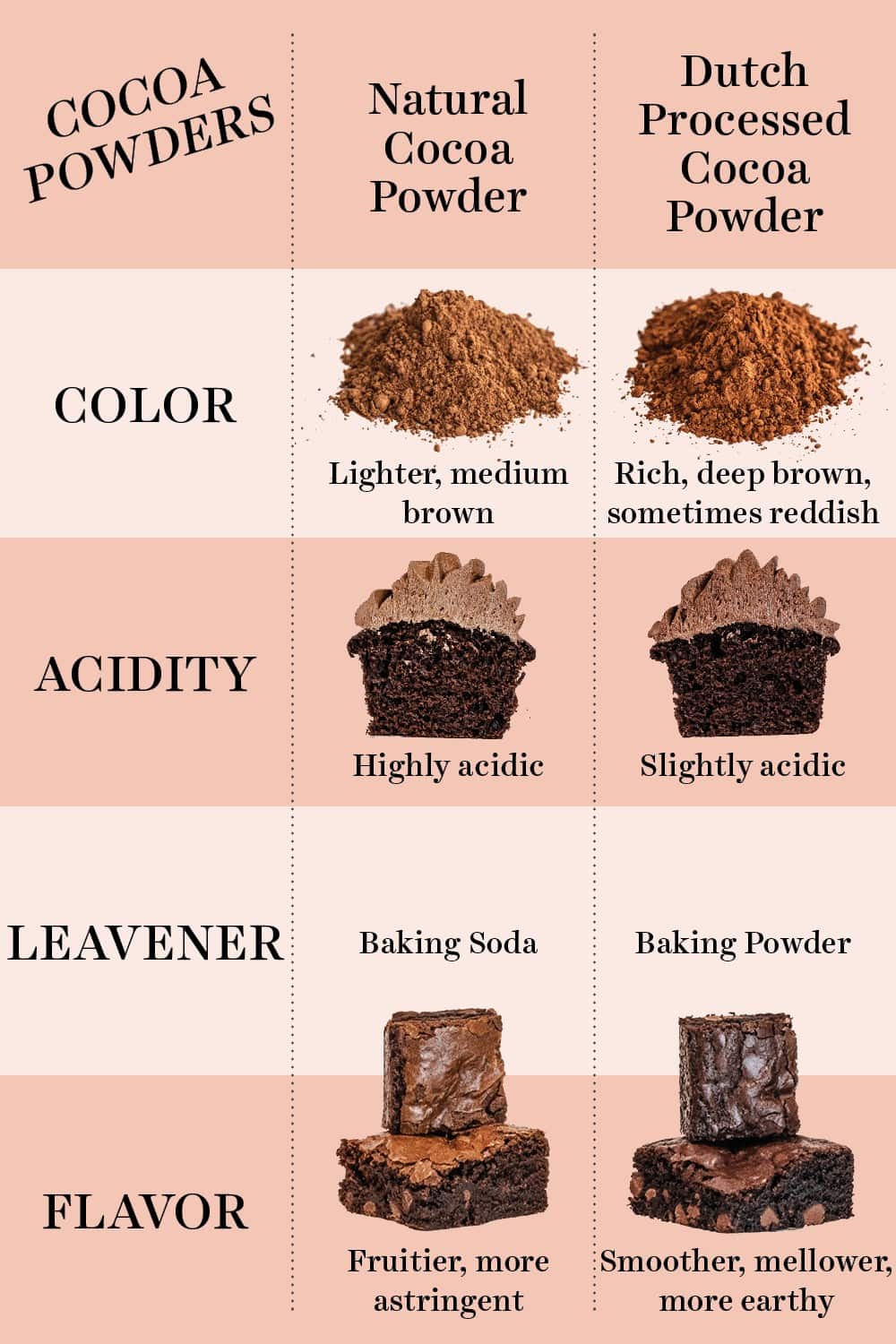 About Tessa...
I share trusted baking recipes your friends will LOVE alongside insights into the science of sweets. I'm a professionally trained chef, cookbook author, and cookie queen. I love to write about all things sweet, carb-y, and homemade. I live in Phoenix, Arizona (hence the blog name!)
© Handle the Heat - handletheheat.com
Join the Handle the Heat Community


---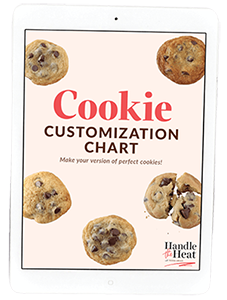 Do you want a more delicious life?
Instead of digging through cookbooks and magazines and searching the internet for amazing recipes, subscribe to Handle the Heat to receive new recipe posts delivered straight to your email inbox. You'll get all the latest recipes, videos, kitchen tips and tricks AND my *free* Cookie Customization Guide (because I am the Cookie Queen)!