Baking Soda vs. Baking Powder
A question I get asked a lot about and something that I think confuses a lot of people is the subject of chemical leaveners and what the differences are between baking soda and baking powder. Even experienced home bakers can benefit from knowing how they work on a deeper level! If you'd like to improve your baking and your understanding of how your favorite treats work then keep reading and watch the video below.
The first time I really demonstrated the differences between baking soda and baking powder was in my Ultimate Guide to Chocolate Chip Cookie post. I showed you how cookies turn out when they're made with just baking soda, just baking powder, or made with both. The results were fascinating and produced so many comments and baking revelations from you guys!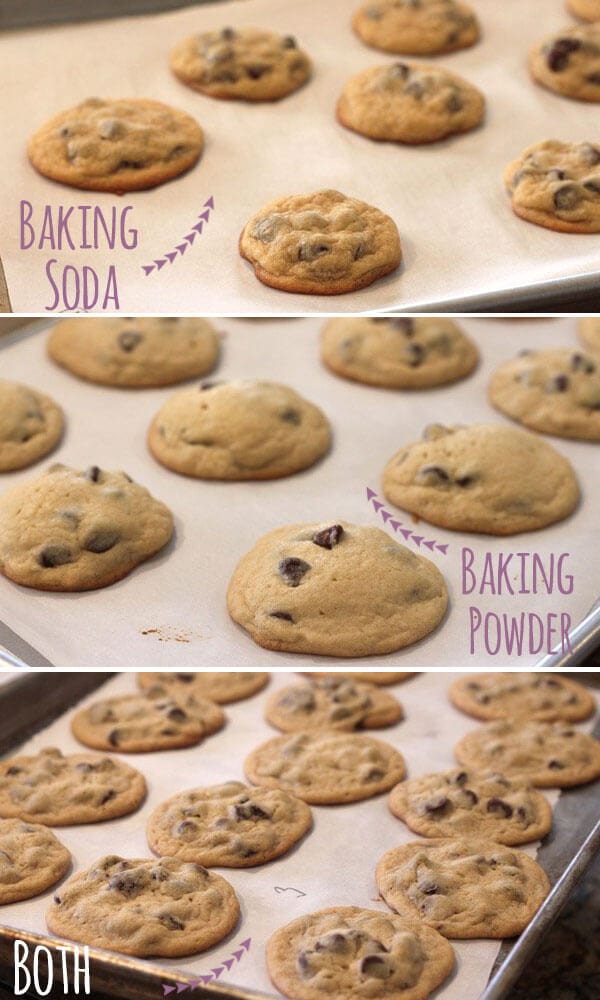 So now that you've seen a quick peek at what the differences look like when it's all said and done, let's dive deeper into the science, the WHY behind those photos!

What are they?
Baking powder and baking soda are both chemical leaveners that work to create light textures in baked goods – but only when they're fresh and accurately measured. Although baking powder actually contains baking soda, the two leaveners are very different. So, this post will clear any confusion. The most important note to remember? Baking powder and baking soda are NOT interchangeable because they require different conditions to function.
Baking Soda

Baking soda is a natural alkaline ingredient activated by liquid and acid.
Naturally acidic ingredients that will activate baking soda:
-Buttermilk
-Sour cream
-Yogurt
-Lemon juice
-Honey
-Natural cocoa powder (NOT Dutch-processed)
-Brown sugar
-Molasses
There must be some acidic ingredient in the recipe for baking soda to function. Baking soda begins to leaven as soon as it touches liquid so if you wait too long before baking you may notice a decrease in leavening effect. If you use too much baking soda, you may taste an unpleasant metallic flavor in your food. Baking soda also helps add a beautiful browned color to baked goods by elevating pH levels.
Since baking soda must be fresh to work properly, it's important to switch out your container before the expiration date. However, baking soda can lose its effectiveness even before that date.
Test for freshness
Placing a 1/4 teaspoon baking soda in a bowl and pour 1 teaspoon of distilled vinegar on top. If the baking soda immediately bubbles violently, it is fresh. If nothing happens, throw away the baking soda and buy a new package.
Baking Powder

Baking powder is a combination of baking soda, acid, and cornstarch. Most baking powder available in the U.S. today is double acting, meaning its first reaction occurs when combined with liquid to help aerate the batter or dough and a second more slow-acting reaction occurs when heated in the oven. Unlike baking soda, baking powder doesn't require an acid to activate, only moisture, and baking powder batters can be made ahead of time due to that double acting property.
Test for freshness
Place 1 teaspoon of baking powder in a bowl with 1 cup of hot water from the tap. If it bubbles up, the baking powder is fresh. If nothing happens, throw the baking powder away and buy a new container.
Strength
It's important to understand that baking soda is four times stronger than baking powder. This means 1 teaspoon of baking powder will raise a cup of flour, whereas only a 1/4 teaspoon of baking soda can produce the same effect. Knowing what each leavener requires to function and the strength of each does make it technically possible to substitute baking soda for baking powder, however the reverse is not true. Either way, I do not recommend attempting any substitutions because it is complicated and may ruin your baking project. Plus, both ingredients are so cheap and readily available!
Some recipes call for both baking soda and baking powder in order to have the highest effect of acid neutralizing and leavening powers (this can be seen in the above cookie comparison photo). This works especially well for acidic dough that needs to be stored overnight, such as my favorite Ultimate Chocolate Chip Cookie recipe.
I hope you found this interesting! If you'd like me to cover any more baking topics like this, just let me know in the comments below! Happy baking!
About Tessa...
I share trusted baking recipes your friends will LOVE alongside insights into the science of sweets. I'm a professionally trained chef, cookbook author, and cookie queen. I love to write about all things sweet, carb-y, and homemade. I live in Phoenix, Arizona (hence the blog name!)
© Handle the Heat - handletheheat.com
Join the Handle the Heat Community


---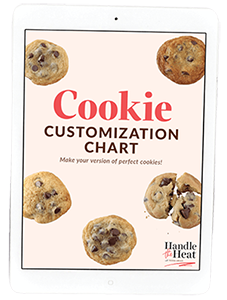 Do you want a more delicious life?
Instead of digging through cookbooks and magazines and searching the internet for amazing recipes, subscribe to Handle the Heat to receive new recipe posts delivered straight to your email inbox. You'll get all the latest recipes, videos, kitchen tips and tricks AND my *free* Cookie Customization Guide (because I am the Cookie Queen)!