Everything You Need to Know About Sugar in Baking
A question I get asked frequently is, "Can I use less sugar in this recipe?".
A common misconception about sugar is that its only role in baking is to add sweetness to a recipe. Sugar actually does a whole lot more in baking than most people know. In fact, reducing or substituting the sugar can create unexpected adverse results in your baking!
Let's dive into the function of sugar in baking!
Quick disclaimer: this post is intended to give insight into the science of sugar's role in baking. It is not intended to serve as a guide for people who must reduce sugar intake due to medical diagnoses or for weight loss. Here at Handle the Heat, we use sugar, dairy, eggs, and wheat in the majority of our recipes and fully believe dessert is an important part of enjoying life!
What is sugar?
In most baking recipes, you'll find sugar either in the form of granulated (white) sugar, brown sugar, or powdered (confectioners' sugar).
These are considered refined sugar products and are typically made by processing sugar beets or sugar cane into pure sucrose (the chemical name for sugar). There are other chemical forms of sugar, such as fructose (fruit sugar) and lactose (milk sugar).
Sugar is simply a carbohydrate.
Quick tip: learn to make your own brown sugar here!
What are the functions of sugar in baking?
Simply put, sugar provides a lot more than a sweet flavor in baking.
It actually contributes a moist and tender texture to many baked goods. When creamed with butter and sugar, it can also assist in leavening recipes like cakes for a light and fluffy texture. Sugar is also involved in the processes of caramelization and Maillard browning which impact both flavor and texture.
Sugar can also reduce iciness and hardness in frozen desserts and even prevent microbial growth (in some cases sugar acts as a sort of preservative!).
This is why altering the sugar in a recipe can have unexpected consequences!
What happens if you decrease the amount of sugar called for in cookies?
In sugar cookie baking, sugar works with the other ingredients to contribute sweetness, moisture, chewiness, and spread.
We recently experimented with my Soft & Chewy Sugar Cookies recipe to see the effects of decreasing the amount of sugar called for by fifty percent.
When you decrease the sugar in a cookie recipe, you won't just get a result that's less sweet. You'll get cookies that are harder, drier, crumblier, and spread far less. It was also interesting to note that decreasing the sugar also yielded 1 less cookie dough ball.
Just take a look at these baking experiment results: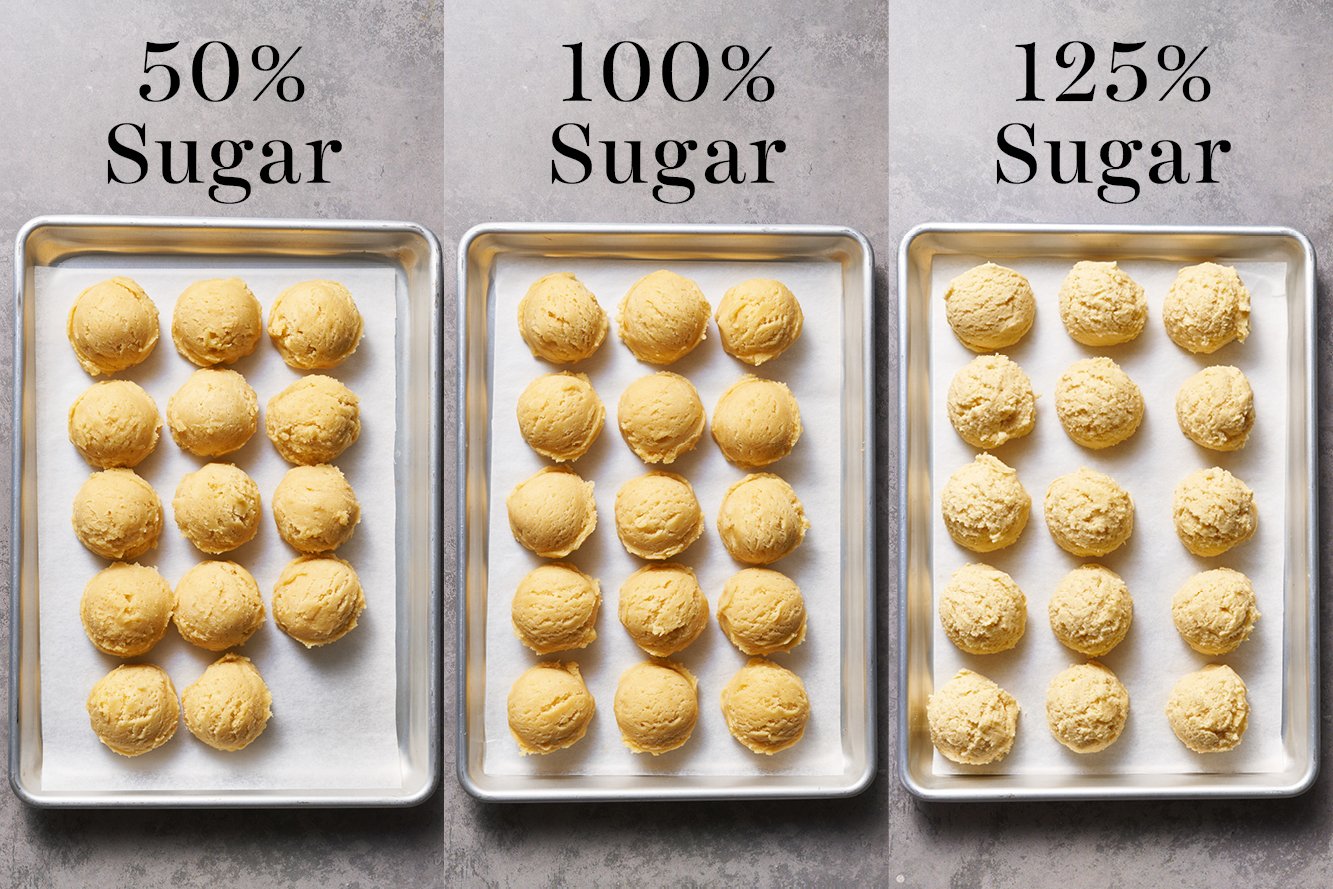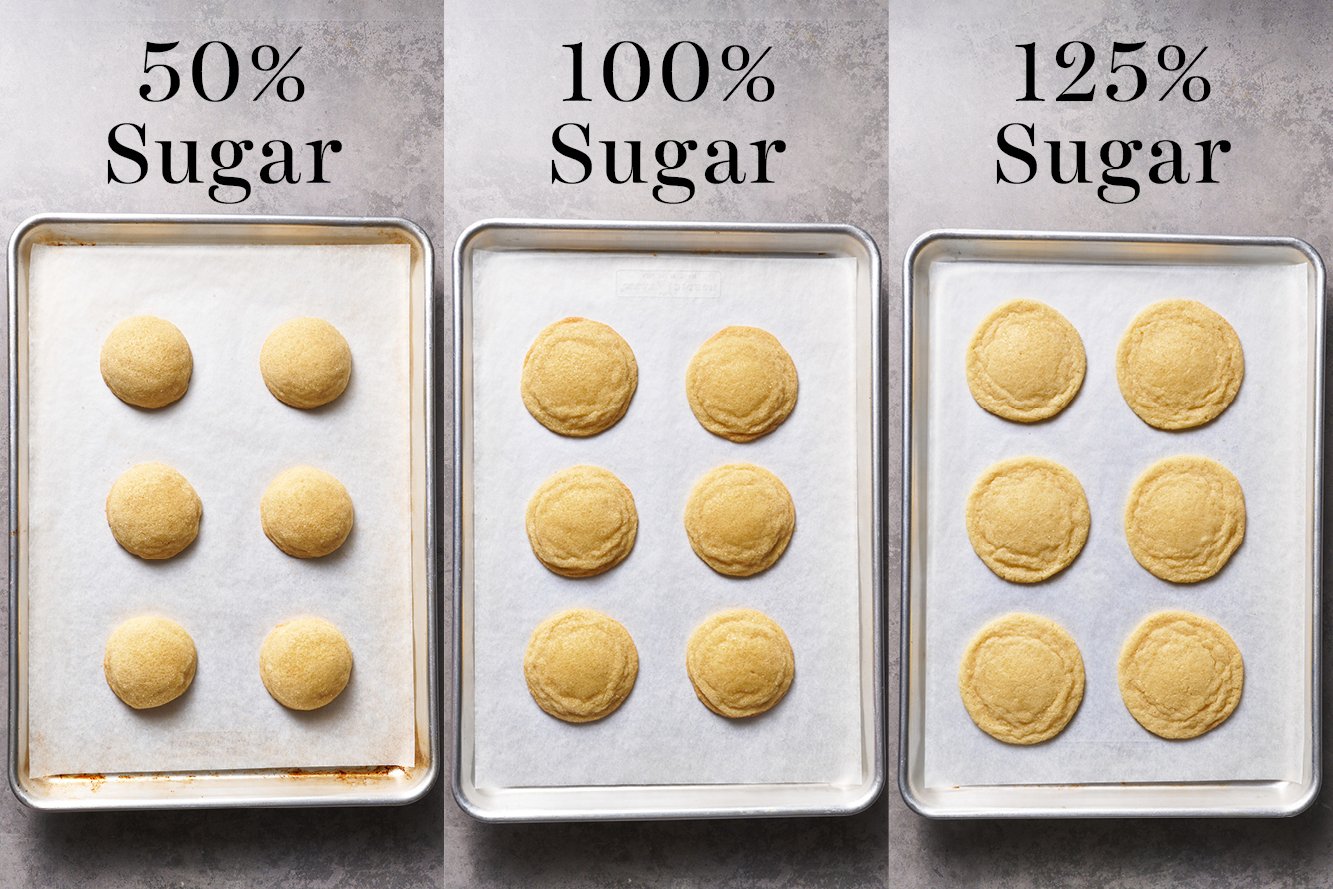 What happens if you increase the amount of sugar called for in cookies?
Conversely, when you increase the sugar in cookies, you'll get cookies that spread more and have an ultra moist and chewy texture in addition to a sweeter flavor. The cookies in our experiment baked with 125% sugar as compared to the original control recipe were almost candy-like in their chewiness and sweetness, which some of our testers preferred!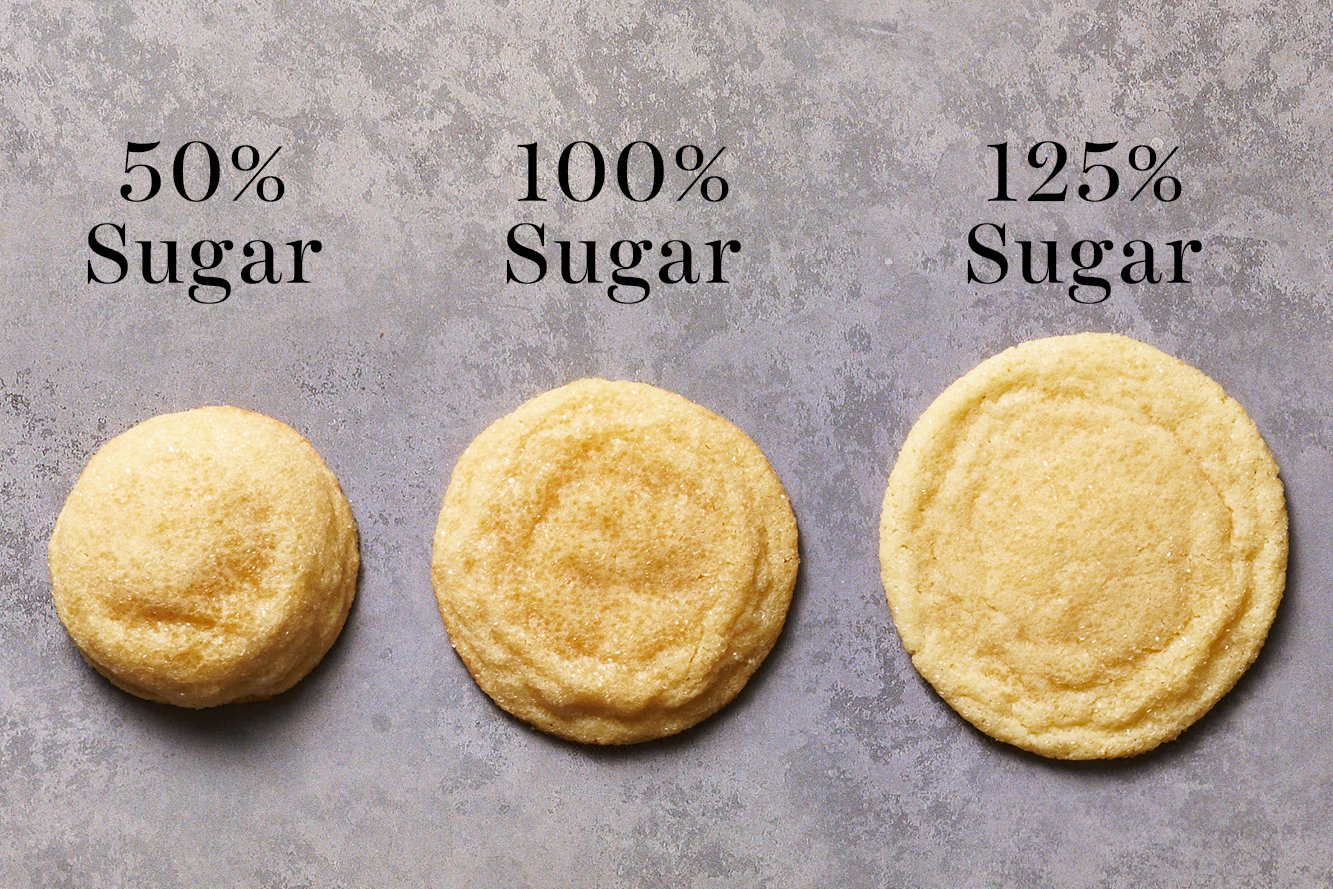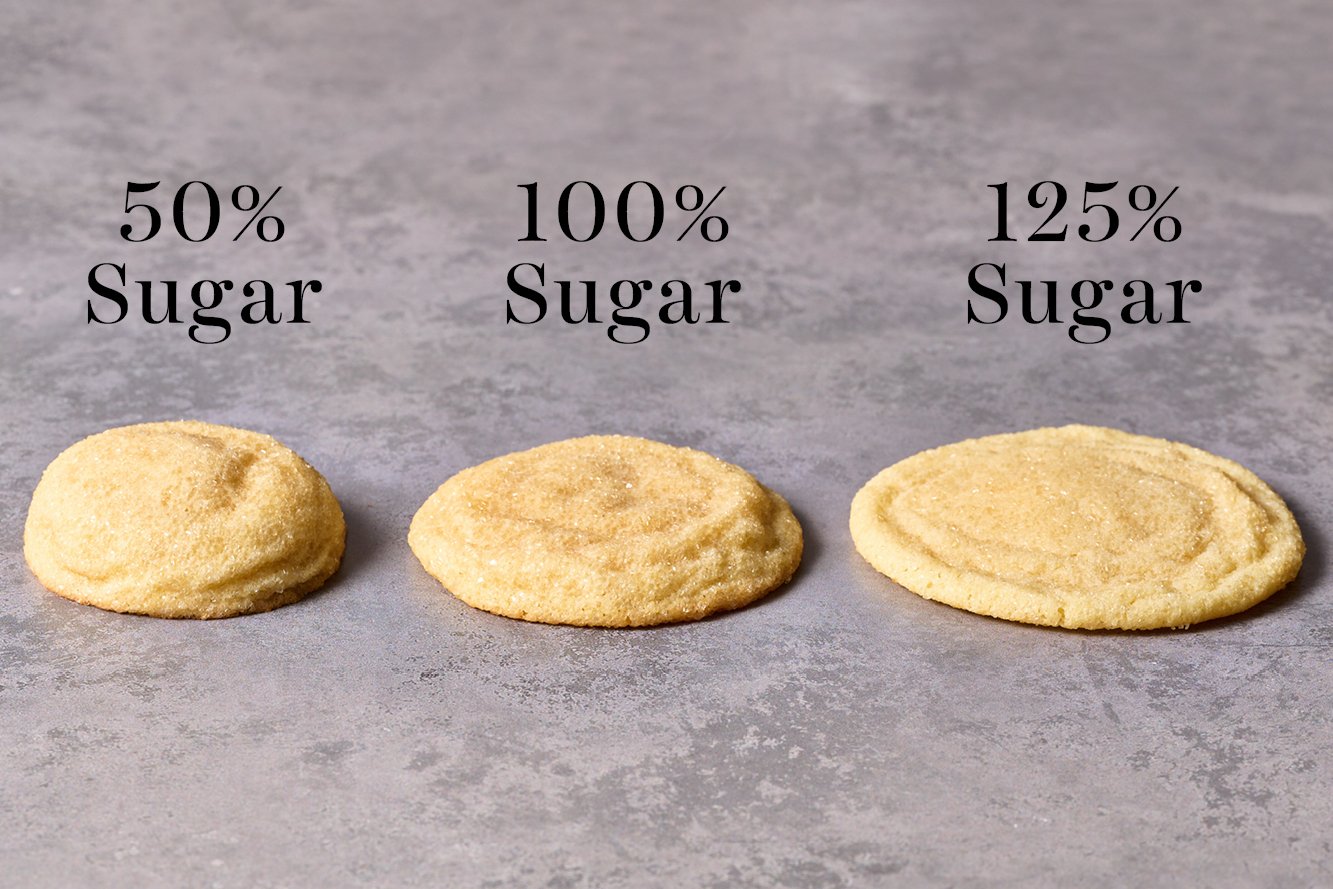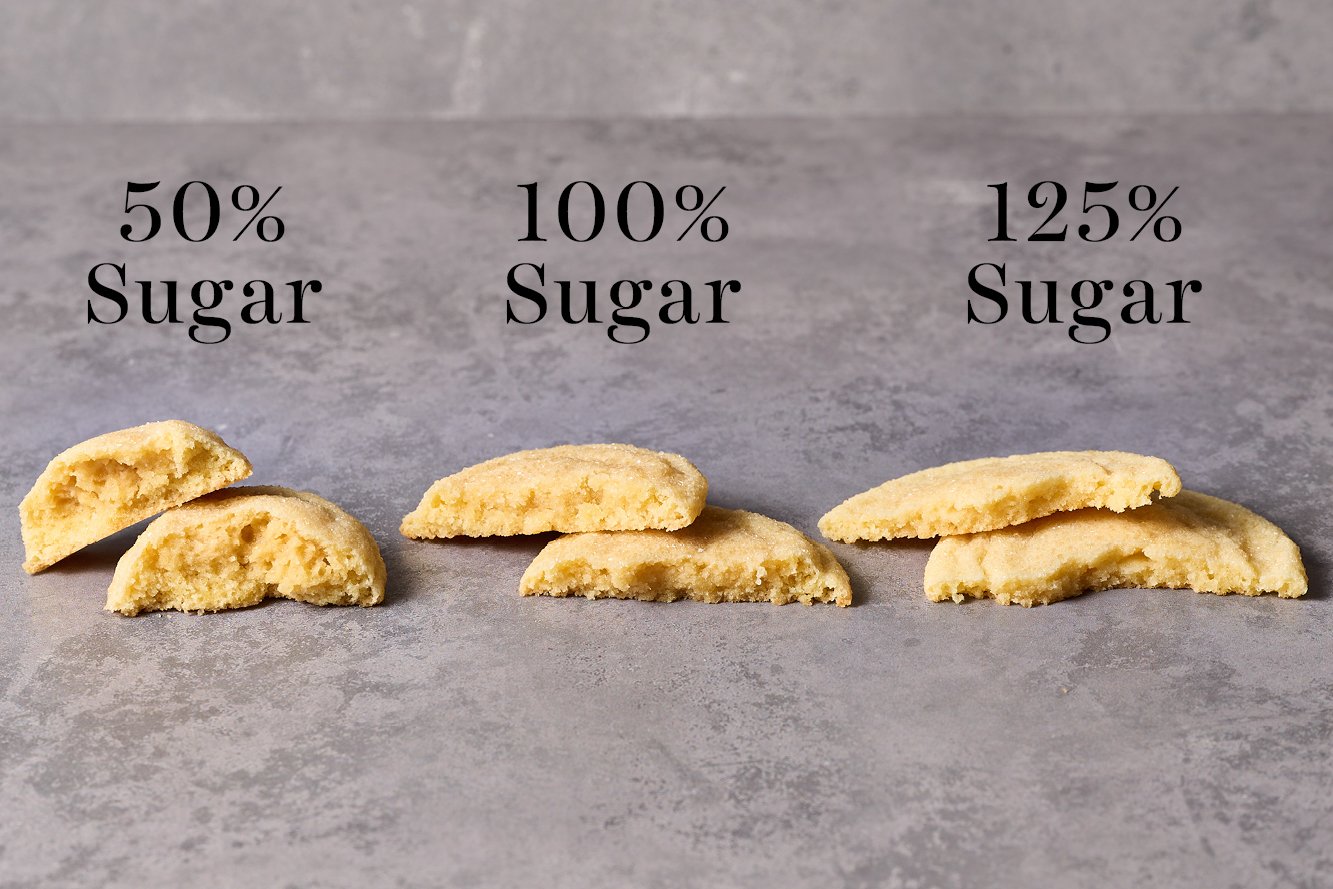 ---
Sugar is so essential to many baking recipes! I almost never advise reducing the sugar in a recipe unless you're willing to alter the taste, texture, and appearance. If you find your baking is just too sweet, it may be that you need to add more salt or use the right kind of salt or balance with ingredients that lend bitterness or acidity.
Have you ever experimented with reducing the sugar in baking? What was the end result?
If you're interested in learning more about the science of cookie baking, grab a copy of my top selling cookbook The Ultimate Cookie Handbook. In addition to containing 50 of my best cookie recipes, the entire first section of the book is dedicated to the VISUAL science of baking!! It's a culinary school education and cookie bible all in one. Order your cookbook HERE!
More Science of Baking Articles:
Recipes You'll Love:
About Tessa...
I share trusted baking recipes your friends will LOVE alongside insights into the science of sweets. I'm a professionally trained chef, cookbook author, and cookie queen. I love to write about all things sweet, carb-y, and homemade. I live in Phoenix, Arizona (hence the blog name!)
© Handle the Heat - handletheheat.com
Join the Handle the Heat Community


---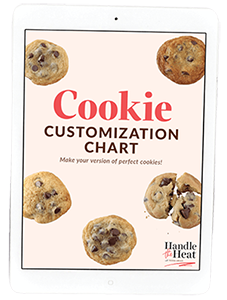 Do you want a more delicious life?
Instead of digging through cookbooks and magazines and searching the internet for amazing recipes, subscribe to Handle the Heat to receive new recipe posts delivered straight to your email inbox. You'll get all the latest recipes, videos, kitchen tips and tricks AND my *free* Cookie Customization Guide (because I am the Cookie Queen)!