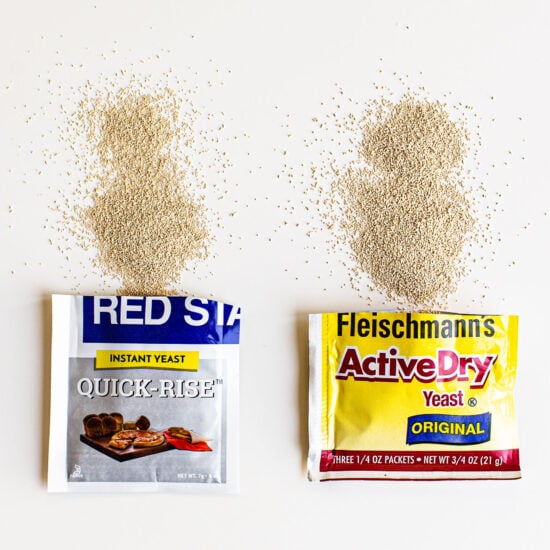 Active Dry Yeast vs. Instant Yeast
I adore baking bread.
Any dough risen with yeast is nothing short of magical. A few simple ingredients come together and slowly transform into the most delightful, aromatic, and comforting thing known to humankind… BREAD!
Working with yeast can be intimidating. While it does take practice, there's absolutely no reason to avoid it or be scared by it. I promise you, with a few helpful articles like this one (and my article on how to knead dough), you'll be well on your way to fantastic homemade bread in no time.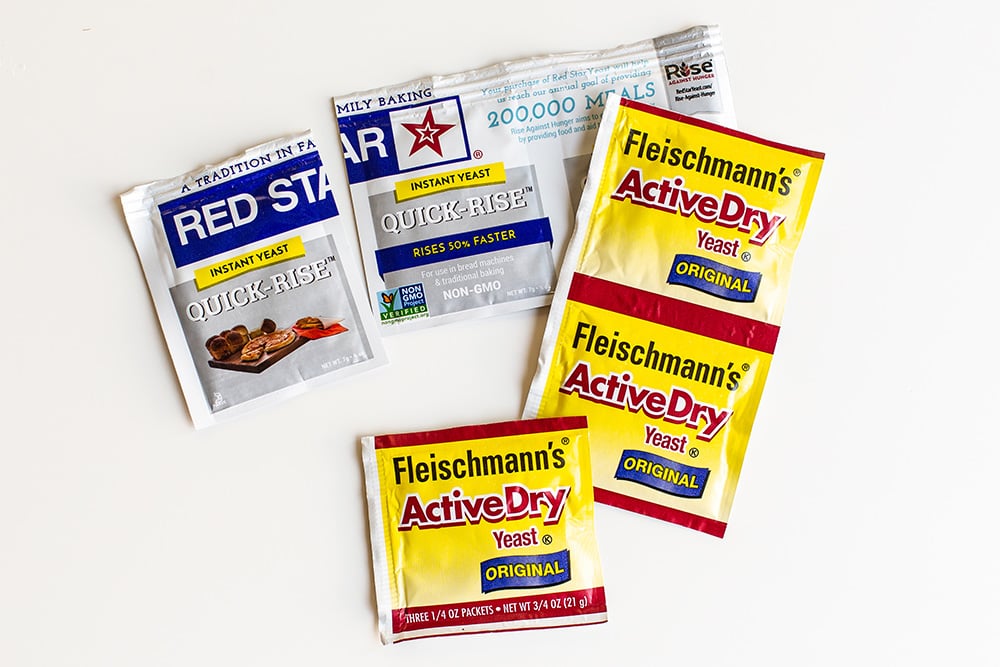 Active Dry Yeast vs. Instant Yeast: What's the Difference?
Is active dry yeast the same as instant yeast? What's the difference between active and instant yeast?
Active Dry Yeast and Instant Yeast, also called 'quick rising' or 'fast rising' are much more similar than most people think. In fact, they can be used interchangeably in most recipes. They're both commercial products made from drying fresh yeast into granules.
Active dry yeast simply works a little more slowly than instant yeast.
This is why in many recipes which call for active dry yeast, you'll see instructions for proofing included. This is simply when you mix active dry yeast with warm liquid (110-115°F) and sugar to activate it. This helps kick start the yeast activity.
Since instant yeast has a quicker rate of action thanks to a special manufacturing process, many recipes will instruct you to simply add the yeast in straight with the other ingredients without proofing it.
You can proof them both, or skip proofing for either kind of yeast altogether. The only difference will be how quickly your dough will rise.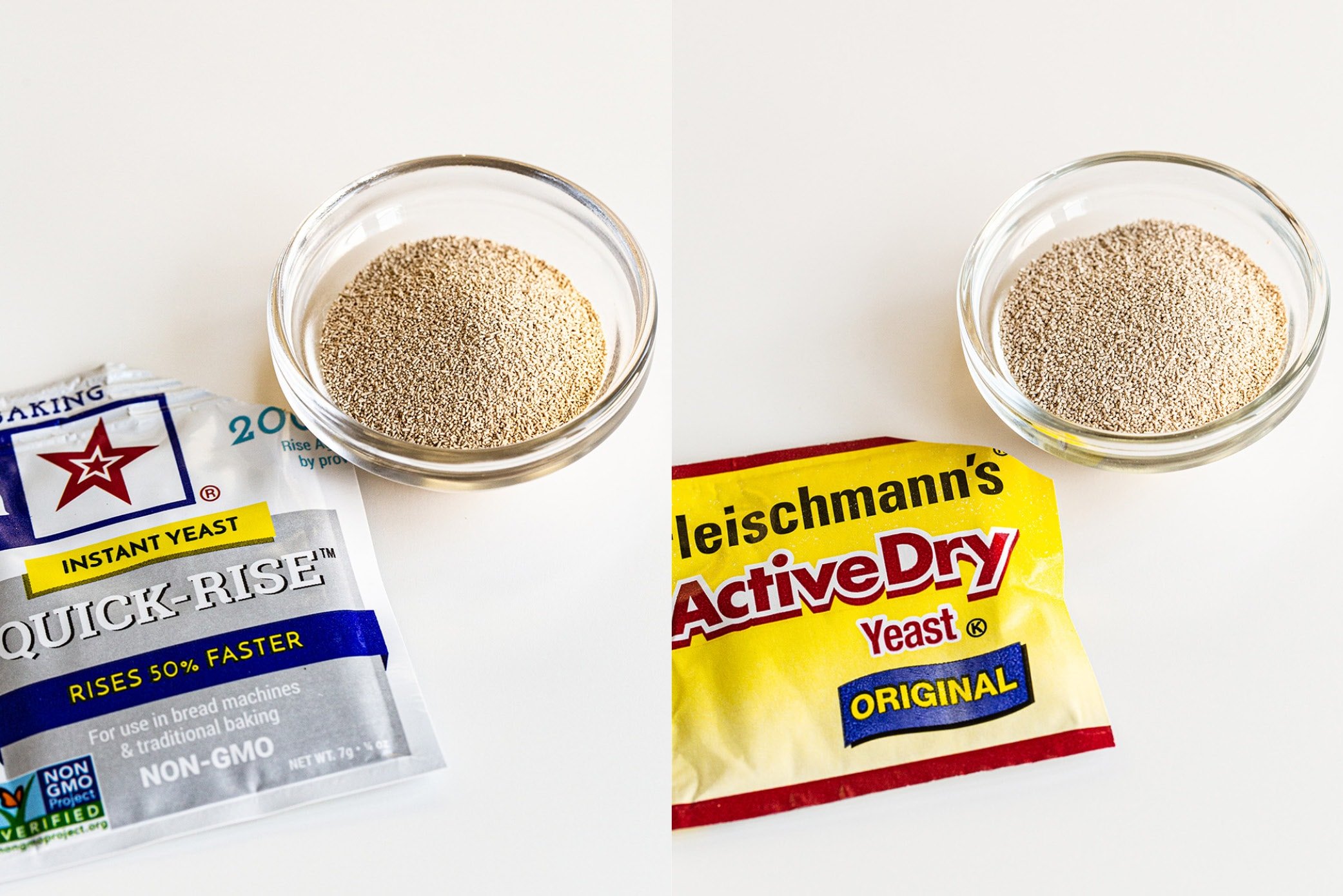 How to Substitute Instant Yeast for Active Dry (or vice versa)
Active dry and instant yeasts can be substituted for one another at a 1:1 ratio. Active dry yeast will take about 15 to 20 minutes longer to rise than instant yeast. To encourage active dry yeast to start its activity without having to proof, just use very warm water in your dough mixture (120-130°F).
For any traditional dough making where you're kneading by hand or with a machine and allowing the dough to rise, this 1:1 ratio will work.
When not to substitute yeast:
Active dry and instant yeast may not be interchangeable when using a bread machine since they use higher temperatures to raise dough. When baking in the bread machine and substituting instant yeast for active dry, reduce the amount of instant yeast by 25%.
You may also want to use the specific yeast called for in recipes with very long fermentation times (typically active dry in those cases).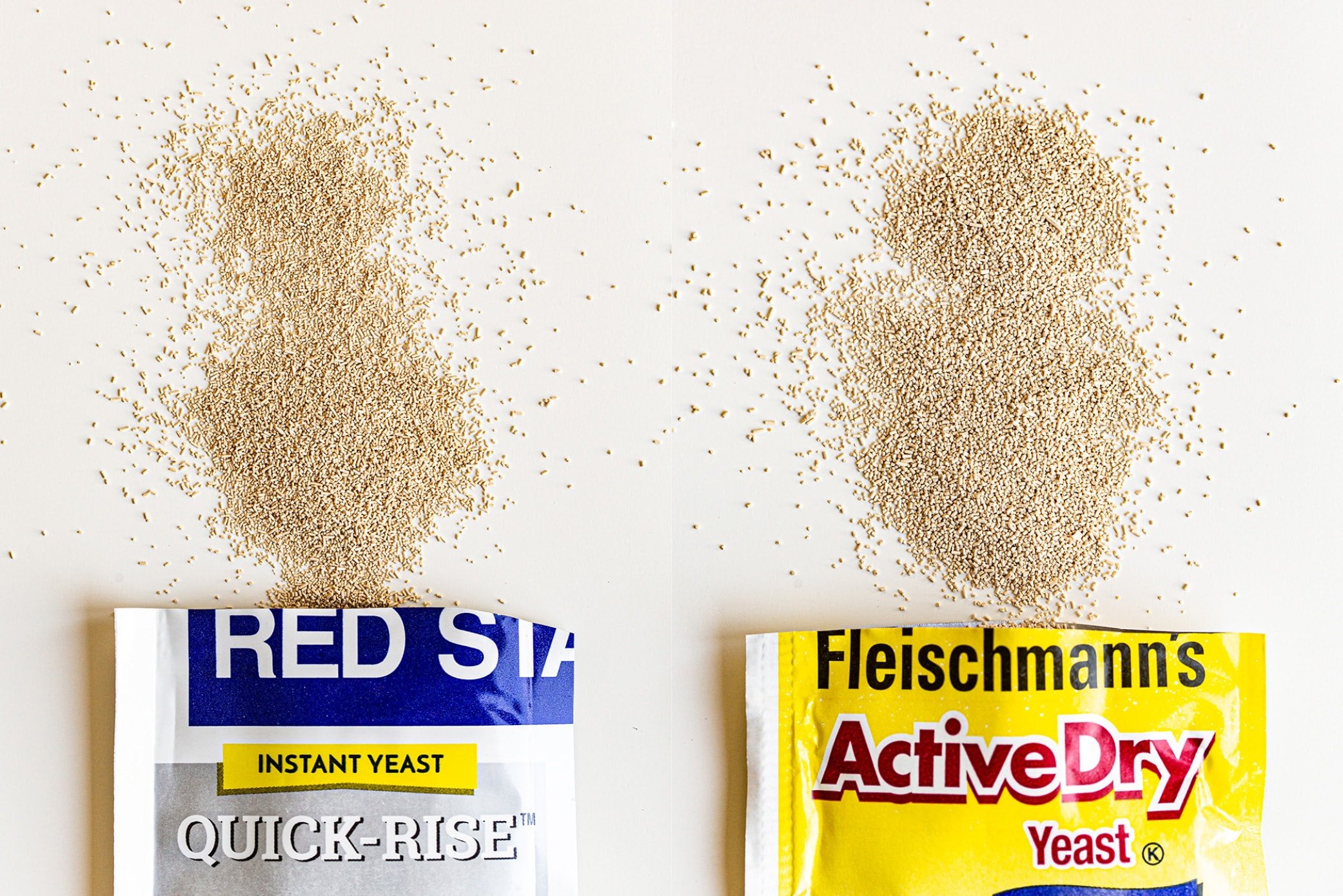 Is one type of yeast better than the other?
One isn't better than the other, it's usually personal preference and which you have easy access to. I tend to stock up on Instant Yeast in a large jar or package and store it in the freezer. This is more economical, and since instant yeast works quickly, I find it more convenient.
How do I measure yeast?
Since yeast is sold in a variety of packages, here's a quick conversion:
1 packet of yeast = 2 1/4 teaspoons = .25 ounces = 7 grams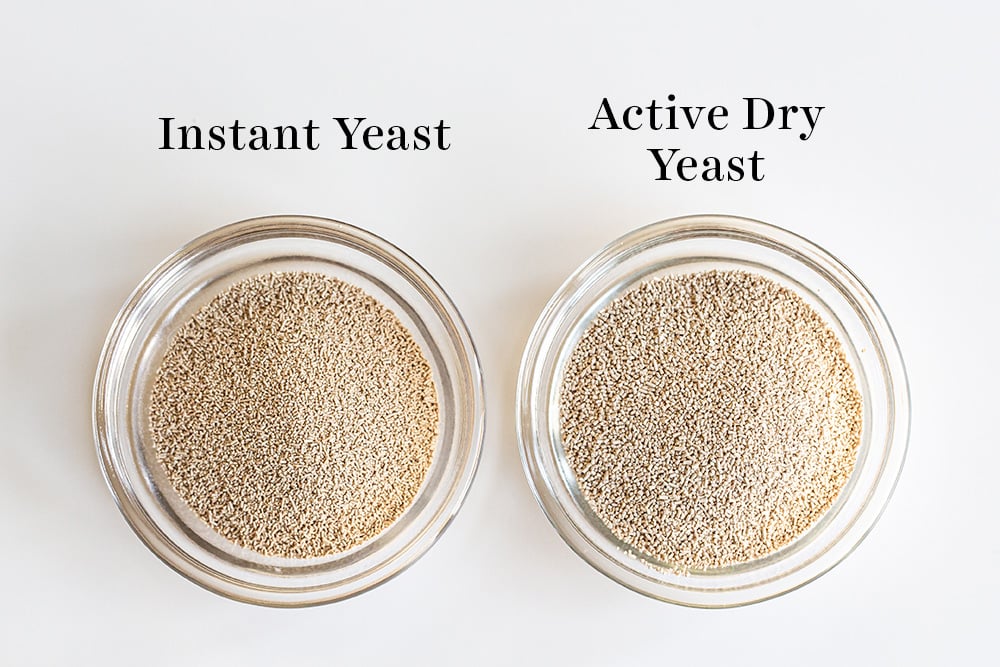 How to store yeast:
Unopened yeast will keep for up to 2 years. Once opened, it's really best to store in the freezer in an airtight container for up to 1 year. Allow the amount of yeast you need to come to room temperature before using in a recipe.
Not sure if your yeast is fresh? Here's how to test yeast:
Most bread recipes wholly rely on active yeast to work. Yeast is very perishable when exposed to air, and while it should be used by the "best if used by" date (2 years after packaging if unopened), it can often go bad before then. It can also arrive at your home already dead if it hasn't been stored properly by the seller.
To test for freshness, in a liquid measuring cup combine 1 teaspoon of granulated sugar with 1/2 cup of lukewarm water (110-120°F). Add in one package, or 2 1/4 teaspoons, of active dry yeast and stir until there are no more yeast granules floating on top of the water. Within five minutes, the yeast should have absorbed enough water to activate.
After ten minutes, the yeast mixture should be very foamy and have risen to at least the 1-cup measurement, as shown in the above photo. If your yeast did not rise to the 1-cup mark, it should be discarded.
Yeast Measurement Conversions
1 packet of dry yeast = 2 1/4 teaspoons = .25 ounces = 7 grams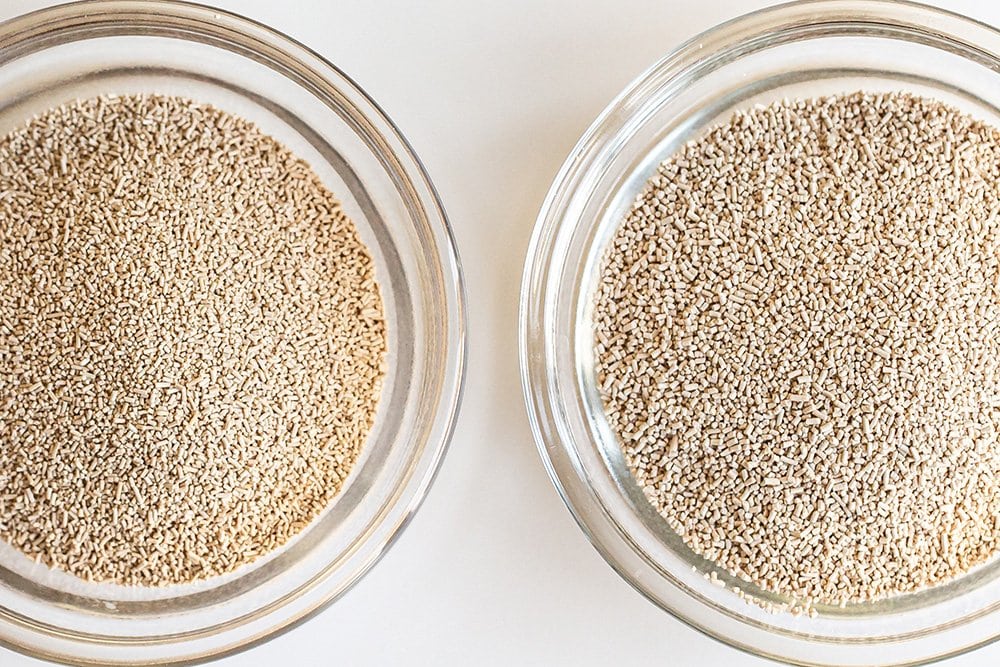 Important Note:
Modern manufacturers of yeast for home bread baking have made a lot of improvements in their production. These improvements have all been in the effort of making yeast as easy to use and foolproof as possible. Old rules like 'you must proof your yeast' or 'salt will kill all the yeast' aren't very accurate nowadays. Certain things may slow down yeast activity (like adding salt directly alongside the yeast), but for the most part, total yeast disasters are easy to avert.
Don't be scared of working with yeast. It takes a little practice to get the hang of it, but there's truly nothing more satisfying!
Recipes that use yeast:
Love the science of baking? Check out these articles:
Photos by Ashley McLaughlin.
About Tessa...
I share trusted baking recipes your friends will LOVE alongside insights into the science of sweets. I'm a professionally trained chef, cookbook author, and cookie queen. I love to write about all things sweet, carb-y, and homemade. I live in Phoenix, Arizona (hence the blog name!)
© Handle the Heat - handletheheat.com
Join the Handle the Heat Community


---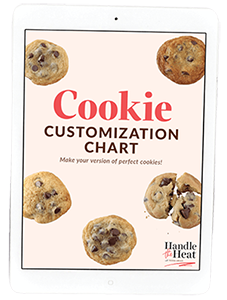 Do you want a more delicious life?
Instead of digging through cookbooks and magazines and searching the internet for amazing recipes, subscribe to Handle the Heat to receive new recipe posts delivered straight to your email inbox. You'll get all the latest recipes, videos, kitchen tips and tricks AND my *free* Cookie Customization Guide (because I am the Cookie Queen)!