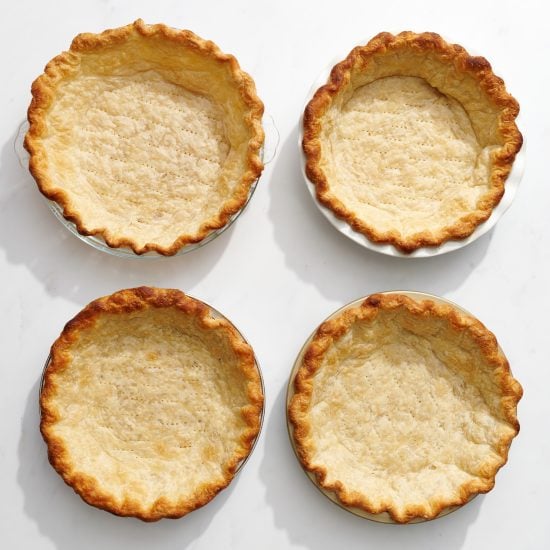 This post may contain affiliate links. Read our disclosure policy.
Is there anything worse than putting so much effort into baking a pie, only to cut into it and discover a soggy bottom?
Pies are notoriously finicky bakes, especially when it comes to the crust. I have a whole post dedicated to making flawless pie crusts, and countless delicious pie recipes – but if you follow me then you already know that the materials used in baking are often just as important as the ingredients!
I love researching and experimenting to determine how changes in ingredients, temperature, and materials will affect the outcome of your baking (as you can see in many articles here).
Even after over ten years of blogging, I'm still surprised!
Thanks to the results revealed in past experiments, I have very strong opinions about baking brownies in metal vs. glass pans. I also have very strong opinions on the best baking pans for cookies. While I already had my favorite pie pans, I hadn't yet conducted side-by-side experiments yet.
Some of the results were pretty surprising! Check out all my experiments on pie dishes and how they perform below.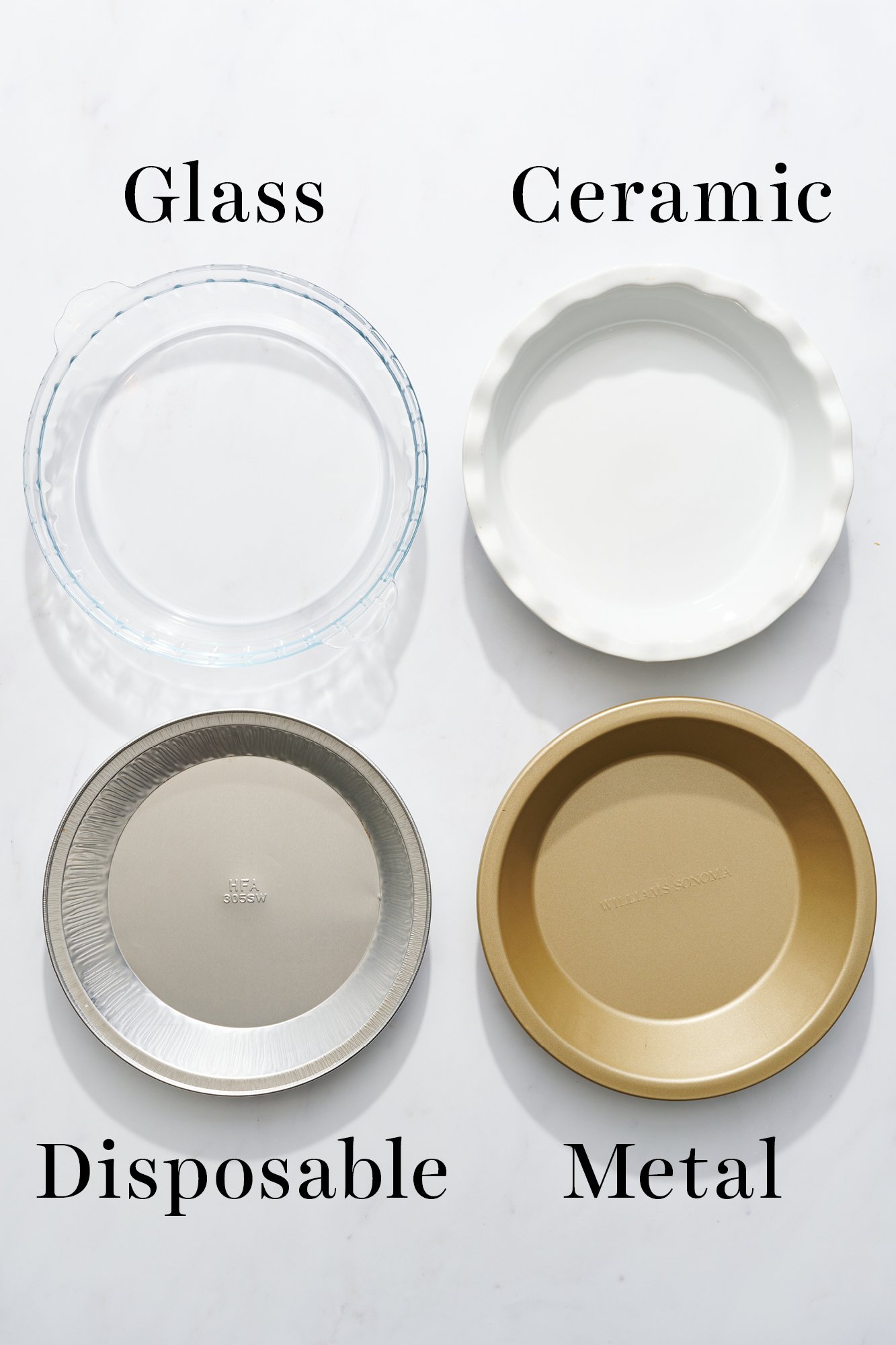 The Best Pie Pan
Everything pictured here features my Best Ever Pie Crust, blind baked at the same temperature, for the same amount of time. The only difference between each crust is the pie pan it was baked in.
Pie pans typically come in three materials: glass, ceramic, or metal. The most important distinction is that each of these materials conducts heat very differently. I'll discuss this more below.
Each pie may look pretty similar from the top, but the bottom of each tells a different story! Keep reading for unexpected results.
Glass Pie Pans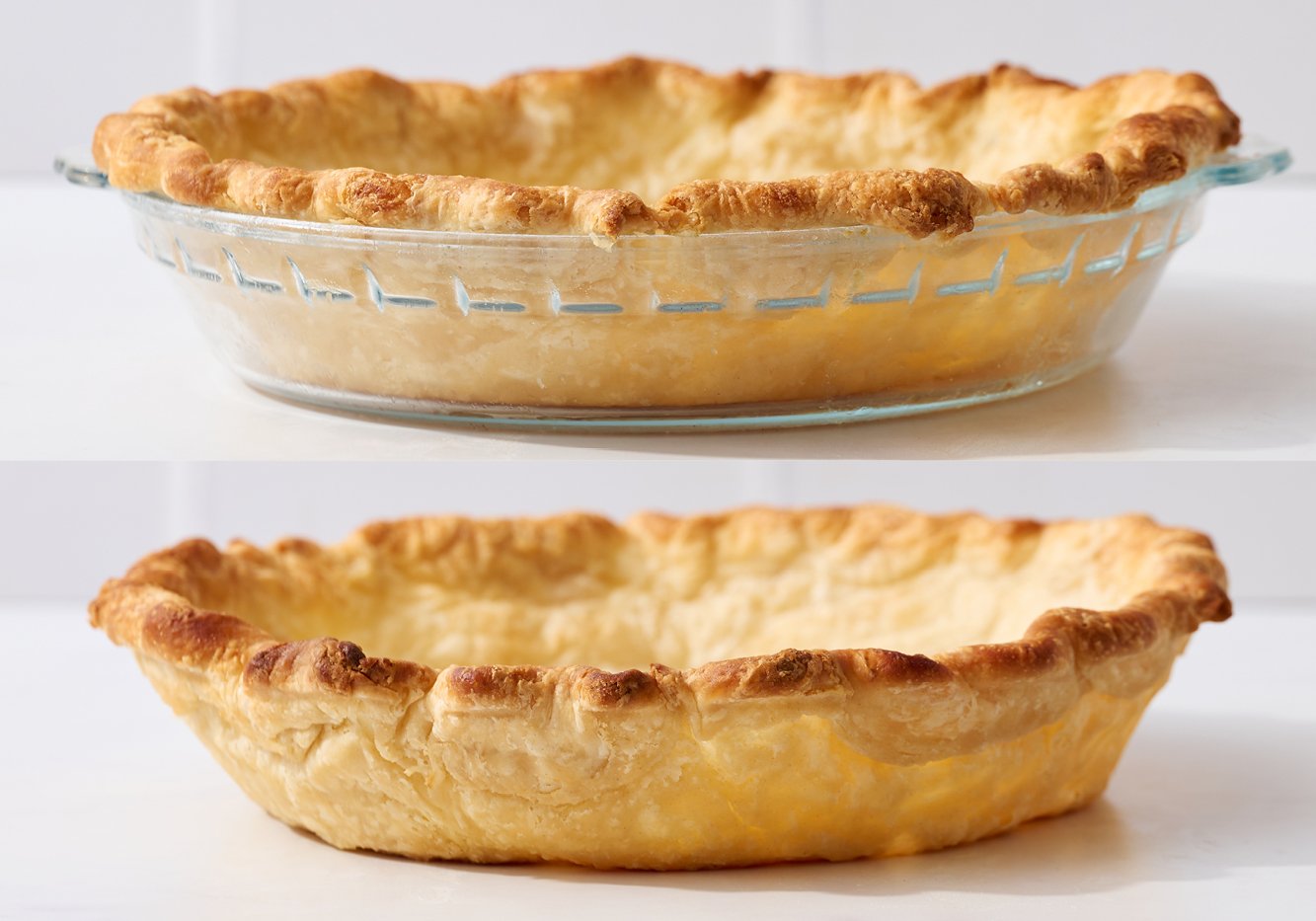 Pros:
Ability to see the pie browning in oven
Dishwasher safe
Inexpensive & accessible
Cons:
Yielded the most delicate crust
Glass is a poor heat conductor
Can shatter if not borosilicate glass
For the Glass Pie Pan experiment, we used Pyrex. I've also used OXO glass pie pans in the past.
The best glass pie pans are made of borosilicate glass (essentially a type of tempered glass). This means it's safe to use in the oven and it's safe to go between temperature extremes, such as freezer to oven, without shattering.
Do not bake a frozen pie with non-borosilicate glass pie dishes. Regular glass will shatter if it experiences such drastic temperature changes. If your pie pan doesn't specify it's safe for the freezer to oven, assume it is NOT.
You can also microwave borosilicate glass dishes.
With a glass pan, you can monitor the browning of the sides and bottom of the pie crust as the pie bakes. No other pan can give you this option!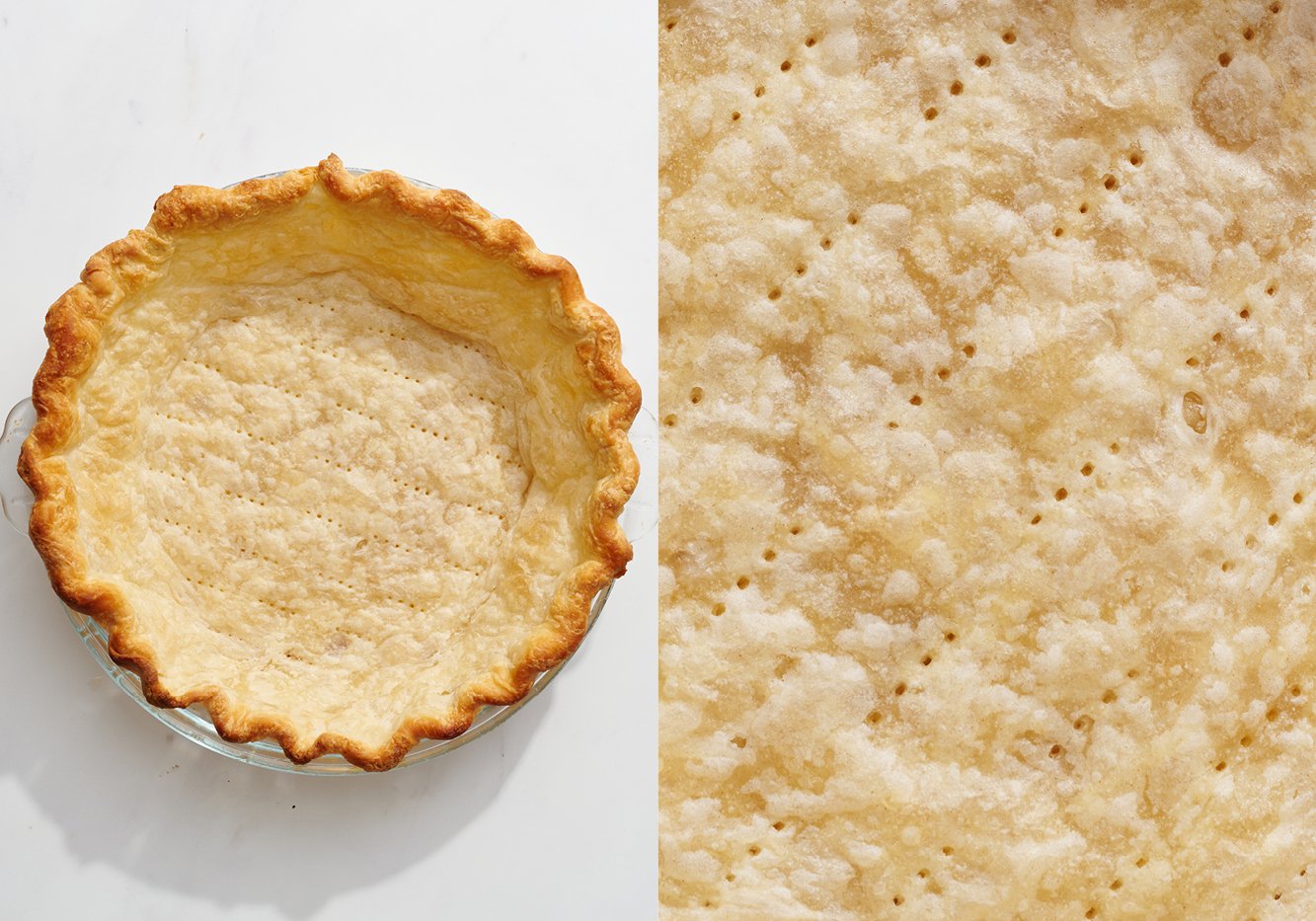 Glass Pie Pan Experiment Results
The pie crust baked in the Pyrex glass pie dish wasn't super sturdy, and felt quite delicate when removed.
For texture, it was most comparable to the crust baked in the ceramic pan.
Glass takes a long time to conduct heat compared to metal, so you may not achieve as much browning on the bottom and sides of your crust. This is exactly what we found with this crust – minimal browning occurred.
Ceramic Pie Pans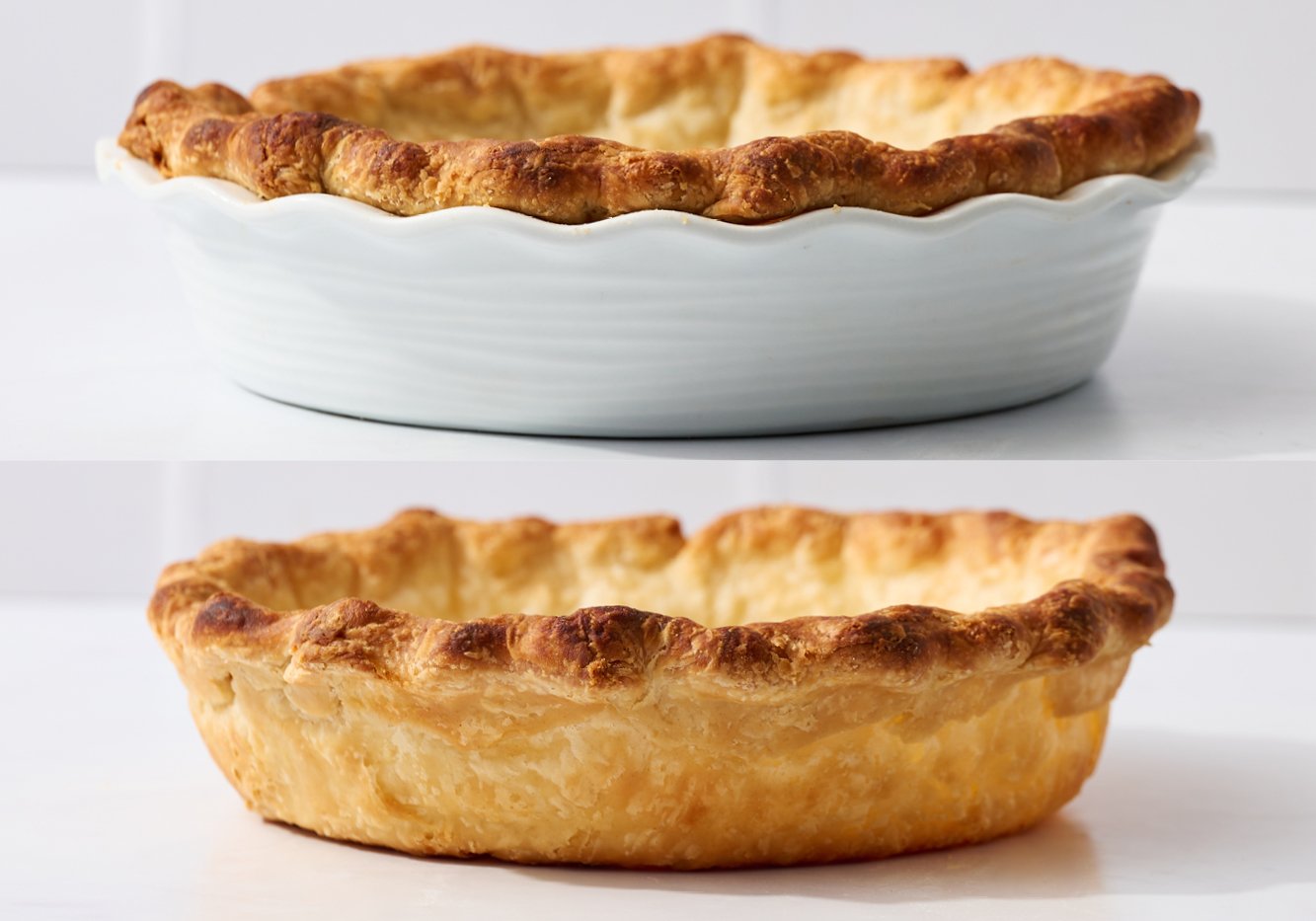 Pros:
Prettiest table presentation
Easy to shape a beautiful crust as many ceramic pans have ruffled edges
Deep
Cons:
More expensive
Some can't withstand extreme temperature changes (i.e. freezer to oven)
More delicate than metal
Can't see the bottom of the pie to gauge browning
Ceramic isn't a great conductor of heat
For our Ceramic Pie Pan experiment, we used a pie dish by Cordon Bleu. I also LOVE my Emile Henry pie pans (they can go from freezer to oven!), but they're an investment. Ceramic pie pans can be stoneware or porcelain, each baking a little differently based on material, thickness, and quality.
The pan's thickness will have a direct impact on its efficiency in heat conductivity.
It's pretty and impressive to serve a homemade pie in a ceramic pie pan. Perfect for your Thanksgiving dessert table!
Using a fluted or ruffled ceramic pie dish is a great option if you're not confident in your pie crust crimping skills, as the shape of the pie pan naturally helps create a beautiful finish without added work.
I love how deep this pie pan is!
Ceramic pie pans are often more expensive than glass or metal pie pans.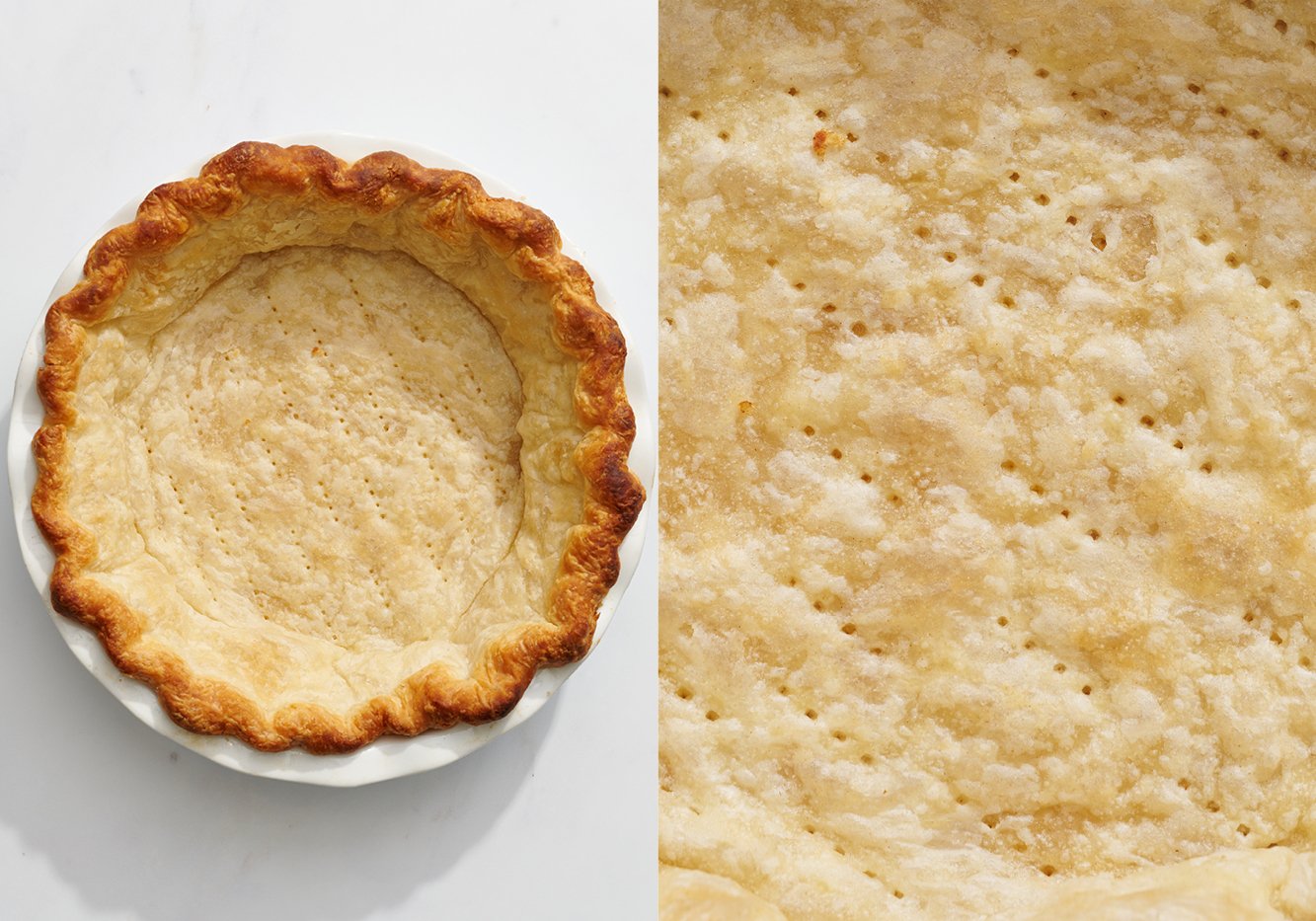 Ceramic Pie Pan Experiment Results
Although ceramic is not a great conductor of heat, we found this pie browned very nicely on the bottom.
I attribute the browning on this pie to the material used in manufacturing. Though the Cordon Bleu brand material is not specified in the product listing, Emile Henry uses Burgundy clay for "superior even-heat diffusion and heat retention properties."
Despite the nice browning, this pie crust was still surprisingly delicate.
Metal Pie Pans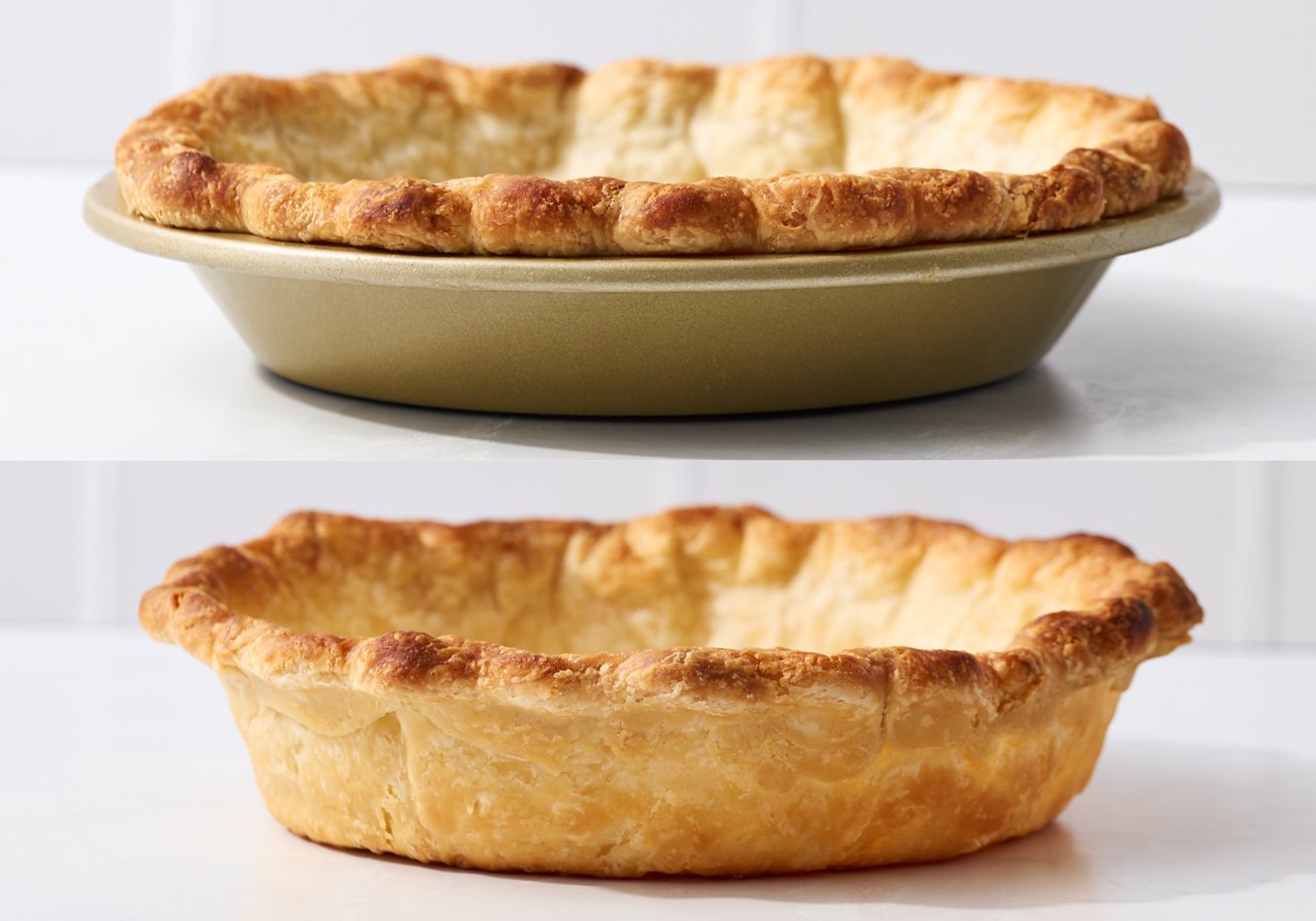 Pros:
Great conductor of heat
Inexpensive
Durable
Cons:
Can't see the bottom of the pie to gauge browning
Generally not dishwasher safe (though I recommend handwashing either way)
Shallow
For our Metal Pie Pan experiment, we used Williams Sonoma's Gold Pie Pan. I typically prefer to bake in light-colored metal pans (especially when baking brownies, quickbreads, or cakes) but those proved to be harder to source.
Using a dark metal pie pan can conduct heat too well, resulting in over-browned bottoms, so be aware of that when selecting a metal pie pan.
Most metal pie pans are fairly shallow, and this one is no exception.
Metal pie pans are durable and safe to use between extreme temperatures as they won't shatter.
Be cautious of cutting your pies while still sitting inside a metal pie pan, especially pans such as the Williams Sonoma's Gold Pie Pan, as you don't want to scratch or ruin the nonstick coating.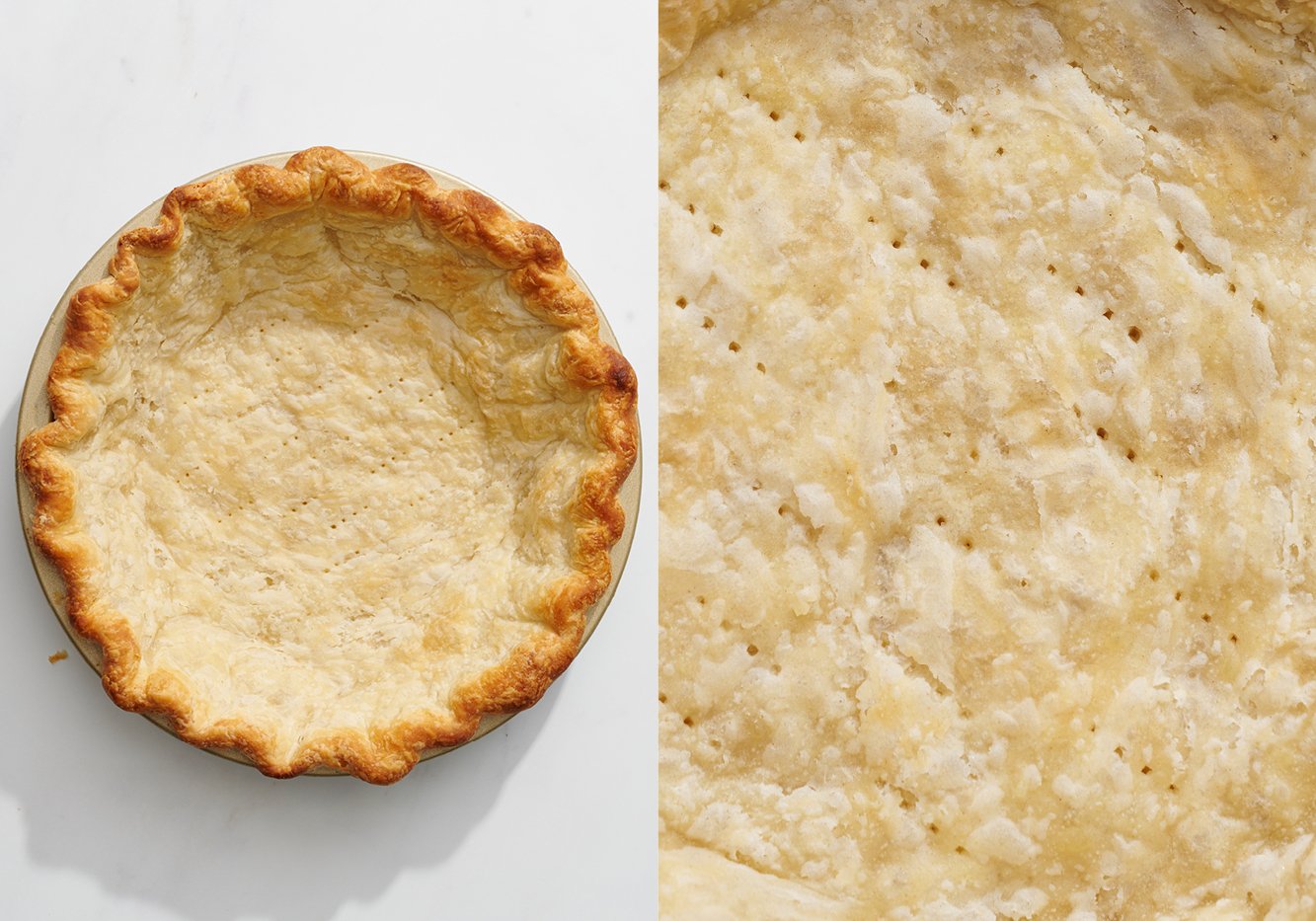 Metal Pie Pan Experiment Results
This pie browned a lot less than I expected! Because metals conduct heat more efficiently than glass or ceramic, I anticipated this crust browning well on the bottom.
In the past, I've had issues with cookies getting too browned on the bottom of my gold baking sheets. I'm at a loss for why this pie crust didn't brown more in this experiment!
Despite the lack of browning, this was a very sturdy pie crust.
Disposable Pie Pans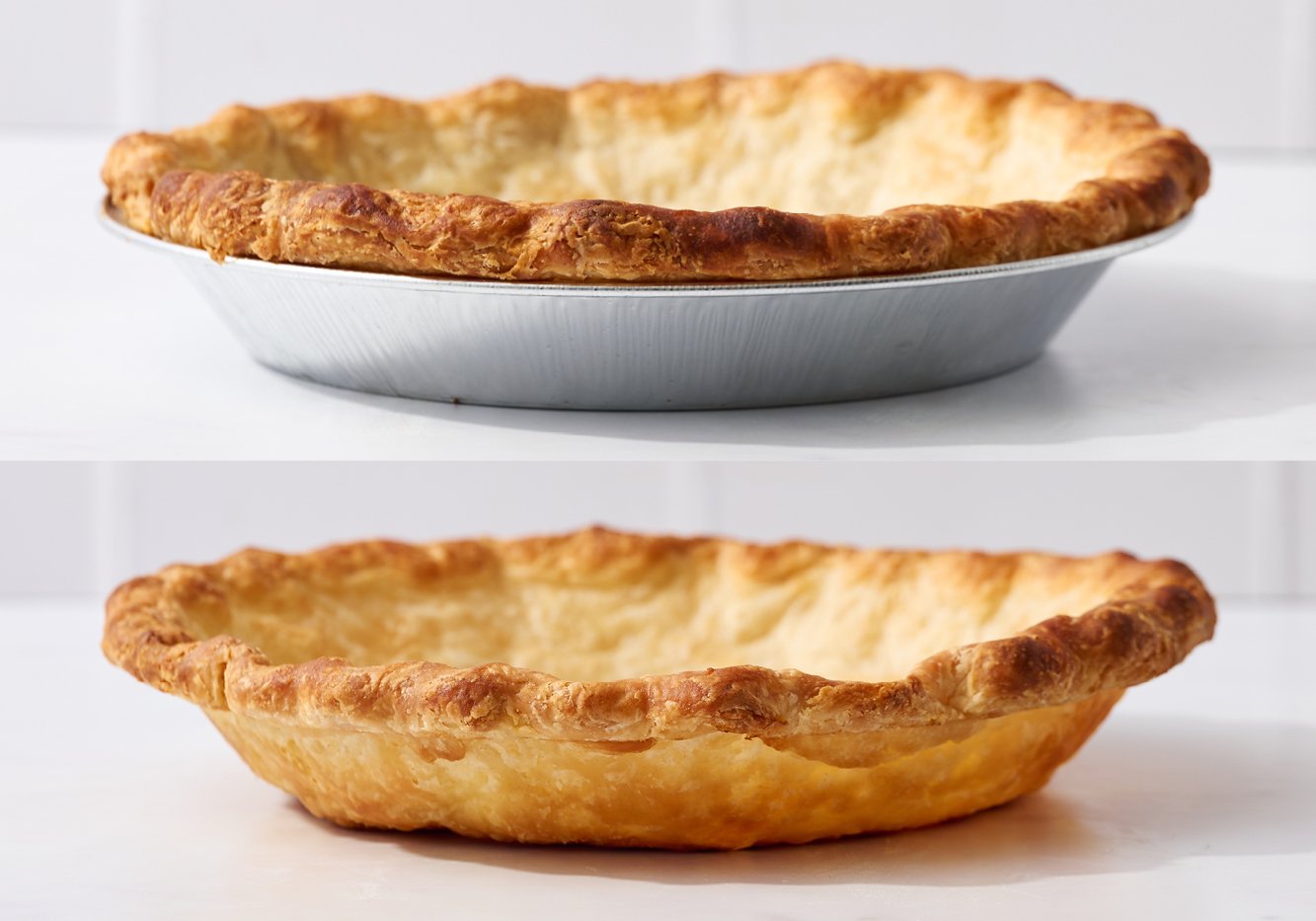 Pros:
Inexpensive
Easy to transport
No need to ask for the pan back if gifting a pie
No dishes!
Cons:
Can't see the bottom of the pie to gauge browning
Flimsy, so it can be tricky to fill the pie and transfer to the oven without misshaping it
Not the most sustainable option
It's always a win to skip the dishes, right? Though not necessarily the most earth-conscious choice, Disposable Pie Pans are an easy option – especially if you're gifting a pie or taking it somewhere for a party – no need to ask for the pan back!
Despite being a type of metal, aluminum is actually a very poor heat conductor compared to the aluminized steel of the metal pan used above.
Disposable pie pans are typically even more shallow than metal pans.
Heavyweight, sturdier disposable pie pans like these pie pans are my recommendation here!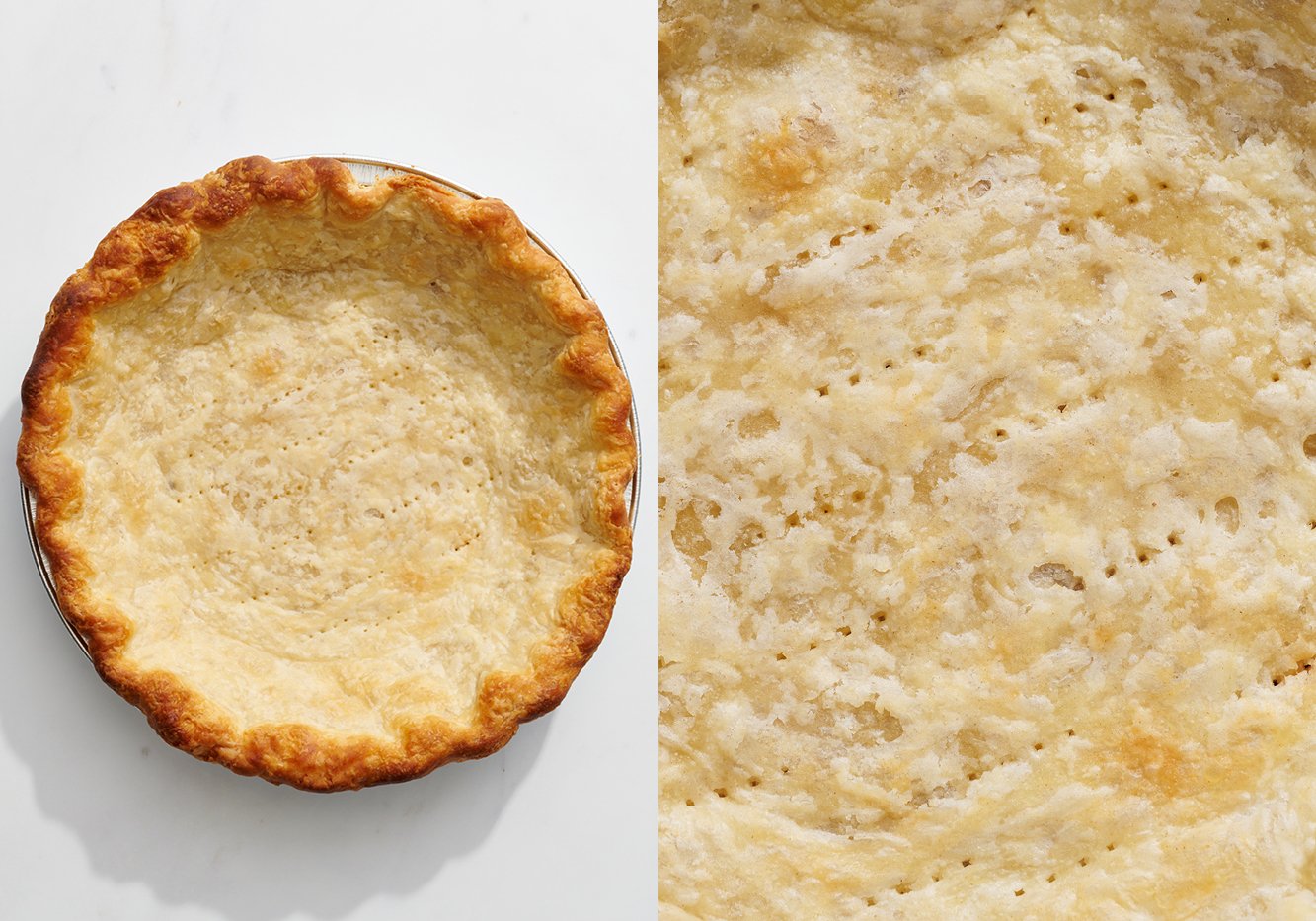 Disposable Pie Pan Experiment Results
This crust leaked the most butter
Much to everyone's surprise, this pie crust was the most stable / sturdy of all the experiments!
This pie crust also browned the most on the bottom, but I attribute that to the butter leakage and thinness of the pan.
Final Thoughts & Best Pie Pan Recommendations
Glass, Ceramic, Metal, or Disposable Pie Pan – Which is Best?
There were definitely differences in the texture and browning between each of these pies, but all of the pie crusts we made turned out well and would have made excellent pies.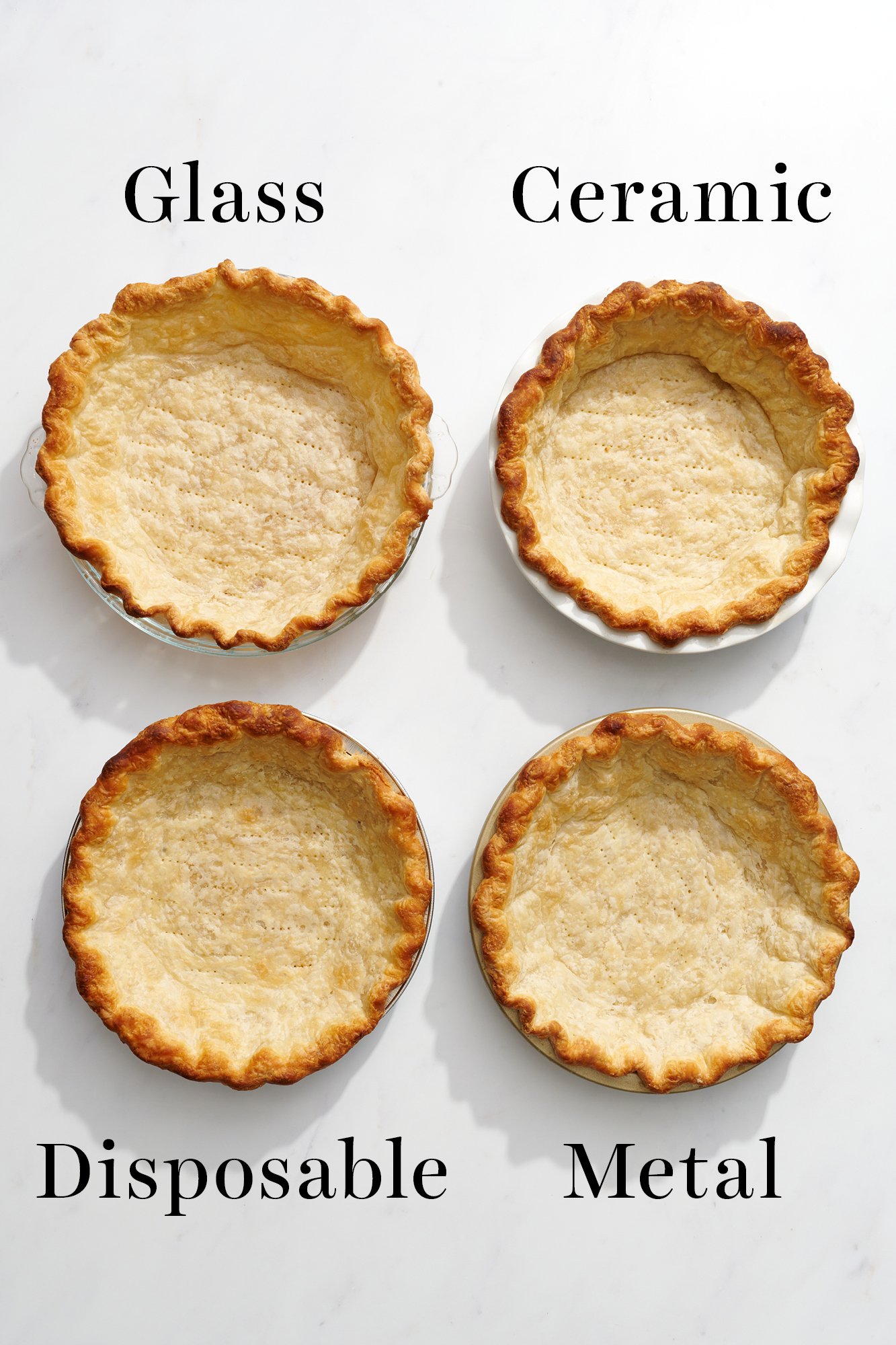 Had we made complete pies, none of them would have resulted in mushy soggy bottoms, which is ultimately the goal with any pie.
Regardless of the kind of pie pan you currently use, it's still completely possible to make a deliciously showstopping pie. As long as you're par-baking or blind-baking when necessary (learn how and why here) and you're baking your pie long enough, you can make do with any pie pan material.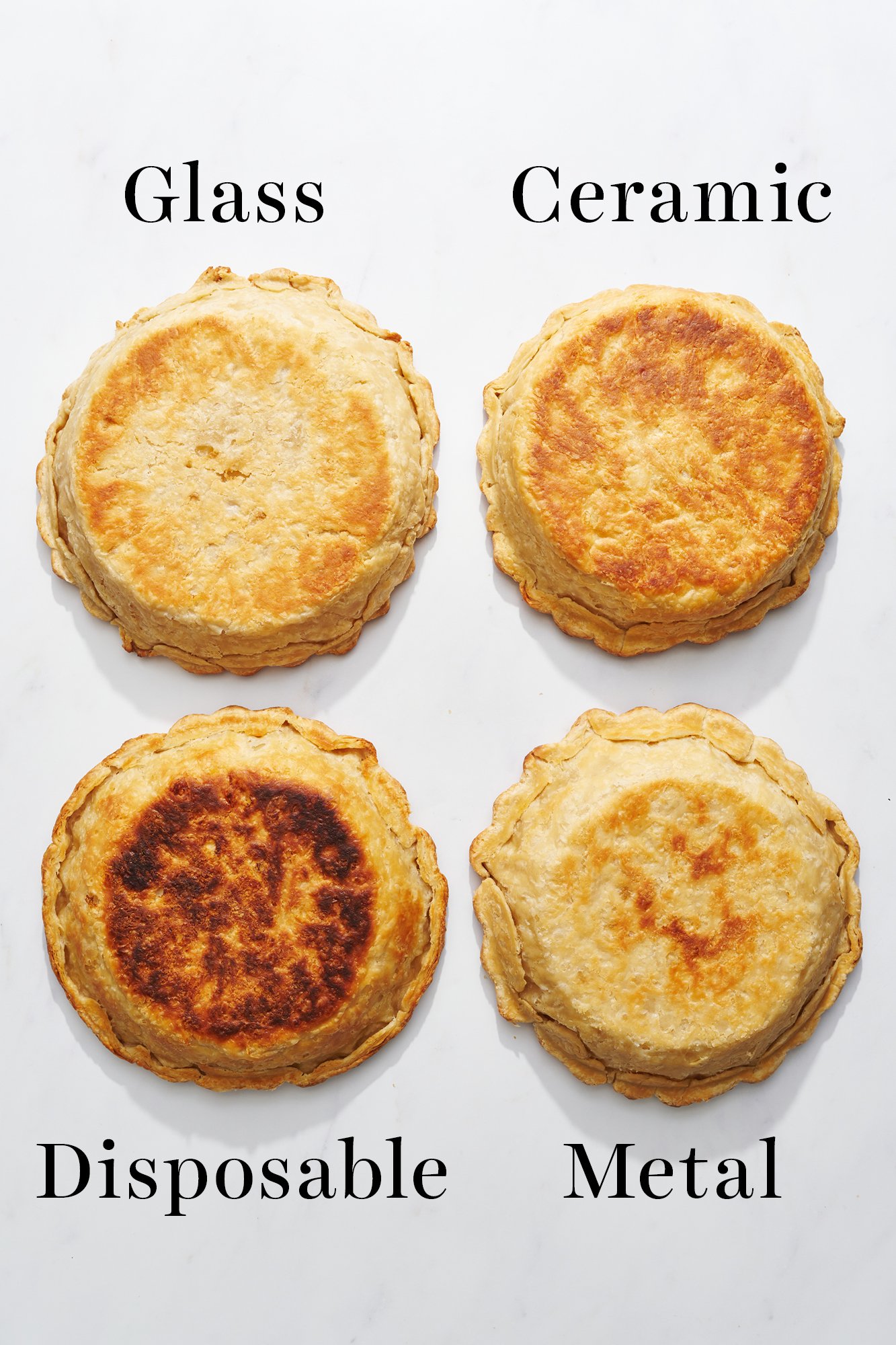 That being said, if you're in the market for a new pie pan, I recommend a ceramic pan. The pan itself is pretty for table presentation and the brownness and shape of the pie were the most perfect of our experiments!
If you're a beginner pie baker, a glass pan may be the best choice to gauge the level of browning most easily.
A Few Pie-Baking Tips:
For the crispiest bottoms, bake pies on top of a preheated baking stone on the bottom rack of your oven.
Place the pie on a rimmed baking sheet and then on the baking stone,if your pie pan is on the shallow side and/or you're worried about spillage. Honestly, I almost always do this because I hate cleaning burnt butter or filling from my oven!
For many more pie-baking tips, check out my Best Ever Pie Crust post and see the pink tip box (above the recipe) for loads of tips, tricks, and information to ensure you bake the perfect pie!
Other Science of Baking Articles:
Pie Recipes You'll Love:
Photos by Joanie Simon.
About Tessa...
I share trusted baking recipes your friends will LOVE alongside insights into the science of sweets. I'm a professionally trained chef, cookbook author, and cookie queen. I love to write about all things sweet, carb-y, and homemade. I live in Phoenix, Arizona (hence the blog name!)
© Handle the Heat - handletheheat.com
Join the Handle the Heat Community


---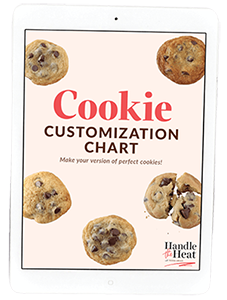 Do you want a more delicious life?
Instead of digging through cookbooks and magazines and searching the internet for amazing recipes, subscribe to Handle the Heat to receive new recipe posts delivered straight to your email inbox. You'll get all the latest recipes, videos, kitchen tips and tricks AND my *free* Cookie Customization Guide (because I am the Cookie Queen)!