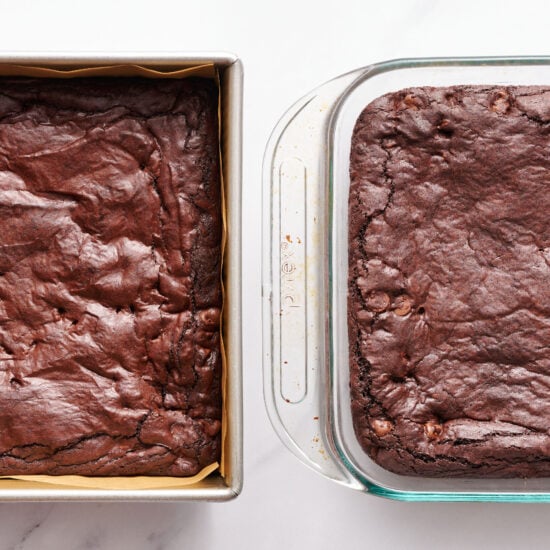 Glass vs. Metal Baking Pans
This post may contain affiliate links. Read our disclosure policy.
Choosing the right bakeware and cookware can make a world of difference in how successfully you can make recipes at home.
The wrong pan may result in loaves that sink, brownies that never cook through the center, or burned edges. Investing in the right equipment will definitely pay off in the long run.
One of the first questions I ask when someone writes to me about a problem with a loaf or brownie question in particular is, "What kind of pan did you use?"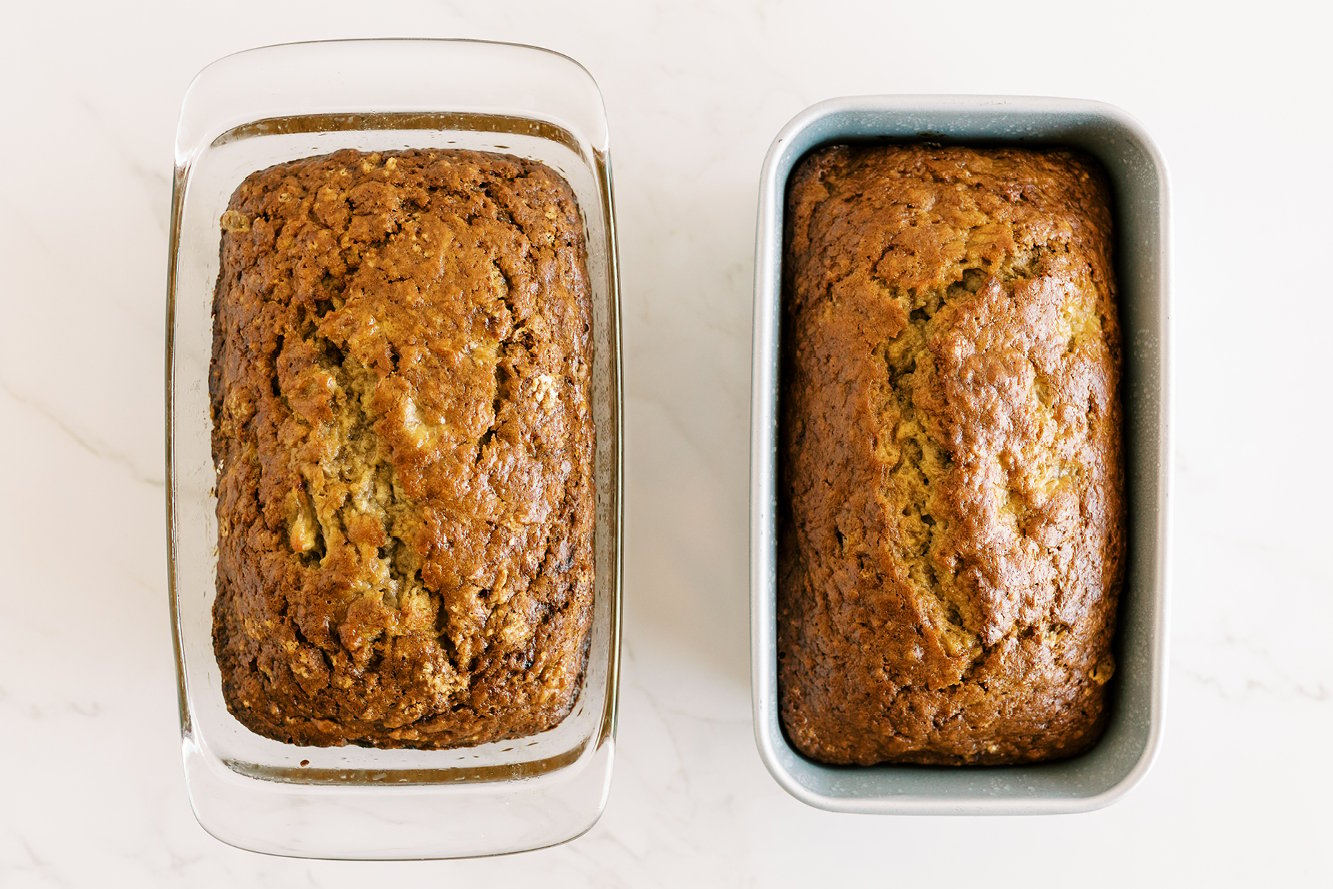 Materials matter, so let's get into it!
Glass vs. Metal Baking Pans
There are many different kinds of materials that cookware and bakeware can be made from. So which is the right choice? What are the pros and cons?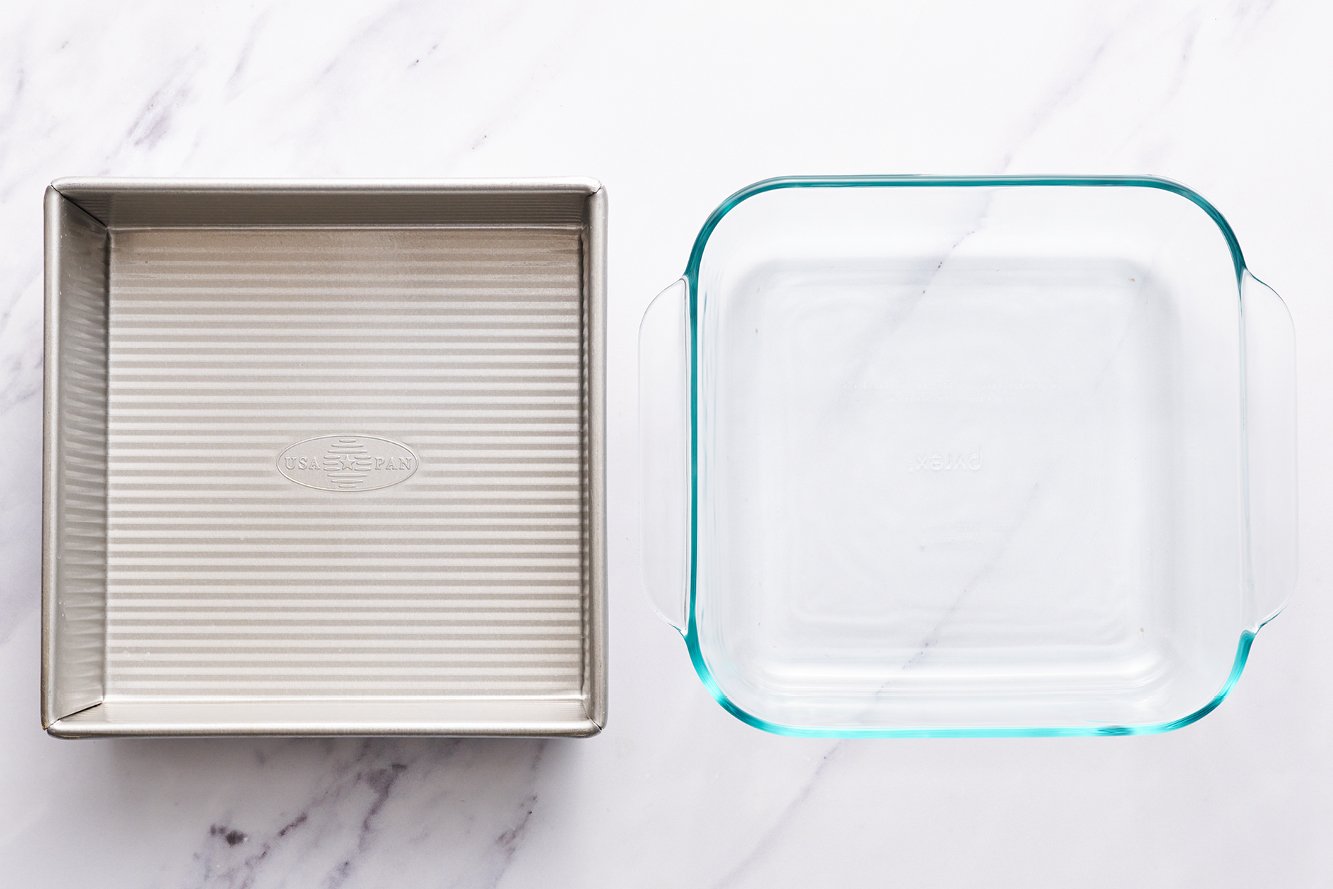 Heat Conductivity in Glass vs. Metal Pans
Let's talk about the basic concept of heat transfer. Every material of cookware and bakeware will conduct heat differently. For example, copper conducts heat more effectively than stainless steel, which is why some of the best pots and pans have a copper core that's encased in stainless steel because the latter is easier to clean and is more durable. You get the best of both worlds in that example!
Glass, as well as ceramic, will conduct heat more slowly than metals like copper or even aluminum.
Let's look at metal specifically. Most metal bakeware is made from aluminum. Dark-coated aluminum pans will transfer heat more aggressively than light and shiny aluminum pans.
Practicality, Care & Storage
Glass is heavier and more breakable than aluminum, making it more difficult to wash, store, and care for. That's why in professional kitchens you'll almost never see glass bakeware.
Is a Glass or Metal Pan Better for Baking?
Since aluminum baking pans conduct heat more quickly and are easier to wash, store, and care for, I prefer them for baking in most circumstances.
In fact, using glass or even ceramic baking pans for certain recipes, such as brownies or banana bread, may create adverse results! This is because they take LONGER to conduct heat. Often times the edges become overcooked before the heat has transferred enough to cook through the center.
If you've ever baked brownies or banana bread that turn out raw, underbaked, gummy, or sunken in the center, it may be due to a glass pan.
Oppositely, if you've ever baked cookies that burnt on the bottom or a lemon loaf that got too crispy on the edges, it could be due to using a dark nonstick aluminum pan. Dark metal pans heat too aggressively and make it easy to overbake or even burn.
Brownie Baking Experiments: Metal vs. Glass Pan
We baked up two identical batches of Chewy Brownies, one in a light-colored metal pan and one in a glass pan, and baked them at the same oven temperature for the same amount of time to compare the results.
The brownies baked in a metal pan were perfectly cooked through after 30 minutes. They were also taller, thicker, and had a perfectly chewy, slightly fudgy texture.
The brownies baked in a glass pan were very underdone in the center after 30 minutes. The edges of the corner brownies were also rounded instead of the perfectly beautiful square slices of the metal pan brownies. These brownies were shorter, far too gooey, and actually sunk in the center quite a bit.
Check out our Brownie Glass vs. Metal Pan reel, and so many more Science of Baking experiments and HTH recipes, over on my Instagram page!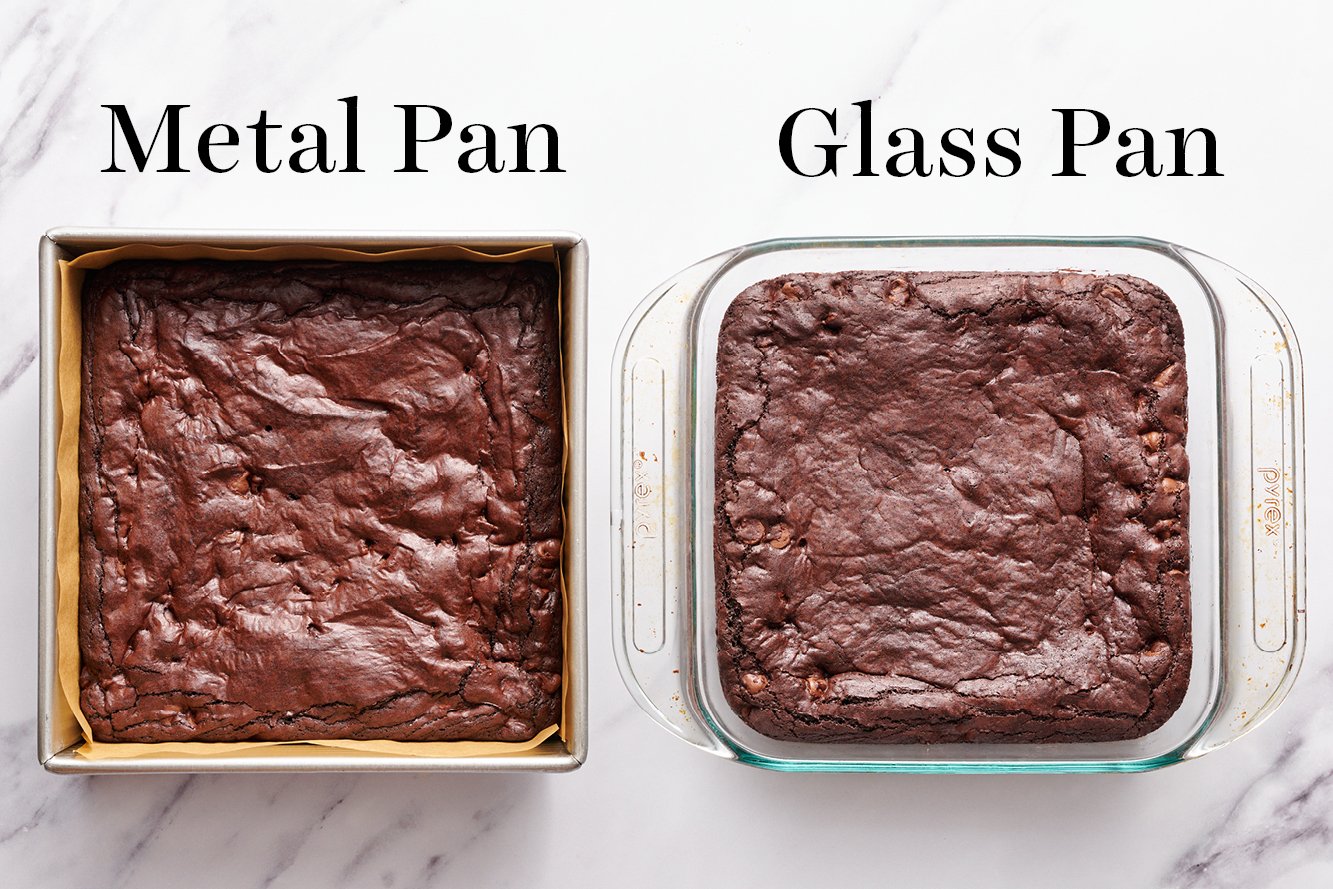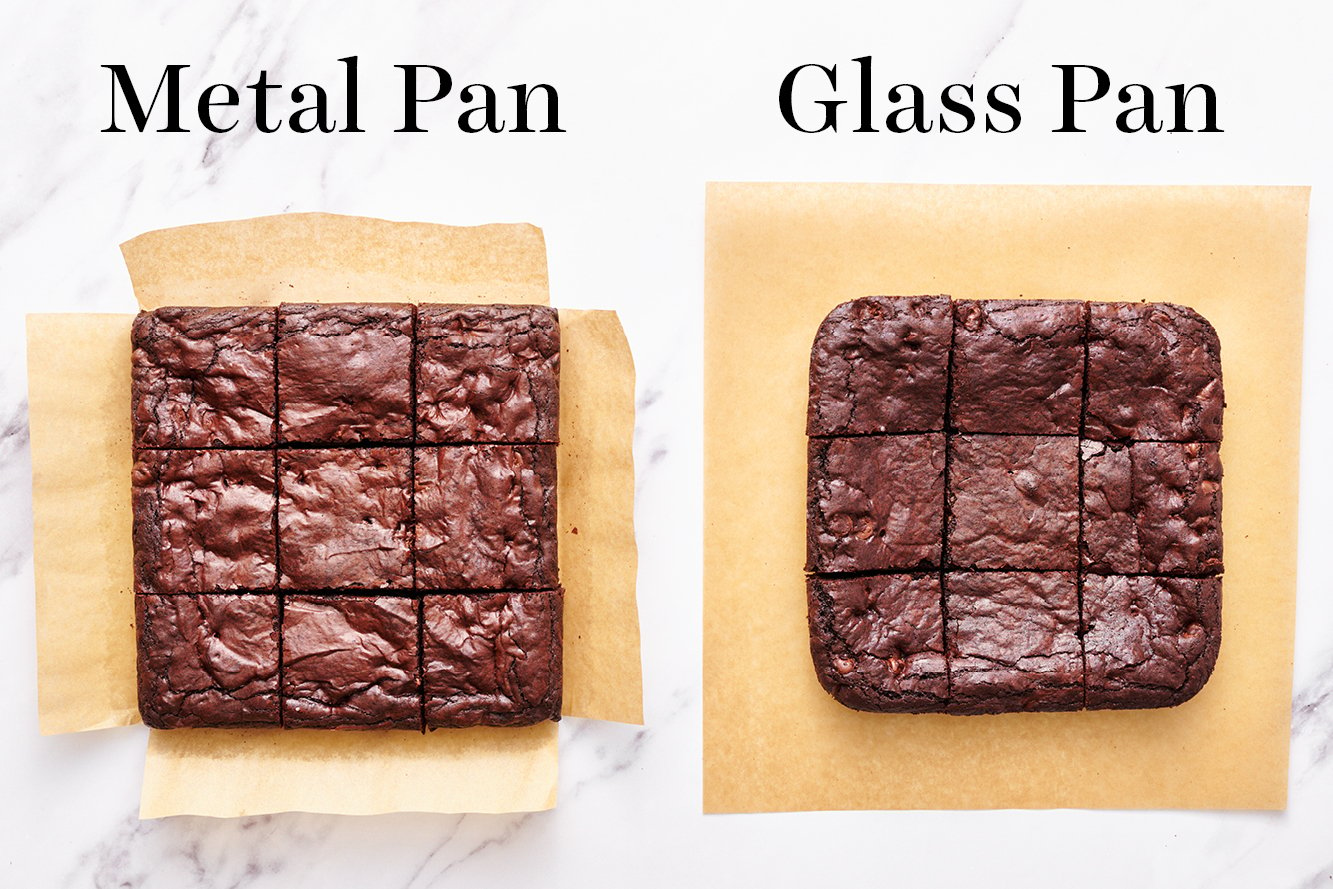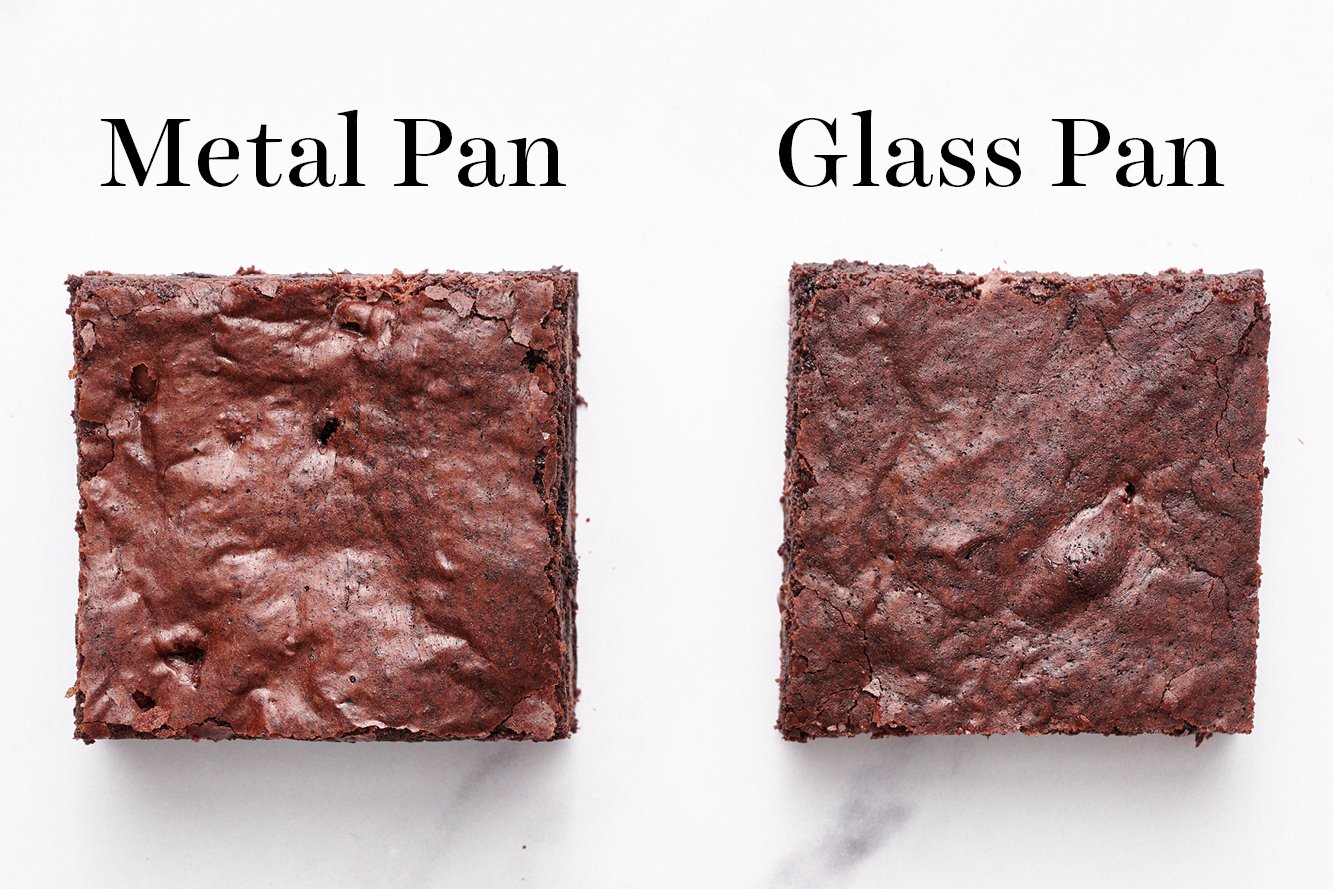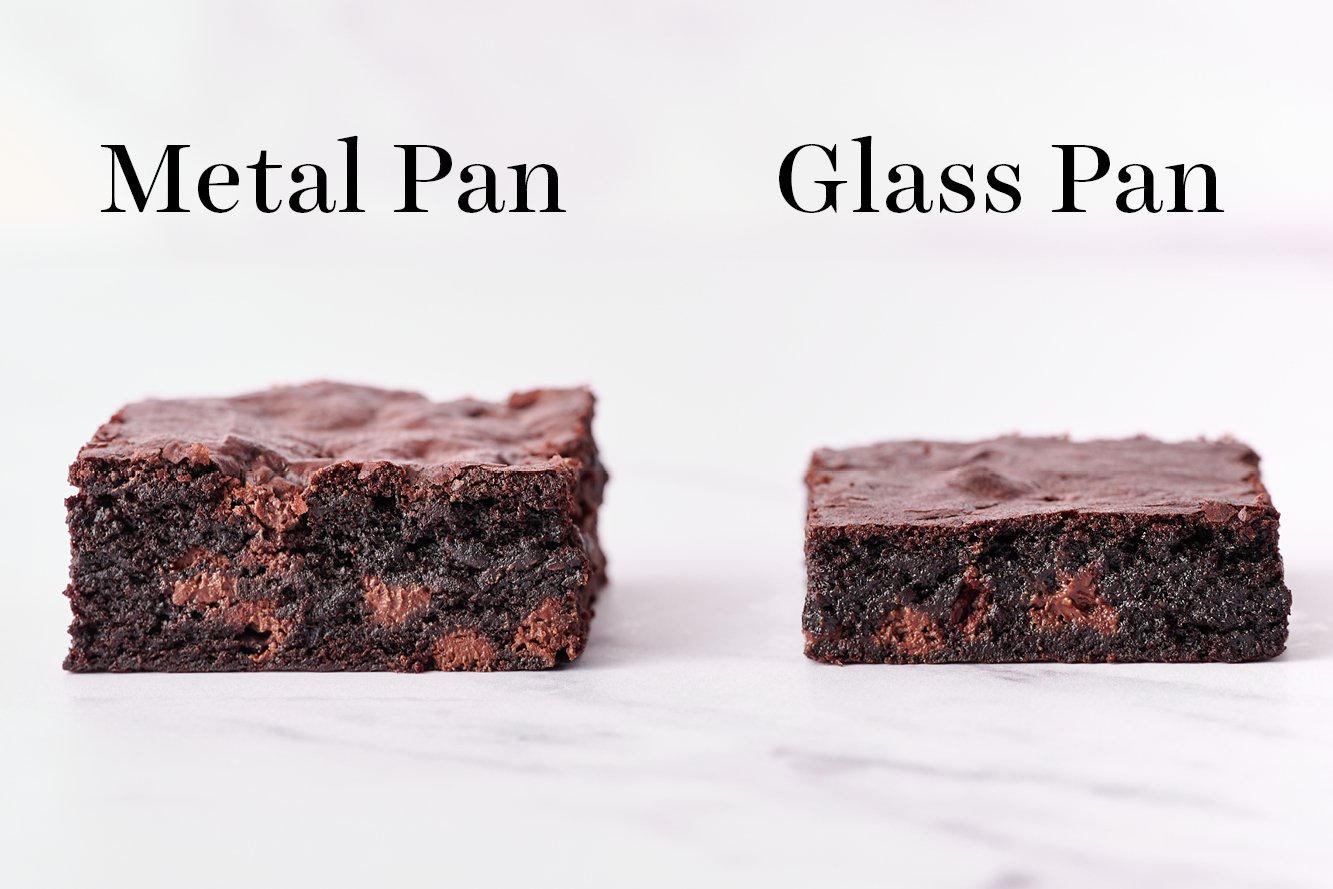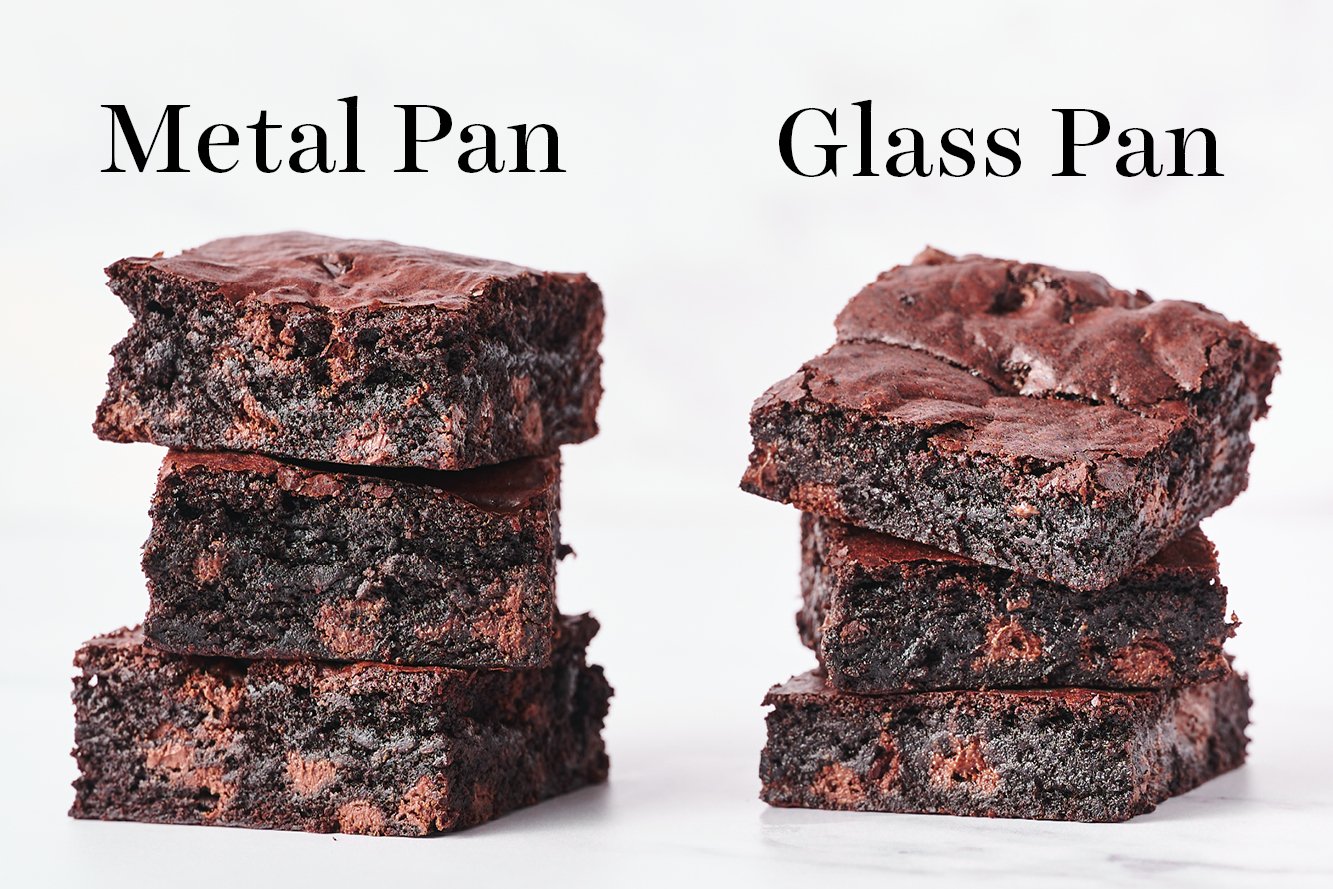 Blondie Baking Experiments: Metal vs. Glass Pan
We baked two batches of Blondies, identical in every way except the pan. One batch was baked in a light-colored metal pan, and the other was baked in a glass pan. Both batches were baked at the same oven temperature for the same amount of time to compare the results. Although not as stark as the differences in our brownie testing, there were still some notable differences between the two batches.
The blondies baked in the light-colored metal pan were perfectly gooey but set after 28 minutes in the oven. They were also slightly taller and thicker.
The blondies baked in the glass pan were definitely gooier, less set, and much less sturdy after 28 minutes in the oven. They also sunk in the center a little. They could have used 5 more minutes in the oven, but by that point, the edges would have overbaked and dried out.
Check out our Blondie Glass vs. Metal Pan reel, as well as tons more Science of Baking experiments and recipes, over on the HTH Instagram page!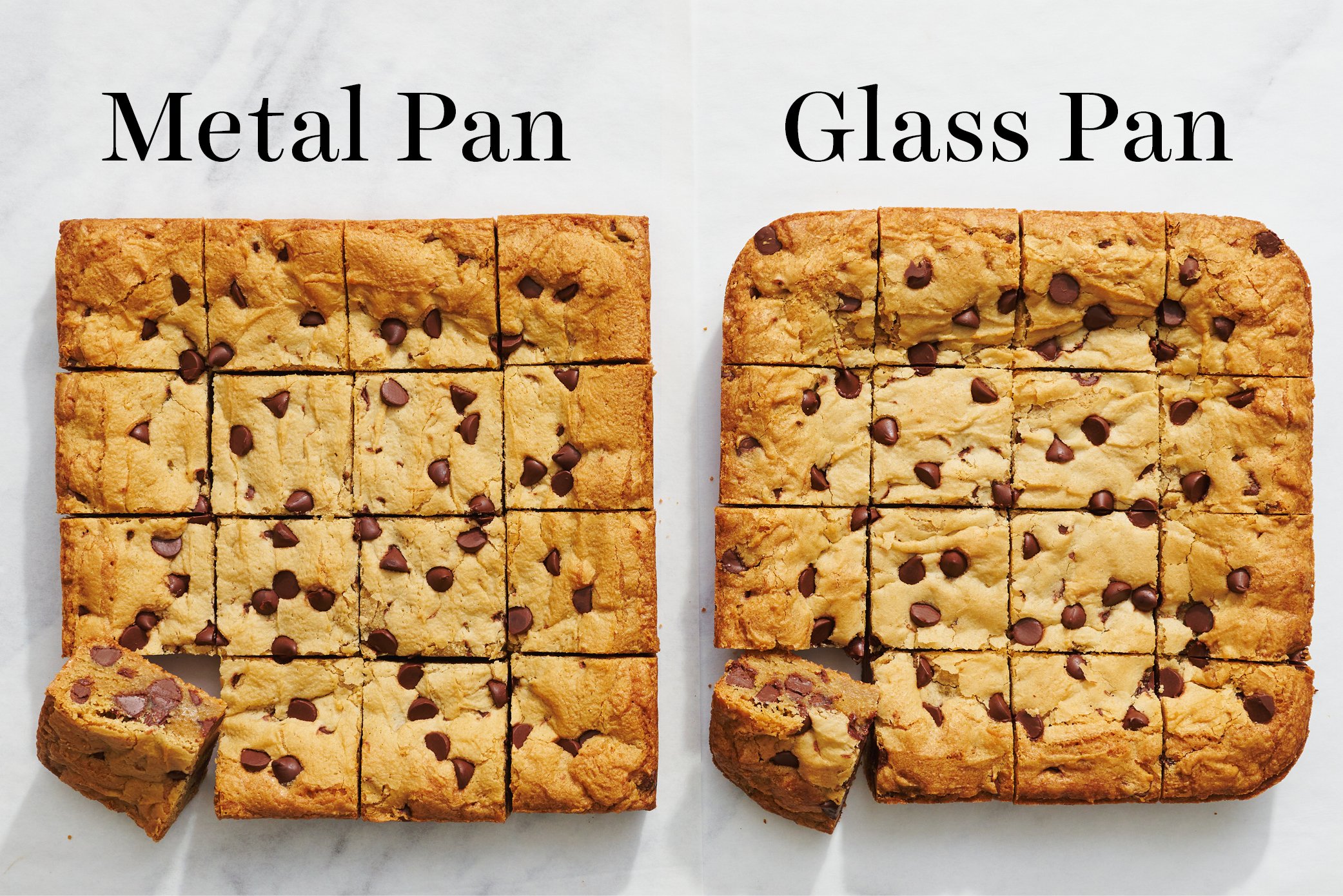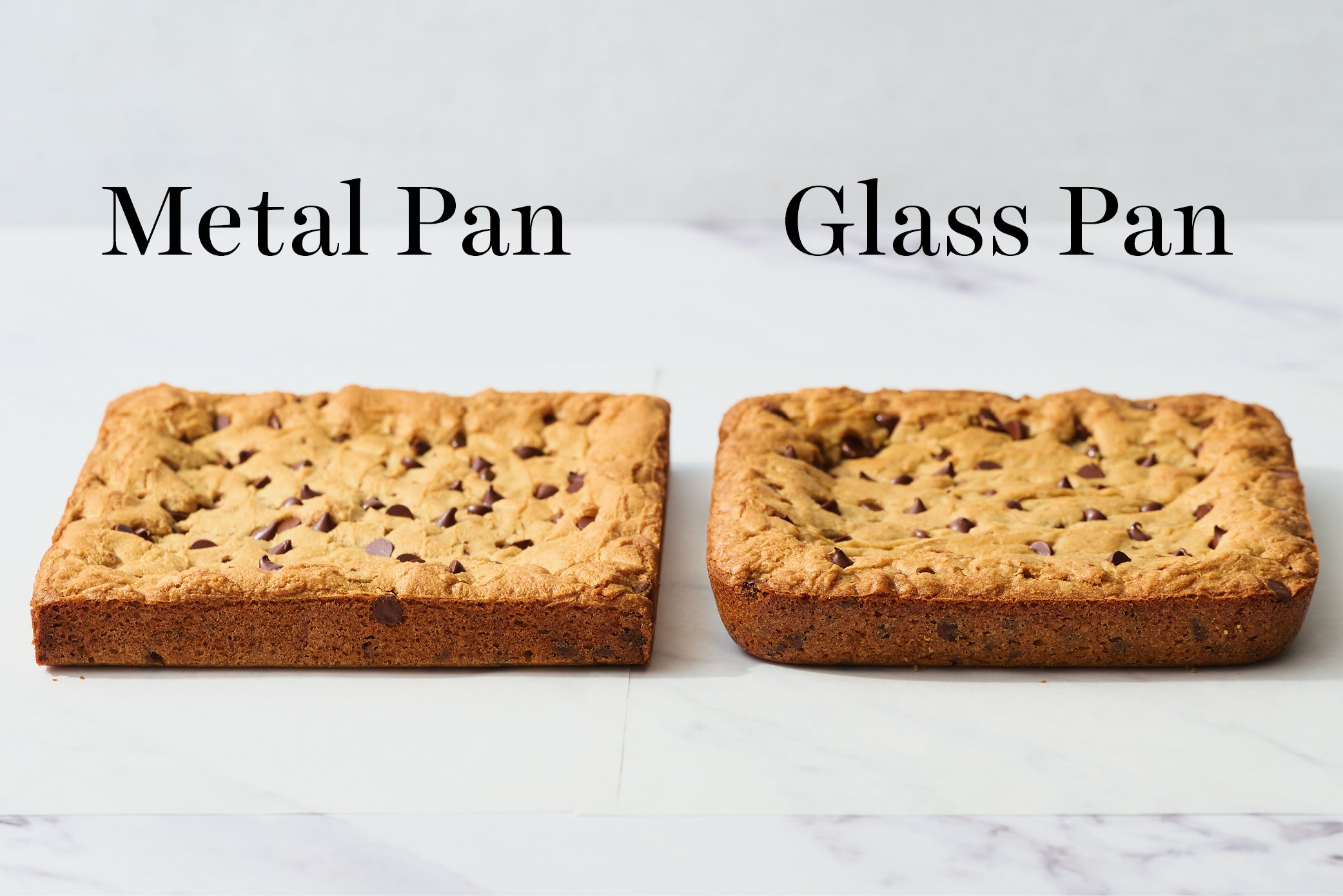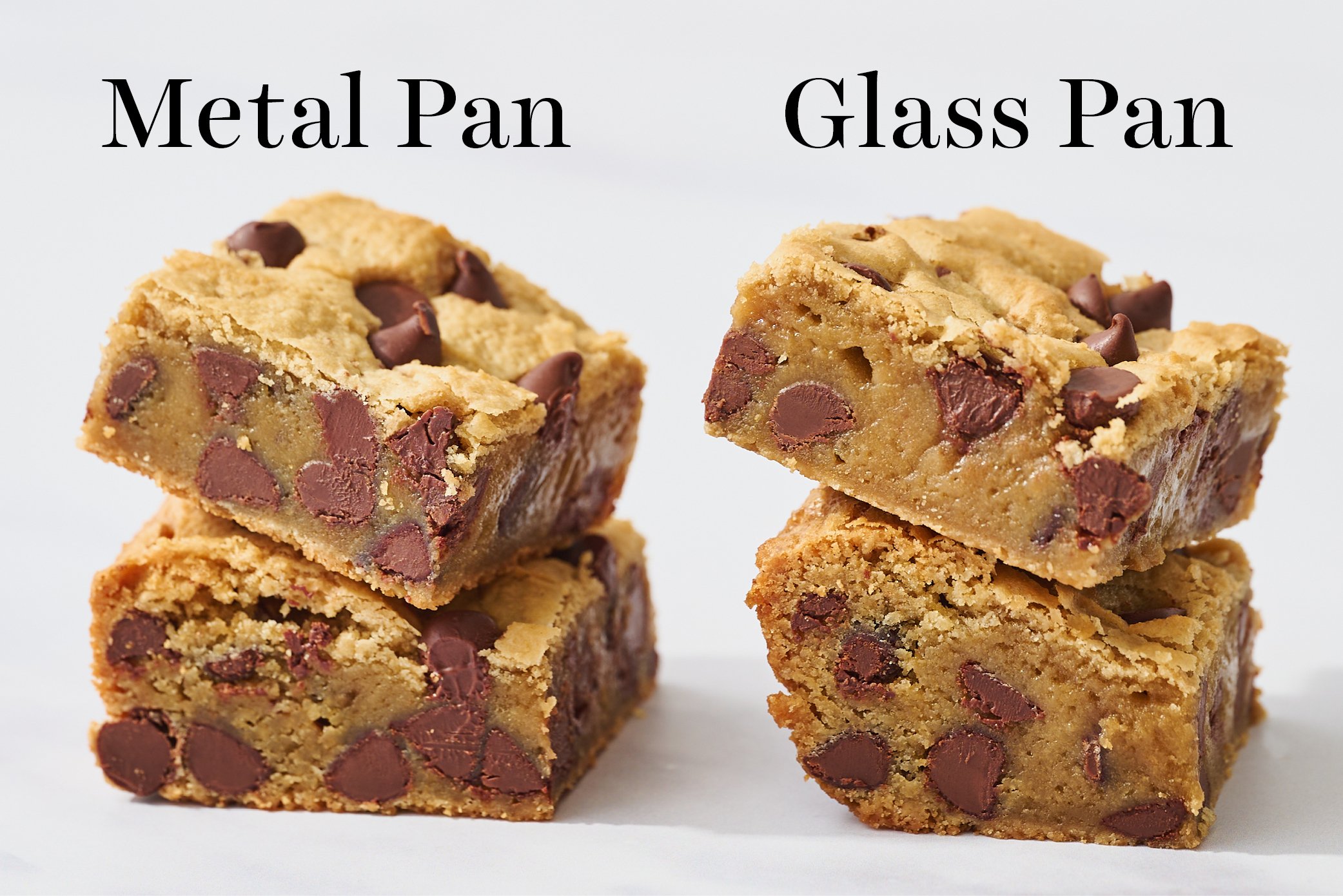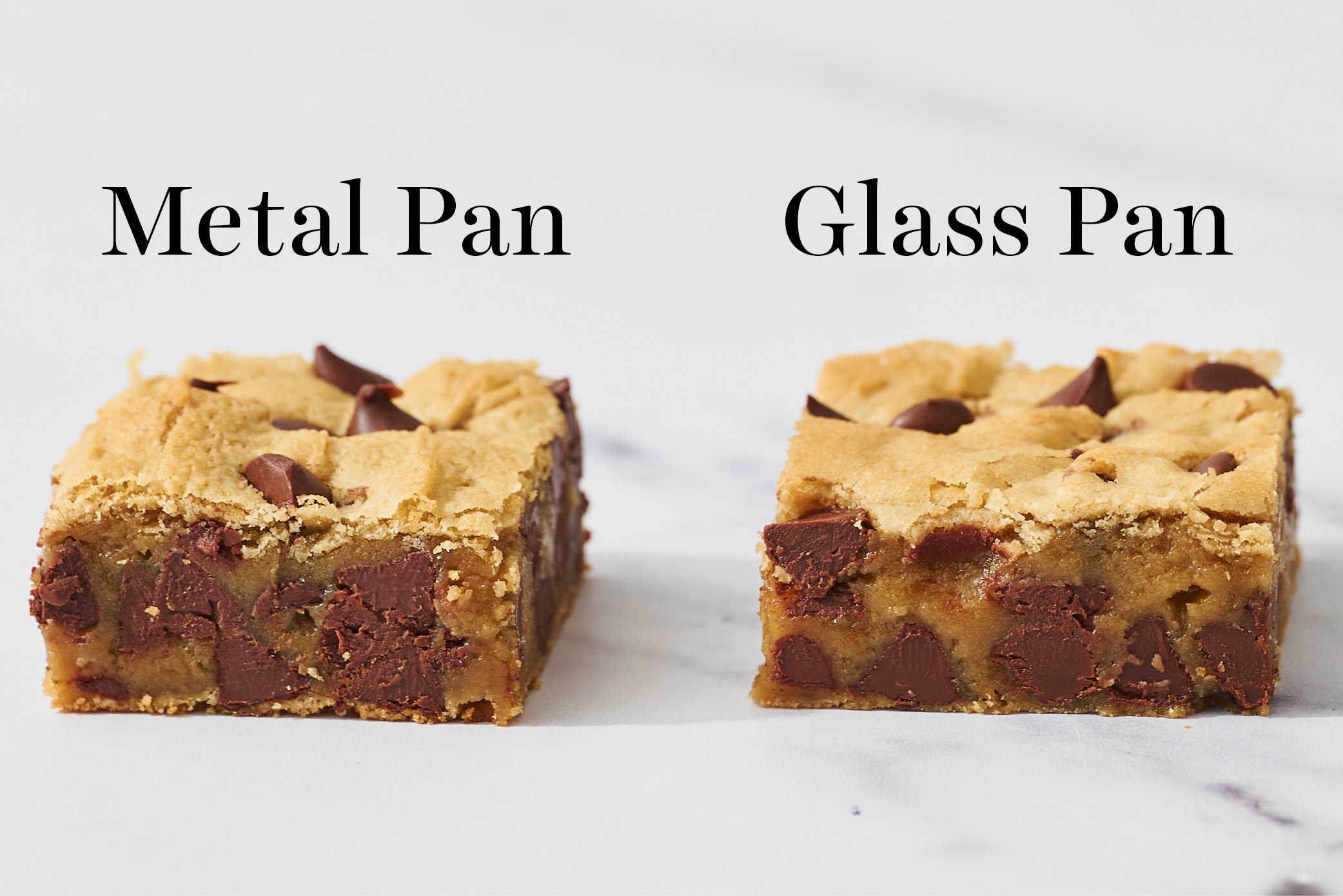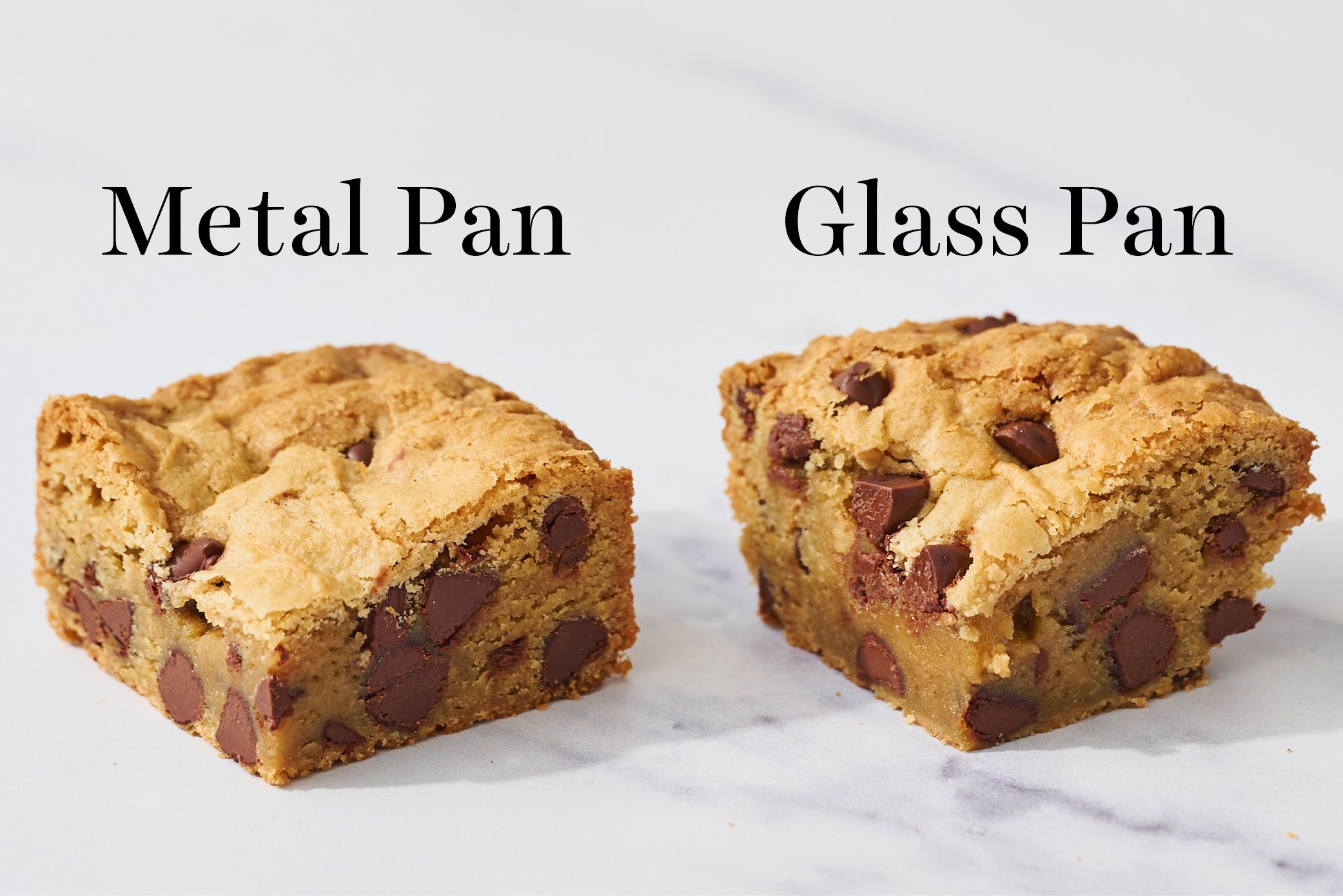 Community Experiments: Metal vs. Glass Pan
Look what Shea from the HTH community discovered in her own experiment! She used a metal pan and a glass pan with the exact same brownie batter, baked for the same amount of time. She noted that the glass pan didn't cook all the way through like the metal pan did, they didn't rise in the middle, and the texture was very packy. The edges also crumbled when she cut them. Compared to the metal pan brownies, which were even and fudgy with a chewy edge that did not crumble when cut: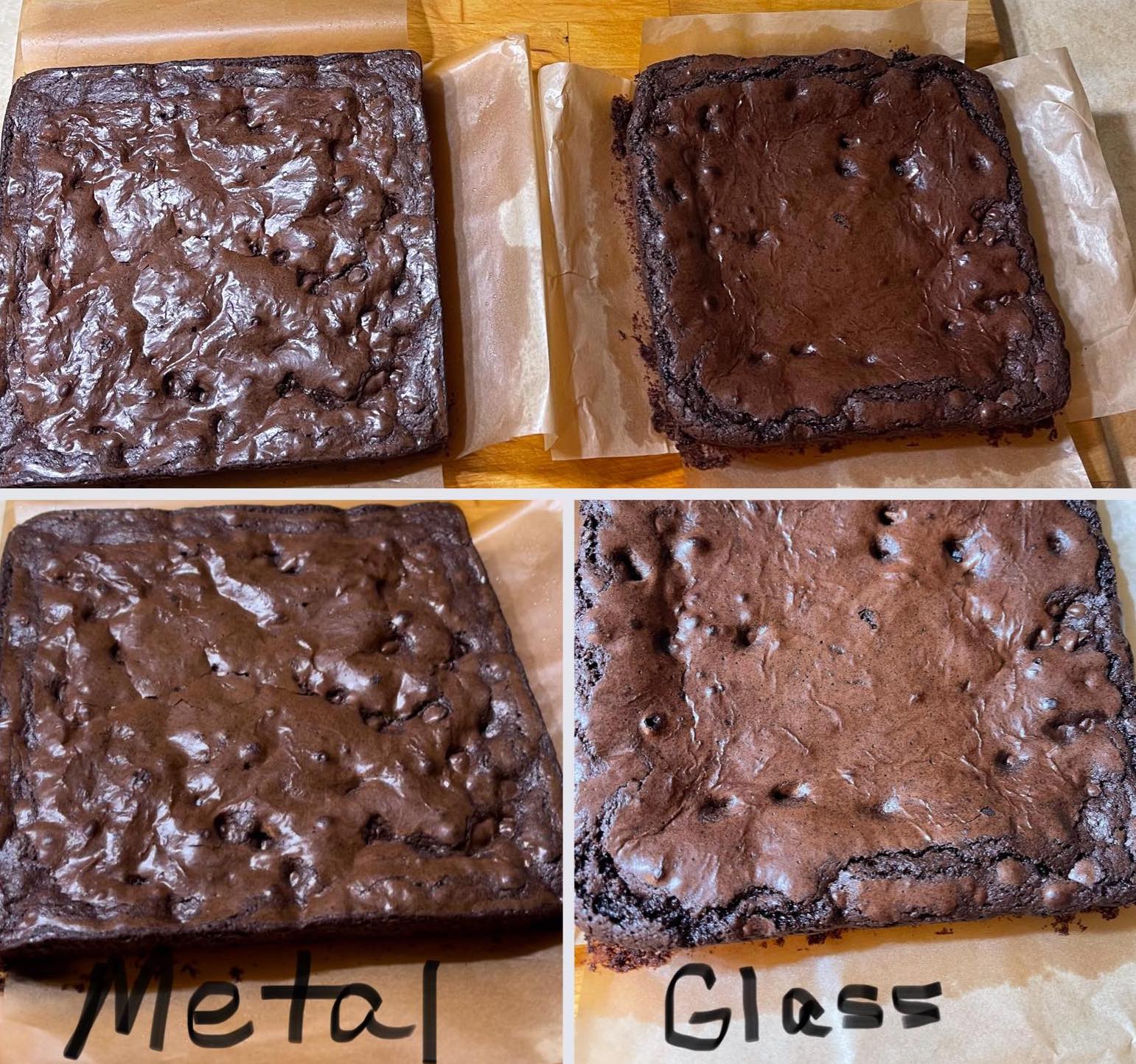 What Should I Bake In a Glass Baking Pan?
I honestly very rarely bake in a glass pan at this point. The only time I may opt for a glass baking dish is occasionally when it comes to baking pies and pie crusts. The glass makes it helpful to see just how golden brown your pie crust is getting. Always be sure to use glass pie dishes made from shatter-proof glass if you like to freeze your pie ahead, like this glass pie plate.
Some acidic bakes (like fruit cobblers) and lasagna or casserole (containing tomatoes, citrus, or other acidic fruit) may bake best in a glass dish, to prevent the metal from reacting to the acidic ingredients.
If all you have is a glass pan, below are adjustments you may need to make to get the best results.
How Much Longer Does it Take to Bake in a Glass Pan? Is There a Difference in Baking Time Between Glass and Metal Pans?
Unless you know the recipe author used a glass pan to test the recipe, generally you'll need to drop the baking temperature and increase the baking time. For most recipes:
Drop the temperature by 25°F
Increase the bake time anywhere from 5 to 15 minutes, depending on the volume of batter.
What Should I Bake In a Metal Baking Pan?
I use metal pans whenever I bake brownies, cookie bars, blondies, quick breads, and sheet cakes. Here are my recommendations:
Square or rectangle pans: I like this 8 by 8-inch baking pan or this 9 by 13-inch pan.
Loaf pans: I like this 8 ½ by 4 ½ -inch loaf pan and this 9 by 5-inch loaf pan.
All the pans above are nonstick, but they're light-colored aluminum so they won't bake too aggressively, unlike dark nonstick coatings.
Typically I also like Fat Daddio's anodized aluminum pans, but their square, rectangle, and loaf pans have rounded edges, which I don't like. It's more difficult to release baked foods from rounded edges, and the presentation of the final baked good isn't as clean. That's why I stick with Fat Daddio's for cake pans.
Can I Substitute a Metal Pan for a Glass Pan?
Yes! If the recipe you're following originally calls for a glass pan, just know you may need to shave 5 to 10 minutes off the baking time.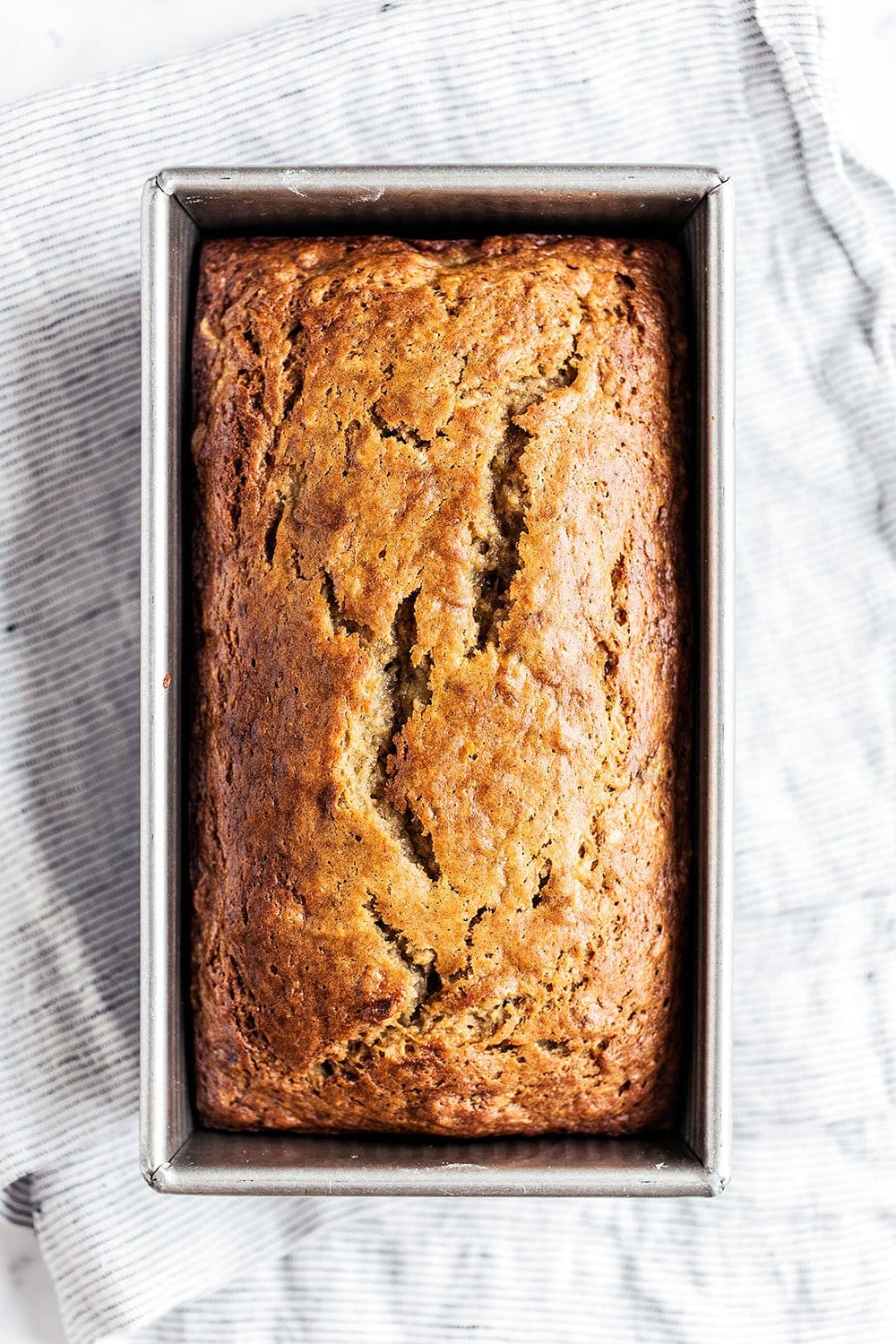 Not Sure How to Tell if Your Baked Good is Done Baking?
For banana bread and many other quick breads and loaves, use an instant-read thermometer inserted into the center to tell if it's done baking. It should register at least 200°F. This doesn't work as well with brownies, unfortunately, because they're much thinner in depth and different recipes should be baked to different internal temperatures depending on the desired final texture.
Recipes You'll Love:
More Science of Baking Tips & Articles:
About Tessa...
I share trusted baking recipes your friends will LOVE alongside insights into the science of sweets. I'm a professionally trained chef, cookbook author, and cookie queen. I love to write about all things sweet, carb-y, and homemade. I live in Phoenix, Arizona (hence the blog name!)
© Handle the Heat - handletheheat.com
Join the Handle the Heat Community


---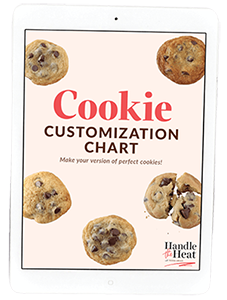 Do you want a more delicious life?
Instead of digging through cookbooks and magazines and searching the internet for amazing recipes, subscribe to Handle the Heat to receive new recipe posts delivered straight to your email inbox. You'll get all the latest recipes, videos, kitchen tips and tricks AND my *free* Cookie Customization Guide (because I am the Cookie Queen)!