Best (and WORST) Baking Pans

Baking equipment is just as important as the the ingredients you use. But since most of us stocked our kitchens ages ago, we might not realize just how big of an impact our pans have on our baking!
That's why I decided to put a bunch of baking pans to the test. For this post, I focused on sheet pans and cookie sheets to keep things simple. There are SO many types of baking pans but I figured your standard sheet pan/cookie sheet is the most used in the kitchen.
Note: if you're curious about my FULL list of recommendations for my favorite baking equipment, or are interested in baking science, then you'll probably LOVE The Magic of Baking online course + community I recently created. I hope you'll check it out!
But for now, let's focus on the best baking pans (and the worst) that I've meticulously tested.
Side-by-Side Testing
Take a look at the below cookies. I made a batch of my Ultimate Chocolate Chip cookie dough. I baked that dough at 350°F for exactly 12 minutes but each time on a different baking pan, one pan at a time. I also kept the dough refrigerated between batches so it would be at the same temperature every time it went into the oven. You can already see what a difference the various baking pans made: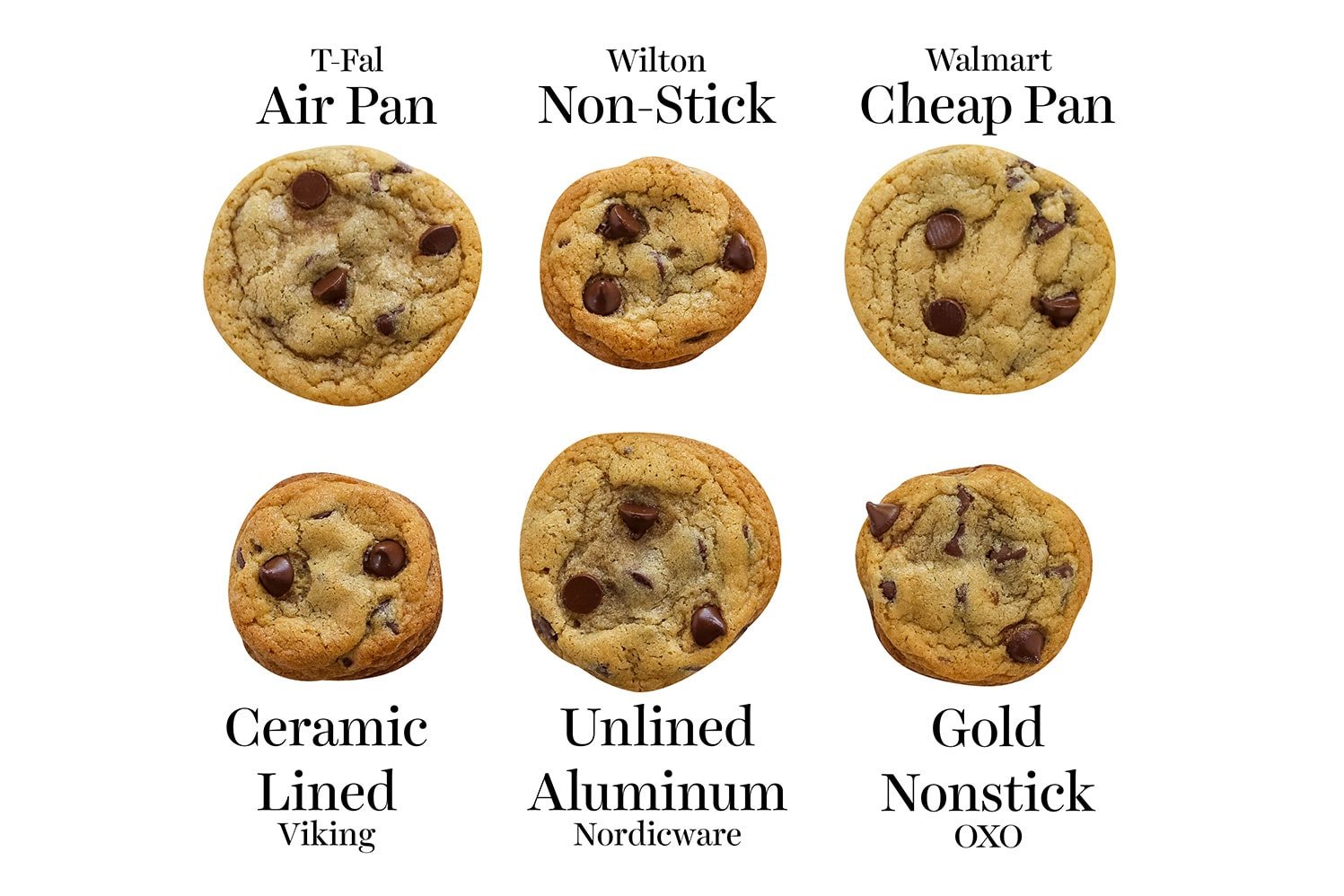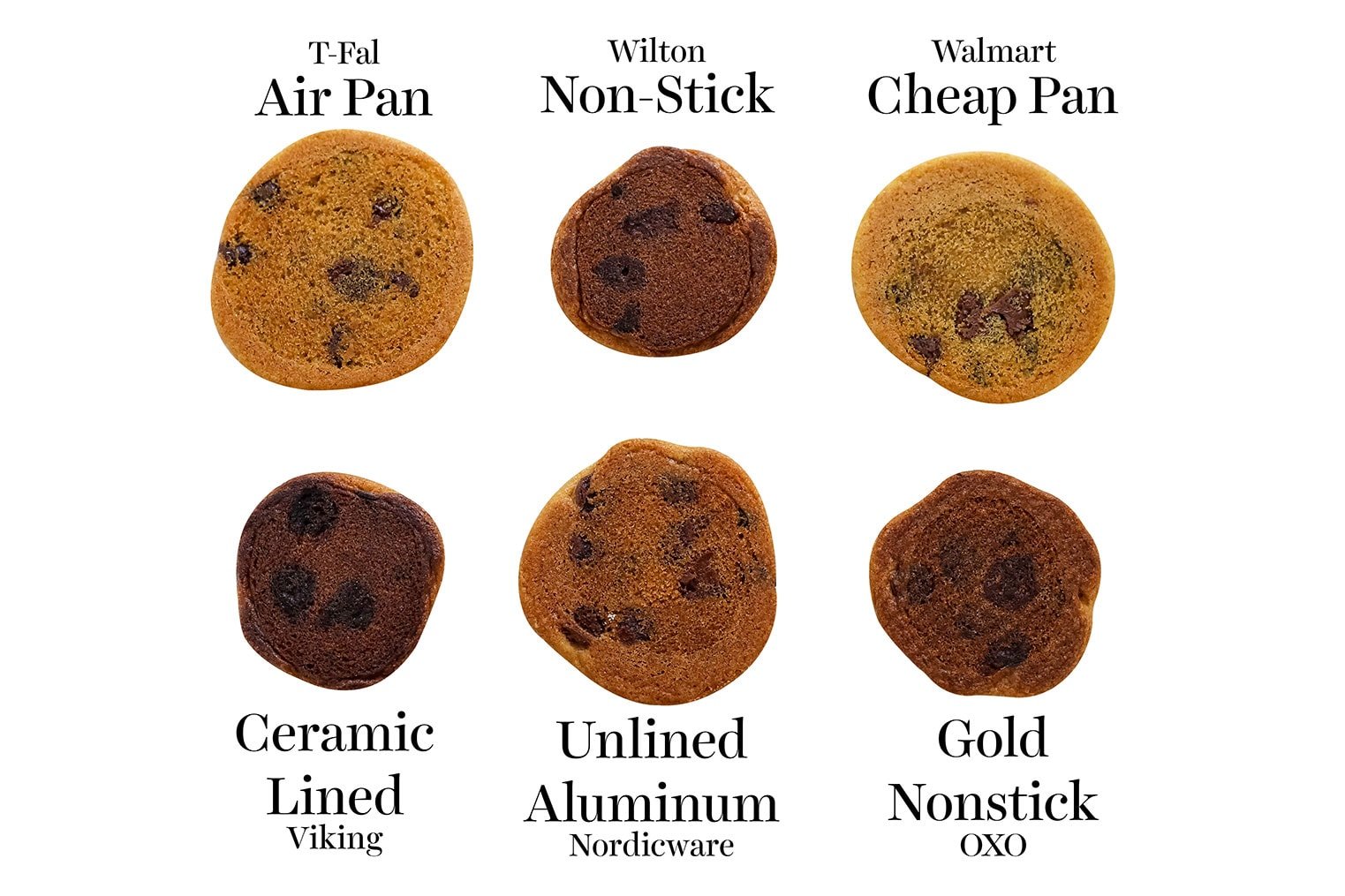 Exact products used:
I knew that baking on different pans was going to result in a slightly different outcome, but the results were even more dramatic than I was expecting. They did fall in line with something I've known to be true, that nonstick pans or dark colored pans brown way more quickly and aggressively. So let's get onto what you really want to know…
Which baking pan is the best?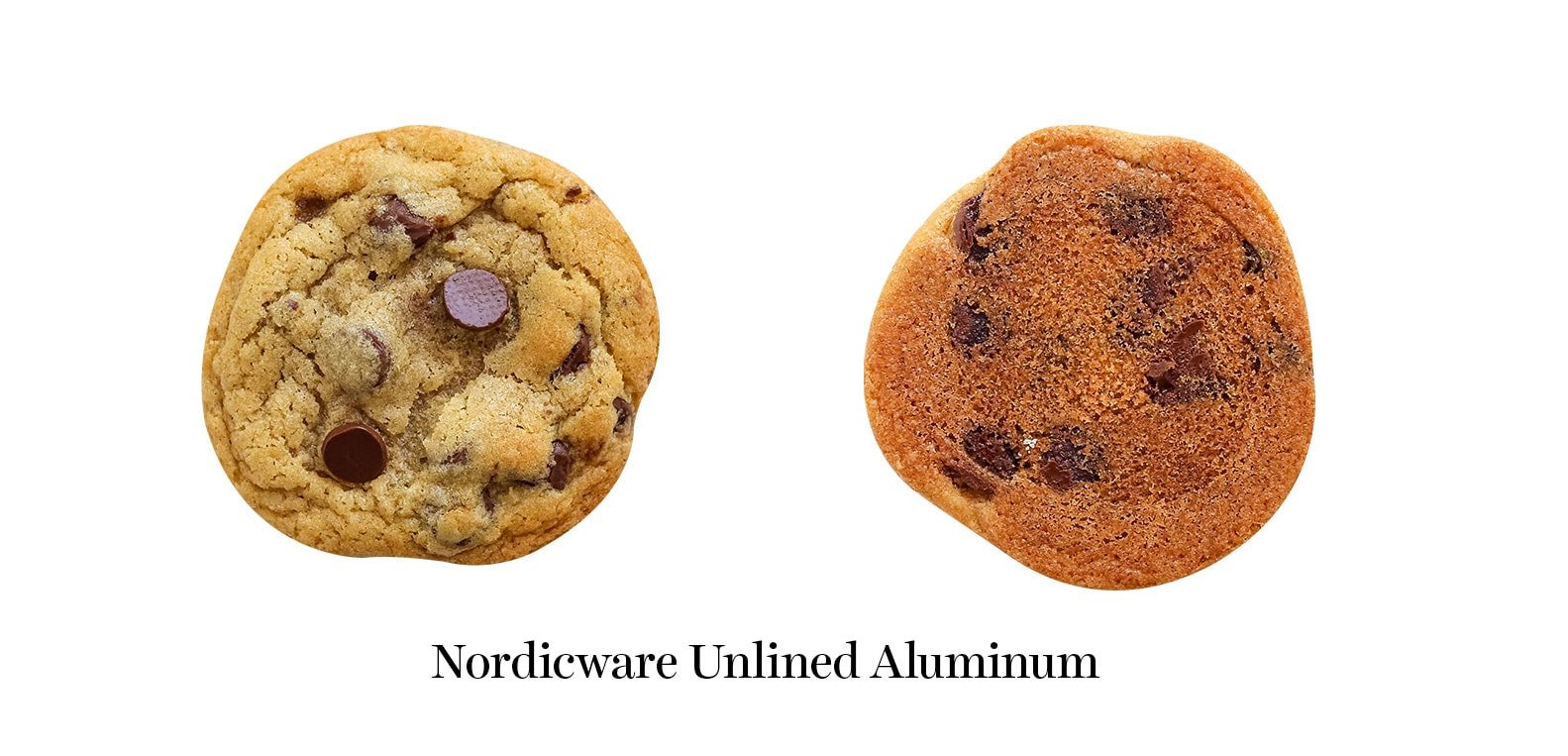 I love my go-to unlined aluminum sheet pans. In this series of testing I used the Nordic Ware brand. To me, it yielded the perfect Goldilocks batch of cookies which were wonderfully golden brown.
This is the basic type of pan we used in culinary school, just the full sized versions. This is what you'll find in most professional kitchens. I use these pans every single week, sometimes daily, for both sweet and savory preparations. In this case, the simplest most basic option is the best and most versatile. I have five of these pans in my kitchen!
I also use this pan so much because when I'm testing new recipes to share with you I take a few precautions. I always use the most straight forward and basic equipment possible, like these unlined sheet pans. I don't want to skew or warp my baking results because I'm using different or high end equipment that most of you won't have.
However, I also have two more recommendations depending on your preferences.
If you like golden crusts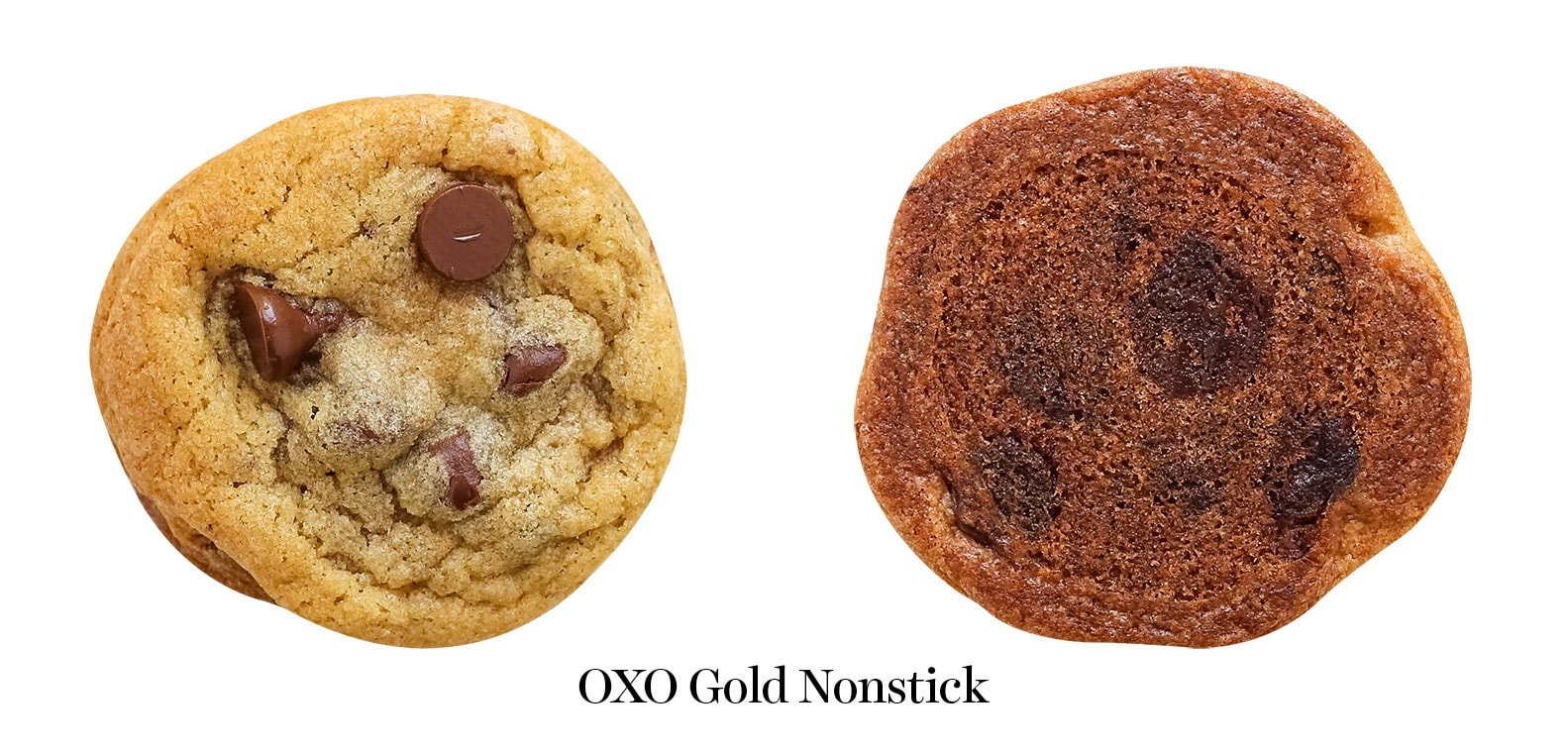 Then you may want to chose a nonstick option. I'd recommend the OXO Good Grips Pro Half Sheet Pan. It's ceramic-reinforced with a two-layer coating for easy food release while protecting against scratching, staining and corrosion.
You can see from the back of the cookie on the right that it's also micro-textured with a non-stick pattern to minimize surface contact and increases airflow for an even baking. I'm thinking this makes the pan bake more quickly, so that's another reason why these cookies browned more than the unlined aluminum. The next time I bake with this pan, I'll probably shave a few minutes off the baking time. I really like this one!
If you like pale crusts or a soft texture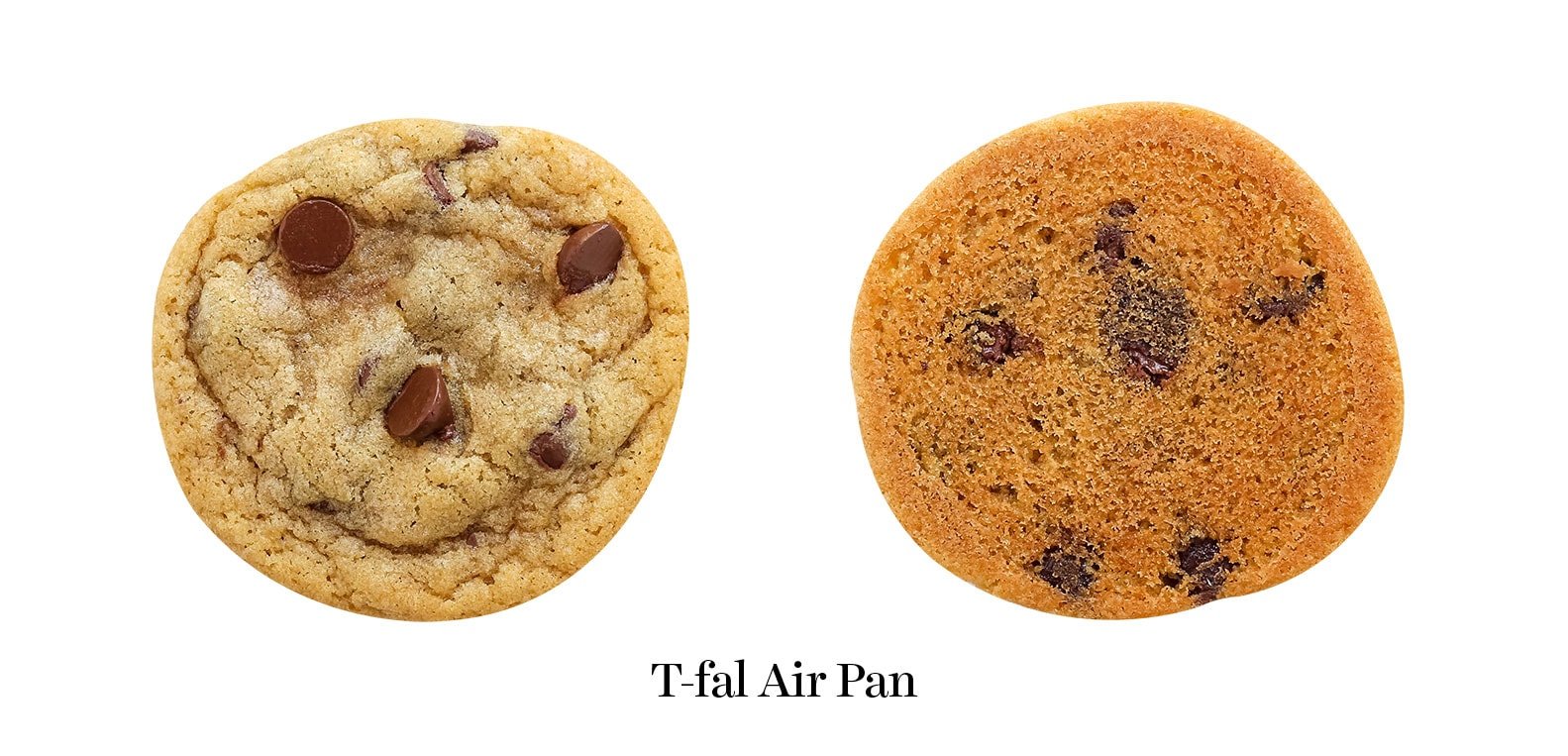 Then you may want to choose the T-Fal Air Pan option. The layer of air in the center of this pan reduces the heat of the pan, reducing browning and burning. I personally don't like this result, but I know many of you do so I wanted to mention it.
The Worst Pan?
I would definitely NOT recommend the Walmart Mainstays pan, it was super flimsy. It warped AND rusted after first use and cleaning. I also wasn't a big fan of the Viking pan either, which basically burnt my cookies.
Which is your favorite?
Let me know in the comments below which baking pan is YOUR favorite, and if you learned anything through my experimenting! I hope you found this helpful.
More Baking Science Articles:
Be sure to download my Baking Secrets guide for even more helpful tips:
About Tessa...
I share trusted baking recipes your friends will LOVE alongside insights into the science of sweets. I'm a professionally trained chef, cookbook author, and cookie queen. I love to write about all things sweet, carb-y, and homemade. I live in Phoenix, Arizona (hence the blog name!)
© Handle the Heat - handletheheat.com
Join the Handle the Heat Community


---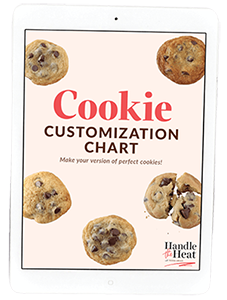 Do you want a more delicious life?
Instead of digging through cookbooks and magazines and searching the internet for amazing recipes, subscribe to Handle the Heat to receive new recipe posts delivered straight to your email inbox. You'll get all the latest recipes, videos, kitchen tips and tricks AND my *free* Cookie Customization Guide (because I am the Cookie Queen)!