Silpat vs. Parchment Paper
A question I'm asked often is which is better: Silpat vs. parchment paper?
Let's take a peek side-by-side at the same batch of cookie dough baked at 350°F for 13 minutes, the only difference is the parchment vs. Silpat surface. I used the same brand of baking sheets too, one is just a year older than the other.
I used the Sur la Table brand Silpat and precut unbleached nonstick parchment paper from Amazon.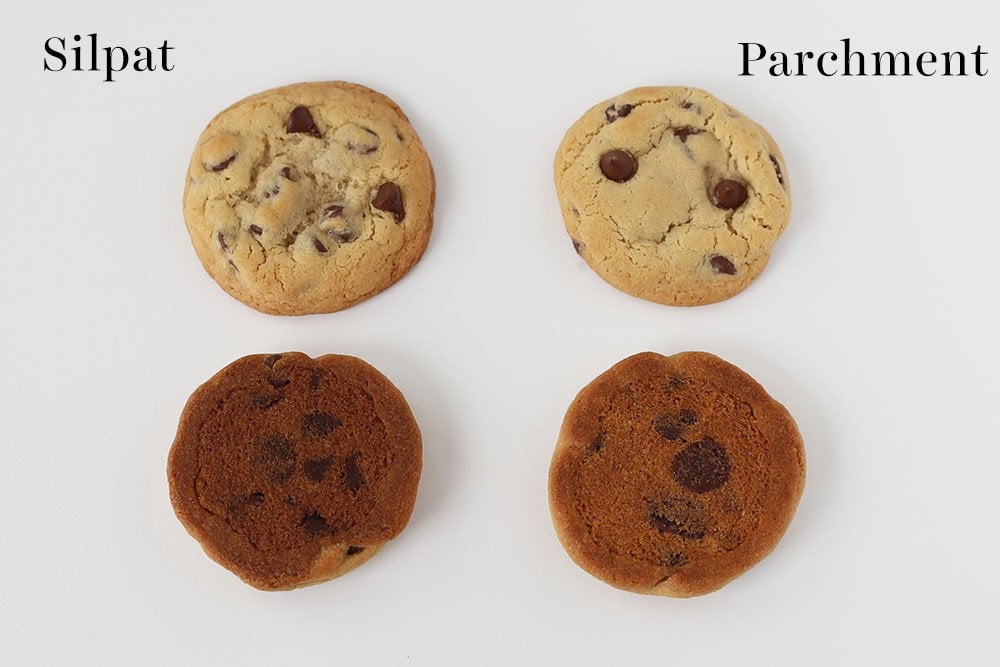 Silpat: spread more, browned more
Because the Silpat surface is so slick, it can actually lead to more spread in cookies while baking. This thinning can lead to more browning as well as a crispier texture.
Parchment paper is disposable, which means you don't have to clean anything extra. In my kitchen that's a huge plus. It's possible parchment is not as environmentally friendly – but I don't actually know the manufacturing process of silicone baking mats.
Not to mention they require a lot of hot water to get all of the residual grease off. And you can usually get a few uses out of one sheet of parchment as long as the flavors are similar and you're wiping off with a cloth between uses.
You can also cut parchment to the exact size you need. Or purchase it precut to fit virtually every pan (including cake pans). I buy pre cut sheets of unbleached parchment, never the roll of parchment from the grocery store (it's too difficult to cut evenly and keep flat).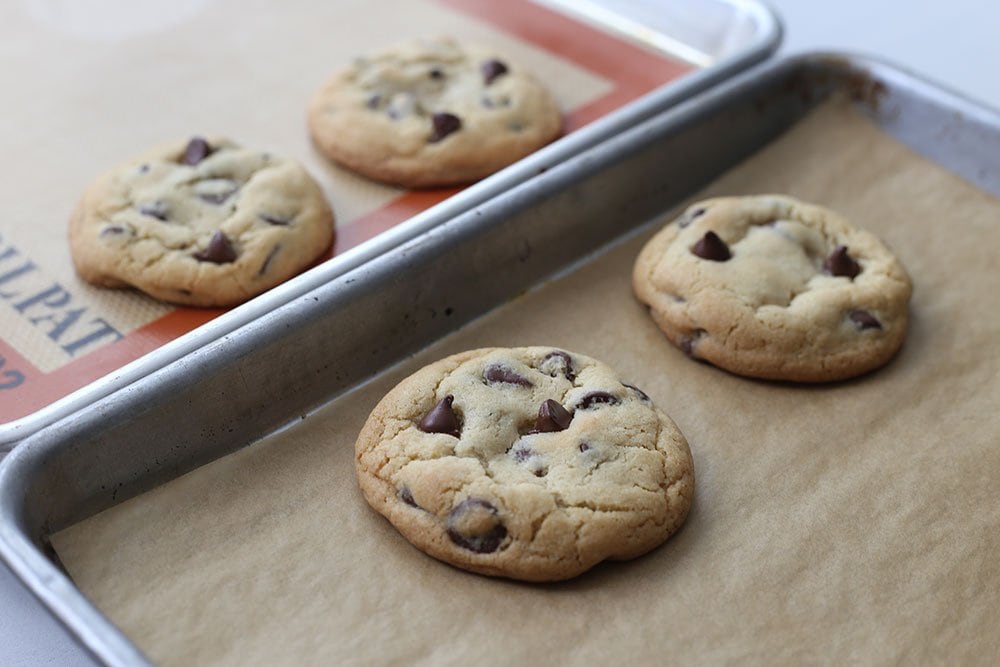 Virtually nothing will stick to a Silpat. However, it's something else to be cleaned. You should never use a knife near a Silpat because they have fiberglass inside that could end up in your food if pierced. They can't be used at high temperatures or with the broiler.
They're also pretty expensive. They can also retain strong flavors. So clean your Silpat *very* well if switching between roasting garlic or fish and baking cookies. Or keep sweet and savory Silpats separate.
Another issue with silicone baking mats is that if a baked good like a cookie is allowed to cool on the mats, the residual heat can create more moisture. With silicone, there's nowhere for that moisture to go. Basically it can make what were once crispy cookie edges more soft and mushy.
The only time I use a Silpat is when I'm making something super delicate like tuiles or sticky like candy, praline, or toffee. With the latter, it's nice to be able to peel off the candy from the Silpat without worrying about sticking or ripping. However, it's critical your Silpat is perfectly clean and free of any residual grease.
So what's the final verdict?
I use parchment paper 99% of the time.
Baking legends Alton Brown and Stella Parks agree.
However, I believe this to be more of a personal preference. Some people might prefer the textures silicone provides. Which do you prefer?
More Baking Science Articles
About Tessa...
I share trusted baking recipes your friends will LOVE alongside insights into the science of sweets. I'm a professionally trained chef, cookbook author, and cookie queen. I love to write about all things sweet, carb-y, and homemade. I live in Phoenix, Arizona (hence the blog name!)
© Handle the Heat - handletheheat.com
Join the Handle the Heat Community


---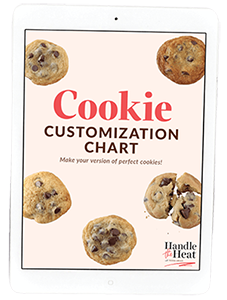 Do you want a more delicious life?
Instead of digging through cookbooks and magazines and searching the internet for amazing recipes, subscribe to Handle the Heat to receive new recipe posts delivered straight to your email inbox. You'll get all the latest recipes, videos, kitchen tips and tricks AND my *free* Cookie Customization Guide (because I am the Cookie Queen)!