Cheap vs. Expensive Ingredients in Chocolate Chip Cookies
This post may contain affiliate links. Read our disclosure policy.
I recently had a baking question pop into my mind that I knew I had to get into the kitchen to test.
I wondered if using cheap vs. expensive ingredients in my Bakery Style Chocolate Chip Cookies would make a difference in overall taste, texture, and quality.
Running to Google, I saw that Nate from The Internet had done an experiment on his YouTube channel that I knew I had to recreate and see for myself!
So, I went to the grocery store and selected the most inexpensive, mostly store-brand generic ingredients as well as the most high-end, premium ingredients to test the same recipe side-by-side.
Let's dive into today's baking experiment to see if using more expensive ingredients in cookies is worth it!
All new ingredients were purchased from the start to eliminate freshness as a variable (prices will vary if you already have the ingredients). Amounts used in each batch is shown in parentheses.
Disclaimer: we recognize the words 'cheap' and 'expensive' are relative and mean something different to everyone. Just being able to bake cookies is a privilege in itself that none of us at HTH take for granted. We certainly aren't trying to exclude anyone baking on a budget with this post – in fact, you'll soon see how I really feel about the more expensive ingredients.
Cheap vs. Expensive Ingredients in Cookies: Which is Better?
INGREDIENTS USED FOR "CHEAP" COOKIES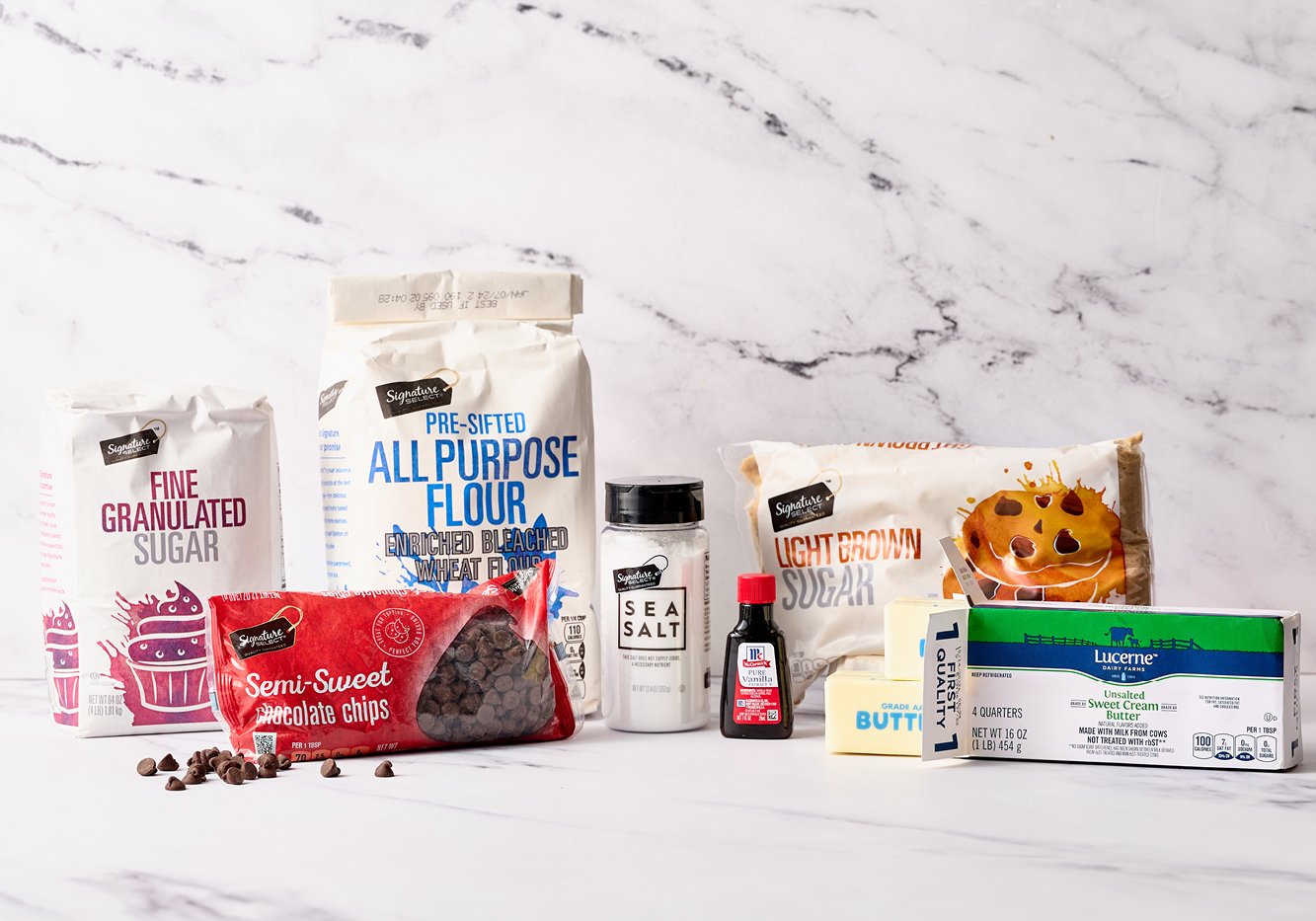 | | | |
| --- | --- | --- |
| Ingredient | Cost for New Item | Cost Per Batch of Cookies |
| Signature all-purpose flour – 5 lb | $3.99 | $0.67 |
| Arm & Hammer baking soda – 1 lb | $1.99 | $0.01 |
| Signature sea salt – 12.4 oz | $3.99 | $0.05 |
| Lucerne unsalted butter – 16 oz | $4.99 | $2.50 |
| Signature granulated sugar – 4 lb | $3.79 | $0.21 |
| Signature light brown sugar – 32 oz | $2.79 | $0.76 |
| McCormick vanilla extract – 1 oz | $6.99 | $2.43 |
| Eggland's Best eggs – 12 count | $5.99 | $1.00 |
| Signature (Safeway store brand) semisweet chocolate chips – 12 oz | $3.49 | $3.49 |
| TOTAL | $41.30 | $11.12 |
INGREDIENTS USED FOR "EXPENSIVE" COOKIES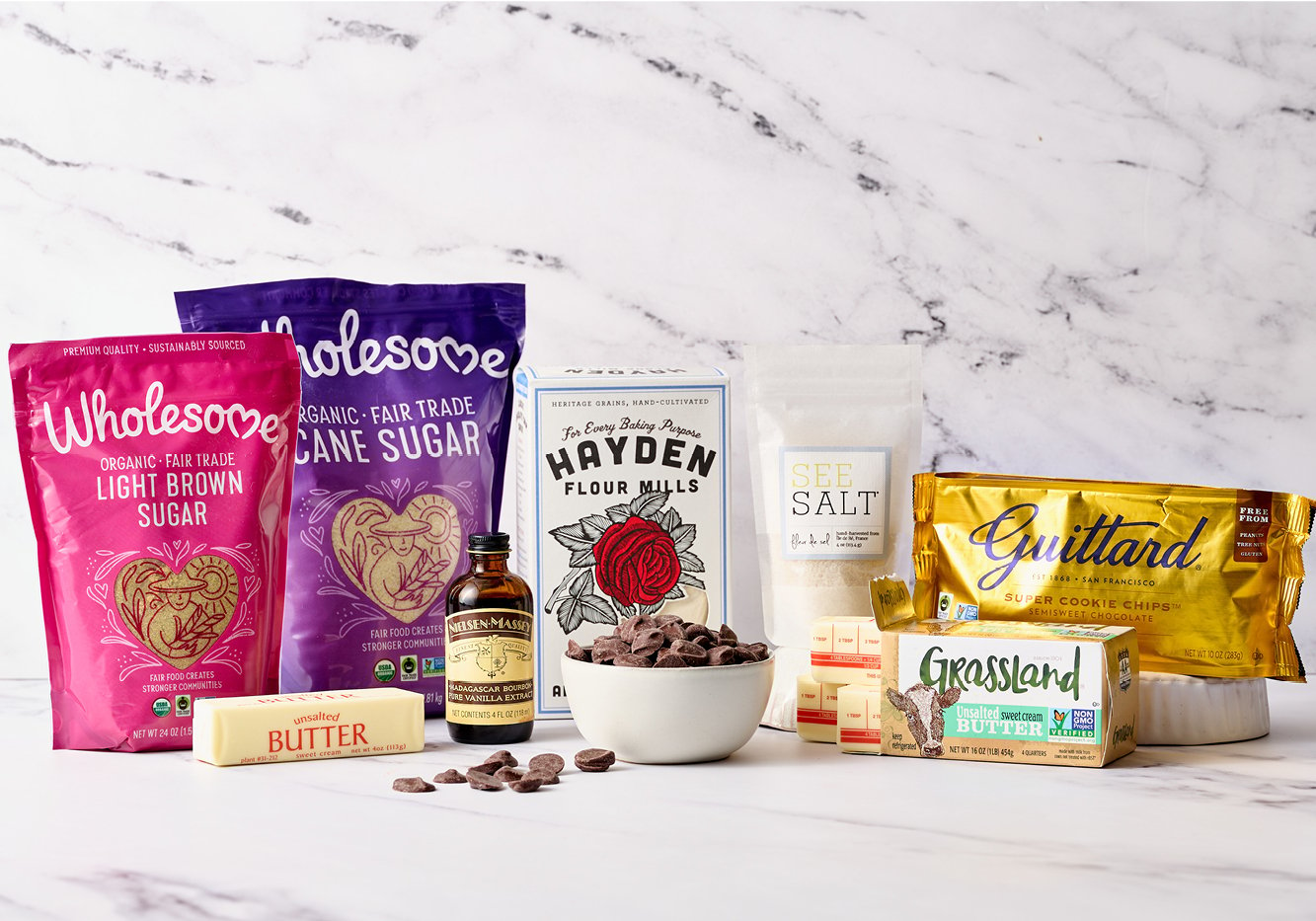 | | | |
| --- | --- | --- |
| Ingredient | Cost for New Product | Cost Per Batch of Cookies |
| Hayden Flour Mills white sonora wheat all-purpose flour – 2 lbs/907 grams | $9.89 | $4.14 |
| Arm & Hammer baking soda – 1 lb | $1.99 | $0.01 |
| Fleur de Sel – 4 oz | $18.95 | $0.70 |
| Grassland unsalted butter – 16 oz | $7.98 | $7.98 |
| Wholesome organic cane sugar – 16 oz | $5.99 | $1.32 |
| Wholesome organic light brown sugar – 24 oz | $7.49 | $2.72 |
| Nielsen Massey pure vanilla extract – 4oz | $22.99 | $2.00 |
| Vital Farms eggs – 12 count | $7.99 | $1.33 |
| Guittard super cookie semisweet chips – 10 oz | $6.99 | $6.99 |
| TOTAL | $93.55 | $23.20 |
Chocolate Chip Cookie Experiment Appearance Results
It was interesting to note that we could tell a difference in appearance in the cookies before they even hit the oven just from the cookie dough and cookie dough balls.
The "expensive" cookie dough was darker in color compared to the "cheap" cookie dough. This is likely due to the organic brown sugar being darker in color compared to the cheap brown sugar used. It seems more so lately that there's a wide variety of colors and intensities of brown sugar products.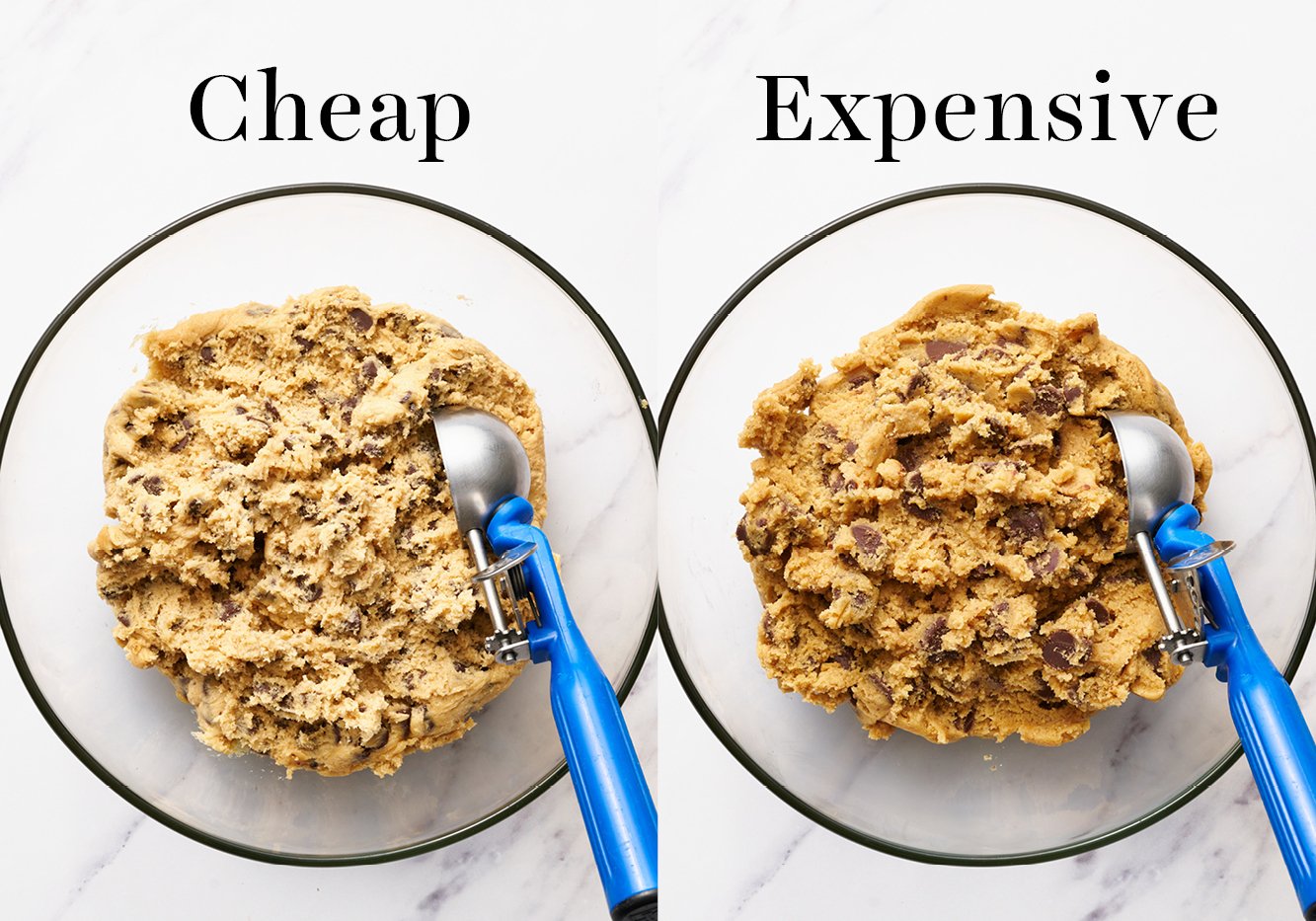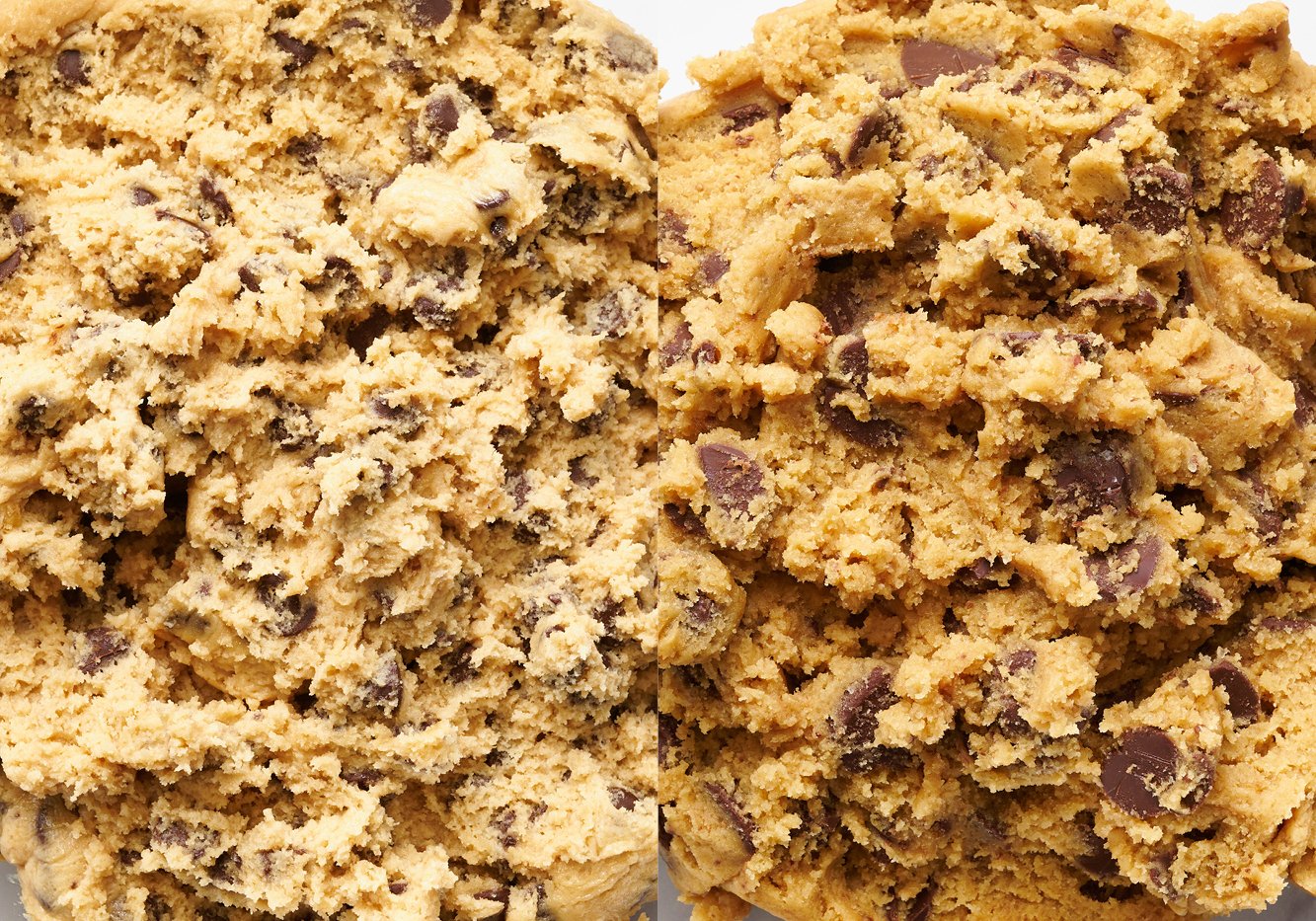 The expensive cookies baked up perfectly round and didn't spread much at all. The chocolate wafers on top were visually beautiful and made these cookies look like they belong in the case of a gourmet bakery.
The inexpensive cookies spread more, were more wrinkly around the edges, and more brown around the edges. Without even tasting them, we could already tell the centers would be very gooey and almost slightly underbaked even though they baked for the same time, at the same temperature, in the same oven.
Chocolate Chip Cookie Experiment Taste Results
With the expensive cookies, we could actually sense the sugar granules in the cookie more because the organic sugar granules were bigger. These cookies had more of a butterscotch flavor because the brown sugar used was darker in color. The chocolate wafers are more subtly sweet compared to the chocolate chips used in the "cheap" batch.
The lower cost cookies definitely tasted closer to a traditional chocolate chip cookie, almost more like premade store-bought chocolate chip cookie dough. The chocolate chips tasted a little more artificial and sweet, especially after tasting the premium chocolate wafers in the expensive cookies.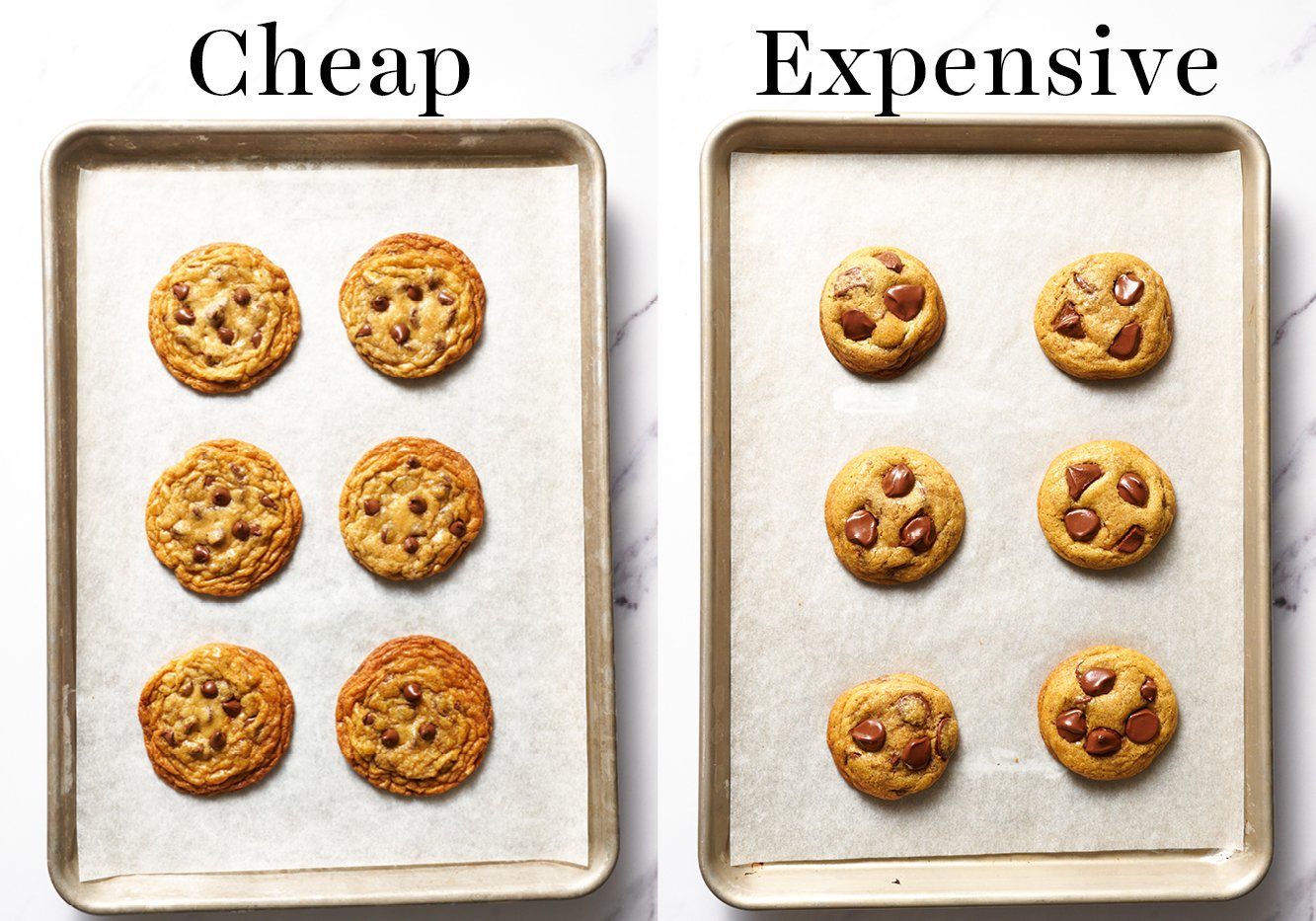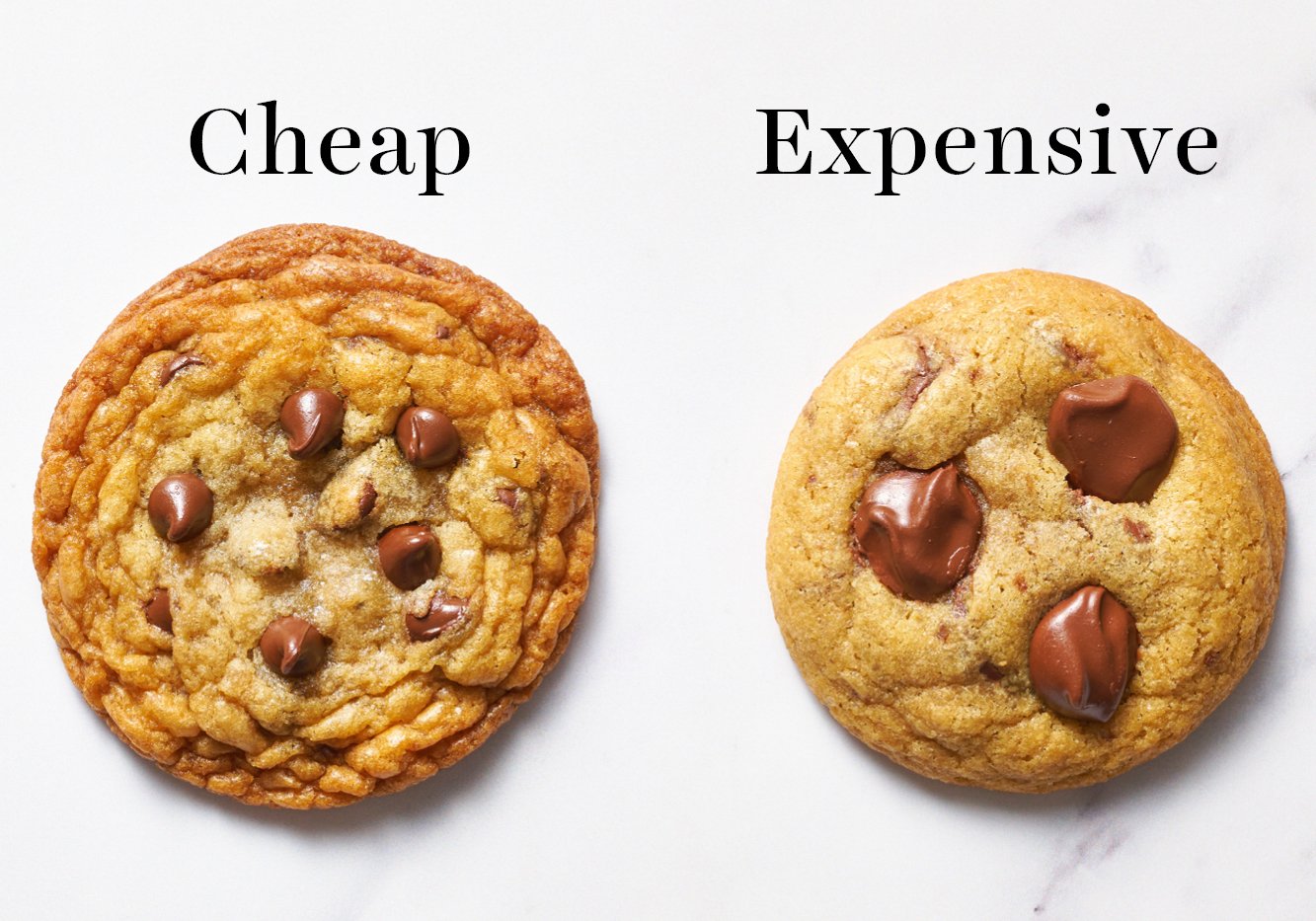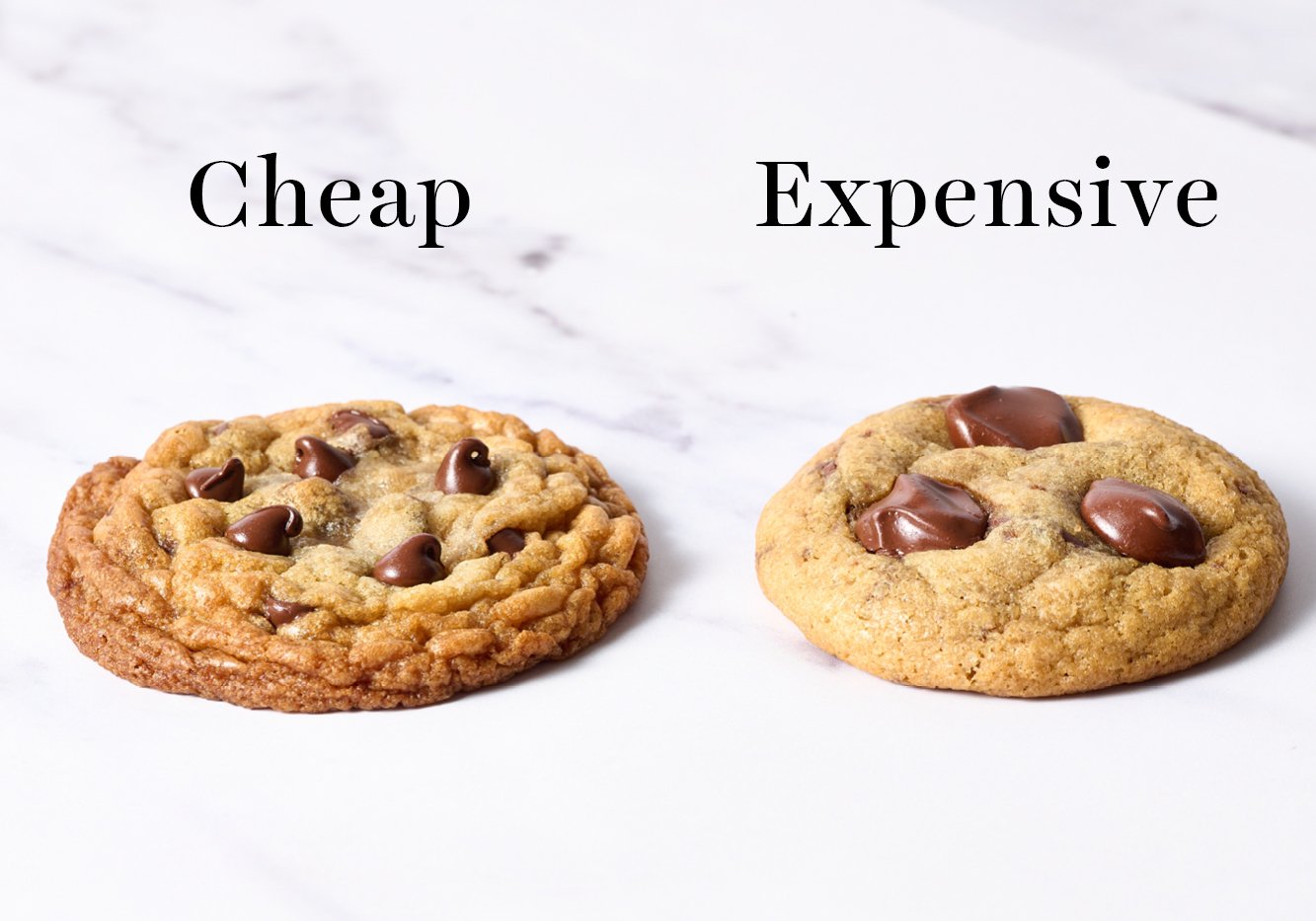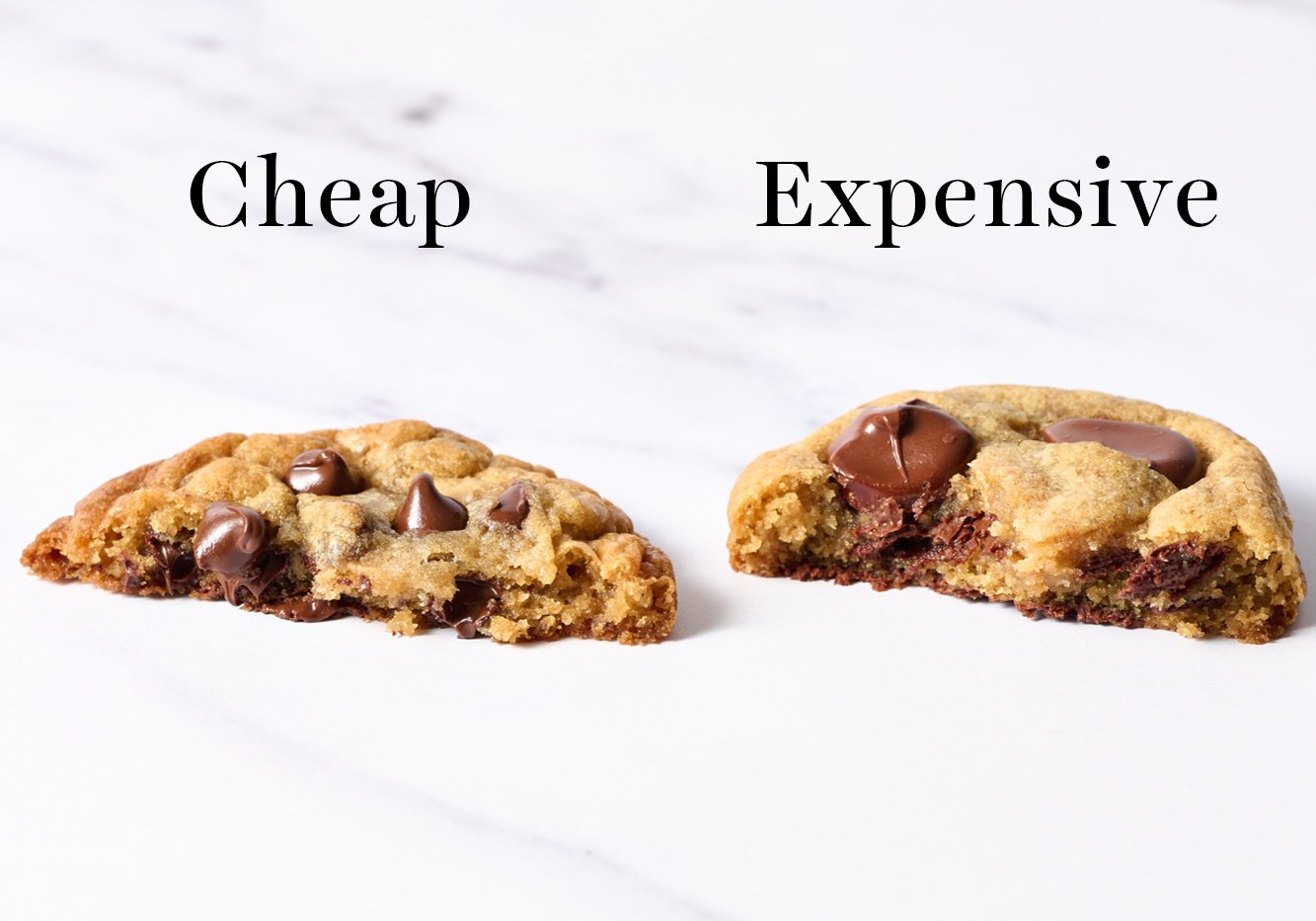 We actually conducted a fun blind taste-test experiment in the studio to see if people could guess which cookie was the cheap cookie and which was the expensive one.
Every person who did the blind taste test guessed correctly! The participants said they could tell which were the more expensive cookies because that one had better flavor, the chocolate wafers were delicious, and the texture was more enjoyable. Even our photographer's school-age son said "I can tell these are the expensive cookies, they just taste expensive!"
Chocolate Chip Cookie Experiment Texture Results
The expensive cookies were thicker, puffier, and fuller than a regular chocolate chip cookie. These were soft, chewy, with a slight crisp to the edges.
The cheap cookies were very, very gooey in the middle, greasy and slightly oily on the bottoms, chewy in the center, with a very crunchy edge. These cookies would likely be more enjoyed by someone who enjoys a crispier texture to their cookie, although the greasy bottoms weren't the most appealing.
In fact, greasy cookies is a complaint I sometimes see in social media and blog comments. Now I know it could very well be the choice of butter that's at fault!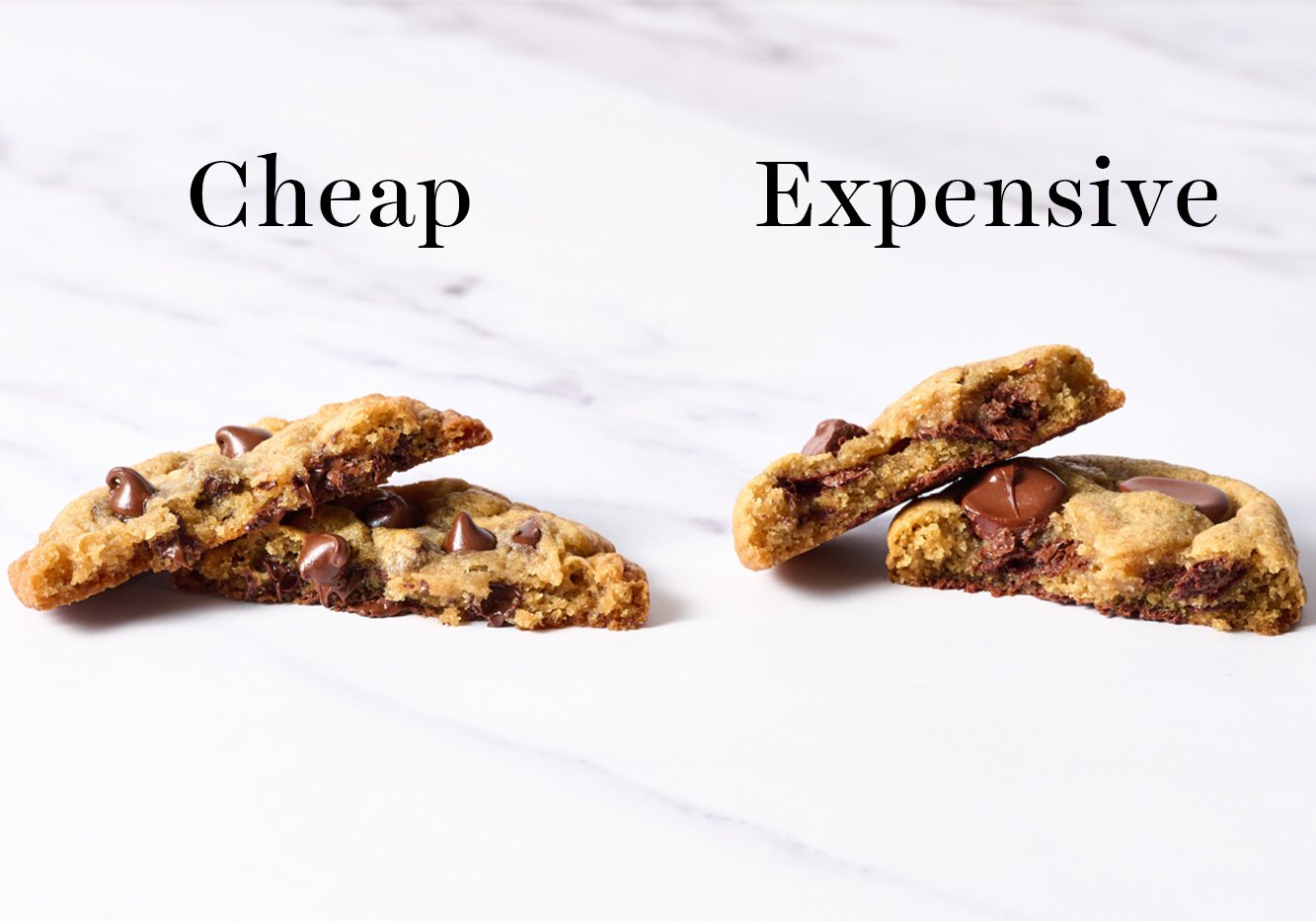 ---
Final verdict:
Overall, the expensive cookies were definitely the winner among everyone who tasted them in the studio.
However, I wouldn't say I preferred the expensive cookies over my classic Bakery Style Chocolate Chip Cookies made with my go-to ingredients. My HTH-approved ingredients are not always the most expensive. In fact, I often test recipes with the most widely accessible ingredients to make sure the recipes will turn out for everyone. I don't want to create an unfair advantage for myself in my test kitchen using extra premium ingredients hardly anyone else will use!
It's hard to say which ingredient is worth splurging on without conducting single ingredient comparison tests.
Our takeaway in the studio was that the butter was a huge factor in what made the expensive cookies more enjoyable in terms of taste and texture. This may be because the cheaper brand of butter contains more water content. However, the differences in the flour used are worth noting too. The Hayden Mills flour is made with wheat that's milled local here in Arizona and is unbleached and unenriched. But there's also the vanilla and chocolate, both of which contain a wide array of quality among selections at the store.
Basically, ingredients used can make a huge difference. Have you noticed any differences in your cookie baking based on the brand, quality, or style of ingredients used? Tell me in the comments below!
More Science of Baking Articles:
Cookie Recipes You'll Love:
Photos by Joanie Simon.


About Tessa...
I share trusted baking recipes your friends will LOVE alongside insights into the science of sweets. I'm a professionally trained chef, cookbook author, and cookie queen. I love to write about all things sweet, carb-y, and homemade. I live in Phoenix, Arizona (hence the blog name!)
© Handle the Heat - handletheheat.com
Join the Handle the Heat Community


---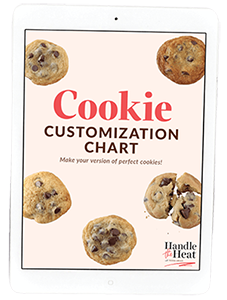 Do you want a more delicious life?
Instead of digging through cookbooks and magazines and searching the internet for amazing recipes, subscribe to Handle the Heat to receive new recipe posts delivered straight to your email inbox. You'll get all the latest recipes, videos, kitchen tips and tricks AND my *free* Cookie Customization Guide (because I am the Cookie Queen)!