Monster Cookie Bars are thick, chewy, and filled with oatmeal, peanut butter, chocolate chips, m&ms, and other leftover Halloween candy!

Welcome to the first day of Chocolate Chip Cookie week!!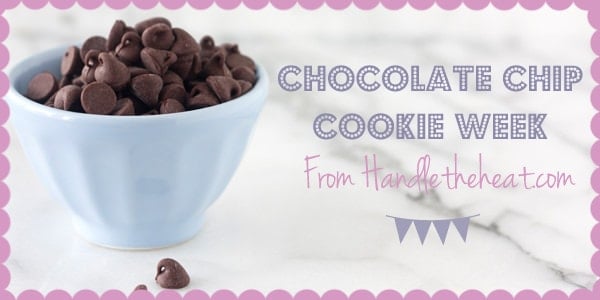 Since everybody loves chocolate chip cookies, all this week I'm going to be featuring various recipes revolved around chocolate chip cookies! Stay tuned for a fun surprise at the end. To kick things off, we're starting with Monster Cookie Bars, loaded with much more than chocolate chips. These babies were created for Imperial Sugar and are filled with Halloween candy!
What were your best Halloween costumes growing up? Or even now as an adult? I've been Cinderella, a Power Ranger, a witch (1 and 2), a pop star (it was either Britney Spears or Christina Aguilera, I can't remember), and a devil, just to name a few. Dressing up is fun, but usually only for the first half hour or so. Then it's uncomfortable and all you want is the Halloween candy.
This recipe is the perfect way to use up any extra or leftover Halloween candy. Any kind of m&m will work wonderfully in these Monster Cookie Bars, along with any chopped chocolate candy. Actually, you can pretty much fill these bars with whatever candy you want or have and they will be positively scrumptious.
Recipe Rundown
Taste: I adore the combination of oatmeal, peanut butter, brown sugar, and chocolate candy because the nuttiness balances out the sweetness.
Texture: Thick, chewy, with bites of crunchy, gooey, and soft chocolate candies throughout. I used a lot of Halloween fun-sized Snickers candies and it was delish.
Ease: Very easy. Be sure that when you're melting the butter and brown sugar that you keep an eye on it and don't walk away.
Appearance: How fun do these look with the bright and colorful m&ms studded throughout?
Pros: Fun and even more delicious way to use up leftover Halloween candy.
Cons: None.
Would I make this again? Absolutely!! I love Monster cookies, especially in the form of bars with extra candy added in.


The full Monster Cookie Bar recipe can be found on Imperial Sugar's website, along with even more fun Halloween recipes!
Stay tuned for more chocolate chip cookie fun all week long! Be sure to subscribe to my email list so you don't miss a single recipe.
This post was written by me on behalf of Imperial Sugar. All text, photos, and opinions provided are my own.
About Tessa...
I share trusted baking recipes your friends will LOVE alongside insights into the science of sweets. I'm a professionally trained chef, cookbook author, and cookie queen. I love to write about all things sweet, carb-y, and homemade. I live in Phoenix, Arizona (hence the blog name!)
© Handle the Heat - handletheheat.com
Join the Handle the Heat Community


---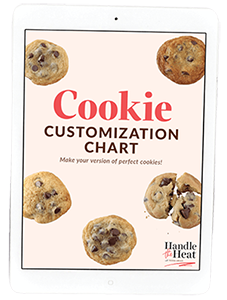 Do you want a more delicious life?
Instead of digging through cookbooks and magazines and searching the internet for amazing recipes, subscribe to Handle the Heat to receive new recipe posts delivered straight to your email inbox. You'll get all the latest recipes, videos, kitchen tips and tricks AND my *free* Cookie Customization Guide (because I am the Cookie Queen)!