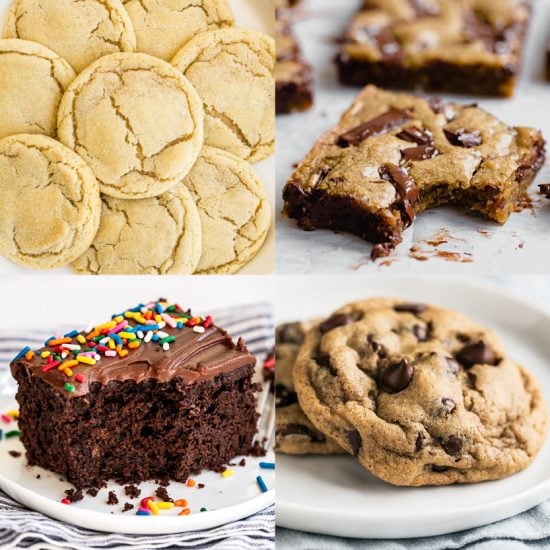 I love desserts. I love easy recipes. Put those together for easy dessert recipes, and I'm in heaven.
Today I've compiled some of the easiest dessert recipes on the site. All these easy dessert recipes come together in 35 minutes or less. Plus, most of these recipes also call for ingredients you may already have in your pantry!
These recipes are super simple to whip up for any potluck, party, or get-together. Your friends and family will seriously LOVE any of these recipes, and they'll have no idea how easy the dessert actually was for you to bake.
So, which easy dessert are you going to try first?!
---
Easy Dessert Recipes: Cookies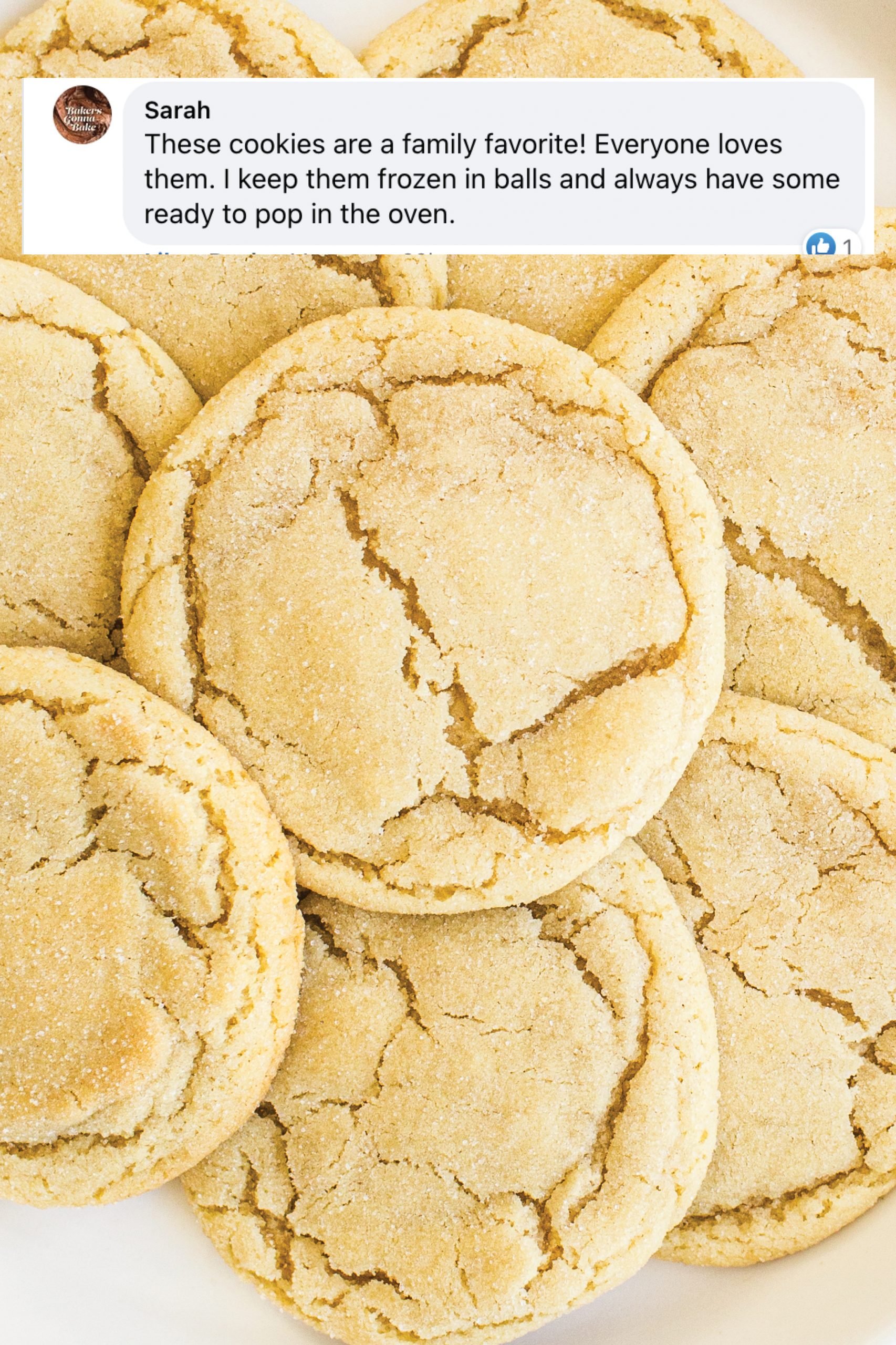 My go-to recipe, these Soft and Chewy Sugar Cookies are perfectly tender and soft with just the right amount of chewiness. They only take 15 minutes of prep time! Perfect for any potlucks or family gatherings.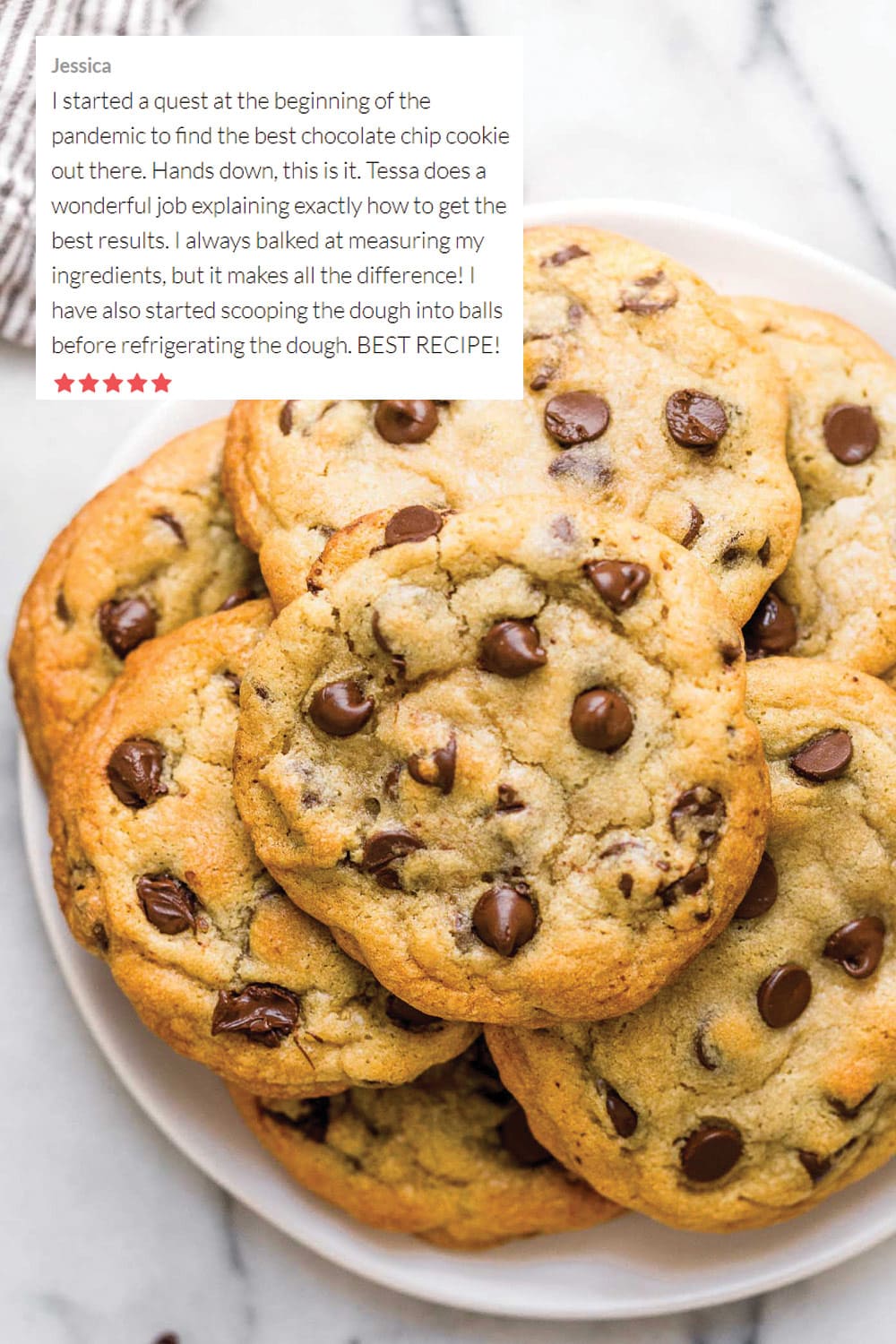 Get ready to find your new favorite cookie ever! Ultra thick Bakery Style Chocolate Chip Cookies feature golden brown edges, ooey and gooey centers, and loads of chocolate chips. This easy recipe can be made in 30 minutes.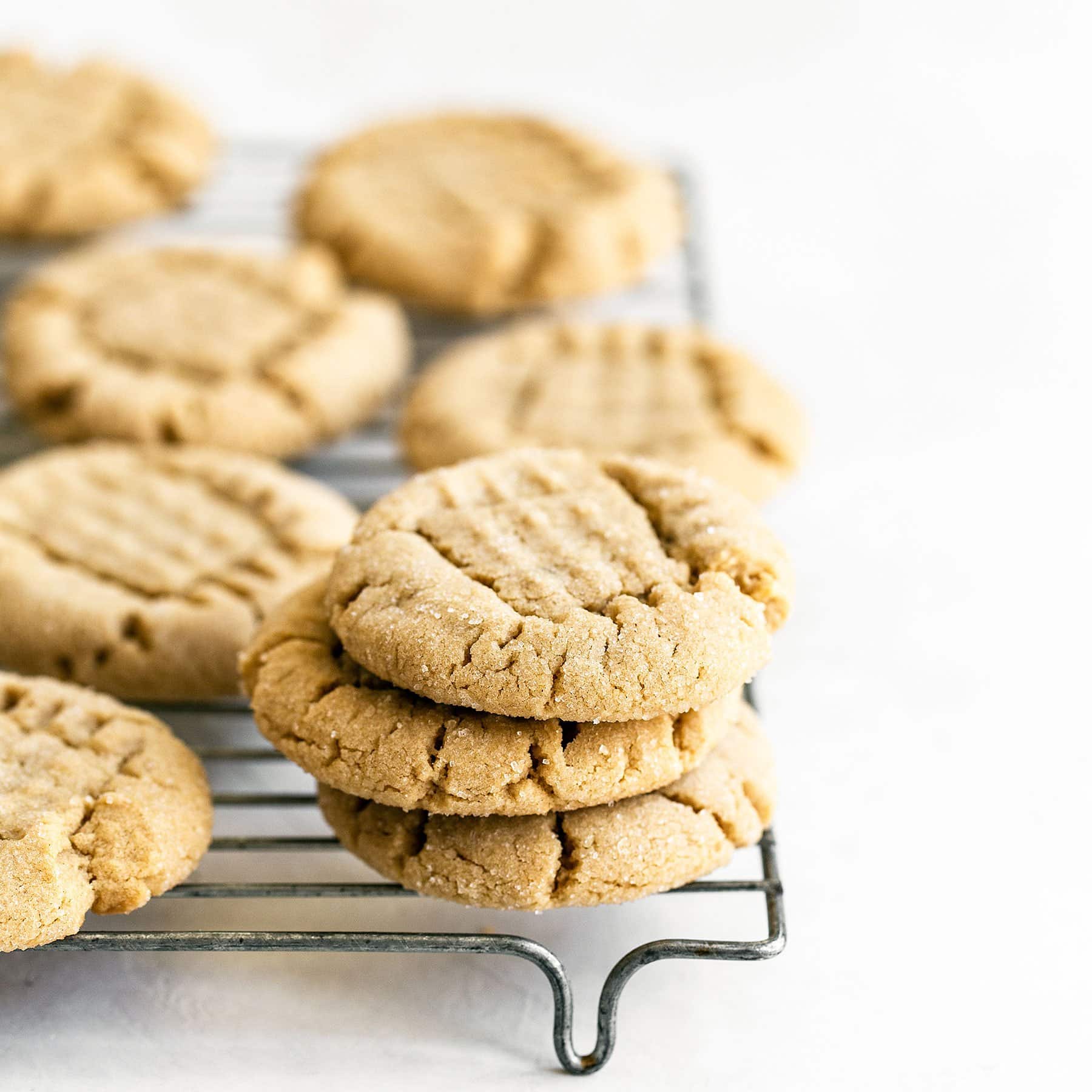 These Peanut Butter Cookies are my favorite peanut butter cookie recipe! No dough chilling required for these easy cookies, and they're sure to satisfy any peanut butter craving.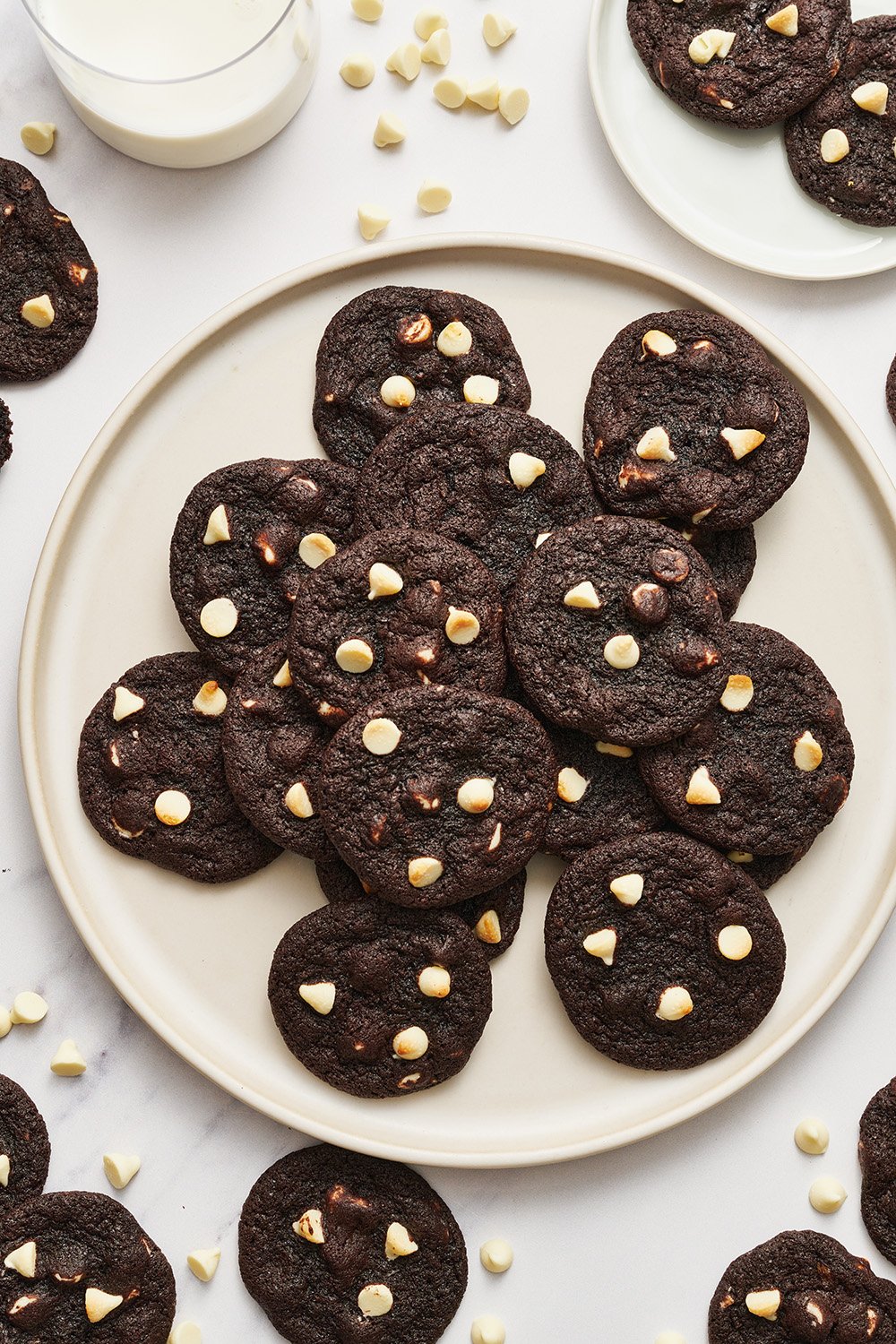 Soft, rich, and slightly chewy, these Black & White Chippers cookies are the ultimate chocolaty treat with bits of white chocolate morsels sprinkled throughout. You'll love this Paradise Bakery copycat cookie.
Classic Crispy Gingersnaps are the perfect easy cookie! Thin and crunchy with the perfect taste of molasses and spice, this easy homemade recipe takes 30 minutes to make!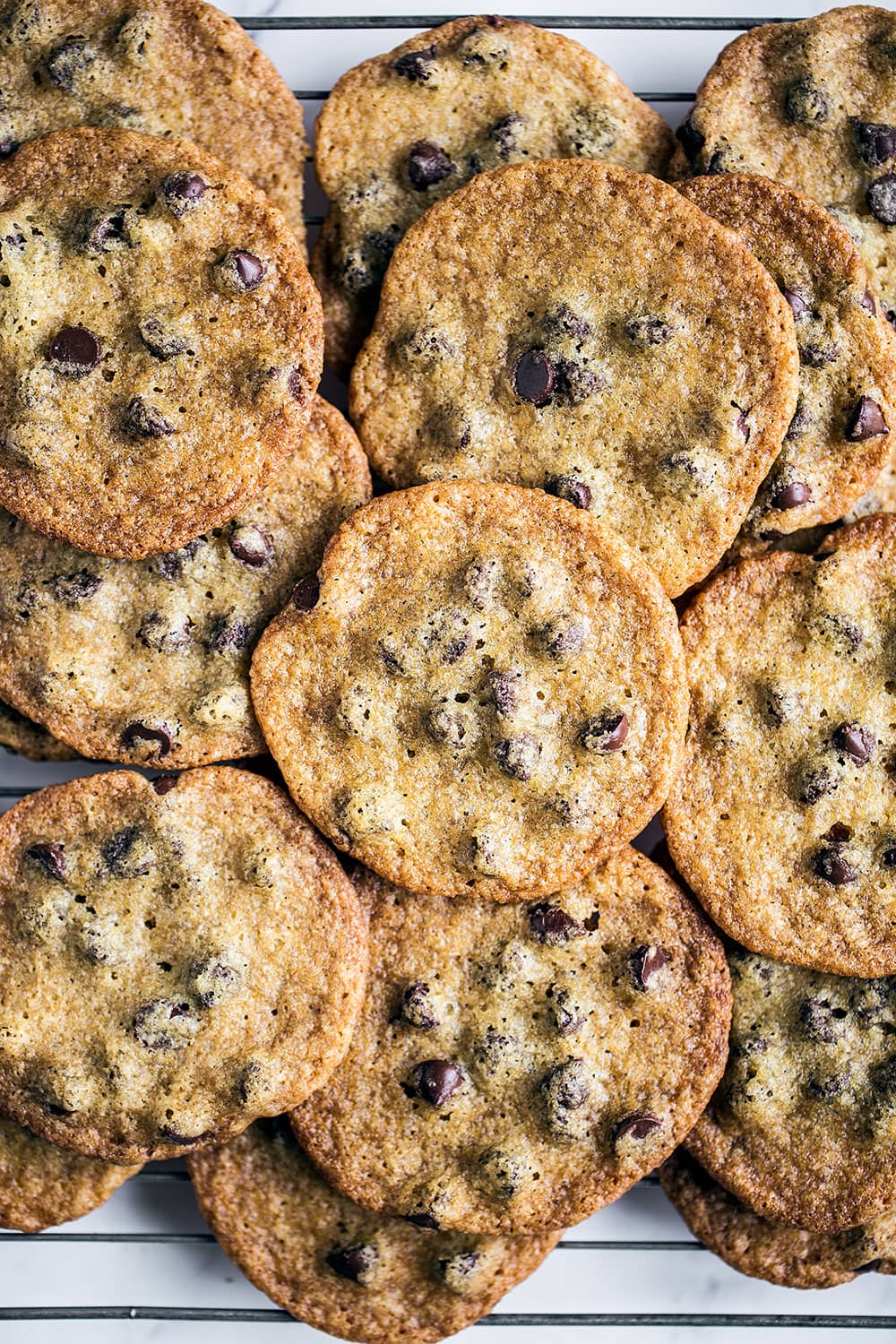 Quick and easy Thin and Crispy Chocolate Chip Cookies for when you're craving that satisfying crunch in a cookie just like Tate's!
You are going to adore these Soft and Chewy M&M Cookies! They're nice and big like your favorite bakery cookies, with tons of flavor and packed full of M&Ms – and you can't beat that soft, chewy texture. Plus, they're SO quick and easy to make.
Peanut Butter Chocolate Chip Cookies are big, thick, chewy, and soft and loaded with peanut butter and chocolate chips. They are outrageously good! No stand mixer required.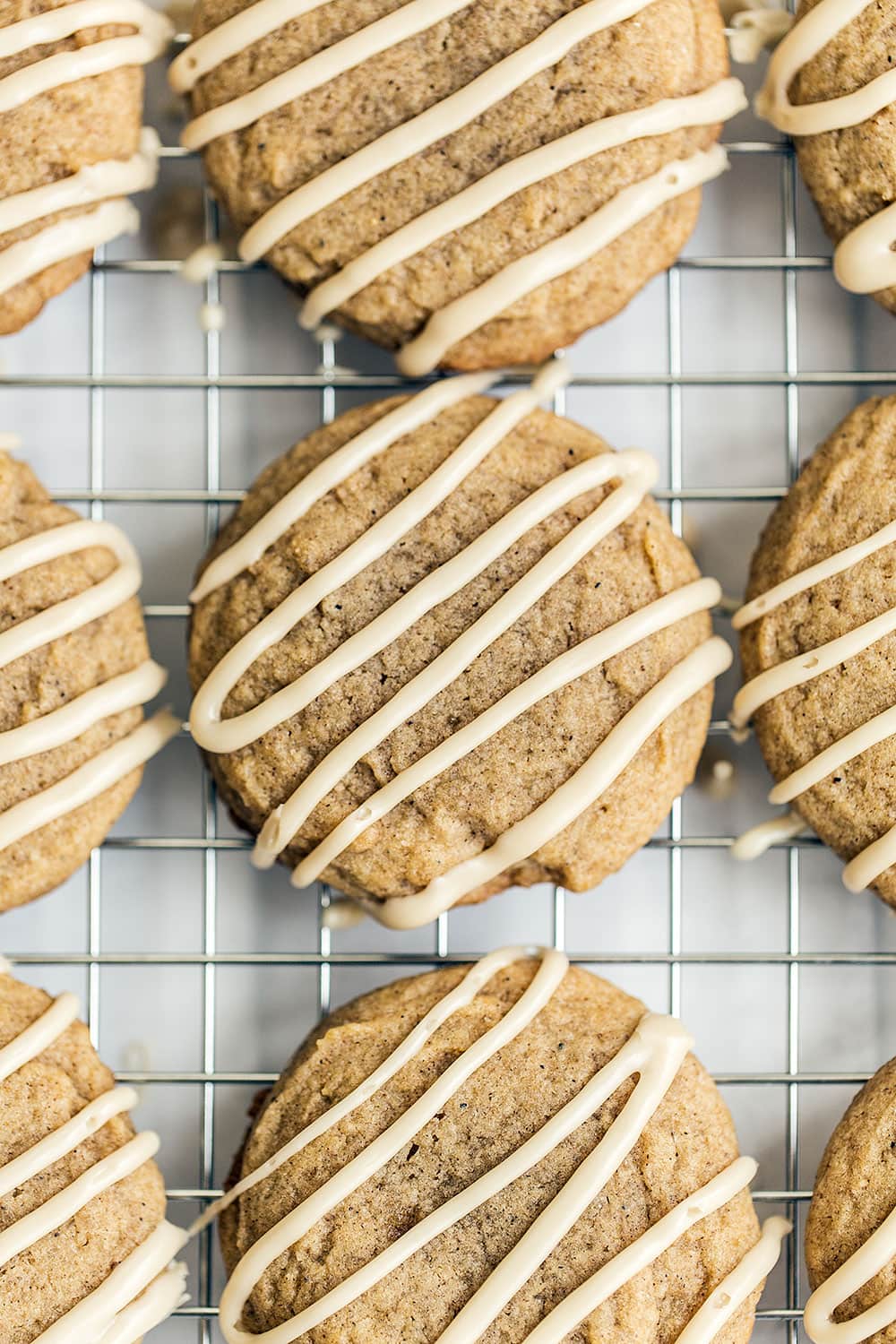 Easy Chai Sugar Cookies are thick, soft, loaded with sweet warm spices like cinnamon and ginger, and topped with a drizzle of simple espresso glaze. Perfect 30 minute recipe!
Thick, chewy and soft, these Oatmeal Chocolate Chip Cookies are bursting with ooey gooey chocolate goodness that everyone will love. You could also use raisins instead of chocolate chips, if you prefer.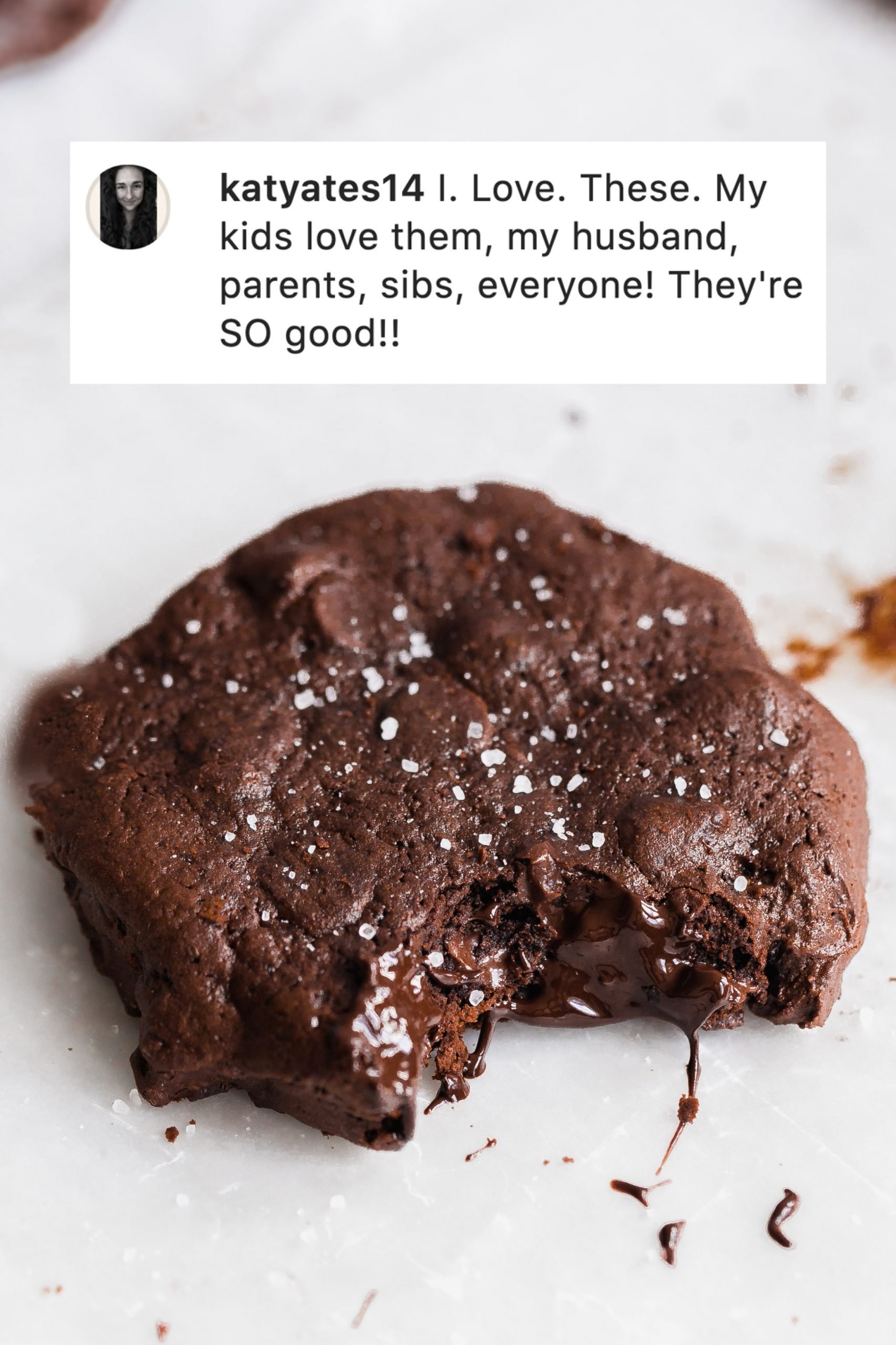 Soft Batch Double Chocolate Cookies are sinfully thick, rich, and gooey and loaded with an almost obscene amount of chocolate! The perfect easy dessert recipe to satisfy any chocolate craving.
Peanut Butter Oatmeal Chocolate Chip Cookies are soft, chewy, and a little gooey and take just minutes to make from scratch! Such a fun peanut butter cookie recipe.
Bakery-quality Giant Reese's Pieces Chocolate Chip Cookies are thick, chewy, chunky, and soft. An incredible combination of peanut butter and chocolate! Warm cookies straight from the oven in 30 minutes.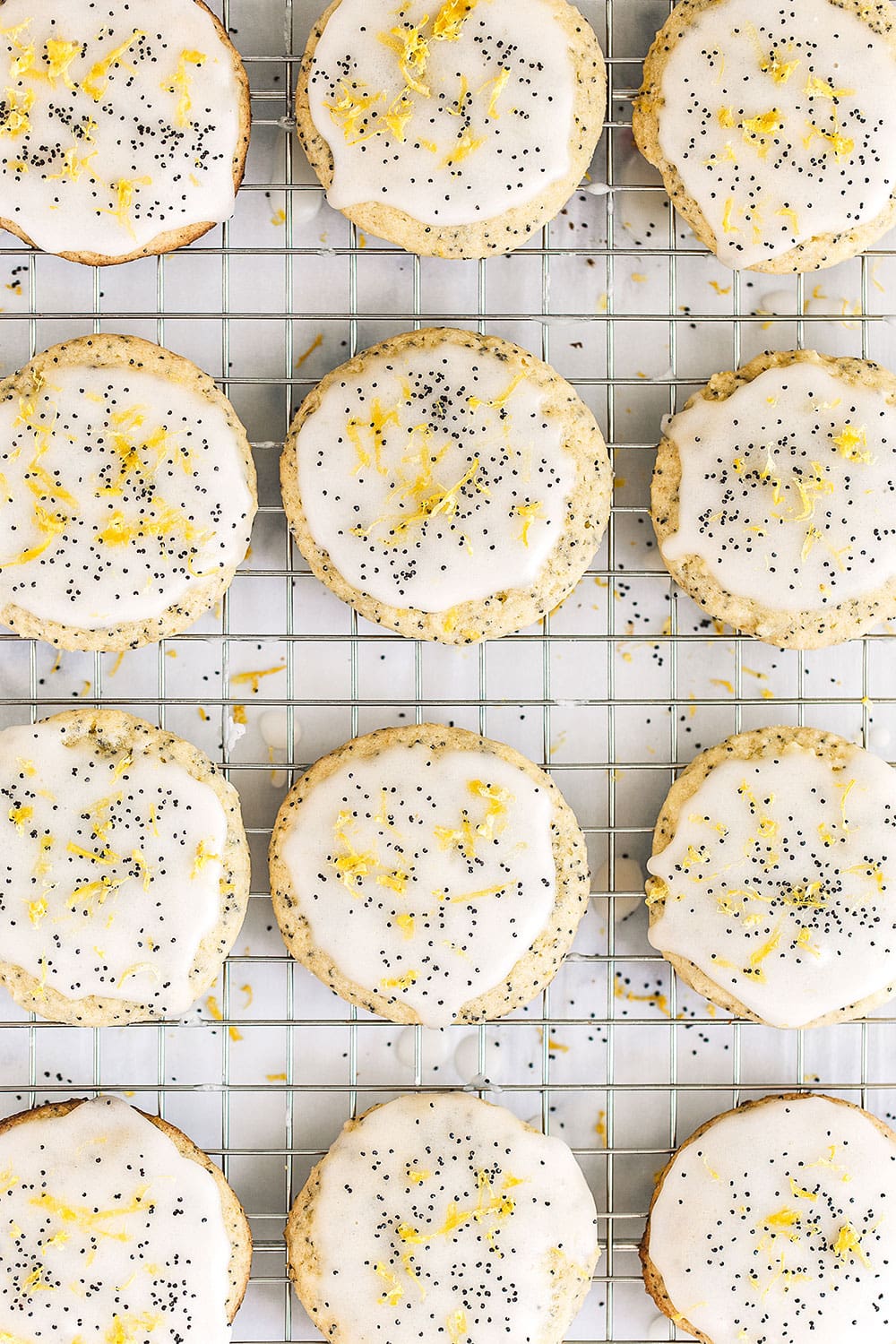 These Soft Batch Lemon Poppy Seed Cookies are crazy tender and loaded with fresh lemon flavor from both lemon juice and lemon zest. Such a refreshing easy dessert recipe!
This copycat homemade Oatmeal Cream Pies recipe brings back the best childhood memories of biting into an ultra chewy cookie with a rich creamy filling. They're surprisingly easy and satisfying to make from scratch!
Soft Chocolate Chip Cookies are ultra ooey and gooey with two secret ingredients (cornstarch and cream cheese!) to keep them ultra soft and tender. You won't be able to resist these delicious treats.
---
Easy Dessert Recipes: Cakes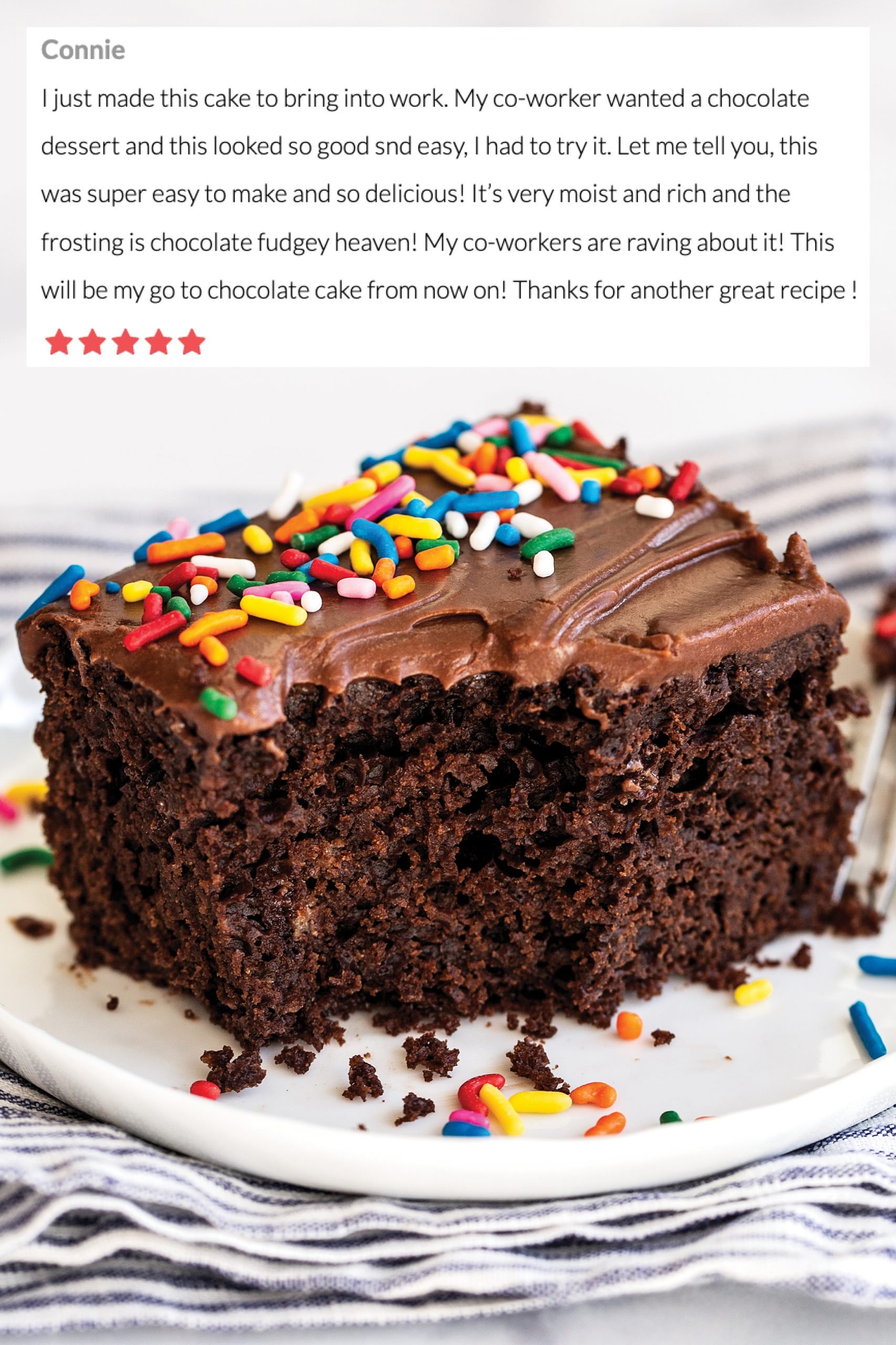 Easy Chocolate Sheet Cake with simple fudge frosting takes just minutes to prepare and doesn't even require an electric mixer. This chocolate cake has the best texture and flavor. You can get as creative as you'd like with your toppings from sprinkles to candies to shredded coconut to marshmallow – you name it!
Salted Caramel Apple Sheet Cake features an ultra tender, slightly spongey cinnamon apple cake with a thick and shiny salted caramel glaze. The perfect easy dessert recipe for serving a crowd!
Chocolate Lava Cakes are made with 7 ingredients and have rich molten chocolate centers. So easy to make, and the cake batter can be made ahead of time! Serve with fresh strawberries or raspberries and whipped cream or vanilla ice cream, for the ultimate easy yet impressive dessert recipe.
---
More Easy Dessert Recipes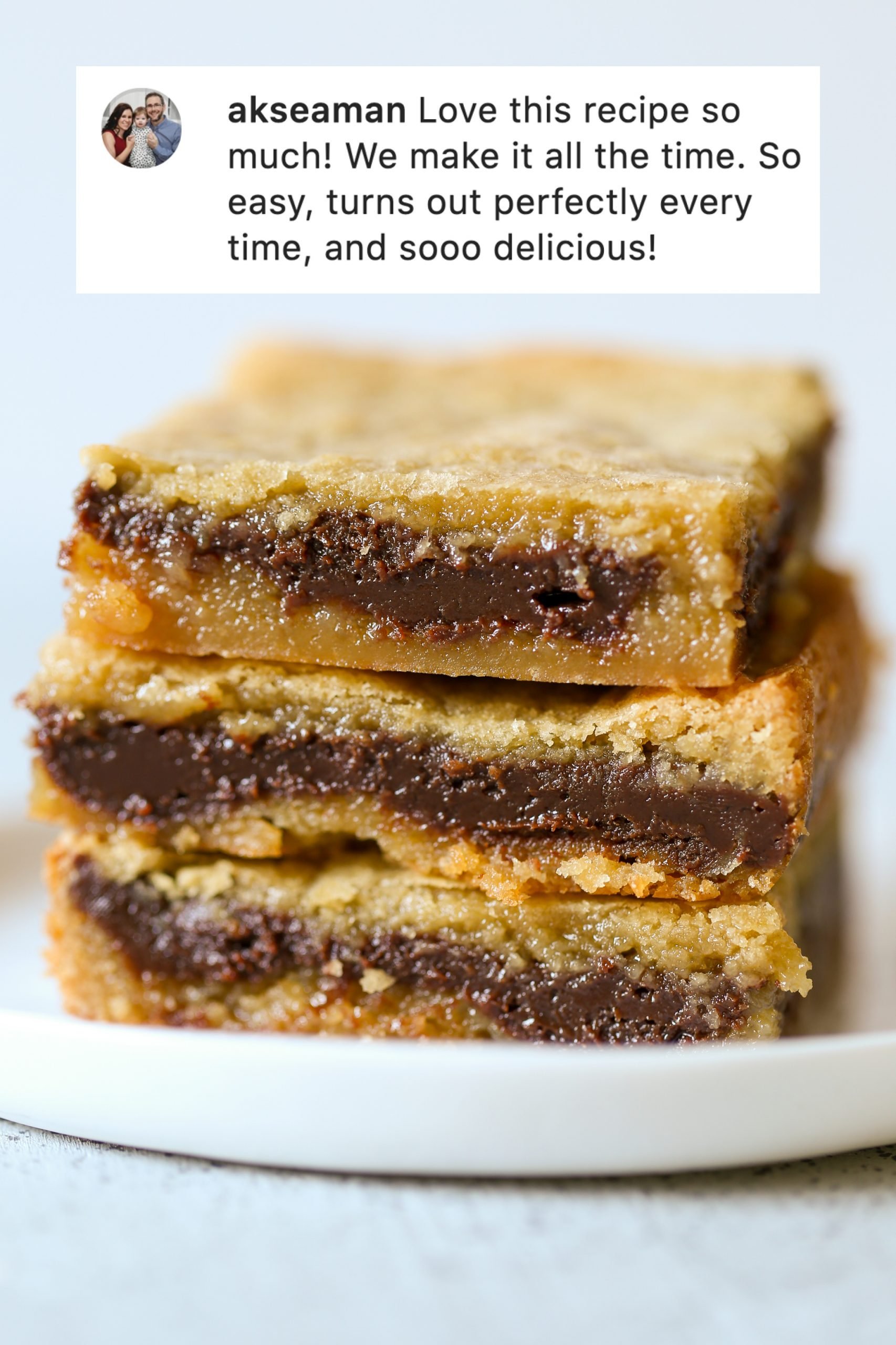 Fudge Stuffed Blondies are insanely rich and gooey with a hidden layer of easy chocolate fudge inside every bite! Simple 35-minute easy dessert recipe.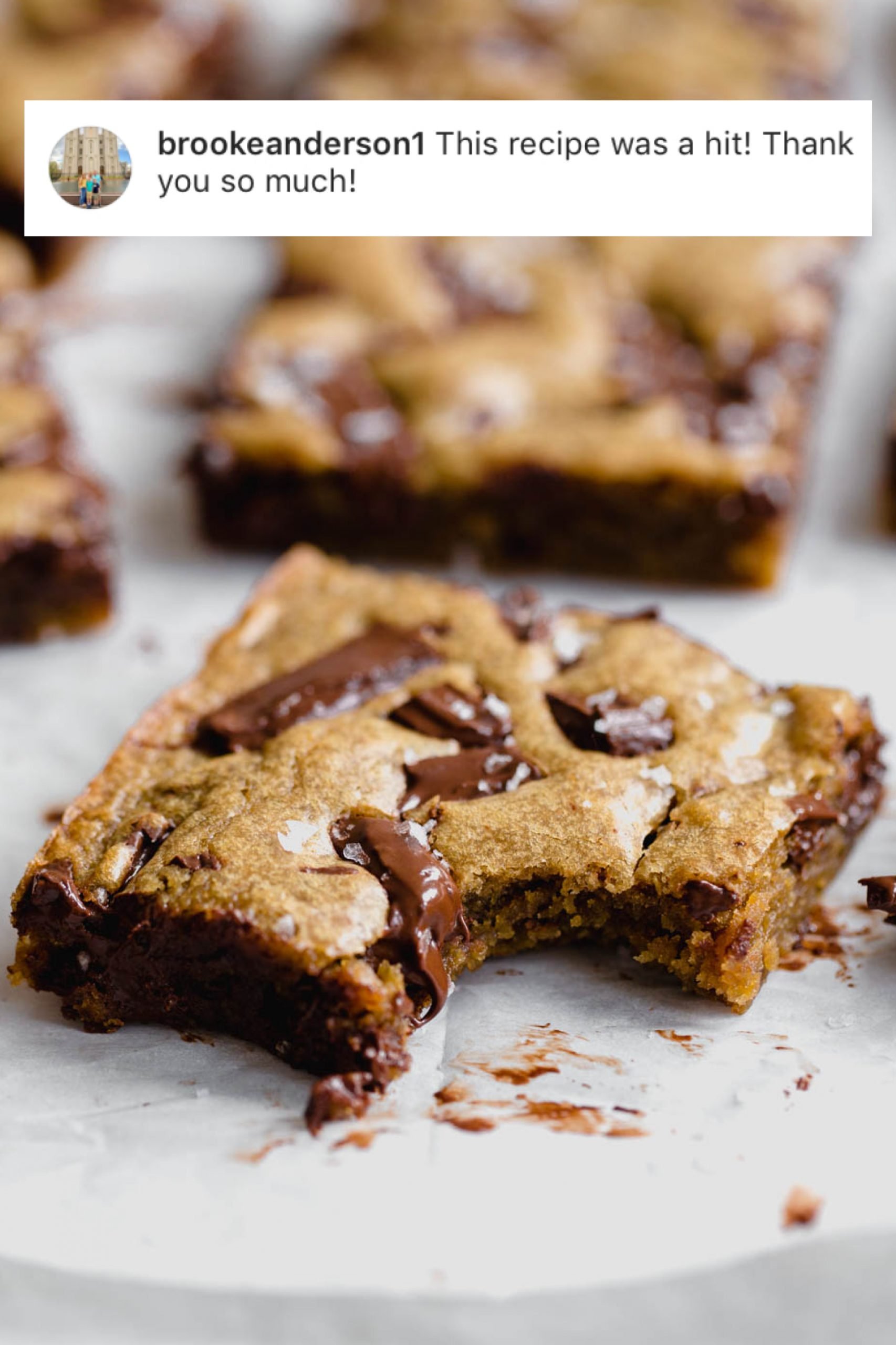 Ultra flavorful Gooey Chocolate Chunk Blondies are ridiculously chewy, gooey, and absolutely loaded with chunks of chocolate. 35 minutes, no mixer required. One of my absolute favorite easy dessert recipes!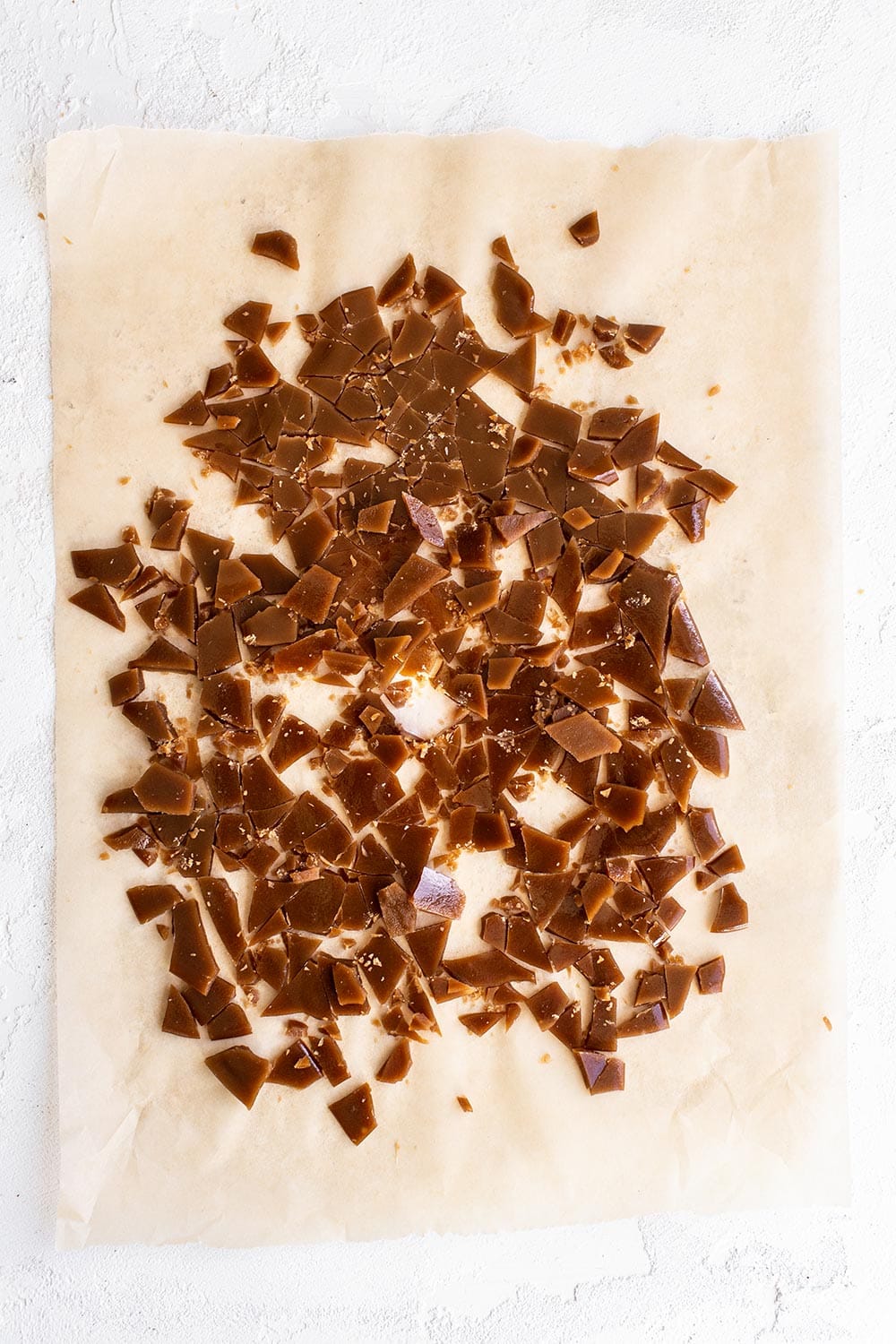 Just 3 ingredients + 15 minutes and you have Homemade Toffee Bits from scratch! They're absolutely amazing in cookie dough, brownies, sprinkled over vanilla ice cream, or just enjoyed as a sweet snack. Seriously so good.

Nutella Peanut Butter Rice Crispy Treats are an indulgent spin on the classic American dessert. A super easy no bake dessert recipe using just a few ingredients!
How to Make Perfect Scones better than your favorite coffee shop in just 35 minutes! Easy scone recipe that is ultra buttery, flaky, and flavorful. Easier than you might expect, and so tasty.
Over the top Trashy Rice Crispy Treats are loaded with peanut butter and Oreos and are topped with chocolate peanut butter fudge and sprinkles!
---
Which quick, easy dessert recipe will you try next?
Let me know in the comments below!
About Tessa...
I share trusted baking recipes your friends will LOVE alongside insights into the science of sweets. I'm a professionally trained chef, cookbook author, and cookie queen. I love to write about all things sweet, carb-y, and homemade. I live in Phoenix, Arizona (hence the blog name!)
© Handle the Heat - handletheheat.com
Join the Handle the Heat Community


---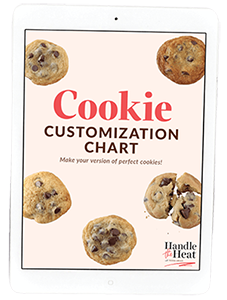 Do you want a more delicious life?
Instead of digging through cookbooks and magazines and searching the internet for amazing recipes, subscribe to Handle the Heat to receive new recipe posts delivered straight to your email inbox. You'll get all the latest recipes, videos, kitchen tips and tricks AND my *free* Cookie Customization Guide (because I am the Cookie Queen)!