Super Bowl food? I'm in.
I'm no huge football fan, but you add game day excitement together with a star-studded halftime show, fun commercials, and a delightful spread of fun shareable foods, and I'm definitely here for it!
Whether you're enjoying the game or the commercials, I've got you covered for all your Super Bowl Sunday snacking action! My roundup of Super Bowl Food Ideas will give you a fun array of snackable, drool-worthy foods, perfect for hosting your own Super Bowl party. If you're going to a friend's place to watch the big game, there are a ton of options that are easily transportable, too.
Check out all my Super Bowl recipes below, from the classics to the creative, including some of my food blogger friends' most delicious recipes. Enjoy the game and (more importantly) enjoy the FOOD!
---
Savory Super Bowl Food: Finger Foods, Snacks & Appetizers
My step-by-step guide will show you how to make the BEST Homemade Pretzels you'll ever eat. These traditional Bavarian-style pretzels have a deeply browned exterior and chewy texture. Bonus: they're surprisingly easy to make. My boyfriend Joe helped me develop this recipe, and they're a must-have for any Super Bowl party! Serve with honey mustard or my Beer Cheese Dip (more on that below)!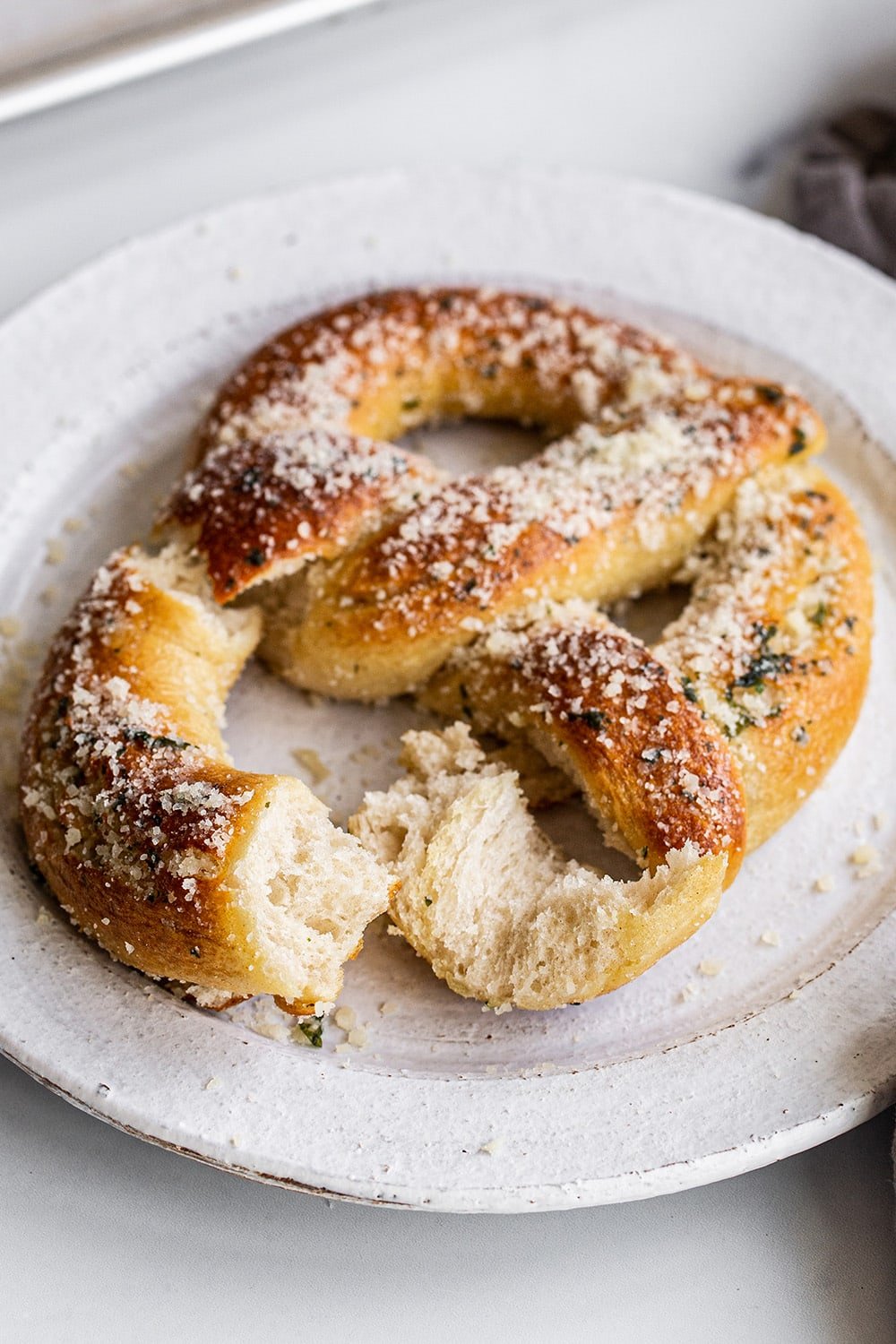 A super flavorful and softer alternative to the chewy Bavarian-style pretzels above, my Garlic Parmesan Soft Pretzels are crispy and buttery on the outside and soft and fluffy on the inside. Topped with garlic, Parmesan cheese, and herbs for a perfect game day food. No Super Bowl food will top these garlicky guys!
My mouth-watering Beef Empanadas feature a flavorful beef filling wrapped in beautifully flaky, buttery pastry. I show you step-by-step how to make empanadas that are baked instead of fried. These crowd-pleasers can be made ahead of time too, so they're perfect for your Super Bowl party prep!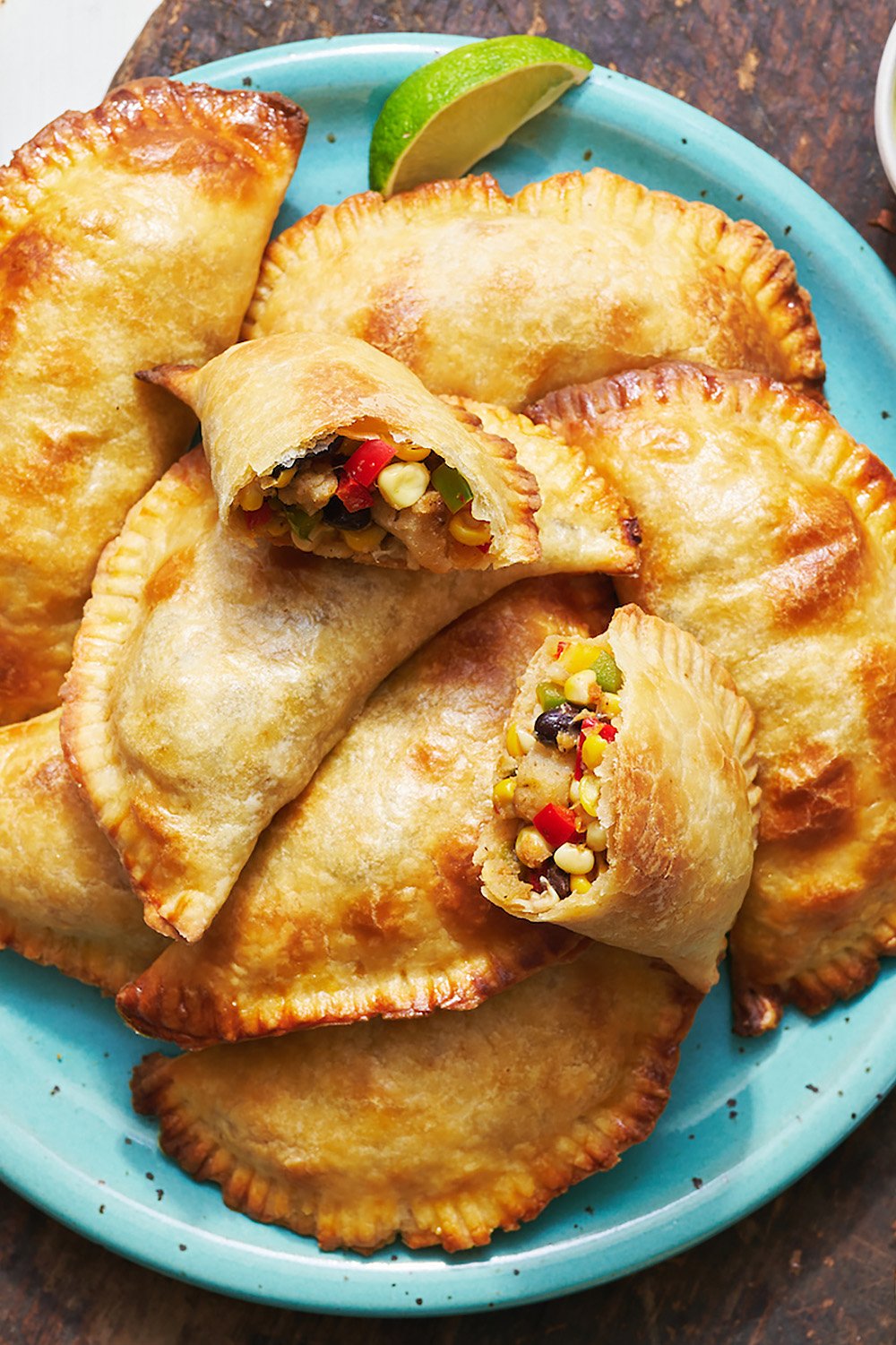 These homemade Vegetarian Empanadas are made with the same super easy dough as my beef empanadas, but these are filled with a fantastic veggie-friendly mixture of black beans, corn, potatoes, peppers, celery, and flavorful spices. They're the perfect snack for serving a Super Bowl party crowd. Bonus: the empanadas are baked, not fried!
Ashley from Baker By Nature says her Italian Sausage Stuffed Mushrooms never last long! These mushrooms are stuffed with a deliciously creamy sausage filling, topped with parmesan cheese, then baked to perfection. The ultimate finger food! Who needs pigs in a blanket with these babies!?
Potato Skins. Nachos. Combine the two? Omg. This is what Gaby from What's Gaby Cooking says about her Nacho Loaded Potato Skins: "Imagine a crispy potato skin stuffed with refried beans, bacon, topped with cheese, salsa, guacamole, and chives. Can you dig it?" Girl, I can DIG it. Serve with some sour cream or queso and you're not even going to care about the football game anymore (okay, maybe you will, but still).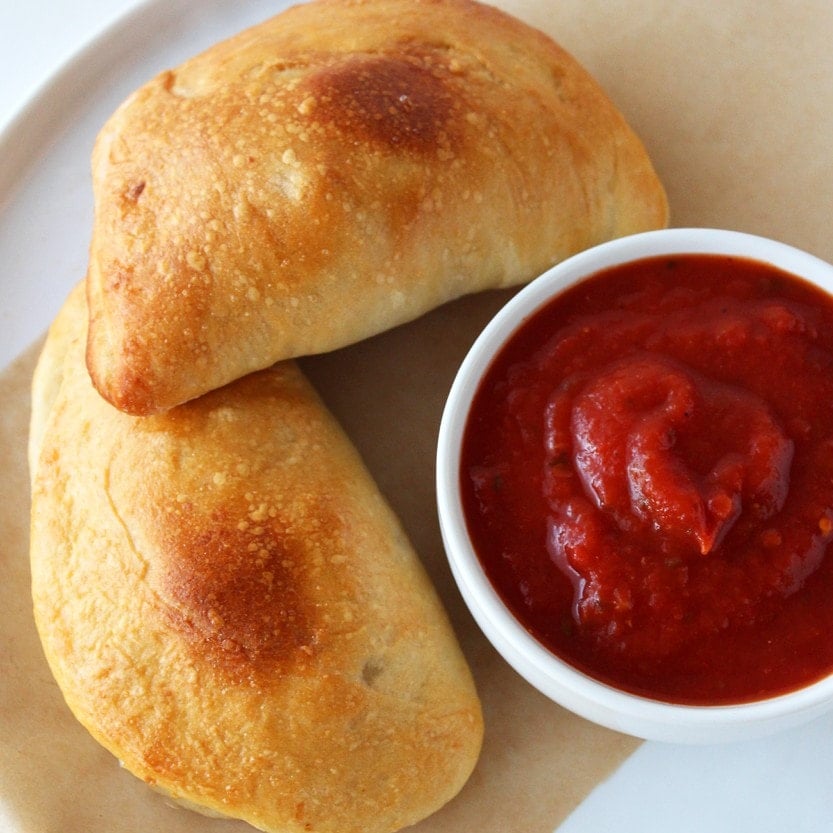 Pizza, but easier to eat while watching an action-packed game? Yes please! Try my Mini Calzones – they're stuffed with provolone, ricotta, and salami, all wrapped up in a golden brown crusty pizza dough. Each bite has meaty, cheesy, crusty goodness. The perfect Super Bowl snacks!
This Copycat Swedish Meatball Recipe tastes like the ones from Ikea – but SO much better. The savory pork and beef meatballs are coated in a rich sour cream sauce that you and your Super Bowl party guests are going to love! Place some toothpicks or small forks on the side so guests can quickly and easily help themselves.
A winner for absolutely any crowd! This quick and easy Cheesy Garlic Herb Bread is outrageously buttery and cheesy, with each pull-apart piece bursting with fresh herb and garlic flavors. Everyone at your Super Bowl party will be asking you for this recipe!
Lauren from Zestful Kitchen says her Smoky Peel and Eat Shrimp are the ultimate Super Bowl appetizer—they're so flavorful, easy to make, and so fun to eat. Best of all: it comes together in only 10 minutes! A terrific grab-and-go snack for your Super Bowl party table.
Savory Super Bowl Food: Dips
Dips are perfect for any party, and you only need 10 minutes to make this Beer Cheese Dip! Full of delicious cheddar cheese, smoked gouda, Dijon mustard, spices and beer, this easy dip pairs perfectly with your favorite pretzel recipe. This is the ultimate cheesy appetizer for serving a crowd on game day.
Gaby's recipe for Jalapeño Popper Dip takes all the best things about jalapeño poppers and turns it all into dip form! This warm dip is made in a skillet, so it's super easy to put together and serve, and no assembling dozens of individual peppers – so double bonus there! Perfect to serve with crackers, tortilla chips or baby carrots for a perfect Super Bowl food.
This is such a fun dip! Or is it an appetizer? I don't know, but you should make this and find out! Muy Bueno Kitchen's Cowboy Caviar is full of delicious, bright ingredients like tomatoes, peppers, red onion, beans, corn and avocados, with a lime juice, olive oil and vinegar dressing. It's such a colorful, fun alternative to the usual guacamole and salsa. It's got all the fun of tacos with a lot less fuss. Serve with tortilla scoop chips for maximum fun. Such a great Super Bowl food idea!
My Spinach-Artichoke Dip is to die for. It's seriously better than any spinach-artichoke dip I've had at a restaurant, and it's lighter too. Serve with crackers, carrots and celery for the best Super Bowl food ever. It's a classic for a reason!
If you like spicy, you need to try Salt & Baker's Buffalo Chicken Dip. Whitney from Salt & Baker says, "This dip is packed with shredded chicken, spicy buffalo sauce, creamy ranch dressing, and cream cheese. It's topped with melty cheese and blue cheese crumbles for a delicious, flavor-packed dip recipe." You don't get better Super Bowl food than this!
Super Bowl Food Ideas: Something More Substantial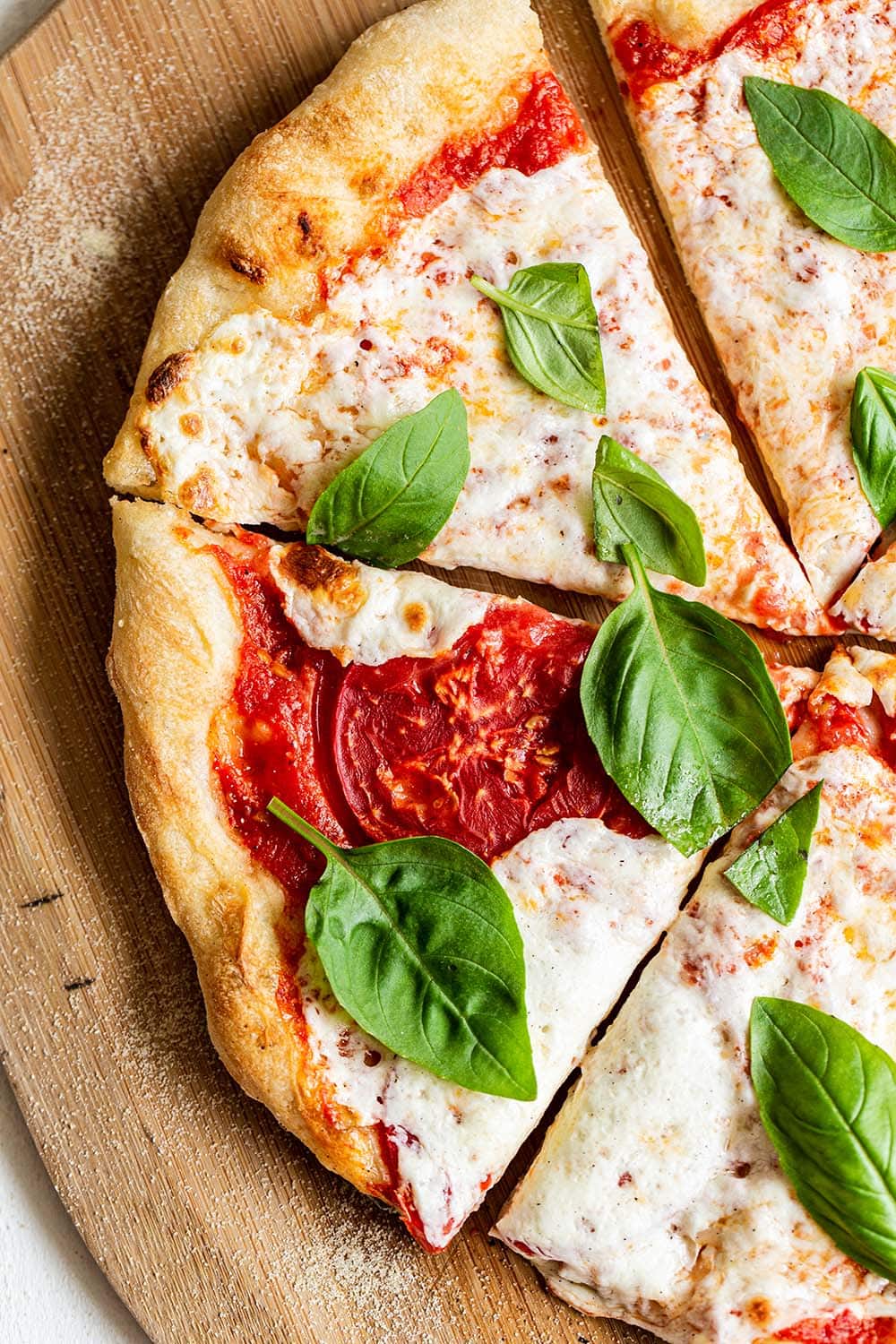 Whether your usual pizza delivery service is too slammed on game day, or you just want to flex your impressive pizza-making skills, I've got you covered here! I'll walk you though how to make the BEST Easy No-Knead Pizza Dough Recipe. This homemade pizza has a crispy crust and soft interior. Just add your favorite toppings (I'm looking at you, pepperoni) and you're all set for your Super Bowl party.
This is an easy and super tasty crockpot recipe! My Slow Cooker Beer Pulled Pork is fall apart, melt-in-your-mouth tender and loaded with savory flavors. Just place the ingredients in your slow cooker, set and walk away for 6 hours! Pair with my super soft, fluffy Ultimate Dinner Rolls for the most incredible sliders your Super Bowl party guests have ever tasted!
If you want to use my crockpot Pulled Pork above, but want something more substantial than sliders, then let me teach you How to Make Burger Buns in your own kitchen! These are seriously a thousand times better than anything store-bought. So light and fluffy yet rich – nothing competes! Perfect for any kind of sandwiches or burgers for Super Bowl Sunday.
You must try these French Onion French Dip Sandwiches! Ashley from Baker By Nature says these sandwiches feature "tender caramelized onions, rare roast beef, and tons of gooey cheese – it's everything you love about French onion soup, but in sandwich form." Delicious, and such a great idea if you're looking for slightly more substantial Super Bowl food!
Are you even serving Super Bowl food if you don't have chicken wings? They can be expensive to order and messy to make – but Erin from Well Plated by Erin has a fantastic solution for you: Air Fryer Chicken Wings! Perfectly crispy, less mess and no deep fryer smell, with all the classic Buffalo wing flavors – it's a win-win really!
Savory Super Bowl Food: Sides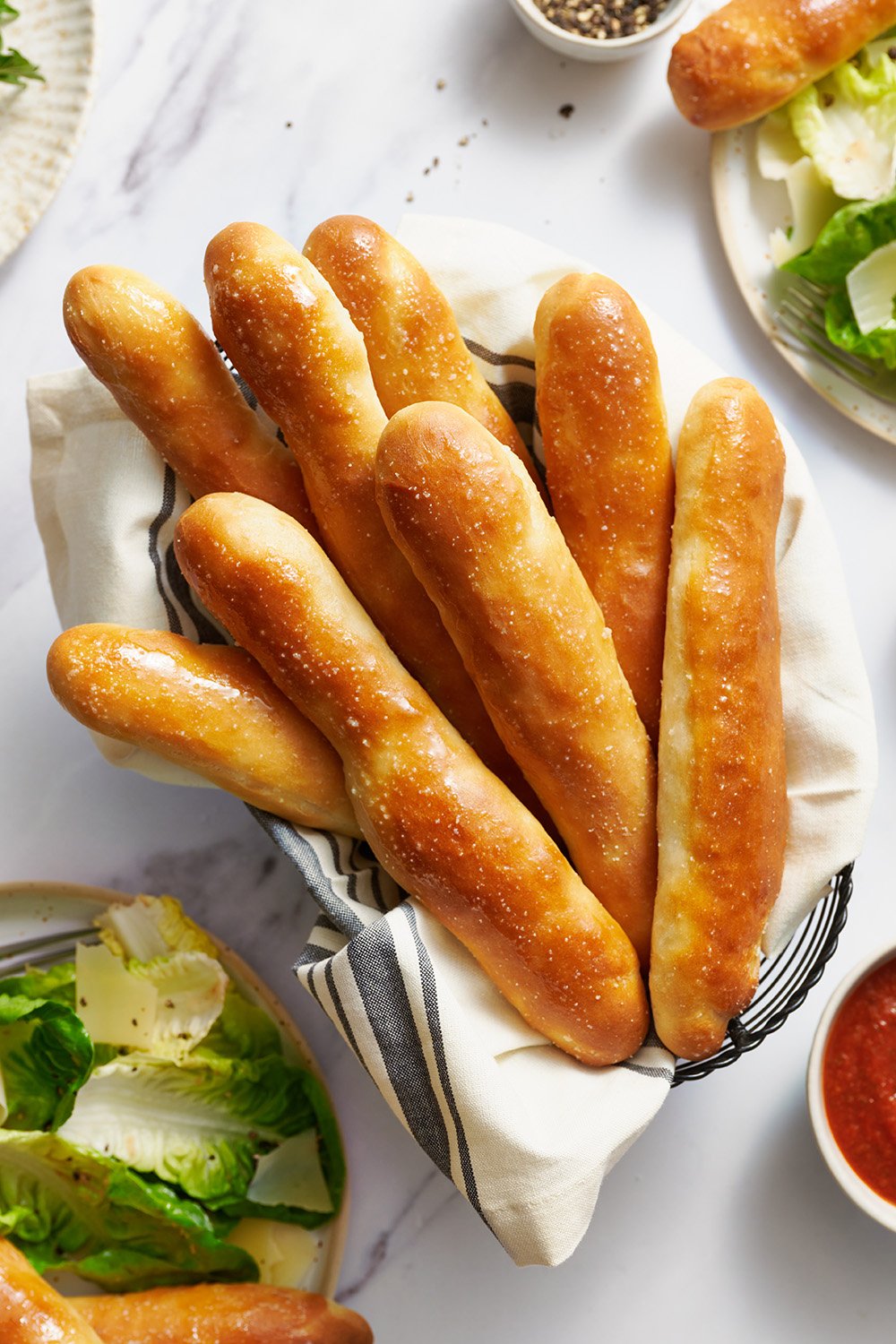 This simple recipe for Copycat Olive Garden Breadsticks makes buttery, garlic-scented, chewy breadsticks that are utterly addictive. This breadstick recipe is the perfect complement to any party spread. Delicious on their own, and fantastic as a side to any dish. Your guests will keep coming back for more!
These Homemade Red Lobster Cheesy Garlic Biscuits are super easy and take only 30 minutes to make! They taste a million times better than the original cheddar bay biscuits. Slightly flaky and crisp on the outside, ultra tender and fluffy inside, and bursting with cheesy buttery garlic goodness. So mouthwatering, these are truly the best Super Bowl food.
This baked Ultimate Macaroni and Cheese recipe has a creamy, silky, rich cheese sauce that's perfectly balanced by a crisp and crunchy homemade breadcrumb topping. Easy to make and so delicious, this mac and cheese will pair perfectly with sliders or sandwiches – or make them Super Bowl appetizer-ready by portioning out into small ramekins and serving with small forks.
This is the BEST Potato Salad recipe and it's so easy to make! Made with Greek yogurt and fresh dill and parsley for a perfectly fresh side dish. Mayonnaise-free and way better than any store-bought version! A lighter, delicious side to go with any type of sandwich or burger for game day.
This Easy Cornbread recipe is moist, buttery, fluffy, and so delicious. Topped with jalapeño honey butter – YUM, right!? Your friends and family will love this recipe. Of course, this will pair beautifully with any chili or soup you serve – or by itself because why not! Super Bowl food at its finest!
---
Super Bowl Desserts: Cookies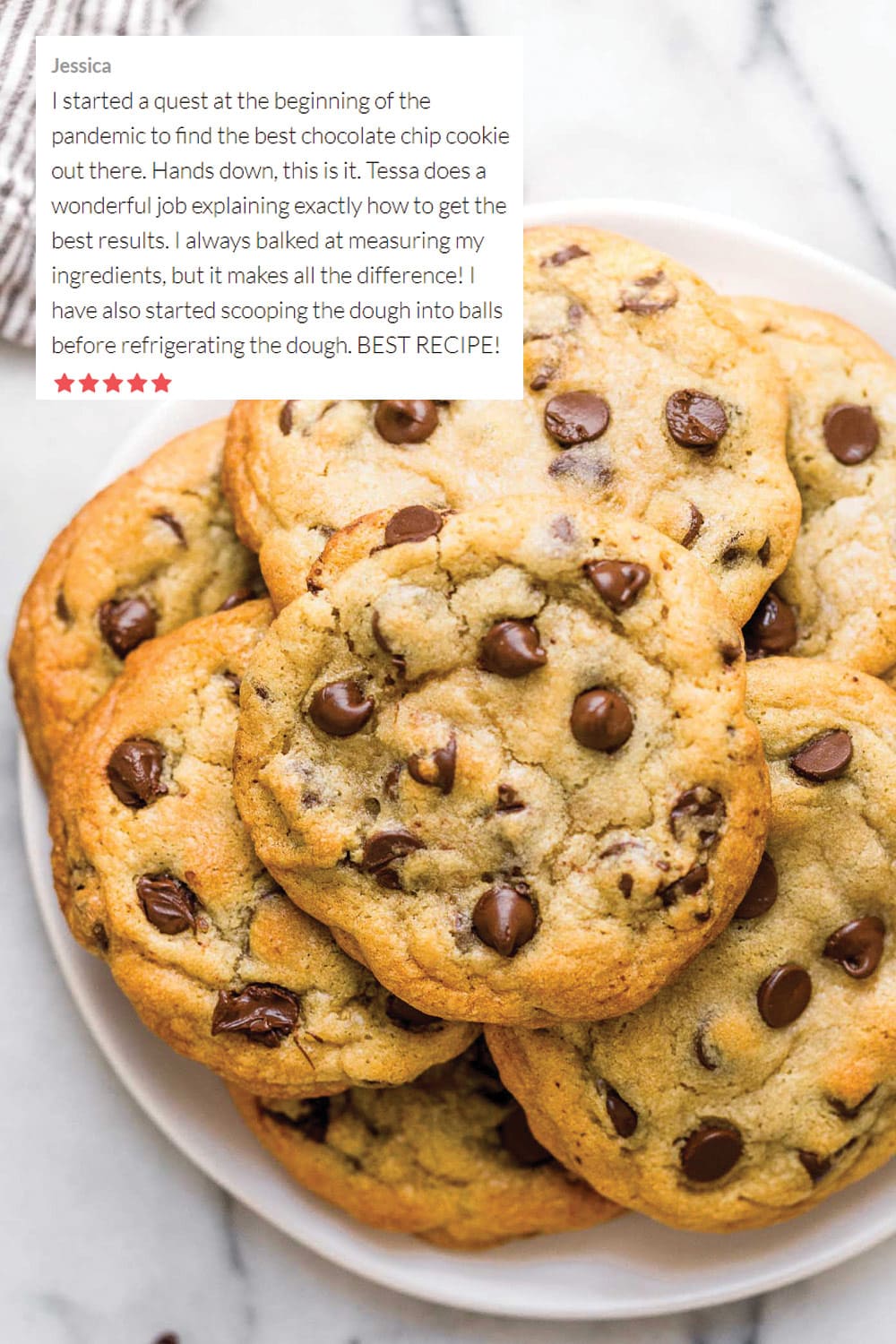 Ultra thick Bakery Style Chocolate Chip Cookies feature golden brown edges with ooey and gooey centers. You can swap out some or all of the chocolate chips for team color M&Ms, for a perfectly on-theme Super Bowl party dessert. The best part: this easy recipe can be made in 30 minutes!
You are going to adore these Soft and Chewy M&M Cookies! They're big like your favorite bakery cookies with tons of flavor – and so easy to make. You can't beat that soft, chewy texture! Plus, you can easily match the M&Ms to team colors to further amp up the fun. These are always such a huge hit with the kids (and big kids!).
Soft, rich, and slightly chewy, these Black & White Chipper cookies are the ultimate chocolaty treat with bits of white chocolate morsels sprinkled throughout. They have a fabulous Oreo vibe, so kids LOVE these! Chippers look so pretty and stand out beautifully on a party table. Swap out some of the white chocolate chips for team color M&Ms or sprinkles for additional fun.
These bakery-quality Giant Reese's Pieces Chocolate Chip Cookies are thick, chewy, chunky, and soft. An incredible combination of peanut butter and chocolate! Warm cookies straight from the oven in 30 minutes, and these are certain to be a huge hit with all your party guests. These cookies will be the talk of the Super Bowl party!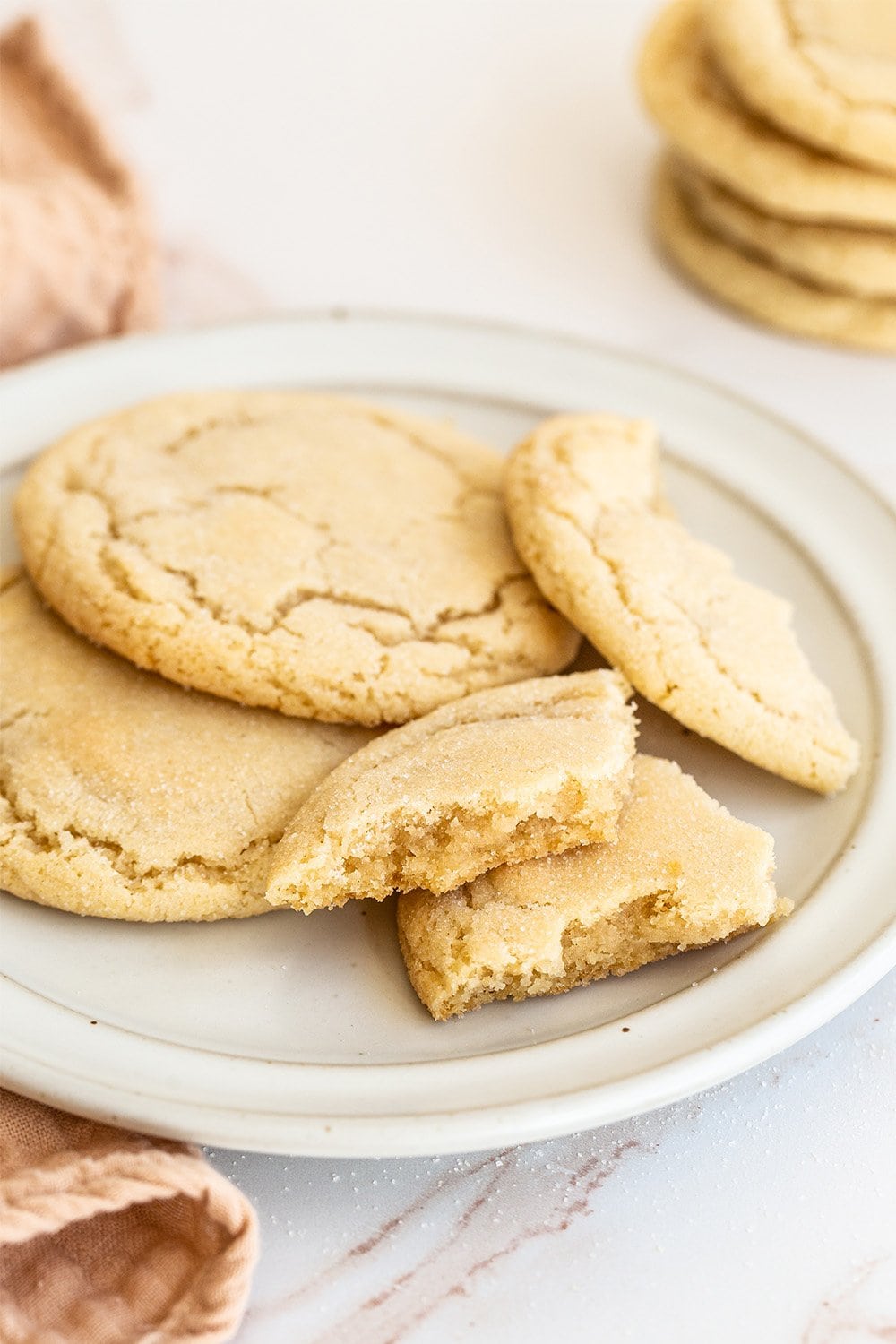 My go-to recipe, these Soft and Chewy Sugar Cookies are perfectly tender and soft with just the right amount of chewiness. They take just minutes to make with common pantry staples. Roll in coarse sugar the color of your favorite team's colors, or add team colored sprinkles straight into the cookie dough, for the perfect fun Super Bowl recipe!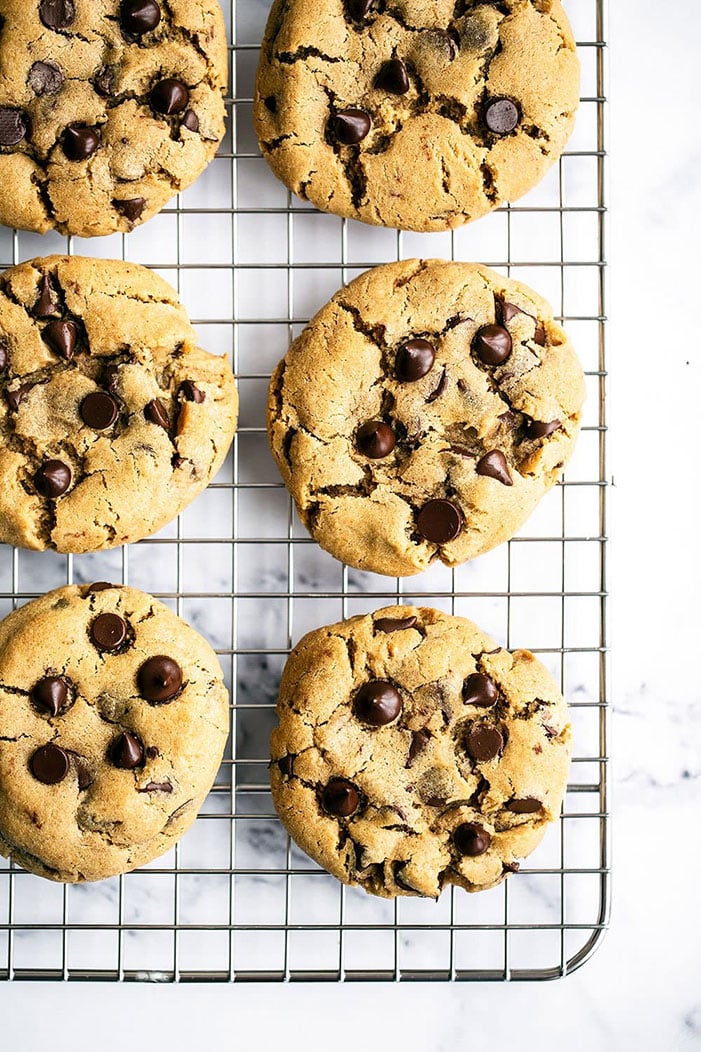 These Peanut Butter Chocolate Chip Cookies are big, thick, chewy, and soft and loaded with peanut butter and chocolate flavor. They are outrageously good! No stand mixer required, ready in no time, and always a HUGE hit. Replace some or all of the chocolate chips with your team's colors of M&Ms (or even team-colored peanut butter M&Ms!) for Super Bowl food pro-level status!
Super Bowl Party Desserts: Brownies & Blondies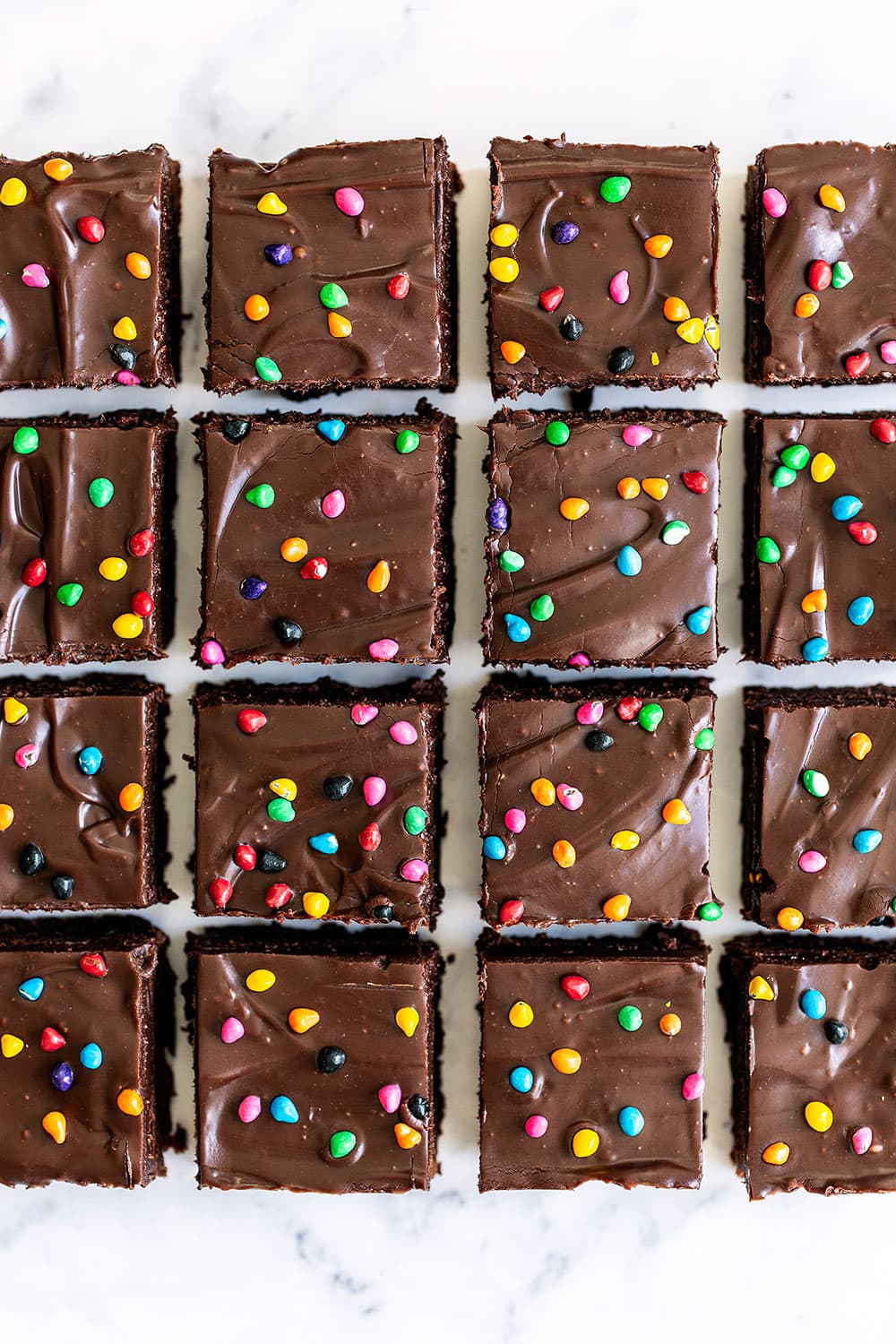 This copycat recipe for Cosmic Brownies is ultra rich, fudgy, and chewy just like the kind you buy at the store but are oh so much better and contain no preservatives! They're topped with an incredible chocolate ganache for maximum chocolatyness that you're sure to love. Use team colored sprinkles to top instead of the candy-coated chocolate for extra team spirit on game day!
My BEST Chewy Brownies are just as chewy as a boxed brownie, but packed with way more delicious chocolate flavor. This is a one-bowl recipe that uses pantry staples you may already have on hand – and best of all, they're ready in less than 1 hour! For your Super Bowl food needs, I suggest doubling the chewy brownies in a 9×13-inch pan (tips for this on the recipe page). You can also use a football-shaped cookie cutter to cut out football brownie shapes, then pipe the 'strings' on with melted white chocolate. So fun!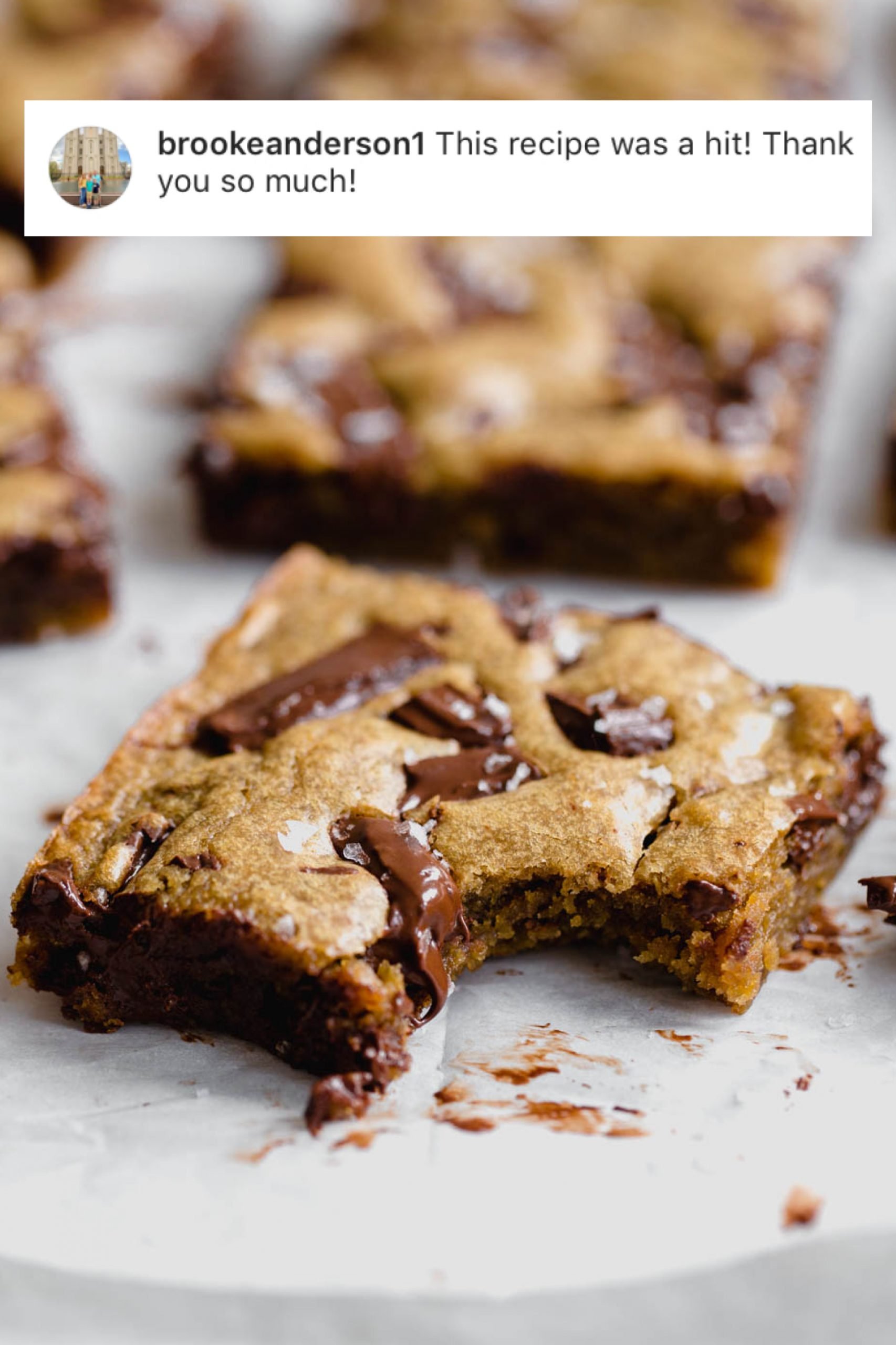 My ultra flavorful Gooey Chocolate Chunk Blondies are ridiculously chewy, gooey, and absolutely loaded with chunks of chocolate. 35 minutes, no mixer required! You can also switch out some of the dark chocolate chunks with team-colored M&Ms for extra game day fun.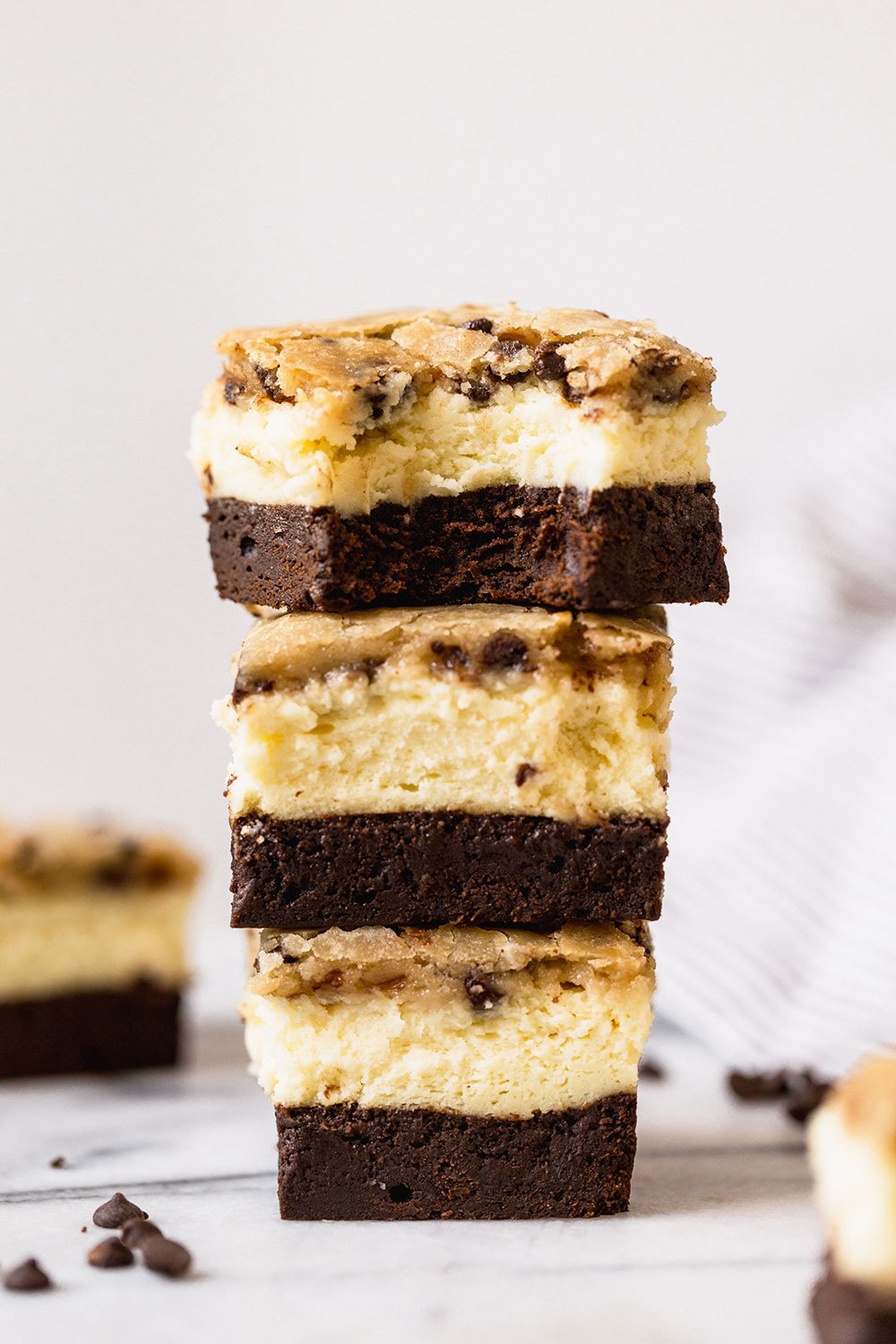 Yes, these are as drool-worthy as they look! These outrageous Brownie Bottom Cookie Dough Cheesecake Bars have a layer of fudgy brownie, topped with creamy cheesecake filling, finished with a layer of delicious chocolate chip cookie dough topping. Good luck finding someone who says no to that!! The perfect unexpected and crazy good Super Bowl food!
More Football Desserts for A Crowd: Shareable Desserts
Everyone loves enjoying savory pretzels on game day, but what about this sweet alternative? These Cinnamon Sugar Pretzel Bites are so easy to make and are even better than mall pretzels! Soft and fluffy buttery pretzel bites coated in delicious cinnamon sugar. Dunk in cream cheese frosting for the ultimate Super Bowl recipe.
The absolute best, easy Classic Cheesecake Bars you'll ever eat! This recipe features a simple, buttery graham cracker crust with an ultra creamy and slightly tangy cheesecake filling. Top with chocolate ganache or salted caramel to take this dessert to a whole other level! Such a delicious Super Bowl food that everyone will LOVE!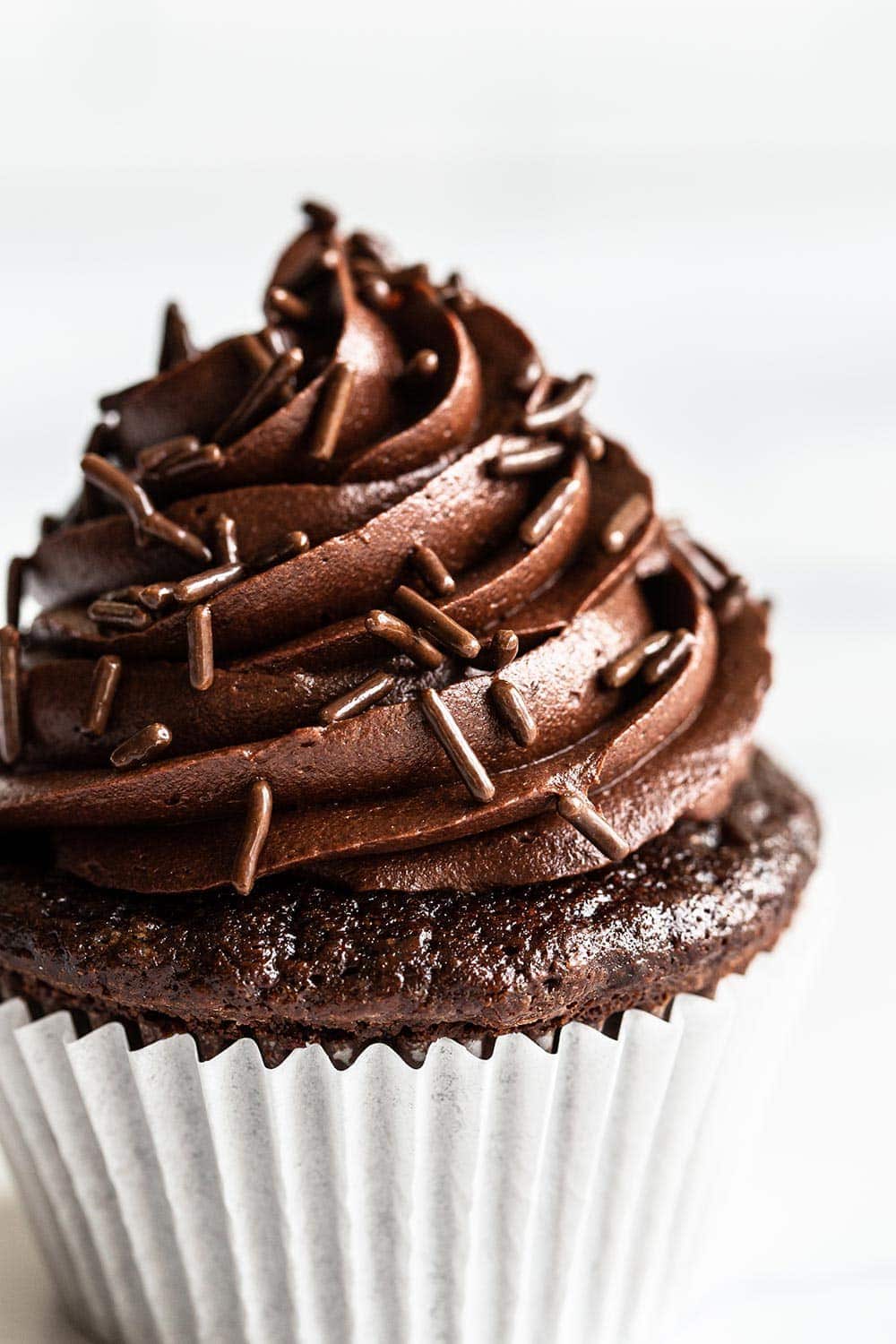 The ONLY chocolate cupcake recipe you'll ever use again! These are The BEST Chocolate Cupcakes – sooooo moist and absolutely FULL of chocolaty goodness, these will be a huge hit with adults and kids alike. Cupcakes are so fun to spruce up for the party, too – use my Easy Chocolate Decorating Guide to learn how to spell out the name of the team out of chocolate, or make football shapes on top of the cupcakes! You can also check out these cool Super Bowl rings from Amazon to place on top of each cupcake.
This crazy good, easy Cannoli Dip created by Jennifer from Carlsbad Cravings is the ultimate Super Bowl food idea. It features all the classic flavors of the Italian classic in a super fun dip form – and it's just an added bonus that it's so quick to make!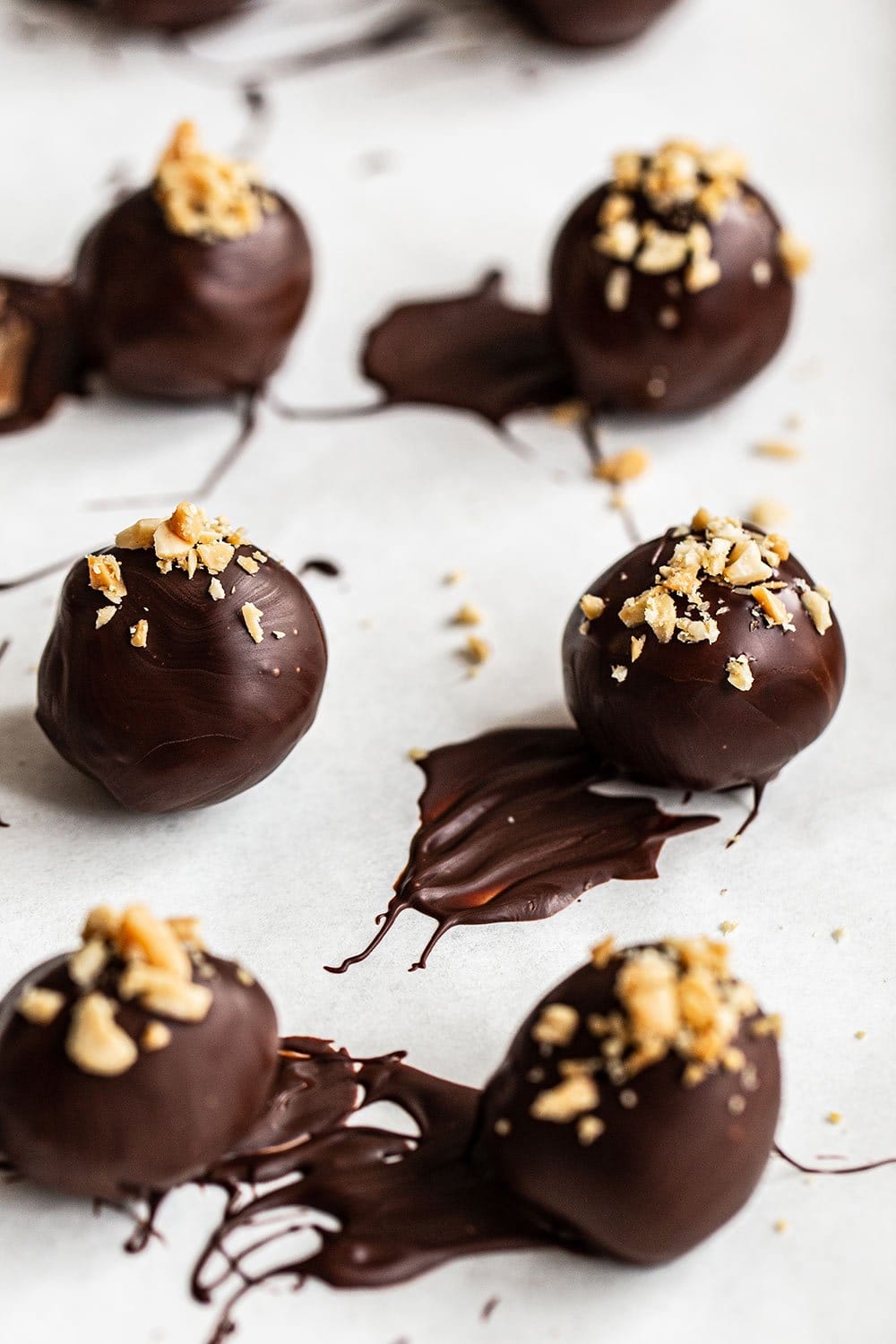 These super fudgy Chocolate Peanut Butter Whiskey Truffles are amped up with a hint of peanut butter and a shot of whiskey, then enrobed in a snappy chocolate coating. Every bite is heaven! Once coated, pipe white chocolate lines on top to resemble the strings of a football for a super cute and creative Super Bowl dessert. Just remember to keep the kids away from these ones!
There you have it! Which of these deliciously fun recipes will you be making this Super Bowl Sunday!? Let me know in the comments below!
About Tessa...
I share trusted baking recipes your friends will LOVE alongside insights into the science of sweets. I'm a professionally trained chef, cookbook author, and cookie queen. I love to write about all things sweet, carb-y, and homemade. I live in Phoenix, Arizona (hence the blog name!)
© Handle the Heat - handletheheat.com
Join the Handle the Heat Community


---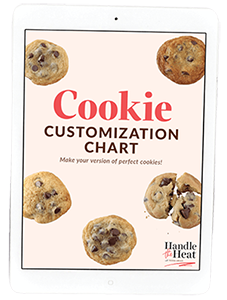 Do you want a more delicious life?
Instead of digging through cookbooks and magazines and searching the internet for amazing recipes, subscribe to Handle the Heat to receive new recipe posts delivered straight to your email inbox. You'll get all the latest recipes, videos, kitchen tips and tricks AND my *free* Cookie Customization Guide (because I am the Cookie Queen)!