The Ultimate Guide to Measuring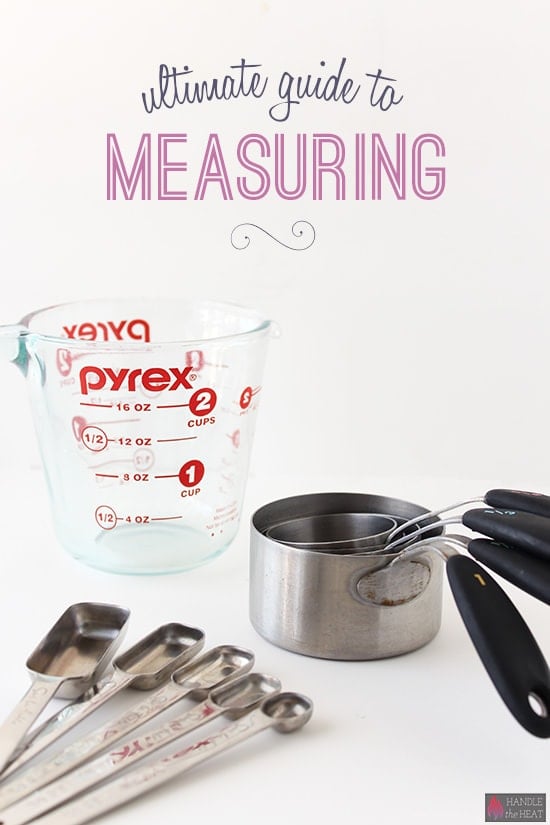 The most foolproof path to baking success is to measure accurately. I get dozens of comments every week asking why a baking recipe didn't turn out properly, and I'd say half the time it's likely due to inaccurate measuring. Baking is a science where precision is rewarded in perfectly delicious treats. I've laid out ALL the tips, tricks, and methods you need to know to measure accurately so everything you bake will be delightful. I hope you find it helpful! If you like this guide, don't forget to sign up for my emails to get more baking recipes and tricks (you'll also get a free Favorite Desserts cookbook).
The most accurate way to measure is by weight, so I HIGHLY suggest you invest in a digital food scale if you don't already have one. It's a small investment to ensure baking success, especially because baking ingredients can get pretty pricey. Weighing your ingredients is easy, fast, and clean. Plus, it's how the pros do it. I've been using this Escali scale for years with absolutely no issues. I've also used and enjoyed this OXO Scale. Everything just goes directly into the bowl, no measuring cups to clean!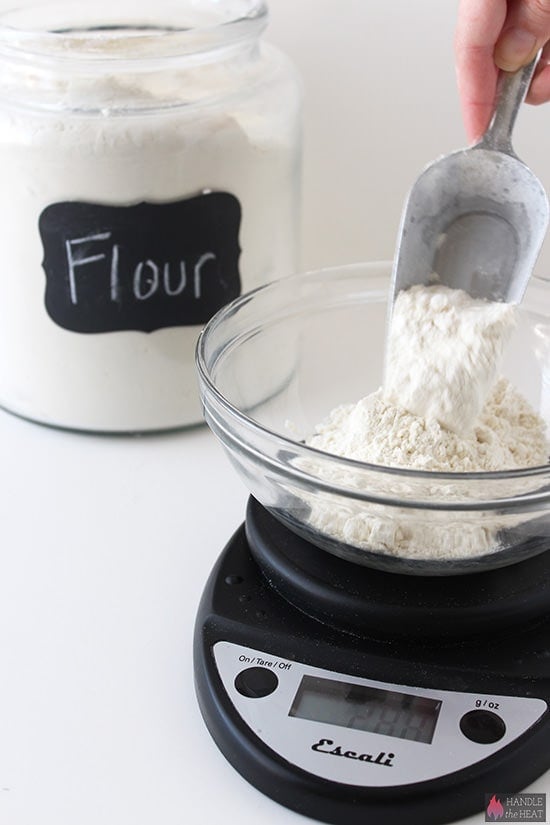 To use a digital kitchen scale, place your mixing bowl on the scale. Press the "zero" or "tare" button to take away the weight of the bowl. Add your ingredients until you achieve the weight called for in the recipe. You may need to give or take a few tablespoons to land directly on that number. Hit the tare button again to reset the weight to 0 before moving on to the next ingredient. It's that easy!

If you don't have a scale and don't plan on using one, I've also included tips for measuring by volume with dry and liquid measuring cups below. There's also a breakdown of volume to weight measurement conversions that will come in handy when you're in the kitchen. Please note that different ingredients have different densities, meaning 1 cup of every ingredient will not weigh the same. Think about it, 1 cup of feathers would not weigh the same as 1 cup of lead, right? Same goes for baking and cooking. Also note that some brands of the same product can have slightly different weights. If you are following a recipe from a baking cookbook, follow the ingredient weights provided either in the ingredient list or in a conversion appendix in the book.
Liquid vs. Dry Measuring cups:
The general rule is if you can pour it, use a liquid measuring cup (oil, honey, maple syrup, etc.). If you can smooth the top, use a dry measuring cup (peanut butter, sour cream, etc.). Always measure at eye-level with liquid measuring cups. Always fill dry measuring cups to the brim then scrape off any excess. Make sure to use quality measuring cups and spoons, they do make a difference! I like these measuring spoons because they fit wonderfully inside small jars and these stainless steal dry measuring cups because they're super durable. Also, avoid 2-cup dry measurements because they tend to compact the food, giving you an inaccurate measurement. Most any liquid measuring cup should work just fine.
Flour:
This is arguably the most important ingredient to accurately measure. A mis-measured cup of flour can ruin your baking project. Unfortunately, flour can be very difficult to measure by volume (using measuring cups).
Scooping your measuring cup directly into your container of flour to measure can pack the flour in, causing your measurement to be much more dense. In fact, this method of scooping can lead a cup of flour to weigh almost 2 ounces more than the spoon and level method! This can make a HUGE difference in the composition of your baked goods. If you've ever had cookies not spread in the oven or turn crumbly or heavy or had homemade bread turn out dense, those are just two examples of what too much flour can do in baking.
Use the "spoon and level" method:
Fluff up your container of flour. Spoon the flour into your measuring cup, then scrape off the excess with a straight edge. A flour scoop is the best tool for this. This will get you about 4.5 ounces or 127 grams of all-purpose flour per cup.
All-purpose flour: 1 cup = 4.5 ounces = 127 grams
Bread flour: 1 cup = 4.5 ounces = 127 grams
Cake flour: 1 cup = 4 ounces = 113 grams
Whole Wheat Flour: 1 cup = 4.5 ounces = 127 grams
Butter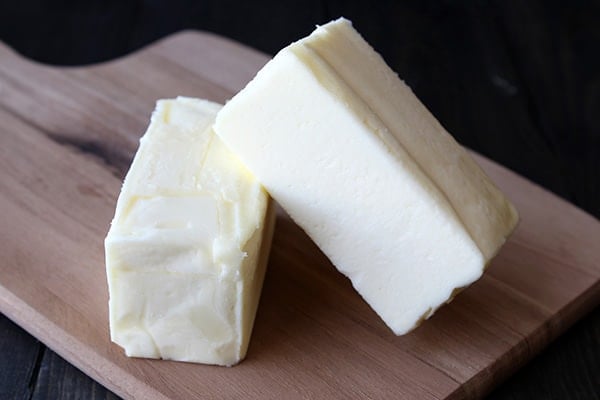 There are SO many methods of measurement used for butter in recipes and I know it can be absolutely confusing. I try to call for both sticks and at least one other measurement, tablespoons if it's a small amount, and ounces if it's a larger amount. I know this is still confusing if you aren't in America, so here is a super useful equivalent for butter measurements you may want to put into your phone or print out for your kitchen.
1 stick = 8 tablespoons = 1/2 cup = 4 ounces = 113 grams
Baking Powder and Baking Soda
Shake up the container of leavener slightly then use a measuring spoon to lightly scoop a mound. Use a flat edge to scrape off the excess.
ALWAYS use fresh baking powder and baking soda. Toss anything older than 6 months. Sometimes baking soda and baking powder can expire before the stamped expiration date.
Here's how to check for freshness:
Baking Soda: Place 1/4 teaspoon in a bowl and pour 1 teaspoon distilled vinegar on top. If it bubbles up, it is fresh. If nothing happens, throw away.
Baking powder: Place 1 teaspoon in a bowl with 1 cup hot tap water. If it bubbles up, it is fresh. If nothing happens, throw away.
Active Dry or Instant Yeast
Measure like baking powder or baking soda.
1 packet of yeast = 2 1/4 teaspoons = .25 ounces = 7 grams

How to check for freshness:

In a liquid measuring cup combine 1 teaspoon of granulated sugar with 1/2 cup of lukewarm water (110 to 115°F). Add in one package, or 2 1/4 teaspoons, of active dry yeast and stir until there are no more yeast granules floating on top of the water. Within five minutes, the yeast should have absorbed enough water to activate. After ten minutes the yeast mixture should be very foamy and have risen to at least the 1-cup measurement. If your yeast did not rise to the 1-cup mark, it should be discarded.
Granulated Sugar
Measuring granulated sugar is a little more simple than flour. Use your measuring cup as a scoop to dip into the container then use a flat edge to scrape off any excess.
1 cup = 7.05 ounces = 199 grams
Brown Sugar
Pay attention to the measurement direction written in the recipe, it will usually say "brown sugar, lightly packed." This is basically the opposite of flour measuring and means you pack the brown sugar into the measuring cup until it reaches the brim. Make sure to break any large clumps before measuring.
1 cup packed light or dark brown sugar = 7.05 ounces = 200 grams
Powdered Sugar
Also called confectioners' sugar, this stuff can make a huge mess when measuring. Spoon the sugar into your measuring cup then use a straight edge to scrape off any excess. It also often needs to be sifted before being adding to recipes since it is usually lumpy.
Make sure you understand the order of sifting before measuring:
1 cup powdered sugar, sifted = sift AFTER measuring
1 cup sifted powdered sugar = sifted BEFORE measuring
1 cup unsifted powdered sugar = 4.4 ounces = 125 grams
1 cup sifted powdered sugar = 3.6 ounces = 102 grams
Cocoa Powder
Spoon the cocoa powder into the measuring cup then scrape off the excess with a straight edge. As with powdered sugar above, make sure to sift before or after measuring as instructed by the recipe. Sifting cocoa powder is always a good idea because it is naturally very lumpy.
1 cup cocoa powder = 3.5 ounces = 100 grams
Liquid Sweeteners
If a recipe calls for oil and a liquid sweetener, measure the oil first to grease the measuring cup. You can also spray nonstick cooking spray inside the measuring cup before measuring sticky ingredients.
1 cup honey = 8 ounces = 227 grams
1 cup molasses = 12 ounces = 340 grams
1 cup maple or corn syrup = 11 ounces = 311 grams
More helpful ingredient weights:
1 cup chocolate chips = 6 ounces = 170 grams
1 cup coconut, sweetened flakes = 3 ounces = 85 grams
1 cup coconut, grated unsweetened = 4 ounces = 113 grams
1 cup milk = 8 ounces = 227 grams
1 cup rolled oats = 3.5 ounces = 99 grams
1 cup vegetable oil = 7 ounces = 198 grams
1 cup peanut butter = 9.5 ounces = 268 grams
1 cup sour cream = 8 ounces = 227 grams
Helpful Dry Ingredient Equivalents:
Dash or pinch = 1/8 teaspoon
1 tablespoon = 3 teaspoons
1/8 cup = 2 tablespoons
1/4 cup = 4 tablespoons
Helpful Liquid Ingredient Equivalents:
1 cup = 8 fluid ounces = 1/2 pint = 237 milliliters
2 cups = 16 fluid ounces = 1 pint = 473 milliliters
4 cups = 32 fluid ounces = 2 pints = 946 milliliters
8 cups = 64 fluid ounces = 2 quarts = 1892 milliliters
*This post contains affiliate links
About Tessa...
I share trusted baking recipes your friends will LOVE alongside insights into the science of sweets. I'm a professionally trained chef, cookbook author, and cookie queen. I love to write about all things sweet, carb-y, and homemade. I live in Phoenix, Arizona (hence the blog name!)
© Handle the Heat - handletheheat.com
Join the Handle the Heat Community


---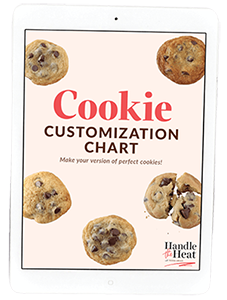 Do you want a more delicious life?
Instead of digging through cookbooks and magazines and searching the internet for amazing recipes, subscribe to Handle the Heat to receive new recipe posts delivered straight to your email inbox. You'll get all the latest recipes, videos, kitchen tips and tricks AND my *free* Cookie Customization Guide (because I am the Cookie Queen)!