3 Biggest Reasons Your Cookies Flop
Today I'm revealing the secrets behind baking perfect cookies. You'll learn why the 3 biggest reasons your cookies flop, fail, or don't turn out quite right.
If you've ever had cookies unintentionally turn out totally flat, cakey, greasy, underbaked, or cookies that never spread at all, just keep reading!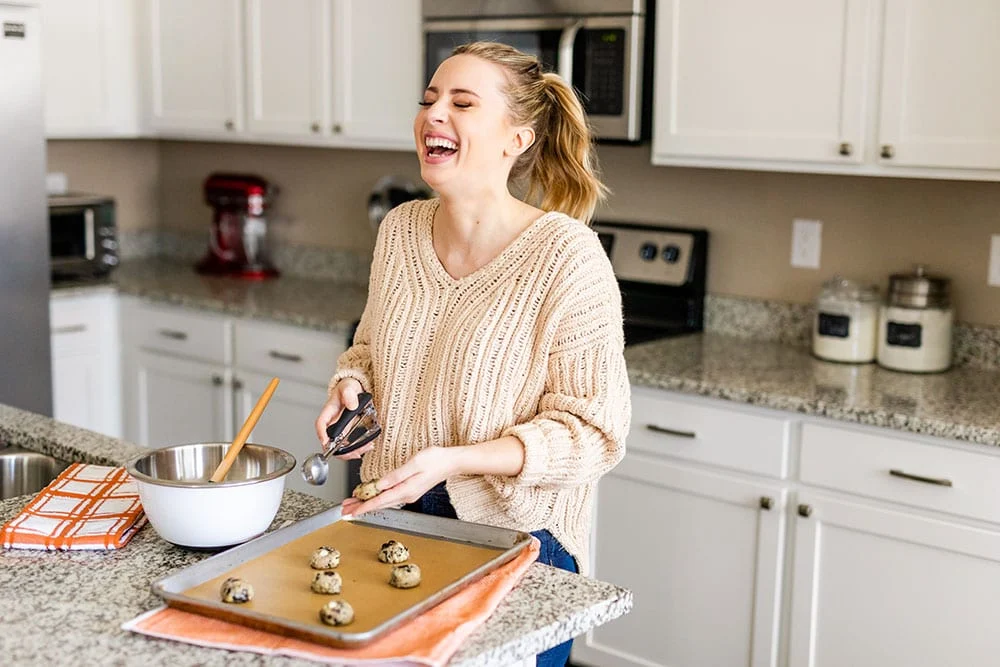 As a professionally-trained chef and cookbook author, I know a LOT about cookies. I wrote a whole cookbook about cookies called The Ultimate Cookie Handbook (now available on Amazon US!), packed full of great recipes + an entire chapter dedicated to the science behind baking the perfect cookie.
I also published my Guide to Chocolate Chip Cookies back in 2013 and it's been featured in People, Time, and NPR!
So, I've compiled some of my best tips just below that will answer the most common questions and frustrations I see.
FREE DOWNLOAD: Cookie Customization Guide
The 3 Biggest Reasons Your Cookies Flop
1. Temperatures
The most important temperature behind beautiful bakery-quality cookies is that of your butter.
If you've ever had cookies spread into flat puddles while baking, or deflate after cooling, listen up!
When you go to cream your butter and sugar when making cookies, the butter should be at a COOL room temperature. To be precise, it should be 67°F.
Just take a look at what happens when your butter is too warm: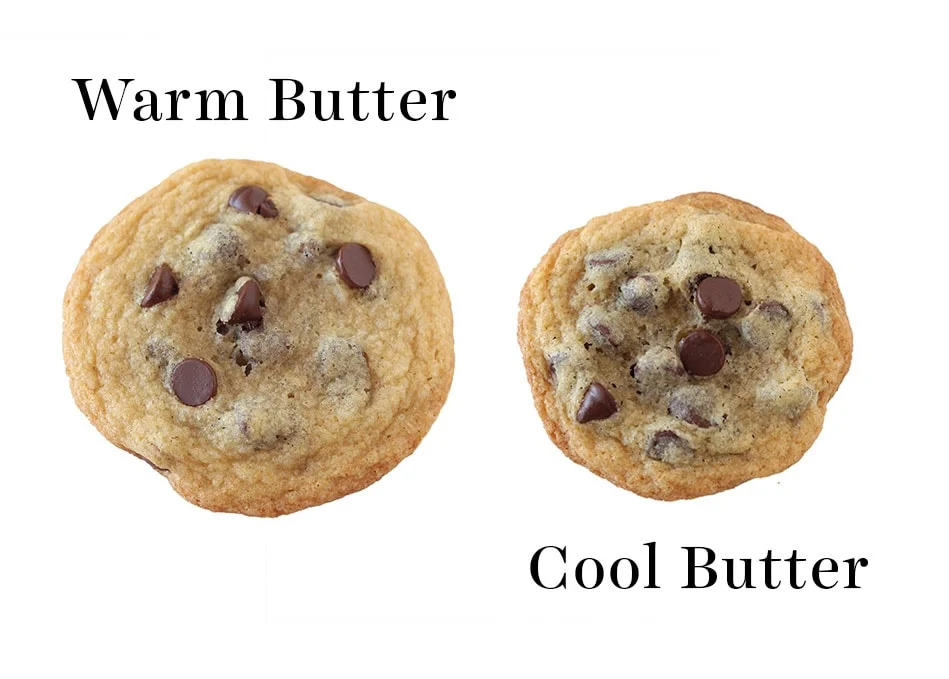 Learn more about baking THICK cookies here.
The second most important temperature is that of your oven.
Make sure your oven temperature is accurate.
Did you know many home ovens can be off by over 20°F?
An oven thermometer is the best and easiest way to tell how accurate your oven actually is.
When baking, always allow your oven to preheat for an extra 10 minutes to ensure it's up to temperature.
Always bake on the middle rack.
Bake just one batch at a time for perfectly even cooking.
Pop the remaining unbaked cookie dough in the fridge as each batch bakes, to prevent the dough from becoming too warm and turning into flat cookies.
Look at what a big difference temperature can make: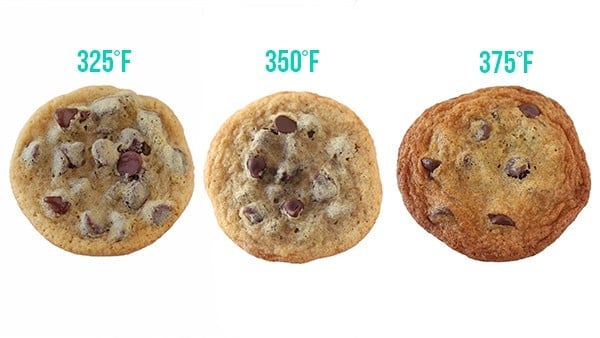 Learn more about oven secrets here!
2. Accurate Measuring
One of the quickest and easiest ways to improve your baking FOREVER is to learn how to measure your flour correctly.
This is shockingly easy to get wrong.
Because flour compacts so easily, you can wind up accidentally adding 20% more flour to your dough if you don't measure it the professional way.
The best way to measure your flour, and all your baking ingredients, is to use a digital kitchen scale.
Take a look at the difference that measuring methods can have on your cookies: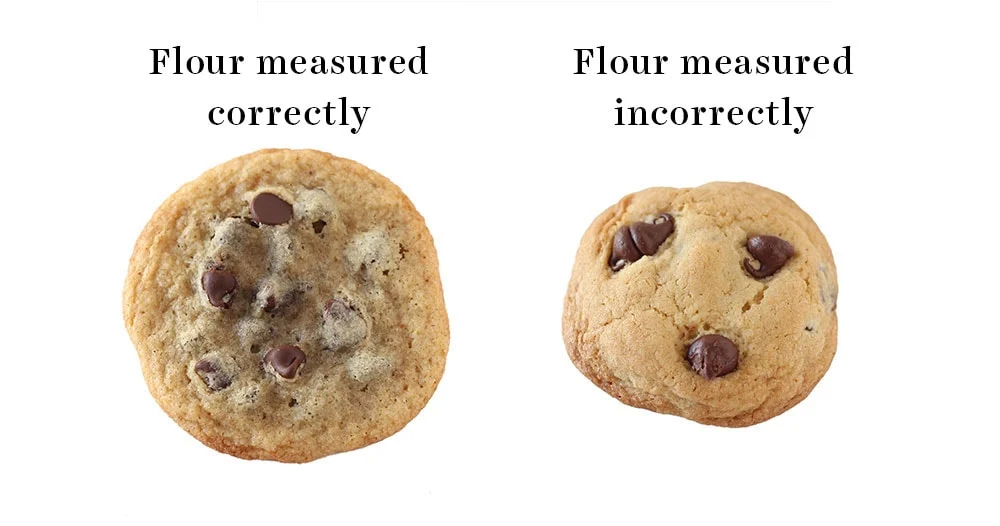 If you don't have a digital scale and it's not in the budget right now, the second best way to measure your flour is to use the spoon-and-level method:
Fluff up your flour.
Spoon the flour into your measuring cup until you have a tall mound.
Scrape the excess flour back into the container until it's level with the cup.
To learn how professionals measure flour for perfect results, click here!
3. Correct Equipment
The equipment you use has a surprisingly big impact on how your cookies will turn out.
It's not always about having the most expensive equipment, but the right equipment.
When it comes to cookies, the most important piece to pay attention to is your baking pans!
What's the best baking pan for cookies? Unlined aluminum half-sheet pans.
I prefer to bake my cookies on parchment paper. Read why I prefer parchment over silicone mats here.
Whatever you do, NEVER bake cookies on a dark-colored baking pan, and NEVER grease your pans or parchment/silicone mats. That's the fastest way to burn those bottoms.
Take a look at the picture below. Each cookie was baked from the same exact batch of dough, just on a different baking sheet: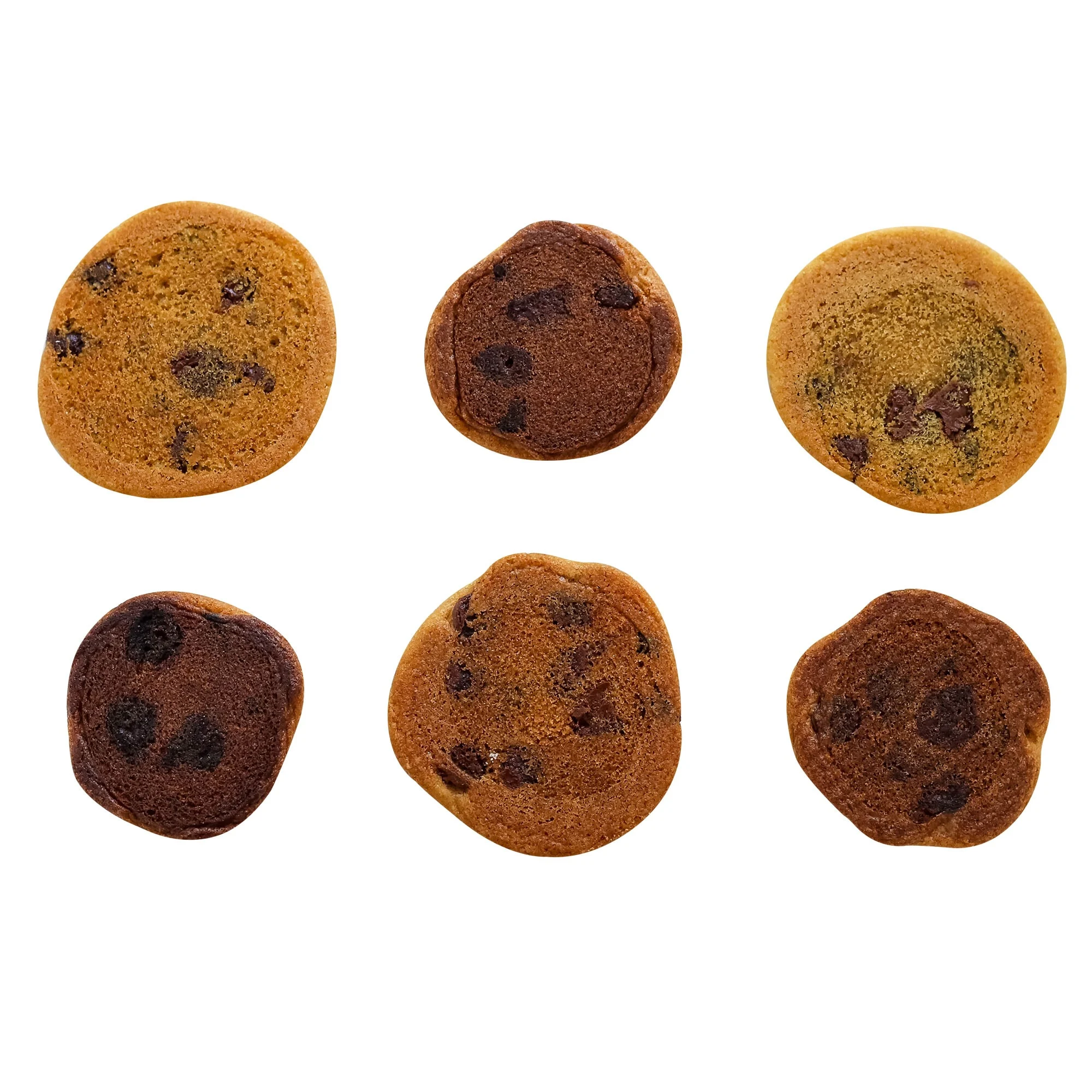 See what a difference just your baking pan makes?!
Learn more about the best (and worst) baking pans here!
A Few Bonus Tips to Prevent Cookie Flops
The tips above are the 3 Biggest Reasons Your Cookies Flop, but here are a few bonus tips for you:
More Cookie Science Articles:
If you want to see all of my favorite chocolate chip cookie recipes in one place, click here.
About Tessa...
I share trusted baking recipes your friends will LOVE alongside insights into the science of sweets. I'm a professionally trained chef, cookbook author, and cookie queen. I love to write about all things sweet, carb-y, and homemade. I live in Phoenix, Arizona (hence the blog name!)
© Handle the Heat - handletheheat.com
Join the Handle the Heat Community


---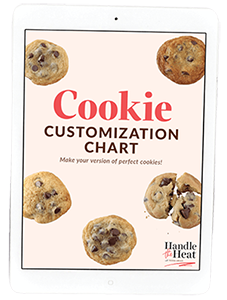 Do you want a more delicious life?
Instead of digging through cookbooks and magazines and searching the internet for amazing recipes, subscribe to Handle the Heat to receive new recipe posts delivered straight to your email inbox. You'll get all the latest recipes, videos, kitchen tips and tricks AND my *free* Cookie Customization Guide (because I am the Cookie Queen)!